Using the ordinary carjack to lift your zero-turn mower is completely disastrous. There's a reason why zero-turn mowers have their own lifts; numerous crucial parts of the machine are exposed unlike it is with cars and require to be handled with care which is defeated when you use a niggling carjack to prop your mower instead. Not to talk of the danger of sliding under your mower propped by a car jack– there's every chance of it mistakenly falling on you to say the least.
Before you invest in a lift for your zero-turn mower, there are different aspects to consider that will help you to make a perfect choice; I will explain them in this article.
First, I'll be introducing you to the different types of z-turn lifts for a broader understanding of how each will apply to your needs. Without further ado, let's get into it!
5 Types Of Zero-Turn Mower Lifts
Z-turn jacks can be classified based on how they function. There are five distinct types of mower lifts for easy identification:
1. Scissor Lift
These kinds of jacks are the simplest and most laborious zero-turn mower lifting equipment. They require a lever to pump the machine up in a gradual process. Occasionally, the scissor lift can resemble a mini table platform that enables you to completely hoist your zero-turn mower instead of tilting it on its back or front wheels. Although these are mainly found at the repairs individuals as they usually meddle with the changing tires and thoroughly checking the underbelly of the machine.
2. Hydraulic Lift
The hydraulic lift requires a foot-activated pedal to press on at intervals for the z-turn mower to be successfully heaved. They are the most popular methods of holding up a zero-turn mower among professional landscapers as they mostly are associated with commercial z-turn mowers, and so, possess a great deal of strength and ability that can be used in many ways.
3. Air Lift
This kind of lifting tool requires a compressed air source that is often found at the mower shop. For this jack, no manual labor is required. All you have to do is connect the hose to an air compressor and pump air through until your zero-turn mower is elevated at the required angle. There's a reason this system is not so popular though; the lifts are bulky to store, highly expensive, and dependent on an air source. That's why you would mostly find them at stores where large commercial zero-turns are repaired or regularly checked.
4. Drill Lifts
The drill lifts are, as the name implies, powered by a drill or lever. In simple terms, they are manually operated mechanisms. These types of lifts are rare since they require significant effort to get through, especially without the drill, and also happen to move a lot slower than the rest.
5. Handy Lifts (Jungle Lifts)
If you'd rather not invest so much in a zero-turn mower lift, the handy lifts are your best option. They are quite simple and compact, with small twin pneumatic tires attached to an L-shaped frame that you can maneuver underneath the deck of the mower and press down to form a wedge. Although they are cheap and compact, they are not durable and do not hold up that far off the ground.
The Best Lifts For Zero-Turn Mowers
There are many z-turn jacks out there. The majority are hydraulic and handy lifts, which are also the most suitable kind of zero-turn hoisting equipment to go for because of their ease of use and affordability.
Here are the four most favorable zero-turn mower lifts in the market that promises you a joyous experience:
Best Capacity: Mojack Riding Lawn Mower Lift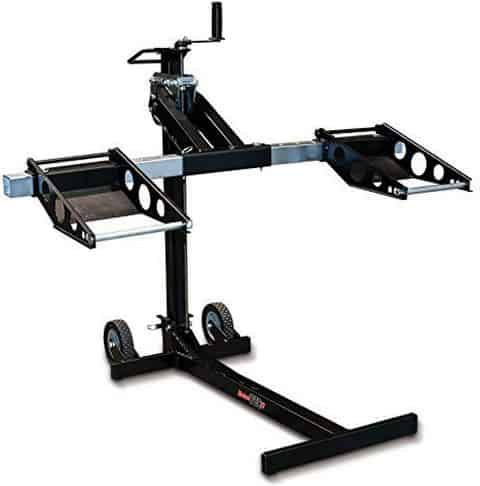 The safest and most efficient lifting equipment is a jack with enormous capacity. That way, even if your zero-turn mower weighs heavier than a crane, you're completely covered. If you're seeking a durable, sturdy lift to hold up your over 1000lb (453.59kg) zero-turn mower, the Mojack is your best bet. With the capacity of 750lbs, you're more than ready to go.
These lifts are renowned for their durability and versatility– some people even use them to prop cars! (I highly do not recommend it.) For the most of it, I commend the Mojack lifting equipment for their compact nature and practicality and present them as the overall best jack for zero-turn mowers; this lifting tool will provide you with five different positions and three stopping points for usability.
The only problem I find with this lift is that the assembling process is simply infuriating! This is a result of the ill-packaged purchase that happens to dent and ruin the parts of the equipment, so much that they wouldn't fit or refuse to assemble properly. The company really needs to do better on this cause.
| Pros | Cons |
| --- | --- |
| 750lbs loading capacity | Poor packaging quality. |
| Durable and efficient | Poor presentation |
| Easy to use | Awful assembling process! |
| Compact | |
Best Budget: Pro-Lift Lawn Mower Jack Lift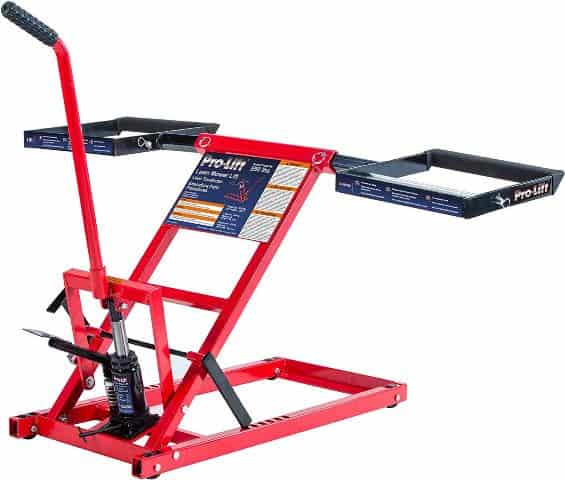 The Pro-Lift jack is preferably for residential grade landscapers with suitably matched zero-turn mowers; nothing too extravagant with 60" and 72" decks. That is because, first, the maximum capacity is 350 lbs which is a lot lower in comparison to many other mower jacks. However, you get to save money while being able to enjoy premium usability at the same time.
This appliance doesn't perform any significantly different from the previously mentioned z-turn mower jack. I could even agree that it is much faster and more fluid to operate in comparison, but it simply doesn't beat the quality.
With the Pro-Lift jack, you'd be getting the anti-slip feature on the cradles, allowing for security while you fiddle around underneath the zero-turn mower. Because of the simplicity, this lift is relatively easy to assemble for people who would like to get to work immediately– perhaps you seek to purchase a lifting device urgently, unlike other jacks, you wouldn't spend hours trying to figure out which goes where and where. I strongly recommend the Pro-Lift jack if you have a relatively small zero-turn mower in comparison to a handful.
| Pros | Cons |
| --- | --- |
| Effortless to assemble; no damaged parts or missing packages | Too little capacity; it really could do with a little more |
| Durable, tough build | |
| Fast lifting speed | |
Safest Lift (best for the elderly): Goplus Lawn Mower Lift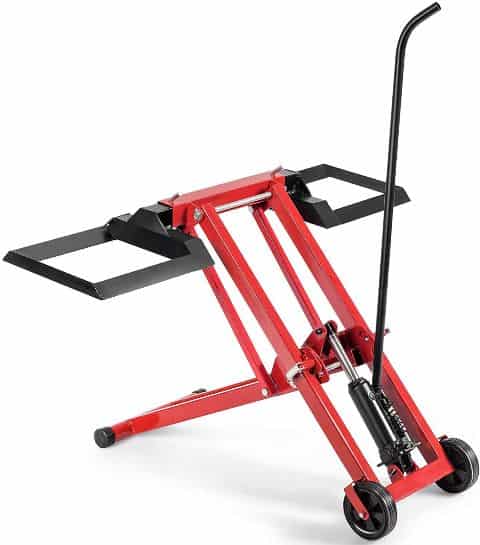 Honestly, this z-turn mower lift doesn't get enough recognition. For a mechanism as straightforward as the Goplus mower jack, it is quite the money's worth. This lifting tool will prop your mower 24 inches (0.61m) off the floor and has a capacity of up to 500lbs. The tire cradles were built with rubber and other synthetics to ensure your z-turn's tires stay in place when you slip underneath it further ensuring your safety.
The Goplus jack is made of welded steel and heavy-duty metal material that preserves the equipment from rusting and denting away, acknowledging the durability of the lifting device. Furthermore, the extra compact nature of the jack adds to its practicality, making it much easier to store and move around on trips or with simple professional duties.
It was a little difficult to find any fault with the Goplus zero-turn mower, but if the capacity could turn up the notch a bit, it would be quite worth it because not only will you use it for residential use, you could carry it on in case you decide to switch to a commercial z-turn.
| Pros | Cons |
| --- | --- |
| Compact and easy to store | Doesn't carry that much capacity |
| Durable construction | |
| Easy to assemble | |
Most Versatile: Jungle Jim Zero-Turn Mower Lift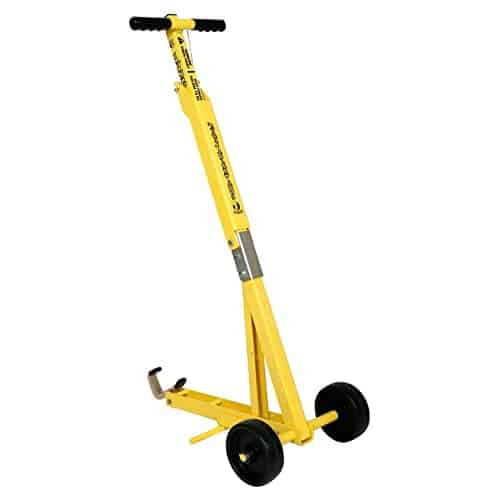 The Jungle Jim zero-turn lifts are more or less famous; you can find them in many residential lawn tenders' sheds. The reason for that is because of how lightweight and compact the equipment is. They also don't need the ceremonial foot paddling to function– just slip the hook area underneath the front region of the mower and stomp your weight on the foot lever to prop the machine up and you're good to go.
Versatility is also a big advantage with the Jungle Jims, there is no exact weight limit for this particular lift as long as we're talking about zero-turn mowers. Although they look rather primal and basic to use, they're highly functional and innovative. So if you're looking for nothing too fancy but rather to go straight to the point, the Jungle Jim z-turn jacks are just the one for you.
However, I will advise you to take extra care when dealing with these lifts as there isn't a much-grounded center of gravity to safely keep your mower away from your face.
| Pros | Cons |
| --- | --- |
| Highly versatile | It is not entirely safety guaranteed |
| Easy to operate | Requires a lot of foot action and energy to prop your zero-turn mower |
| Lightweight and compact structure | |
How To Choose A Zero-Turn Mower Lift
To choose a zero-turn mower lift, you must consider exactly your mowing machine and your preference as that will determine your satisfaction. Here's how to settle on a deal:
Consider Your Z-Turn Mower's Weight
Since the equipment is meant to jack up your ztr, it's only proper for the capacity to be efficient. The best way to round up the required capacity is by dividing your mower's weight by two and adding an extra 50 lbs to it. So for instance your mower weighs 800 lbs, the summary will be 400 + 50 to give 450Ibs. Theoretically, the lift should be able to hoist 450 lbs and above to suit your needs.
If you're not sure how much your mower weighs, you can simply refer to your owner's manual to sort that out or surf the web with your z-turn's model and deck size info for the specifics.
Evaluate The Tire Size Compatibility Of Your Z-Turn
Most lifts use a one-size-fits-all mechanism because the capacity already covers a lot of sizing problems, but if you're finessing a huge ZTR like the ones with the 72-inch decks, you might need to check for size compatibility because some zero-turn jacks tire slots might be undersized.
Assess Your Needs
This part leans towards you as the user instead of your zero-turn mower. Ideally, my top suggestion would be the hydraulic lifts since they're not way priced like the airlifts, too laboring like the drill and scissor lift, or too rickety like the handy lifts. If you're into professional landscaping, chances are inspecting your mower blades now and then is important and so is getting underneath the machine and out in one piece.
Your safest bet is anything but the scissor and handy hoisting tools. Invest in a good hydraulic or air z-turn jack to ensure you stay protected from hazards when you work.
How To Jack Up Your Zero-Turn Mower
Once you have a mower lift, jacking up your z-turn is easy. If you are using a hydraulic or air-compressed z-turn jack, all you have to do is slowly drive your zero-turn mower into the tire cradles of your lift, locate the foot pedal or attach an air compressor, and pump to your desired height. Regularly, it can reach 30 inches off the floor allowing enough room space for you to service your machine.
If you're using the handy lifts, it's even more straightforward. Grab it by the handle and slowly roll the horizontal shaft underneath the mower. Find a nice spot in the middle of the front frame area that will hold up the machine and let it rest there. Push strongly on the foot lever (you'd find it sticking out of the lift frame like a branch) until the horizontal shaft shifts to a vertical position and the handle you were initially holding is resting on the floor. This way your zero-turn mower is properly elevated enough for you to dabble underneath it.
Final Words
Zero-turn mower lifts are not as difficult to purchase or choose as they seem. Once you know exactly what you need, you can easily choose the most suitable lift for your zero-turn mower. If you're a residential or professional landscaper, a good hydraulic zero-turn lift will serve you for the long run of servicing blades and cleaning certain parts.
All in all, I advise you to be careful as you slide underneath your machine. Ensure the pins are secure so that the equipment does not wiggle under the weight of your mower. If you play your part well, you'd enjoy cleaning and servicing your zero-turn. Good luck!