The essence of a great mower is all about your mower blades. No matter how powerful your engines are or how fast your mower runs, it's nothing but a piece of metal if your blades are dull, worn, and absolutely messed up. Mower blades don't last forever, from all the intense cutting and trimming of your grass, your blades are bound to wear out and require replacement. With that said, here's a full guide to help you choose the best mower blades for your zero turn mowers.
Choose The Type of Blade You Need
Just picking out the right-sized blade for your z-turn is not enough. When looking for mower blades to replace your worn-out blades, you're going to come across two main types of blades: Standard Blades and All-Purpose Blades.
These types of blades are the ones that often come with your zero turn mower. They are made for moving clippings aside and discharge the cut grass away from your mower. Standard blades are also known as 2-in-1 (discharging and bagging) blades, lifting blades, or simply, discharging blades.
What do these blades do?
A standard blade's main function is to simply cut and bag. It is divided into two types: flat and lifting blade.
Flat or non-lift blades give that smooth pristine cut. But they don't bring in a needed lift to provide a more polished look. This is perfect for clean lawns; it can pose a problem when your grass gets too tall because flat blades can knock down the overgrowth instead of cutting.
The second type is lifting blades because they function by "lifting" the grass and cutting them. The blades have a curve along the opposite edges. These curves create a space for air to flow, thus pulling the grass up before it's cut.
The lifting effect makes it easier for the blade and mower to dispose of the clippings in a bag or out of the mower. When looking for standard blades, you need to consider the type you're going to need.
High-lift. This is ideal for tall tough grass, weeds, and light brush. These require a large horsepower engine of at least 22HP since it requires more power to cut tough greenery easily.
Medium-lift. This is great for large lawns or property with dense grass. However, it cannot handle a mild brush.
Low-lift. This type of standard blade is designed for common lawn solutions from cutting grass to gentle weeds, and this is the ideal type for your mower.
What's the downside of getting standard blades?
Standard blades should never be used for mulching purposes because the blades aren't designed for it. You will wear out your blades and even potentially destroy your mowing deck in the process.
Don't we all love anything with the label all-in-one, in this case, these types of mower blades can discharge, mulch, and bag your clippings. These all-purpose blades, or 3-in-1 blades, combine the task of cutting and mulching making mowing more efficient.
What do these blades do?
All-purpose blades are mainly for mulching. Hence they're also called mulching blades. The blades have smaller jagged edges on the sides to make the mulching process much easier. However, some 3-in-1 blades have extended blades to have a wider cutting surface in place of the serrated edges. The cutting edges are raised to make the clippings circulate within the mowing deck and cut each clipping several times.
Smaller grass clippings easily decompose, making them great sources of natural fertilizer. Since it's also harder for smaller cuttings to be seen, it adds to the manicured look on your lawn, giving you a smoother greener looking property after mowing.
What's the downside of getting standard blades?
Unfortunately, mulching blades exhaust your engine faster because it requires more energy to cut clippings multiple times. It would also require a mulching kit and proper installation. Mulching blades are more costly since not a lot of z-turns are sold with a mulching kit.
It's not so common to find bagging blades nowadays because they're already incorporated with the standard and all-purpose blades. As the name suggests, these blades are only intended for bagging.
Factors to Consider in Buying Blades for Zero Turn Mowers
Once you've considered what type of blades you need, you have other considerations to make before you make your purchase.
Finding the Perfect Fit
The most crucial factor to consider is the fitting of your mower, mowers all have different sizes even if they have the same mowing path. Different brands create their mowing deck differently. Knowing the precise specifications of your blades is vital in choosing the right blade for your mower.
With so many z-turn brands and models out there, many have specific sizing, features, and lengths for their mowing deck. You have to take note of the following before getting a mower blade:
All mower blades have a manufacturing number. It's a set of 6 numbers that provide specifications for the length, thickness, and blade hole. The manufacturing number is the most crucial information you need to know when you're going to buy blades for your ZTR. 
In the absence of the OEM number, you should know the brand, model, and the number of your mower. With this, you can easily find blades that will fit your mowing deck.
Without the OEM number or the model type and number, you can still find the right blade for your mower as long as you know its length and the type of center hole it has.
Measure your blade diagonally to get the right length, and simply inspect the center hole design. Some mower blades only require a round hole while others have a star design to improve the mower's grip on the blade.
Material
You want durability at its finest when choosing the best blade for your ZTR, and one of the considerations you need to make is the material used.
Firstly, it should be a solid metal alloy. You don't want something welded together since this creates weak spots that can become points of breakage in the future.
Secondly, choose a blade that doesn't have any coating or only has a light coating of paint. The coating can chip off over time, and the speed of your spinning mower blades can turn these small chipped-off coating of your blade into small dangerous flying objects.
Value for Money
Many ZTR owners opt to buy non–OEM blades simply because they are cheaper. This may be true, but the overall cost of ownership should be your priority. Original equipment manufactured mower blades will always ensure that your blades are the right fit for your mower.
Generic brands making mower blades may be more affordable now, but it could come at the cost of lower quality and inappropriate fitting. For that reason, I came up with this list to give you trustworthy choices for your zero turn mower blades.
Durability
The strength of your blades also matters. When it comes to durability, I highly suggest getting standard blades or flat all-purpose blades. Although serrated edges are great for mulching, they are prone to breaking because even a small stone can get stuck and chew on the notches of the blade.
Best Mower Blades for Zero Turn Mowers
To help you shorten your list, I chose three of the best blades for your zero turn mowers by category.
Best Standard Blades
MaxPower 2-Blade Set

Material
Get a set of MaxPower solid steel blades to replace your blade and retain your mowing prowess from when you just bought your ZTR. This solid steel alloy makes the blades durable and have powerful cutting strength. Hence, it's great for dry and sandy areas. It creates minimal suction for an even finish without drawing dirt into your mower.
Proper Fitting
Designed for a typical 42-inch lawn mower, the pair of blades are great for brands like Poulan, Husqvarna, Craftsman, Troy Bilt, and Cub Cadet. The blades are also great for lawn tractors. 
Engine Requirement
These blades will work well for all types of engines. Since it only requires a small amount of airlift, it won't take a toll on your engine. They are also great for intense mowing on dense grass but not on tough brushes.
| Pros | Cons |
| --- | --- |
| Fits many types of mowers | Only sold in pairs |
| Highly durable and can handle intense cutting | |
Overall
Simple yet very durable, unlike flat blades, low lift blades have a longer lifespan because of the gentle lift it creates in pulling your grass. This prevents stripy mowing and promotes a beautifully manicured lawn as a result.
MowerPartsGroup Hi Lift Blades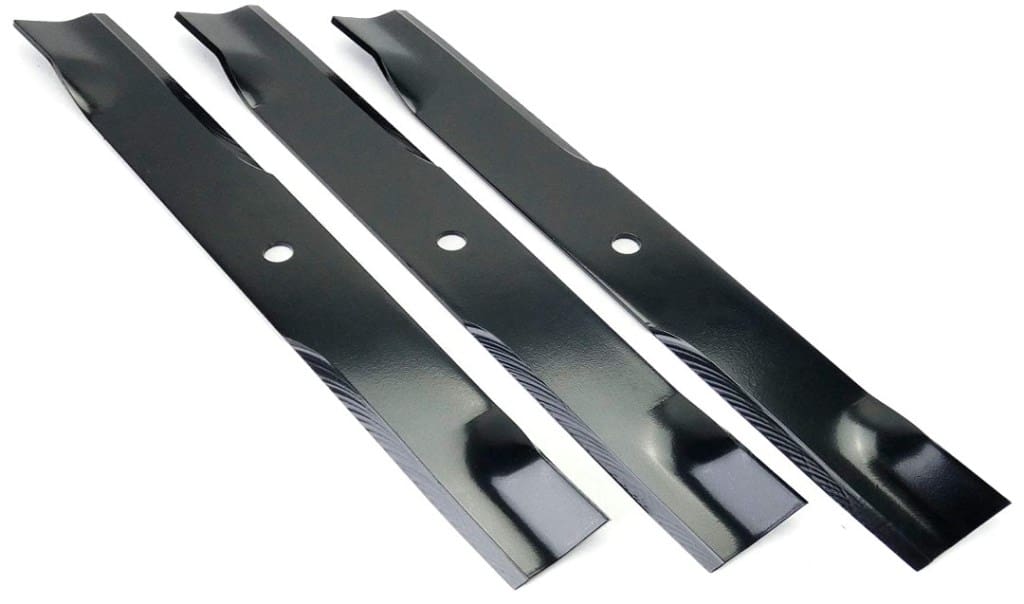 Material
Replace your blades with solid steel high lift standard blades. This set of three blades is designed with powerful lifting capacity allowing a smooth airflow within and under your mower to pull and cut the grass to your desired height equally. 
Proper Fitting
The Mower Parts Group designs multiple blades and mower parts for almost all mower brands. However, this specific set of mowers is fit for a 60-inch mowing deck. It is a perfect fit for brands like Husqvarna, Hustler Raptor, Fastrak, and Exmark.
Engine Requirement
Since this is a high lift blade, it's surely a great fit for large mowers with at least 22 HP. The blades are only fit for discharging and bagging and are not ideal for mulching even if you install a mulching kit.
| Pros | Cons |
| --- | --- |
| Durable | Unfit for commercial use |
| Fits most 60-inch mowing decks | |
Overall
Perfect for large mowers, this is a generic mower blade that fits most brands and models. Designed for years of heavy usage, this is a durable set of blades designed for tough long hours of mowing.
Husqvarna High Lift Blades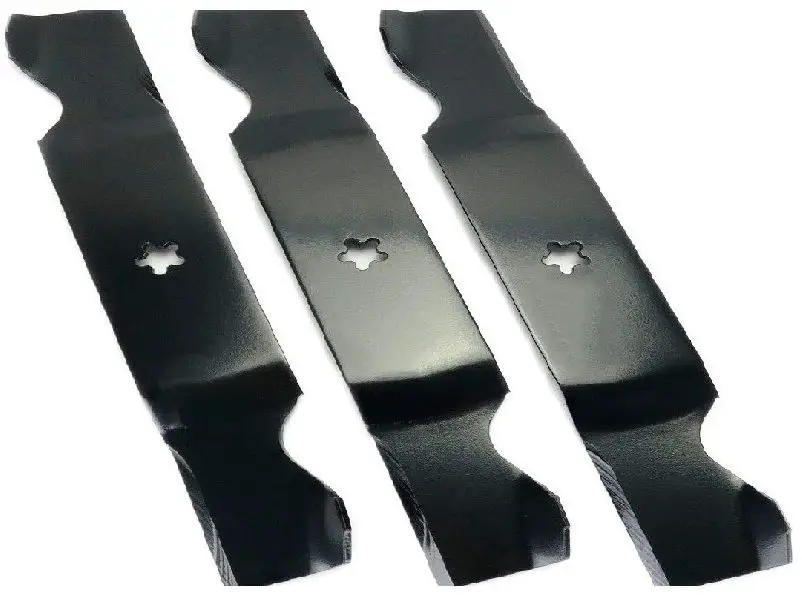 Material
Made with high-quality solid carbon steel, these blades are heat hardened making them resistant to heat and pressure caused by intense usage. These high lift blades are designed for tough mowing. 
Proper Fitting
Not just ideal for Husqvarna, this set of blades is perfect for other zero turn mowers like Craftsman, Poulan, John Deere and Troy Bilt. Fitted for 54-inch mowing decks, it's created to handle multiple tough mowing tasks. 
Engine Requirement
Like most high lift mowers, it also requires a powerful engine. Though it requires more horsepower to keep it running for long periods of time, the efficiency of the blades lessen the workload and the time needed to cut your grass.
| Pros | Cons |
| --- | --- |
| Can handle intense mowing conditions | Lightweight, won't do so well on the very soft grass |
| Fit for tall grass and gentle brush | |
Overall
Designed for multiple purposes, you won't go wrong choosing this set of Husqvarna high lift replacement blades. This is ideal for cutting through uneven grass and definitely for slopey hills with slightly moist grass.
Best Mulching Blades For Lawn Mowers
USA Mower Blades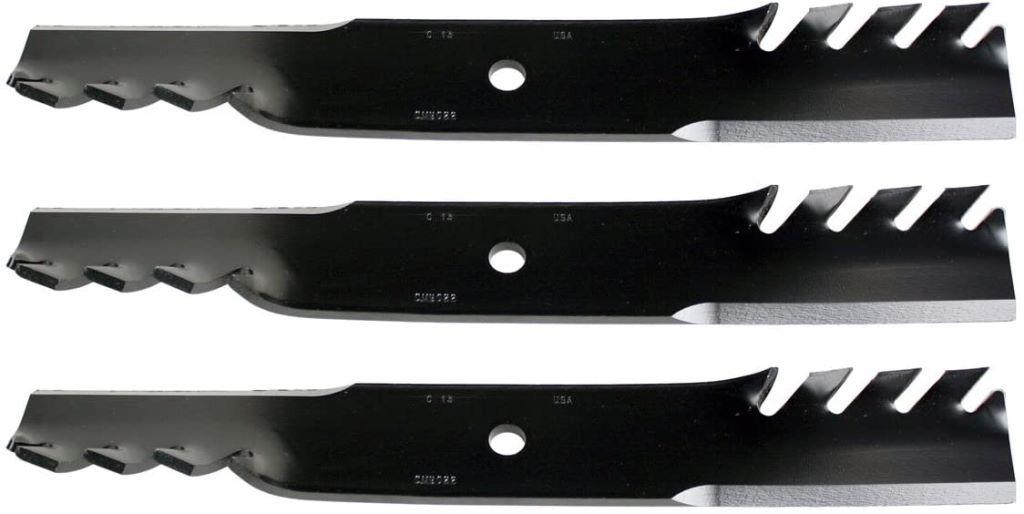 Material
USA Mower blades are all made with high-grade solid steel alloy. Created for intense mowing, this set of mowers is also created for all-purpose use. From mulching, discharging, and bagging, it's great, especially for tough residential use.
Proper Fitting
The benefit of getting USA Mower Blades is usually due to its universality. They designed the blades to fit most 52-inch mower decks for Bunton, Encore, Exmark, Ferris, Gravely, Great Dane, John Deere, Lawnboy, Lesco, Scag, Snapper, Toro, Wright, Yazoo, and Jacobsen. But it can also fit most 50-inch Ariens and Husqvarna models.
Engine Requirement
The blades are high-lift mulchers, so this definitely requires a powerful machine. The blades are strong and definitely fitting for long runs of tough mowing jobs, however, you need at least a 22HP engine to keep up with the mowing capacity of the blades.
| Pros | Cons |
| --- | --- |
| Great quality OEM-like blades | Small spaces between serrated blades can catch pebbles and stall mowing |
| Fits most ZTR brands | |
| Great for intense mowing and mulching | |
Overall
USA Mower blades are definitely your go-to brand for mower blade replacements. Just as great as (maybe even better than) OEM blades, the USA brand is a sure choice for many property owners to keep vast lands of property to mow.
MaxPower Commercial Mulching Blade

Material
Maxpower is a really great brand that really offers maximum quality to its blades. The blades are made with high-grade USA commercial steel. Designed for heavy and constant usage, the blades are guaranteed to last long.
Proper Fitting
Though intended to fit a 22-inch Toro ZTR mower, you'll love that this pair also fits mowers like John Deere, Snapper, and Cub Cadet. 
Engine Requirement
Lightweight but powerful. They're the only things I can say about these mower blades, they're perfect for smaller z-turn mowers with smaller horsepower. No matter what type of engine or how strong your engine is, this will be a great choice no matter what.
| Pros | Cons |
| --- | --- |
| No deep serrations for small items to get into | Limited brand fitting |
| Smooth mulching | |
Overall
The bent serrations of the blades don't have spaces for pebbles to get stuck in and ruin your mowing deck. You'll love that they're pre-sharpened and great for commercial zero-turn mowers. They are the perfect fit for multipurpose mowing tasks even on a smaller yard.
Oregon G5 Mulching Blades

Material
Designed to cut and mulch, the Oregon mulching blades are perfect for those who want to have a manicured and healthy lawn. Made with high carbon steel with lifted triple serrations, you're guaranteed to get quality mulch and a beautifully cut lawn.
Proper Fitting
The Oregon designed the blades to fit most riding mowers. From zero-turn mowers to lawn tractors, they created blades that will not just surpass the cutting prowess of a mower but also try to fit in as many brands and models as possible. This pair of mowers fit brands like Ariens, Cub Cadet, John Deere, Hustler, Snapper, Husqvarna and more!
Engine Requirement
You don't need a powerful engine to power up your mower blades, with a medium-lift, it's easy to power through your lawn without putting much of a toll on your engine. Engines with less than 20HP can still mow your lawn with this pair of blades.
| Pros | Cons |
| --- | --- |
| Easy installation | Stiff serrations are not ideal for brush and tough weeds |
| Fits most brands | |
| Improves airflow in your mowing deck | |
Overall
Great for residential z-turns, this pair of mower blades are easy to install on most brands you can find out there.
The Final Verdict
Fitting is the key to getting the right blade. With so many non-OEM mower blades out there, you get them for a much more affordable price but just as great quality. But with so many choices out there, it's harder to make the right decision. If you don't need a mower that also mulches your clippings, you can opt for blades from Mower Parts Group like their set of three Hi-Lift Blades. If you're looking for a great mulching blade, I highly suggest getting USA Mower Blades. 
If you are struggling to change the blades on your zero turn mower then read our guide to walk you through step-by-step how to do it the right way. That being said, I hope this article served its purpose to help you choose the right blades for your mower. If you have any questions feel free to drop a comment and I will answer them for you.