Every homeowner desires to have a lush, well-maintained lawn. However, if you have an expansive yard, using a traditional lawnmower is time-consuming and extremely tiring.
Luckily, there are affordable self-propelled lawn mower options that you can get for under $300. Please scroll down for a review of our top five picks. Before that, let's start by addressing some of the things you need to know before buying a budget self-propelled lawn mower.
The Ultimate Guide for Buying the Right Self-propelled Mower For Your Lawn
Self-propelled lawn mowers are a costly investment. You must ensure you're choosing the best for your lawn needs. Plus, perform all the recommended maintenance routines to the letter to reap all the benefits of your mower.
Below I'll share all the info and answers to some of the most common questions buyers often have when buying budget rear and front-wheeled lawn mowers. 
Rear vs. Front-wheel drive Self-propelled lawn Mowers
Front propelled mowers have their drive wheels in front. They are easier to use and are best for flat terrains.
On the other hand, the drive wheels of a rear-wheel-drive are at the back. These mowers have better traction and are more stable, making them perfect for use in sloppy terrain.
New vs. Used Self-propelled Lawn Mowers
If you're working on a very tight budget, the thought of buying a second-hand mower might have crossed your mind once or twice.
The main advantage of buying a second-hand lawnmower is that you can get a more powerful machine for less. However, the disadvantages outweigh the benefits.
You may buy a faulty machine, and you'll not enjoy the warranties or guarantees that often come with buying a new mower. Plus, although the initial cost of a used option is significantly lower than that of a new machine, the maintenance costs may add up pretty fast.
Like with any machine, a self-propelled lawn mower wears out and depreciates with time. Over time, it'll require more maintenance, and some parts may need replacing. Eventually, you may find the cumulative costs quickly exceed the cost of buying a new mower.
Thus, if you're buying a second-hand self-propelled mower, always take your time to do your homework. Research about the brand and see what other users have to say. Inspect the machine and double-check that no part is faulty. Plus, ensure that you test it to ensure that it is working as it should.
Finally, if possible, ask an expert to accompany you when testing it. They'll help to double-check that the mower is in good condition.
When to Replace a Self-propelled Mower
Most lawn mower problems such as damaged belts, cables, and cords or carburetor issues are easier and more economical to repair. However, there are a few mower issues whose repair cost is so costly that replacing your mower may be a better option.
For instance, if your machine's engine is damaged, it's time to replace your mower. That's because the cost of repairing broken pistons or rods is almost equal to buying a new mower.
Repairing the transmission system is also quite expensive. Thus, if your mower is quite old, maybe it's time to buy a new one.
However, to get the best out of your mower before it needs replacing, ensure you're performing all the recommended maintenance routines as advised by the manufacturer.
Are Self-propelled Lawn Mowers Worth It?
Self-propelled lawn mowers are worth every penny. The machine has a self-drive mechanism, which does the sweaty job for you. Yours is only to guide the mower in the direction in which it should mow.
These are also faster and are ideal for mowing medium to large lawn sizes. Plus, they perform exceptionally well on slopes. However, note that self-propelled mowers are costlier than a traditional push mower. Click here to learn more.
How Much Should I Spend on a Self-propelled Lawn Mower?
On average, a self-propelled mower costs anywhere from $250 to $4,000. The high-end options are often more powerful and best suitable for commercial use.
If you're looking for a budget mower for residential use, you can get an effective and efficient mower for $300 or less.
The Average Lifespan of a Self-propelled Lawn Mower
With proper care and maintenance, a self-propelled lawn mower can last for eight to 10 years. However, if you do not perform the necessary maintenance routines, your machine may barely last for half of its average life expectancy.
What's more, a self-propelled mower that is abused and misused may only last for two years or less.
Maintenance Tips to Keep your Self-propelled Mower in the Best Condition
The top secret to maintaining your mower in top shape is to read the manufacturer's user menu and follow their recommendations to the letter. Of course, every manufacturer has its users at heart. That's because if they're happy with a purchase, clients are more likely to refer their friends or to repurchase the item in the future.
Here are eight expert tips to ensure your mower remains in top shape for its entire lifespan:
Before performing any maintenance routine
Ensure that all the moving parts, including the cutting blades, have come to a complete stop. Next, remove the mower's spark plug to prevent the machine from starting accidentally.
Some of the most common self-propelled lawn mower problems can be solved by regularly cleaning your machine. That's because, with every use, the mower slowly accumulates grass clippings, dust, and other debris, which may eventually slow down its performance.
Wash the mower deck to remove any debris and grass. Use a long stick to remove any grass caught between the cutting blades.
Replace the mower's spark plugs every season
Worn-out spark plugs cause the mower to ignite slowly and may end up consuming more fuel. Thus, always remember to replace them once every season.
Consult your user's manual to see the recommended frequency for changing the air filter. The mower will, of course, perform better when the air is cleaner.
Change the mower's oil regularly
The engine is a crucial component of any machine, including a self-propelled mower. Thus, you need to ensure that it is always in its best condition. One sure way of achieving this is by changing the lawn mower oil regularly.
As a general rule of thumb, change the oil when the engine is still warm. It drains better and will trap any impurities.
Sharpen the blades two times per season
Nothing good comes from using dull blades. Instead of cutting, these will tear the grass, causing it to take longer than usual to recover from a trim. Blunt blades may also cause your self-propelled mower to cut unevenly. Furthermore, the lawns will be more susceptible to diseases.
Inspect the blades at regular intervals
Even after sharpening the blades, inspect them from time to time. If they are bent or damaged, replace them with the recommended blade as per the user manual.
Inspect screws, bolts, and nuts regularly
Check that the screws, nuts, and bolts are tightened and that there are no loose parts.
5 Best Self-Propelled Lawn Mowers under $300
Here is a comprehensive roundup of the top 5 self-propelled lawn mowers under $300.
Best Budget Self-propelled Mower: Greenworks MO40L02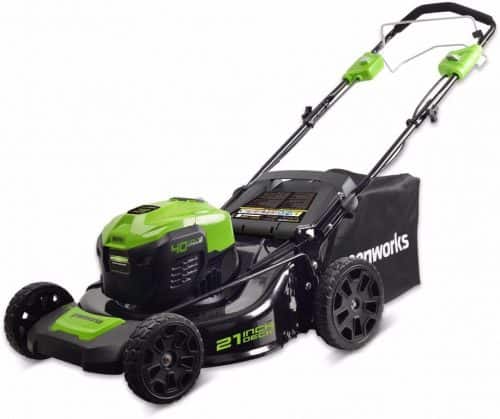 Greenworks remains to be a favorite brand among most gardeners for its wide range of mowers. It has both budget and premium options. But regardless of their price tag, all their products are built to last.
Design
The Greenworks Self-propelled lawn mower is a top-of-the-class mower, and it comes at a very fair price.
What's more, it has a whopping seven cutting height adjustments ranging from 1 3/8 to 3 ¾ inches. This mower's cutting deck measures 21 inches, wide enough to handle medium to large lawns.  
Performance
This is a rear-wheel-drive mower. Thus, the wheels are stable and have excellent traction, making the machine ideal for all kinds of terrains. Thanks to the brushless motor, this mower is also quiet and will last longer than its counterparts.
Another notable feature of this mower is its three-in-one cutting system. You can mulch, side discharge, or bag the grass clippings.
Power
This battery-powered self-propelled mower runs on either 5Ah or 6Ah batteries. Plus, it has a dual battery design that allows you to store a backup battery for an uninterrupted mowing session. However, you'll need to buy the batteries separately.
| Pros | Cons |
| --- | --- |
| Relative low noise during operation | Battery life could have been better |
| Easy to use | |
| It comes with a bagger and has a built-in mulcher for added versatility | |
| Has variable speed making it ideal for use by older adults | |
| Easy-to-start electric button | |
Best Long-lasting Self-Propelled Mower: POWERWORKS MO60L02PW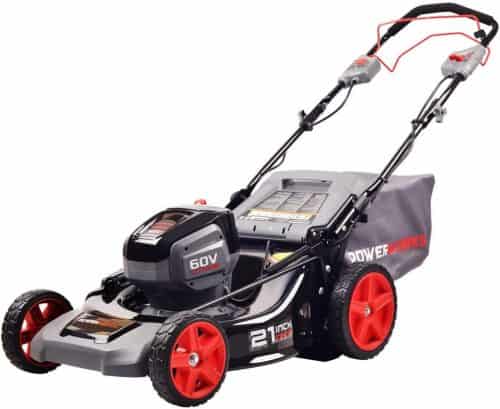 Following closely is another excellent yet affordable self-propelled mower. It has all you'd need for a clean and well-maintained yard without putting in the sweat.
Performance
Thanks to its 21-inch steel cutting deck, this mower can mow large lawns quickly and easily. It also has a three-in-one design which allows you to side discharge, bag, or mulch your grass clippings.
The brushless motor ensures quiet operation and longer life. Starting it, too, is a breeze. It has a push button, and you won't need to pull any cords. 
Easy to store
This mower measures 59 x 22.05 x 39.37 inches with a weight of 35.11 kilograms. Although the weight is a little on the higher side, the machine has foldable handles. You can also store it vertically, which is a handy feature, especially if you've tight garage space.
What's more, its height can be adjusted to seven positions, using a single lever, giving you the versatility to mow your yard to different heights as desired.
Power
The POWERWORKS mower, as its name suggests, is a powerful machine that will mow even the tallest grass. It is powered by a 60V 5Ah lithium-ion battery, with a runtime of up to 45 minutes.
The machine comes with a generous four-year warranty and two years on the battery.
| Pros | Cons |
| --- | --- |
| Foldable handles to allow vertical storage | Its operation is louder than most other electric mowers |
| Decent 60V 5Ah battery with a runtime of up to 45 minutes | |
| Three-in-one design that allows you to either bag, side-discharge, or mulch grass clippings | |
| Brushless motor that is quieter and gives your mower a longer life | |
| Easy-to-start electric button | |
Best Gas Self-propelled Mower: PowerSmart DB2194SR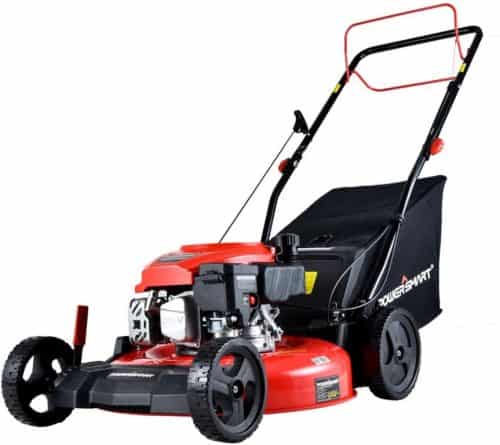 Are you looking for a gas-powered self-propelled lawn mower that will not cost an arm and leg? This PowerSmart Mower is a great pick.
Performance
It is powered by a four-stroke, single-cylinder 1700cc engine, powerful enough to mow on slopes and trim tall and overgrown lawns.
It also has a 21-inch steel cutting deck. Thus, it mows even large yards quickly with a single pass. The cutting height is adjustable to five different levels, within a range of 1.2 to 21 inches to suit all your mowing needs.
Versatile
Another notable feature is that this mower has three cutting options: mulching, side-discharging, and bagging. Being a rear-wheel-drive mower, it has rugged 8-inch rear wheels, which give your machine excellent traction on slopes.
This mower has a foldable handle design that ensures your mower folds down to a more compact size to save space. Plus, it has a decent full-tank capacity of 0.4 gallons and can hold a maximum of 16.9 fl. oz of oil.
| Pros | Cons |
| --- | --- |
| 5 level cutting heights allowing you to mow even overgrown lawns | Not ideal for large lawns |
| Wide 21-inch cutting deck for quicker performance | |
| Generous grass catcher with a capacity of up to 18 gallons | |
| The rear wheels are 8-inch thick to allow better traction on slopes | |
| Easy to maneuver | |
Best Versatile Self-propelled Mower: Lawn-Boy 17732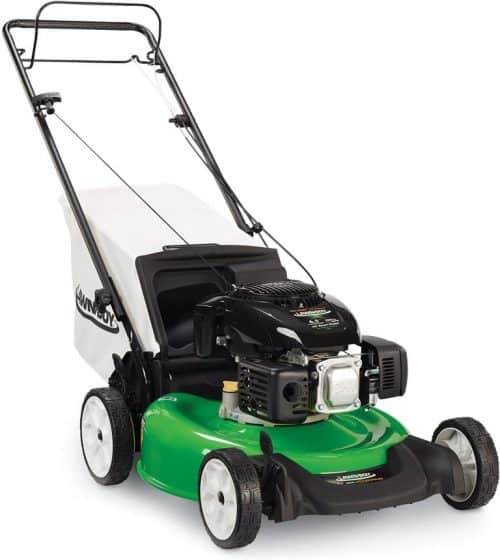 The Lawn-Boy Self-Propelled Mower, a Toro Company product, is a highly-rated rear-drive budget lawn mower. It gives excellent performance both on flat and sloped yards.
Easy to use
This mower is packed with all the necessary features to make your mowing session a breeze. It has an easy-to-use pull cord that will have your machine going in one or two pulls. Plus, the mowing deck is adjustable to two cutting heights for quick and flawless customization.
It also has a wide 21-inch steel deck that is durable yet light enough for easy maneuverability. Each mowing session leaves your yard looking clean and evenly cut.
Three-in-one cutting systems
The Lawn-Boy is a versatile mower that comes with three cutting systems. You can choose to mulch, side discharge, or bag your grass clippings. It comes with a large bagger that is easy to attach and detach.
Plus, it also comes with a full two-year warranty and a three-year Tru-start commitment. If the mower fails to start after the first two pulls, the company will repair it for you for free.
| Pros | Cons |
| --- | --- |
| Durable 21-inch all-steel cutting deck that gives a smooth and clean cut | Assembly instructions could have been more detailed |
| It has a two-point cutting for easier use on a wide variety of lawns | |
| Rear-wheel drive that is excellent on slopes | |
| Easy-to-use pull cord | |
Best Overall Self-Propelled Mower: Greenworks PRO MO80L00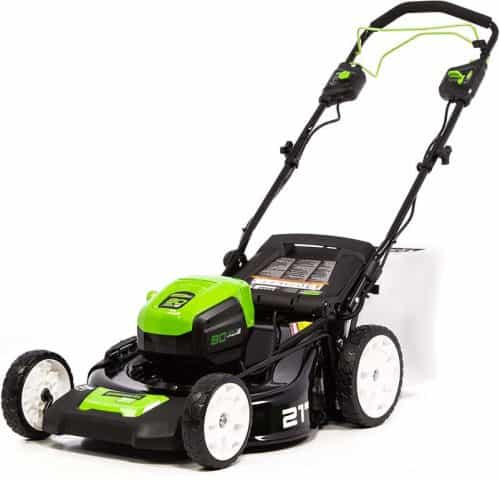 I'll wrap this review with the Greenworks PRO MO80L00, a battery-powered option that is ideal for small to medium-sized lawns.
Power
Enjoy the power and performance of a gas-powered mower without the noise and toxic fumes with this powerful 80V battery-powered mower.
It runs on 4Ah batteries to give excellent power both on flat and sloped terrains. The batteries last for 45 minutes or more, depending on the condition of your lawns. However, the batteries and charger aren't included in the package. Therefore, you will need to buy them separately.
Performance
The mower has a foldable handle design to save on storage space. It also has a push start button, making it easy to start, just like most other Greenworks mowers. 
What's more, it has seven height settings, which are easily adjustable using an easily accessible lever. The adjustment range is between 1 ¼ and 3 ⅝ inches. Plus, it has three-in-one cutting systems where you can mulch, bag, or use the side-discharge.
| Pros | Cons |
| --- | --- |
| Foldable handle for easy storage | The battery life could have been longer |
| Quick charging batteries that attain a full charge in 45 minutes | |
| Seven cutting height adjustment levels | |
| Easy to assemble, thanks to the included straightforward instructions | |
| Power enough to mow long, tough and thick lawns | |
The Final Verdict
My top pick for the best self-propelled lawn mower under 300 is the Greenworks 40V. This mower is efficient, powerful, and reliable.
The POWERWORKS Self-propelled mower follows closely, thanks to its ability to mow lawns of all types in any terrain. It is also foldable for easy storage. 
But honestly, all of the options I have reviewed above are great options.  Each has its pros and cons. I hope you will find something that you can add to your cart.