Selecting a self-propelled mower for a specific terrain is like leveling up on the battle of choices. Here you have to narrow your options to figure out which machine wouldn't rain down regret on you by the third mowing session. It's even much more intriguing when you figure out how common this problem is– have you ever purchased the wrong type of machine when you had the option of choosing the right one? It feels like self-sabotage, honestly. 
Ideally, for a mower to be much more fit for slopes or hills, it must possess qualities that are conclusively more aggressive in comparison to its counterpart mowers. Features like power capacity, stamina, speed, and weight are closely associated with terrains, so choosing the right self-propelled mower for hills will very much be centered on how many of these features you can reap on the choice-list mower. 
There are many mowers of course, and different categories of them are classified by how they source their power. This article will put you through all the stuff you need to know before selecting a good self-propelled mower for your hilly yard, to save you the bummer of picking the wrong one. I'll be starting with a take-off question to get one battle out of the way. Let's dive!
Which Will Cope Better on Hills: The Electric or Gas Self-Propelled Mower?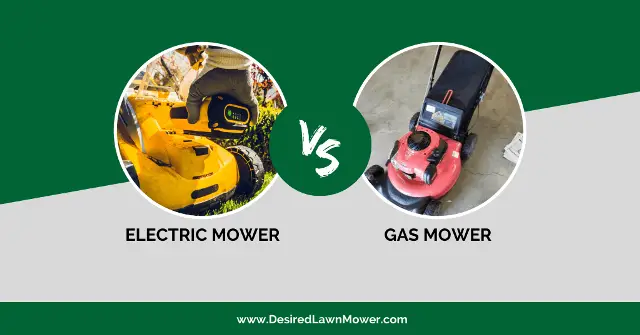 When choosing a self-propelled mower best for hills and slopes, picking a brand is only the beginning of the farthest end of your chosen journey. It is very important to put the type of mower into consideration. That is because the electric and gas mowers are quite different and although they serve the same purpose, they do so in distinct ways which could either be for you or against you– and you're going to find out how in a second. 
Why Should I Choose The Electric Self-Propelled Mower?
Electric self-propelled mowers make use of rechargeable batteries for propulsion in place of weighty gas tanks. The machines are highly known by lawn owners and yard tenders who value serenity and fresh crisp air, which was a far cry until electric mowers entered the picture. Here's why they might be the best for your terrain:
They Weigh Far Less In Comparison To Gas Mowers
Self-propelled mowers do save you manual labor, there are no two ways about that. However, if you do put the notion to practice, you'll know there are loopholes when you have to put in a little or a lot of effort during the mow. There are times when you'd have to lift or push down the mower by the handlebar to make a turn, which is also when you'd be quite grateful to have gotten an electric mower for your hills. Especially for people who are older or people who might have a certain difficulty dealing with heavyweight machines. 
They Are Friendlier To The Environment
Since there's no gas, there's no smoke. The amount of gas a mower will burn riveting through brutal hills will definitely be something to talk about. Electric mowers save you the smoke and all the problems that come with pollution, which is quite a bonus because imagine mowing your hills and getting rewarded with an angry fist of smoke– wouldn't be fun I suppose. 
Electric Mowers Offer A Noiseless Climb Up The Hills

 
Mowers are known to throw loud parties worth the attention of your neighbors, especially when they're faced with an incline– then they grumble even louder. This is why electric mowers are quite appreciated. 
Since there is no gas and all the noise that comes with gas-powered machines, you can hike your hills without blasting your eardrums. If you would prefer to spare your ears the trouble as you trudge those hills, the electric self-propelled mowers are surely your best choice. 
Electric Mowers Are Much More Affordable
I know we're referring to hills and slopes, but who wouldn't want a discount on their budget? This is one of the many reasons lawn owners love electric mowers– you spend a lot less for the same outcome. Sign me up for a good discounted choice! 
Are The Gas Self-Propelled Mowers Any Good For Hills? 
Gas mowers are presented with the luxury of familiarity. A lot of people would rather go for machines that they could service and maintain at a go. Especially if they are used to being all tools and handy, and that might just be your situation. Asides from that point, there is much good stuff that comes with gas mowers that apply to your hilly yards. I'll explain them in four points.
Gas Mowers Are More Powerful For Hills

 
Electric self-propelled mowers might wow you with how far they can go, but if we're being real it is usually because the comparison is a gas-powered mower. 
The gas mowers are the real deals in terms of power, which is exactly what you would need for hilly terrains. Though electric mowers will do good on slopes on a normal day, the gas-powered mowers will do just as well with the extra efficiency of a better blade speed. You definitely will do much better with the extra push of a self-propelled mower that runs on good old gas, no doubt. 
You Have Much More Inclined Reliability With a Gas-Powered Mower
Gas-powered mowers run on gasoline, which in comparison to electric mowers, are very much reliable. They do not require the charging time you'd need for a rechargeable battery, and since hills would require twice the effort of a dependable mower, they'd be the best choice for you. Although I have to admit, some of the electric mowers do come with extra batteries in case you run out of power but you will do much better with a gas-powered mower on this term, especially when you're coping with hills. 
Gas-powered Self-Propelled Mowers Will Serve You Better on Slippery Slopes
Added to the bonus of power, gas mowers are built with enough torque to battle wet lawns and slopes that would have otherwise been a fit to throw with the electric mowers. So, if you reside in rainy areas, you will be much safer with a gas-powered mower. 
You Get a More Efficient Cut With The Gas-Powered Mower

 
The blades of the gas mowers are highly powered with amazing speed. The power is not regulated through the build of the machine, thus making it much easier to eat through tough grass and gracefully through hills and slopes. In case you wondered which mower cuts better, it is definitely the gas-powered mower. 
Should I Go For The All-Wheel, Front-Wheel, or The Rear-Wheel Drive?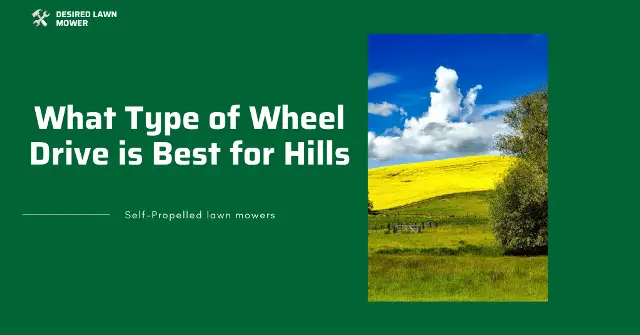 For hills, you will need sturdy and dependable wheel movements much more than you will need the well-loved maneuverability. Hence the reason why the all-wheel self-propelled mower is the best choice. I'll explain further.
Front-Wheel Mowers are only propelled by the front wheels, which is a good point for maneuverability but definitely not for stamina. If you're going up a hill, the weight is transferred to the back of the machine which is bothersome especially if your lawn is wet. Going down the hill is even more flimsy; the whole weight is tipping over and you might have to step in as extra traction for the machine—  I do not approve of them. 
Back-Wheel Mowers are much better in comparison to the front wheelies. The weight is distributed much more evenly and you have better traction going down the hill. Although they are less maneuverable, they do much better in terms of traction— I approve of them with one leg in. 
All-wheel mowers are the overall best choice for hills. All four wheels are powered and move effectively for traction and maneuverability, and the weight is properly distributed. You have double the power for a safe stroll up and down the hill— I happily approve them for hills and slopes. 
Best Self-Propelled Mower For Hilly Terrains
Most Functional Mower: Greenworks Electric Self-Propelled Mower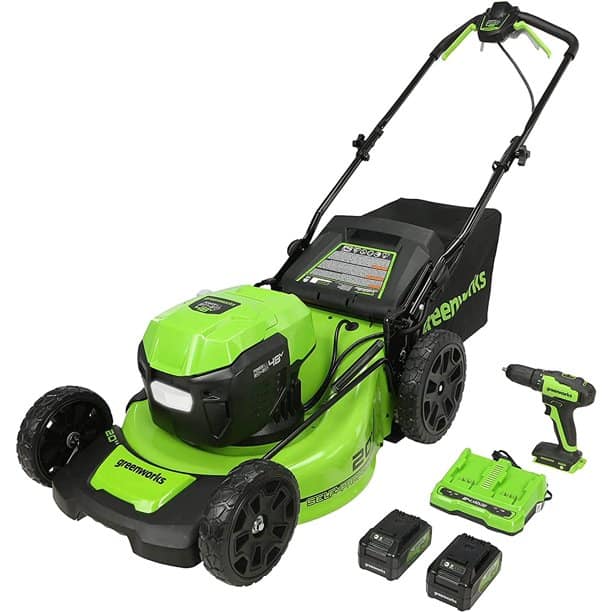 Have you met the Greenworks electric cordless mower? They have the perfect amount of battery power for hills– they are equipped with two 24V batteries for when one dies out–  just like I earlier mentioned. They also offer 4-in-1 mowing choices; rear bag discharge, mulch, side discharge, and turbo button for maximum power! This will come in very handy if your hilly yard has an aggressive form of grass that you don't know what to do with. Although mulching is best, you can always choose from the other features.
| Pros | Cons |
| --- | --- |
| Excellent power supply | Steep learning curve |
| 4-in-1 system; mulch, side discharge, rear bag discharge, turbo power punch | Too much plastic |
| Rapid charging | |
Best Lightweight: LiTHELi Electric Self-Propelled Mower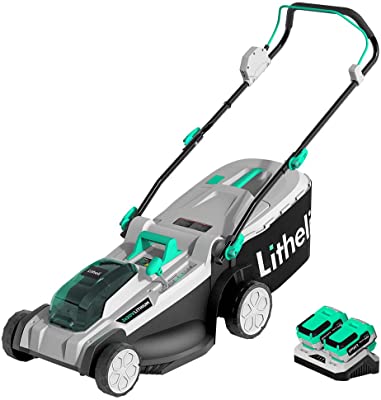 This 27-pound mower will serve you an effortless and weightless mow up and down your hills. I personally recommend this mower if you have difficulty handling rather heavier weights and for people on the smaller side. They are equipped with a 4.0AH Li-Ion battery with the charger inclusive, giving you a much better time on the lawn. If you would rather take pity on your arms and shoulders, the LiTHELi electric mower will suit you best.
| Pros | Cons |
| --- | --- |
| very lightweight | too much plastic, not so durable |
| tough batteries | |
| comes with a charger so you don't have to purchase it separately | |
| bags efficiently | |
Most Powerful: Honda Self propelled Mower
Throw all hilly and bumpy problems behind with the well-known Honda self-propelled gas mower. If you're specifically looking for a self-propelled mower powerful enough to eat whatever you put under, you'd be glad to meet the 170-cc engine Honda. It offers an amazing amount of power that will propel you up the loftiest hill without a sweat.
| Pros | Cons |
| --- | --- |
| Powerfully built for hills and slopes | They weigh 110 pounds. Very weighty! |
| Easy to assemble | |
| Easy to use | |
| Has a separate blade operation feature to keep the blade running whilst the mower is at a halt | |
Best Overall: Husqvarna Self-Propelled Mower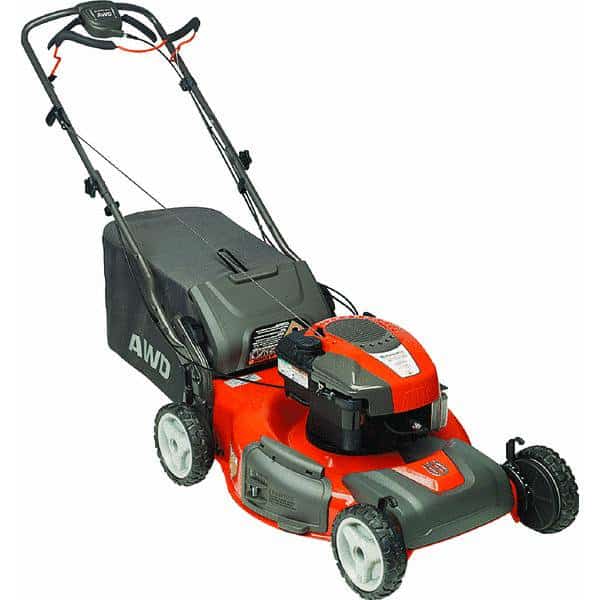 Finally, a mower with the familiar Briggs & Stratton engine to last you eternity. B and S have been in the business of making small engines for a very long while and they manufacture their engines to be quite reliable and easy to service. Also, they come with a dual trigger activation for easy change of speed highlighting the 15-gauge steel of the machine. I will definitely pick a mower based on the preference of engine before any other features (asides from mass) especially when hills are in the picture.
| Pros | Cons |
| --- | --- |
| All-wheel drive which is perfect for hills | Pricey |
| Easy to understand controls and a variety of features for customization | Comes with extra maintenance for B & S engines |
| Highly durable material | |
| Exceptional cutting quality | |
The Final Verdict 
When hills and slopes are in the picture, you will be needing a much more comparably lightweight and powerful mower first for safety – which most of the time we don't consider – and then efficiency and power follow suit. I highly recommend LiTHELi and Greenworks mowers if you have a rather small yard, let's say half an acre to 1 acre. For bigger yards, the Honda gas-powered mower will ultimately help you conquer those hills with ease.