Lawn tractors are multifunctional machines that can perform many activities aside from mowing the lawn and pushing snow just happens to be the first on the list. In fact, most lawn tractor brands manufacture snow plows for their mowing machines to certify that you get a good worth of your money out of your product all year round.
During the frosty winter season when most "spring-labeled" machines are put to rest, you can easily marry your lawn tractor to a snow plow and shove the snow off the driveway in a few minutes. Aside from the benefit of clearing the path and pleasing the eyes after a buildup of icy blankets, your lawn tractor's battery will thank you for warming it up during the cold season and improving its overall health.
There are certain factors you must consider that will determine whether attaching a snow plow to your lawn tractor will be favorable or not. Bear in mind that in most cases, every lawn tractor and its user will experience snow plowing uniquely from others, which is why it's important to acknowledge your aspects so that you know what to expect.
In this article, I'll be taking you through the factors you should consider before plowing snow with your lawn tractor so that you can be fully prepared for the long run.
5 Crucial Points To Consider Before Attaching A Snow Plow To Your Lawn Tractor
Snow plowing is an entirely different task from regular mowing, and would require a unique approach to the procedure. Here are the best aspects to ponder on before snow plowing with your lawn tractor:
The Annoying Method Of Attachment
Attaching a snow plow to your lawn tractor is no easy business. It involves removing the entire cutting deck from the machine to suit the decided snow plow and you'd have to follow the same route when you decide to mow again. If you have ever tried to meddle with the deck, perhaps change the belt or blades, you'd realize just the amount of work you'd be looking at trying to plow snow with your tractor. Although practical, this aspect is highly important to consider if you're a newbie or are challenged as you will need to be fully engaged in the task for it to be successful.
Your Lawn Tractor's Capacity
There is no doubt that your machine is up to the snow plowing task, but just how much work will your mower be considering? Snow plowing could be mild or intense depending on your environment, and will affect your lawn tractor accordingly. This is where you consider the grade of your lawn tractor; if you have a residential mower, you will be limited to plowing light bulks of snow to avoid overworking your machine.
If on the other hand your mower is a commercial grade that is equipped with beefier engines and better transmission, tackling the task will be much safer for your mowing machine. Although lawn tractors are great candidates for snow plowing, they would wear out faster as they are used for other purposes aside from the original command.
The Need For Extra Storage Space
Snow plows come in different sizes and would extend at the sides of the lawn tractor like wings. Thanks to the stressful method of assembling the unit, you wouldn't be able to just prop them on and off after every use. This means your shed has to be large enough to contain the now bird-looking lawn tractor. If you have a rather small shed that manages to effectively contain your mower, you might have to consider seeking other options or sorting out parking space for the machine, especially if you'd rather attach a large plow blade.
Your Safety From Accidents
A lot of risks are involved when snow plowing with your lawn tractor especially if your machine is small-sized. For this scenario, tire chains are wrapped around the rear wheels of your mower to ensure the chances of slipping are properly under control. Also, you will need enough skill to be able to maneuver the machine over slippery floors. It is much better and safer to be an expert in handling the lawn tractor or to practice properly before time to put you and your mower out of harm's way.
Overall Budget
Snow plows come in varieties of brands and will be priced differently. Also, they are not all that affordable; some plows can be so expensive that you might just rather throw extra bucks for a snow-blowing machine instead. The most affordable plows start at around $300 and can climb to $1000 depending on the size and quality of the equipment.
3 Best Snow Plows For Your Lawn Tractor
Best Bang For The Buck: Kolpin Snow Plow
For snow plowing to be a tolerable situation for you and your lawn tractor, you will need a durable plow that will withstand the pressure of pushing against tough beds of snow (view on Amazon). The Kolpin reinforced steel snow plow is engineered to tackle the widest forms of plowing tasks thanks to its foldable blade mechanism that allows you to tuck the 60-inch blade into a 48-inch and vice versa. This feature supports better storage and effective strategies during your snow plowing chore.
| Pros | Cons |
| --- | --- |
| Easy to install | Slightly difficult to assemble |
| Can be utilized in two different lengths; 48 and 60 inches | |
| highly durable | |
Easiest To Use: Agri-Fab Snow Plow
The Agri-Fab snow plow is one of the most trusted and convenient blades during the winter (view on Amazon). They are manufactured to provide comfort for you as it is built with a handlebar infused into the whole unit that allows you to control the entire system by raising or dropping the snow plow when a bump or ditch is ahead. To further back this up, the 48-inch steel Agri-Fab plow blade is equipped with anti-scalp wheels to ensure that it's protected from wear as you plow around the yard.
| Pros | Cons |
| --- | --- |
| The plows are user-operable thanks to the handlebar | Are insanely pricey |
| Has adjustable skid tires | |
| Possesses a 3-year warranty | |
Best For Commercial-Grade Tractors: Extreme Max
If you're seeking a large snow plow to carry out commercial activities, this brand (view on Amazon) will deliver the best plow for you. This 60-inch steel blade is praised for its durability and practicality during the snowy season. You'll find them quite easy to use and assemble, thus allowing you to customize the blade to suit your requirements in the yard. Also, angling and readjustment are highly achievable with this plow delivering a great amount of precision and effectiveness as you carry out the task.
| Pros | Cons |
| --- | --- |
| Easy to assemble | Storage problems |
| Highly precise for sweeping tight edges | They are quite heavy and sometimes not easy to maneuver |
| They will last a lifetime of use | |
A Much, Much Better Alternative To Snow Plows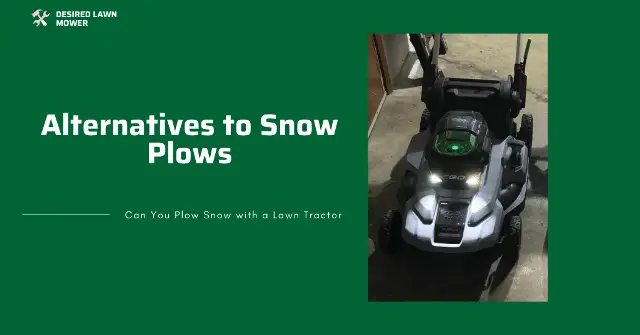 Snow plows are great methods of pushing measly measures of snow from the tracks and driveways. However, when you're faced with deep blankets of snow that would attempt to bury half of your lawn tractor, you might need to reconsider your options.
The Snow blowers are much more effective and will tackle snow clearing better in comparison to your residential-grade tractor. You'll find that they could even be cheaper or a few hundred bucks more expensive than the snow plows. So instead of straining your mower during extreme conditions, perhaps you should evaluate a machine that can effectively tackle the job as you save your lawn tractor from wear and tear over the years.
My top recommendation is the Ego Power electric snow blower (view on Amazon). Not only will you be ditching the nagging expenses of gas and risks that come with plowing snow with lawn tractors, but you'd also be wowed away by their peak power battery performance and futuristic technology. If you're familiar with Ego Power products, you'll find out just how effective and user-friendly their merchandise can be, and just how great of a start they'll make as your new snow blower.
Wrapping It Up…
Attaching a snow plow to your lawn tractor is an effective method of clearing the paths from snow buildup, but it does come at a price as I've explained. However, it all depends on you to make the final decision on what works best for you. All being discussed, ensure you consider you and your mower's safety in all jurisdictions. Good luck!