Seeking the best lawn tractor for your yard requires serious deliberations and comparisons. It's not enough to walk to a lawn tractor dealer and request a mower without properly knowing what it offers or how your options compare. By doing this, you're setting yourself up for a possibly frustrating couple of years mowing on the lawn.
The John Deere E180 and S180 are both residential lawn tractors. However, they hold some differences that will affect your mowing from time to time. To choose which mower is best, you must consider which will serve you to the greatest degree. In technical terms, the S180 is the better model for cutting functionality and usability.
In this article, we'll be putting the John Deere S180 and E180 up for debate to help you decide on the best lawn tractor for your yard. Remember, your mowing requirements determine the tractor you need. So, ensuring you stick to what you require will be of great help to you!
Which Model Is More Efficient: The S180 or E180?
The John Deere S180 and E180 are both highly efficient lawn tractors depending on what you seek to achieve. Meaning, if you seek a larger machine that can cover a lot of space at a go, the S180 is the ride-on mower for that. If instead, your deal breaker is precision and control, the E180 is the mower you should choose. Both ends carry significant benefits and would be efficient depending on your requirements. However, precision and width may not be enough to bag your deal. So, we'd be diving deep into the differences between both models to help you choose the best ride-on mower for you.
Quick Facts:
| S180 | E180 |
| --- | --- |
| Has a 24-horsepower engine | Has a 25-horsepower engine |
| Is equipped with a CVT transmission | Has a Hydrostatic transmission |
| Run at 5.5 toward speed and 5.5 reverse speed | Runs at 5.5 forward speed and 3.2 reverse speed |
| Consumes less fuel in comparison | Consumes more fuel due to the extra 1 horsepower |
| Has a 54-inch cutting deck with 3 cutting blades | Has a 48-inch cutting deck with 2 cutting blades |
| Is equipped with 15×6-6-inch front tires and 22-inch rear tires | Is equipped with 15×6-6-inch front tires and 20-inch rear tires |
| Costs around $2,900 – $3,500 | Costs around $2,700 – $3,200 |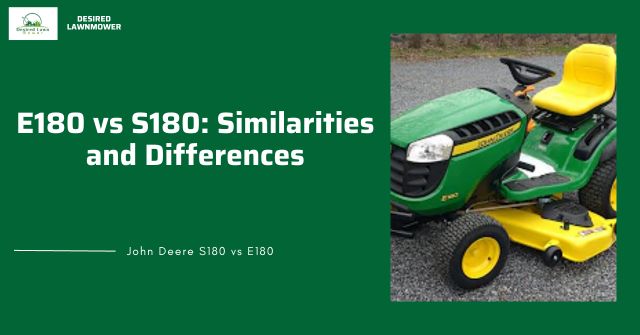 The Major Differences Between The John Deere E180 & S180
These carefully sought variations are there so you can easily shape your results and methods of achieving them. Read on!
1. The Engine And Horsepower
Both the S180 and E180 lawn tractors use 724cc V-twin engines respectively, but they differ in horsepower and durability. The S180 carries a capacity of 24 horsepower while the E180 runs on 25 horsepower. You'll also find the engines of the E180 to be much more durable compared to the S180 because it's made of cast iron cylinders which are more resistant to wear over time.
2. The Transmission System
The S180 is equipped with a continuously variable transmission system that allows you to regulate the tractor's speed without adjusting gears. The CVT works with a belt and pulley system that automatically modifies speed based on the engine's speed of operation leading to smoother and easier transmissions. In comparison, the E180 is equipped with a hydrostatic transmission system that relies on hydraulic pumps to change the speed. Although efficient, they're not nearly as smooth as the CVT. However, the E180 is quicker and much more precise in maneuvering around the lawn.
3. The Speed
The maximum ground speed for both models is the same. They can run at a top speed of 5.5 miles per hour. However, in terms of reverse, the S180 is faster at 5.5 mph compared to the E180 at 3.2 mph. The S180 also has a faster acceleration rate allowing you to pick up top speed after every stop making the job faster to accomplish than you would on the E180.
4. Fuel Capacity And Consumption
The S180 and E180 both have the same fuel capacity of 2.4 gallons each. However, the E180 consumes more fuel in comparison to the S180 because of the hydrostatic transmission system and superior torque it's equipped with. In the end, fuel consumption will depend on how much work you're seeking to complete with your ride-on mower at a go.
5. The Cutting Deck
For the S180 and E180, the cutting decks are one of the major differences between them. The S180 has a 54-inch cutting deck equipped with three cutting blades for easier and faster mowing. It also has an "exact adjust" system that allows you to create even more precise height adjustments for your yard. Also, with the help of the electric PTO, the blades of the S180 are easily engaged and spinning.
On the other hand, the E180 comes with a 48-inch deck equipped with two cutting blades. This may be efficient, but it is in no way as neat or speedy as the S180 with a larger deck and three blades. The blades in comparison are engaged with a lever, which isn't a big deal breaker, but we can agree that it's less fun than an electric PTO switch.
6. Tire Sizes And Traction
The front tires of the S180 and E180 are of the same sizes at 15×6-6 each. However, the rear tires differ from the S180 at 22 inches in diameter and the E180 at 20 inches. The S180 tires are also featured with deeper grooves that assist in gripping slippery terrain. Ultimately, the S180 will serve you better traction than the E180.
7. User Comfortability
A lot of technical consideration was applied to ensure both models provide optimum comfort when you mow, however, the S180 is superior in several ways. First, the seats on the machine are more refined than the seats on the E180 with squishier cushions and comfier armrests. They also have better shock absorbance and control in comparison which will make a great deal if you mow for long hours or run over bumpy terrain.
8. Pricing
The John Deere S180 costs around $2,900 – $3,500 and the E180 costs around $2,700 – $3,200 depending on your dealer, location, and financial opportunities at that point. Ensure that you contact a reputable John Deere lawn tractor dealer to give you up-to-date information on pricing so that you get the best deals available.
How To Choose Your Ride-On Mower Between The John Deere S180 and E180
Now that you know the differences between the two models, you must consider how they apply to you on the lawn. These questions will help you set your requirements in perspective.
How Big Is Your Yard?
The size of your yard matters greatly as you would need to cover the areas and get out of the sun quickly. The S180 is the better lawn tractor for large yards because of the bigger cutting deck, powerful engine, better reverse speed, and better comfort features.
How Much Labor Do You Seek To Do?
The task at hand is also a good determinant of which lawn tractor to choose. If you seek to partake in heavy-duty mowing around your yard, and maybe extra towing here and there, the S180 is better suited for you. If otherwise you simply want to maintain your yard, nothing too serious, the E180 is best for you.
What Is Your Yard Like?
The features of your yard will also determine which mower you should choose. Does your yard feature gardens, roundabouts, objects, and trees? Anything that would require serious maneuvering to get around will be best matched with the E180. The smaller the deck size, the easier it is to maneuver. While the tires on this machine are not the best for traction, they will help you to dodge the bumps and ditches better.
How Much Experience Do You Have?
The S180 is larger and would require extra experience to manage properly. If you're a beginner, perhaps you should consider the smaller and more maneuverable model, E180, to take on your mowing tasks. Remember that these machines are not as harmless as they look; accidents can and will happen where skill and experience are lacking.
Other Questions You May Ask
How long will the S180/E180 last?
With regular maintenance, both models will last from 10 to 15 years. However, the S180 may wear out faster due to the kind of work matched to it. It can handle tougher jobs in comparison to the E180.
What's the warranty for the E180 and S180?
The S180 and E180 carry a 2-year/120-hour warranty on both parts and labor after an accident or malfunction. Remember that maintenance is highly valued in such a situation. To get the best out of your warranty, ensure that you take care of your riding mower properly.