The entirety of your lawn's features plays a huge part in selecting an agreeable riding mower, sometimes more than your personal preference does.
The Toro Titan and Toro Timecutter are both high-grade residential zero-turn mowers with distinct elements wrapped to serve you a customized experience, but which model is the best mower for you? With zero-turn mowers, it isn't a one-size-fits-all kind of game– closely related models can offer totally different experiences which could either be for you or against you. Hence the importance of this comparison!
In this needful deliberation, I will be discussing a clear blueprint of what is delivered by the Toro Titan or the TimeCutter and how best they tick your yard's requirements. Let's get into it!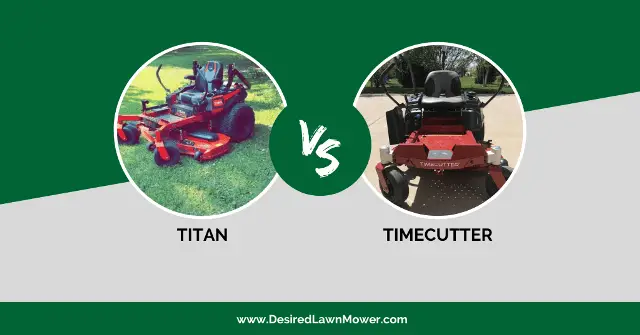 A Contest For Power
If you're seeking to dive into professional-grade mowing, you will need a great deal of horsepower since you'll be whizzing through grasslands as frequently as the service requires; The Toro Titan runs on a 26-horsepower V-twin Kohler engine– just the right definition of a match for fierce residential use and an experience of commercial benefit. They are matched with commercial grade canister-like air filters that function twice as efficiently as the residential grade mower would, which is only fitting for the Titan's powerful engine.
Titan engines are the perfect tier for landscapers who are just getting into professional duty; a duty that requires excellent torque to surge you through all challenging conditions like slopes, aggressive grass, and rather large acres of land. 
The Toro Timecutter on the other hand is equipped with a range of engines varying from 22 to 24.5-horsepower Kohler, Kawasaki, or Toro in-house motors depending on the grade or deck size of the model. The motors are interchangeable, which is a blessing of customization if you have a more specific preference. They are paired with solid residential high-grade air filters to enhance the durability of the engine. 
 The Timecutter engines are built to deliver a highly satisfying residential-grade mow, so devouring grass frequently on business-like terms will be like ordering a bag of damage and repairs in a few months– Best if you avoid it, pal. 
Thoughtful Structure and Pleasing Aesthetics
The Toro Titan and TimeCutter are both built with aggressive 10-gauge steel frames putting them on a brutal level of resistance to accidental collisions, but here's the trick;
The Timecutter is built with aluminum front caster hubs, not steel. This well-thought-out feature was created for zero-turn newbies who are liable to bump into obstacles as they get a hang of the system. 
So, instead of wrecking the steel frame and rendering the mower unsafe for use until fully repaired, the aluminum hubs will absorb the shock and the damage which is highly economical to fix in comparison to repairing a wounded 10-gauge steel frame. All you have to do is get a new aluminum caster to replace the broken one, and you're good to go!
The Titan is entirely born of steel. If you wreck a piece, you're going down with a bill. There's no safety feature for damages on this model since the machine is made averagely for expert and professional use. 
Deck Advantage and a Difference in Cut Quality 
Imagine the horrors of owning a mower fully equipped with power and resistance that offers crap cut quality and tears the grass! Fortunately, Toro came prepared to annihilate this problem. 
The Toro Titan 10-gauge fabricated bullnose deck comes in sizes of 54 and 60 inches, which further places the Titans on a more heavy-duty level. The bullnose decks are crafted with extra air-billowing space enabling grass strands to be erect properly before getting slashed by the blades. This ensures a much neater and sharper cut totally alleviating the chances of leaving stragglers behind. The best part is you wouldn't have to glide over a spot a hundred times to get a clean enough cut! 
For the Titan, deck height adjustments are in quarter increments from 1.5 to 4.5 inches and are adjustable by a pin and foot pedal system, which is more closely associated with commercial ZTR mowers. Pin adjustment systems are much more reliable in comparison to levers since there's no deck weight placed on the height regulation point. The entire weight is on the foot pedal instead. 
Toro Timecutter decks are also made of 10-gauge steel but unlike the Titan, are either fabricated or stamped and come in sizes of 34, 42, 50, 54, and 60-inches respectively. So there's enough variation for useful customization with the Timecutter; you can easily decide on a deck that suits your preference. 
Deck height for the Timecutter is operated by an intuitive lever and foot pedal system in increments of half from 1.5 to 4.5 inches. Although this method is much more instinctive and easily adjustable, they're in no way as reliable as the pin system and require extra care for a long-lasting lifespan making them even more categorized for residential use. 
Zappy Rides and Smooth Transmission
No one wants to sleep on the task for the sake of getting clean results. In almost every case, the faster you get out of the sun the better, hence the need for good transmission.
The Toro Titan has a grand quality of a transmission system; you're matched with Dual Hydrostatic HG-3100 for premium maneuverability, speed, and smoothness of conveyance. No jerking, no irregular movements! The machine runs at a capital speed of 8.5 mph, which is more than enough for its class of purpose. The Titan utilizes a levered brake system at the bottom side of the mower. If you're used to automated brakes, the lever might take a moment to get used to, but it's all breeze when you get a hang of it. 
On the Timecutter you'll also find the Dual Hydrostatic transmissions, but in tiers of 2100, 2200, and 2800 respectively depending on the grade of the machine. They run at a speed of 7 to 7.5 miles per hour with the smoothest maneuverability you can get. The brake system is automated, which means there's no pedal or all that fuss. All you have to do is widen the levers and you're at a complete halt! 
Now for the fun part of this ordeal; The Timecutter is significant for the SmartSpeed technology that offers three different speed ranges– going from the slow trim, average tow, and high-speed mow mode– designed to assist first-timers and enhance the results of other objectives like trimming and towing which is highly beneficial if you are rather new to the sensitive and topsy-turvy nature of zero-turn mowers. 
Slopes, Bumps, & Compatible Stamina
If your yard is littered with spine-shattering bumps, you'd be grateful for the Toro MyRide system created to have you floating on clouds when running over malicious bumps. An aluminum plate is attached to the seat cleverly crafted with springs to effect a detachment from the rest of the frame causing the seat to rock or sway in tune with impacts inflicted on the mower. This ensures maximum comfort and a reduced level of fatigue for you after a hectic day. You can get the MyRide system on both the Titan and Timecutter if you please.
The Toro Titan evidently has beefier tires in comparison to the Timecutter; The rear tires are 22 by 11 inches and the front 13 by 6.5 inches. Steep slopes and wet grass is nothing but a minor challenge for the Titan. In every situation with slopes in the picture, you'd do much better saddled in the Titan model. 
The Timecutter in comparison has rear tires of 18 by 6 inches and front tires of 11 by 4 inches. The differences are as definitive as their resistance to slopes and slippery terrain. Bumps might be an easy pass if you're on the MyRide system, but sharp dips and humid climates are more or less a danger flag. It's possible to fight your way through the menace with the Timecutter, but definitely not as easy as you will on the Titan.
The Comfortable Lucious Seating 
The seats on the Toro Titan and Timecutter are similarly comfortable. They are handcrafted well-padded seats with armrests and adjustable positions. For the Titan, adjustments are at the bottom of the seats and can only be done when you hop off the mower. In comparison, the Timecutter is much more easily adjustable; there's a paddle at the bottom front of the seat for fast and easy adjustments so that you sit comfortably with enough foot space. 
Added to this difference, the seats are much higher on the Titan in comparison to the Timecutter, which is excellent if you spend long hours gliding through grasslands. 
A Fitting Warranty 
The Toro Titan is dueled with a fitting commercial grade warranty on both parts and labor. You have a 3-year unlimited hour residential or a 3-year 300-hour commercial reliance to take advantage of. 
For the Timecutter, you have only a 3-year residential warranty with the exemption of the high-grade toro engine 50-inch Timecutter, which is paired with a commercial warranty– all includes parts and labor.
Money's Worth of The Toro Models
The obvious pocket-shriveling model between the two Toro mowers is the Titan; they are priced about 5,600$ –  6,500$, while the Timecutter ranges from 3,600$ to 5000$. The range of difference of each mower model is dependent on deck sizes or your dealer. There's a blasting difference in budget between the two, which will highly influence your final decision. 
The Verdict– After a Rollercoaster of Points
Comparing the Toro Timecutter and Toro Titan for a result of the best zero-turn model will be simply unfair. The mowers are built exceptionally for different purposes hence the reason why I can't single out a model that is the "better one". 
There's no better model; it all rests on what you're seeking. If you are buckling up to mow large yards on a daily basis, the Toro Titan is built for you. The engine is equipped with enough power to withstand that sort of duty. 
Otherwise, if you're seeking to only mow your yard that of course, wouldn't need you and your mower's attention every day, the Timecutter will do just fine– plus it's less expensive! 
I suggest you deeply highlight your requirements only, not your dealer's or neighbor's. Take a stroll around the yard if it's your first zero-turn purchase to take note of the terrain; it helps a great deal.