It doesn't matter if you're a residential or professional landscaper when it comes to your comfort on a zero-turn mower. On a larger scale, there is a much more favorable mowing outcome when you're not dying to get off the grass-eating machine, and since yards are nothing like a neatly flat layering of tiles, there will definitely be those spots you absolutely hate to climb over– the places that beat on your spine the most!
That is why suspension seats exist in the first place; to soften the blows of your angry resistant terrain when you run over it. So, what in the world is a suspension seat?
Suspension seats are impact-defying comfort seats that, unlike fixed seats, float in sync with your motion when you run across bumps on your lawn and against the motion of your mower. Instead of the seat latching directly to the frame of the machine, it is hooked to a small platform that allows it to slide forth and back or bounce up and down to reduce the consequences of your mower jarring off an obstacle. 
You can compare the suspension seat scenario to one with you sitting in a fixed seat of a mower; without the suspension, you bounce along with the whole machine when you ride which could be rather painful. But with a suspension seat, you are somewhat separated from the motion of the mower, reducing the impacts by a significant amount.
 In this article, I'll be discussing the three best suspension seats for you and your zero-turn mower, to save you from the heck of a ride you've been having, or are about to have. Let's get into it right away!
Three Top Suspension Seats For Your Zero-Turn Mower
Best Overall: VEVOR Universal Suspension Seat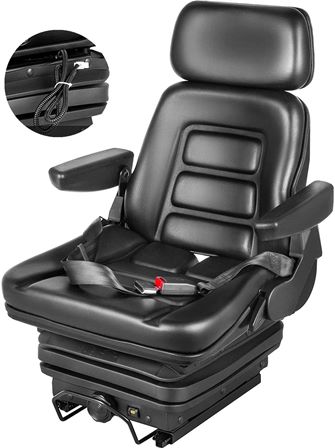 The first good thing about this brand of suspension seats is they are universal! If you have other riding mowers or machines, you could easily prop them on for a nice ride. These seats are made of vinyl and pure alloy steel to confirm an aggressive long-lasting reputation. 
In most seats out for sale today, you'd find titanium dioxide which is toxic especially when exposed to body heat and sun rays. Thankfully, the VEVOR seats are rid of this toxin so you don't have to encounter it.
The VEVOR seats are built with an ergonomic design so that they wrap around your form in all the right ways when you sit to ensure no sore spots exist when you mow your lawn. 
If you're particular about being safe while you mow, the VEVOR comes again with the 3-level adjustable switch for both horizontal and vertical movements so that you maximize the luxury of adjusting the slide efficiency to your desired taste if the seats are too sensitive or not sensitive enough for you. 
Also, safety belts and armrests keep you settled in the best way possible. 
I highly recommend this seat for vigorously bumpy lawns and steep terrain, you will need to be strapped tight in a seat that really cares for your poor spine.
| Pros | Cons |
| --- | --- |
| Can be used on other machines so your money is spent on a good deal | You pay through your teeth |
| It is highly safe because of the adjustable switch and seatbelt | It is quite weighty |
| Much, much user-friendly | |
| It will last you a lifetime; leather does not scale or peel | |
Best For Sore Backs: Trac Seats Suspension Seat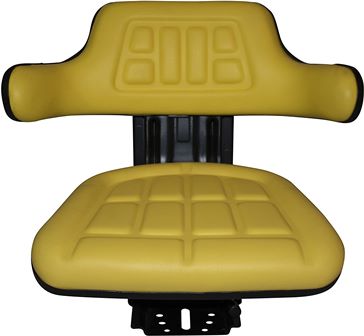 These seats come in a vibrant yellow color which is pretty good for identifying uncanny wear and tear on the seat– not like you'd find any that soon unless you usually tumble down the hill instead of gliding through it.
Specially built for aching shoulders and challenged backs with the top-area wide shape, you're sure to get some relief after a few weeks of mowing the lawn. You have a five-position tilt with this seat allowing you to maximize your options properly. 
The material of the seat is built like a waffle to help propel airflow so that you don't roast your back in the heat of the sun by sticking it to the backrest all day. They might not have as many knick-knacks as the VEROR seats, but they have the upper hand in simplicity and ease of use. If you hate to prep for 30 minutes before you embark on your task, the Trac Seats are best for you. Like all these goodies aren't enough already, you get a FIVE-YEAR WARRANTY with these bad boys. I will take advantage of a five-year warranty if I were you– those don't come often.
| Pros | Cons |
| --- | --- |
| Ease of use by beginners and people who hate to fuss about | They don't come with armrests |
| Reputable airflow design to repel dampness | They are not universal even for zero-turn mowers. You'd have to figure out if your z-turn mower is compatible with the Trac Seats because few of the brands are not |
| It is lightweight | |
| It has a five-position tilt | |
| You get a five-year warranty on this seat, be sure to enjoy it to the fullest | |
Best For Professionals: Black Talon High-Back Suspension Seat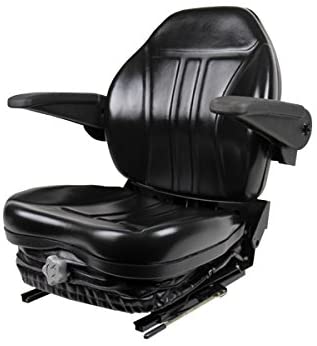 This is also a universal seat that was carved out of a durable UV-protected and seamless material, shaped in the perfect way to propel airflow and alleviate moisture. If you're into professional mowing, this is easily the best seat for you; sitting out too long in the sun can get you sore, but the soft-padded bouncy texture of the Black Talon has you covered as you tread your yard without damping and sweating the area. The foldable armrests are put in the most intuitive position complementing the overall ergonomic aesthetic of the seat. 
You also get about four inches of suspension on this seat and if you dread the mantling process, these seats are very easy to prop up. Nothing too complicated or littered with steps. I highly suggest the Black Talon suspension seat if you're looking for something durable, simple yet sophisticated, and aesthetically pleasing.
| Pros | Cons |
| --- | --- |
| They are user-friendly and easy to install | They do have a lot of weight for such a portable stature |
| They have foldable armrests so you can put them away if you'd rather not use them | |
| Has UV protection if you spend most of the week under the sun | |
| Quite easy to install; no fuss at all | |
| Looks cool | |
You Can Attach A Suspension Kit To Your Zero-Turn Mower's Seat 
A suspension kit is a platform-like demarcation fixed between a riding mower and the seat that will effectively suspend the seat of the mower when you ride over jarring terrain. This is especially important if you are comfortable with your zero-turn mower seat, but would like a little more suspension without purchasing a whole new suspension seat. Here is a suspension kit you will absolutely love.
Trac Seats Seat Suspension
Remember the yellow Trac Seat? They also market the suspension kit individually to make it much easier to apply to your zero-turn mower for fast and desirable results. Perhaps you wouldn't have to endure any shock at all after you install your suspension kit. 
The suspension, weight, and ride control are quite adjustable on this kit. I highly recommend this suspension kit because of its durability and versatility.
| Pros | Cons |
| --- | --- |
| Much easier to use | They aren't as comfortable as the full seats |
| Cheaper in comparison to the full seats | |
| Lightweight | |
Head-On Reasons To Get The Discussed Zero-Turn Suspension Seats
VEVOR Universal Suspension Seat
Perfect for bumpy situations when you rumble around the lawn instead of gliding through it. Initially made for tractors, you have more than enough shock-absorbing power from the VEVOR suspension seats for your zero-turn mower. 
Trac Seat Suspension

 
This yellow lawn buddy is perfect for our pals that are aged or have a challenge in the back and shoulder area. The waffle-like texture of the seat will produce enough comfortable airflow while leaning on the modest side. Complementing this, they're also pretty easy to install. If the problem is more of how you feel when you mow and not exactly the lawn itself, this seat will do you just fine. Also, they come with a warranty! Everyone loves warranties! 
Black Talon Suspension High Back Seat
If you're looking for something with class and stability and resistance to harsh sunny mowing conditions, this seat is the one for you. The Black Talon is my top choice for professional mowing. 
The Verdict
There's no need to spend more time enduring a sore back or sweaty seat every time you mow your yard. The long-term effects are grave, especially when you desire to work in the same painful situation for as long as your mower lives, which is about 10 years. 
These suspension seats we have just discussed cover the three most problematic situations during mowing, and are the best match for alleviating them. There's no reason to spend one more hour flinching over every bump in pain. I strongly suggest you buy one of those seats so that you can have a much better mowing experience.