Choosing the best equipment for a quick lawn care fix is essential for many property owners. With your front lawn as your welcoming view to your abode and your backyard is your own space for relaxation, keeping them nicely manicured is a must for all. But with many homes that have sizable lawns to maintain, the ideal solution is getting the best zero-turn mower.
But with an array of choices, getting the right zero-turn mower is a costly investment that you need to make careful considerations before making a purchase. I made this quick guide to help you make the right choices in getting the best ZTR that fits your needs.
10 Benefits of a Zero Turn Mower
Unlike using a steering wheel, you have lap bars that anyone can easily master. Turning and moving around is easier with a z-turn since it offers better visibility over your property than any other riding mower.
With less time spent on mowing your property, you don't have to use as much fuel as well. Plus, most zero-turns are quite efficient in fuel consumption.
The zero-turn's blade turning speed is faster than most riding mowers. This improves cutting precision in every pass. Plus, most mowing decks are deeper allowing more airflow thus improving mulching.
Enhanced cutting precision
Aside from the turning speed of the blades, most ZTRs have multiple cutting blades. Ranging from 2 to 6 blades, your mower can easily course through the turf leaving you with clean-cut and evenly trimmed grass.
ZTRs have a minimum speed of 6 miles per hour. With larger engines, they can run as fast as 12 miles per hour while mowing. With increased mowing speed, you literally have less time spent on mowing.
Zero-turn mowers have the largest mowing width compared to other riding mowers. The cutting width ranges from 32 inches to a staggering 72 inches.
These types of mowers have a sturdy build made usually with commercial-grade steel. Most mowers are fully welded into place making them strong and heavy-duty.
Z-turn mowers offer easy upgrades like bagging and mulching kits. However, on their own, they are cleaner since they have a side or rear discharge for clippings. This makes it cleaner for you to mower over your property.
All riding mowers are fun, but what makes it more enjoyable is the fact that you have a 360-degree view of the lawn you are mowing. Plus with improved riding comfort you can easily enjoy your morning coffee or afternoon tea on your mower.
Ideal for mowing businesses
Since they are made for heavy-duty usage, a zero-turn is great for all sorts of lawn mowing businesses. From small yard mowing services to commercial spaces, you can find the right type of zero-turn. 
What are the considerations you need to make before buying a zero-turn mower?
There are many factors to consider when you're buying a zero-turn mower. And most of them depend on your property. Here are the top three to always keep in mind: 
Type and Density of Grass
The type of your grass really matters a lot when you're mowing. Especially if you have a really dense type of grass, then you need a mower that has at least 3 blades. Softer grass is also a bit of a challenge to mow, so this means that you need to choose a mower with a deeper deck that also offers a mulching kit upgrade, softer grass is easier when you use mulching blades instead.
In addition, if you're buying a mower for putting green, you need to choose a mower that can mow your grass to an inch or maybe even less.
Most American properties have flat surfaces, however, if you have fields of grass that have slopes or rolling hills, you need a heavy mower with rollover protection. If you have a soft type of soil then you need a smaller lighter mower with floatation tires.
Depending on how often and how heavy-duty your mowing is, you need to consider these four types of zero turn mowers: 
Basic residential
Mid-range residential
Professional
Commercial
Basic mowers are good for mowing once or twice a week in small basic lawns. Mid-range ZTRs can be used for light mowing businesses fit only for flat yards with obstacles. Professional ZTRs and commercial zero-turns allow you to mow larger pieces of land at more frequent intervals.
How to Choose a Zero Turn Mower
I always have a golden trio of factors to look for in getting a zero turn: the build, the engine, and the size of the mowing deck.
All zero turn mowers are built for heavy-duty usage. However, some riding mowers are built with stronger material than others. The metal used to build the body of typical z-turn ranges from 10-12 gauge steel. They are very durable however, many commercial mowers are built with 7-gauge steel which is thicker and more durable.
On top of that, you should also know if the mower of your preference is fabricated (fully welded) or stamped. Normally, fully welded or fabricated metal is stronger than stamped. But still, both of these types of bodies are strong. If you are considering commercial mowing, then I suggest that you choose a mower that is fabricated.
Depending on your storage and how much land area you want to cover at a time, the mowing deck is very important. Larger decks mean that you shorten your mow time even more, however it also means that you need a larger space to store your mower. 
Smaller mowing decks also offer easy maneuverability and are less bulky but they are not fit for intense and continuous mowing.
Stronger machines with higher horsepower require more fuel, but they offer faster mowing speeds and stronger engines to handle extreme mowing conditions. If you are only planning on buying a zero turn for residential use, then you can opt for engines with a smaller horsepower engine.
If you know you're going to spend more time on your mower, you need to look for a seat that will offer optimal comfort. This includes padded seats, hand grips, armrests, foot-assisted pedals as well as controls, and other features all in arm's reach.
Other Factors to consider
Though these are the main considerations in buying a zero turn mower, there are other great features that not every ZTR has.
Safety features
Wheel types
Additional features
Best Zero Turn Mowers For all Types of Users
Best For Residential Use: Simplicity Courier Mower
If you have a half-acre to 2-acre lawn to mow weekly or biweekly, then you don't need to look for an extravagant zero turn mower and opt for a smaller residential mower. Furthermore, they are zero turn mowers that cost under $3000.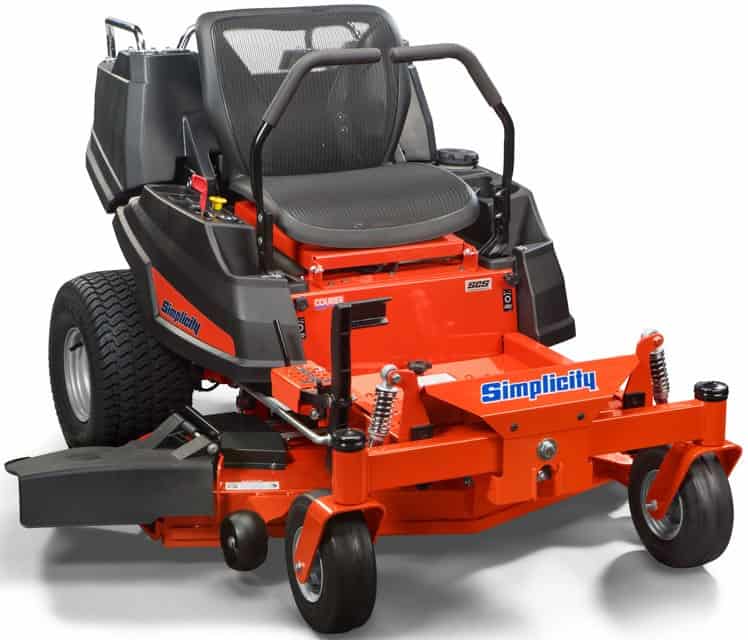 Quality build
Built with a 12-gauge steel body, this mower is more than capable of trimming your lawn without any problems. It also offers ball bearings in the castor spindles ensuring durability and a quality cut for years to come. Built for smaller lawns, this mower offers a durable facade that will definitely guarantee you years of a clean-cut lawn. 
Engine
The simplicity offers a strong engine for a small mower. Powered by a 23-horsepower engine, your mower can easily power through your turf at top speeds of 6 miles per hour. With a powerful engine, you can plow through the tough grass faster than any other small-sized riding mower.
Mowing Width
This Simplicity Courier Mower has a 48-inch mowing deck with 2 blades. The thick-walled mowing deck prevents your deck from easily getting bent and destroyed even when pebbles or toys get inside your mowing deck. The 48-inch deck can easily cover large pieces of grass at a time while offering easy storage. Since it is relatively smaller, it can surely fit inside your storage area like your garden shed or a small space in your garage.                                                                                                 
Riding Safety and Comfort
Sitting right on top of your engine, you get a better view of your surroundings. The Simplicity offers a mesh seat with a durable stretched support contoured to provide back support. With increased airflow to the rider, you won't have to worry about the leatherback that increases discomfort caused by excessive sweating especially when you're mowing under the sun. Furthermore, you also have a mower that comes with a parking brake and foot-assisted pedals for more convenience and ease of use.
Additional Features
Your mower comes with a cargo bed that allows you to store up to 50 pounds of tools and equipment. This makes it more convenient to go from one part of your lawn to another with all the gardening tools you need to easily maintain your beautiful yard.
| Pros | Cons |
| --- | --- |
| Easy maneuverability | Limited use for only up to once a week |
| Cargo bed for extra storage | |
| Fast mowing speed | |
Overall
The Simplicity is the ideal zero turn mower that offers comfort and eases through a small lawn. Plus, it's very compact making it easy for you to store it inside your garden shed and still offer enough space for the rest of your gardening equipment.
Best Mid-Grade: Toro Timecutter Zero Turn Riding Mower
Mid-range zero turn mowers are capable of mowing properties that range from 1 to 4 acres. However, they are not fully equipped to go over hilly slopes. They are faster and have larger mowing decks compared to basic ZTRs.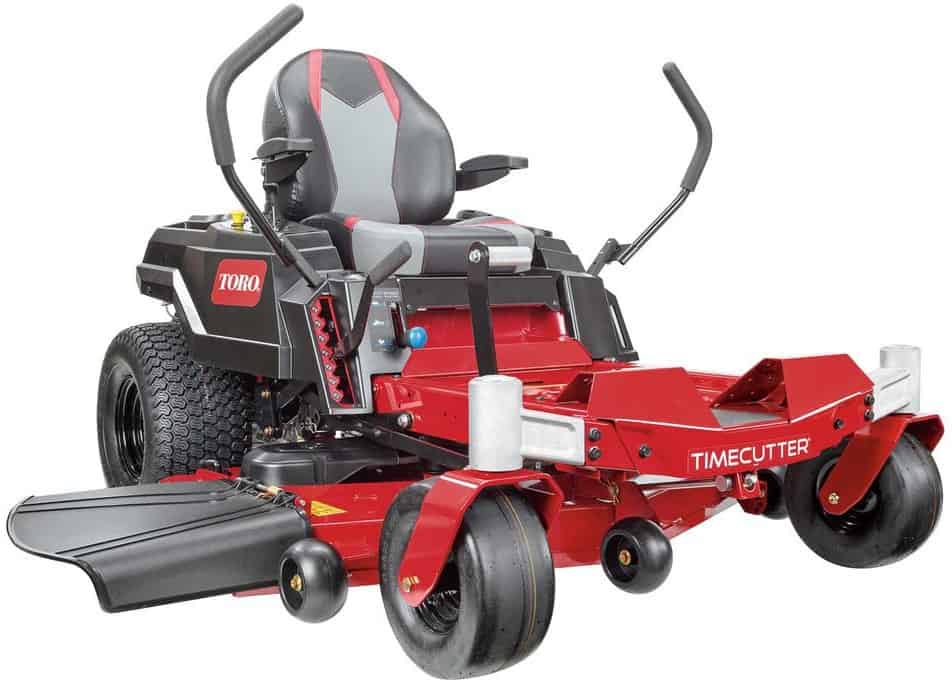 Quality build
The Toro Timecutter is made of a 10-gauge steel deck and a tubular fabricated body. It offers superb strength since it can handle extreme weather conditions and dense grass. With a full welded body, you are almost guaranteed at least 5 years of strong mowing throughout your property with ease.
Engine
Kawasaki engines are known to be very versatile and highly easy to maintain. With a 23-horsepower engine, your mower can speed up to 7 miles per hour and mow in reverse at 3 miles per hour with no problems at all. 
Mowing Width
This Toro Timecutter has a 50-inch mowing deck giving you better ground on mowing. With 3 blades and a deep mowing deck, this is a good mower that can handle easy mulching upgrades. It also comes with a deck cleanout thus requiring you less effort in post-mowing cleanup.
Riding Safety and Comfort
Ride in style, ride your Toro in style with a handcrafted high-back seat with armrests that provides the ultimate comfort in its padding and back support. Keep mother nature off your back while you mow with protective tire fenders. The large fenders also house the dashboard that provides easy access to all your controls.
| Pros | Cons |
| --- | --- |
| Fast mowing speed | Not fit for hills, slopes, and soft soil |
| Easy clean-up and maintenance | |
| Comfortable riding experience | |
Overall
The Toro Timecutter is a great choice for large properties and mid-range use. With a wider deck and a stronger machine for mowing, you can definitely speed up the process of maintaining your lawn with little hassle and effort on your part.
Best For Hills and Slopes: Cub Cadet Ultima ZTX4
Zero-turn mowers can be used for gentle slopes but not over 15 degrees of angle. In fact, smaller zero turns can't even go over slopes steeper than 10 degrees. However, there are some z-turns that offer better precision and strength when it comes to mowing over sloping terrains.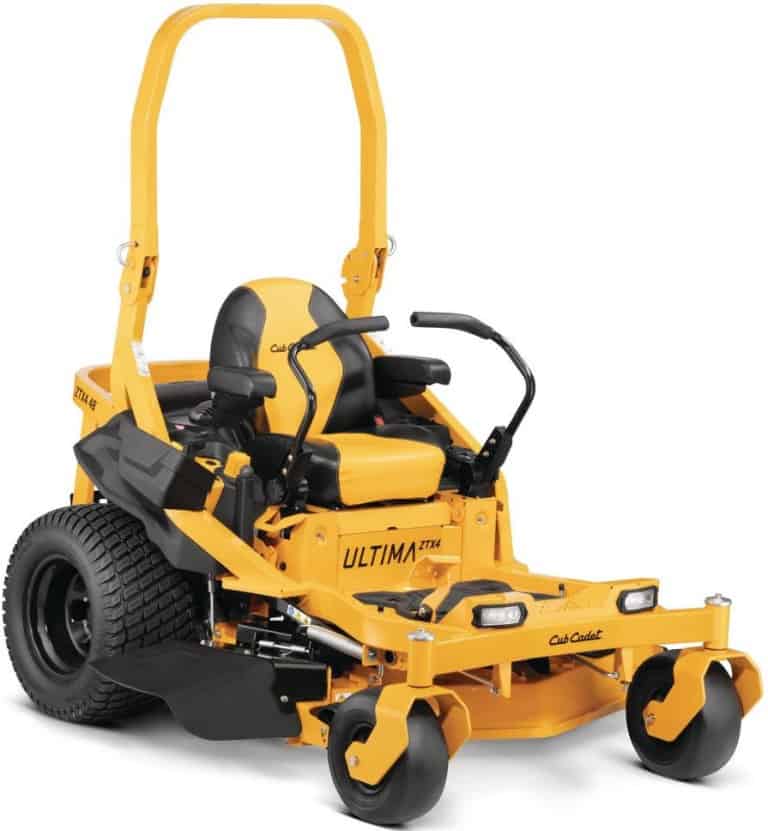 Quality build
With a deck built with 10-gauge steel and a body using 7-gauge steel, you won't go wrong with a highly durable machine like the Cub Cadet. This fully-welded mower allows you to mow through intense conditions and not worry about your machine getting damaged along the way.
Engine
This Cub Cadet model uses a Kohler Pro 7000 series v-twin engine giving you the latest engine technology for lawn mowing and gardening equipment. With a 24-horsepower engine, go over your property at 8 miles per hour and even reverse mow at 3.5 miles per hour. This not only improves speed but efficiency as well. The strong engine allows you to go over sloping hills of up to 15 degrees with absolute ease and even go as far as cutting grass over 4 acres of land.
Mowing Width
Along with your 24 HP engine, you have a 54-inch mowing deck. This allows you to mow more grass in a single passing. With 3 blades in your deck, you have a machine that powers through your lawn with clean-cut precision. 
Riding Safety and Comfort
The Cub Cadet has rollover protection that prevents you from tipping over. In addition, it comes with a seatbelt for rider's safety and shock absorbers to dampen the vibrations that you may feel as you mow.
The Cub Cadet also has a noise reduction system that allows you to trim your property with less ringing in your ears. Plus, you have an ergonomically designed seat that offers superb comfort as you mow through your lawn.
Additional Features
What I love about this mower is the dashboard. It includes many gauges that other ZTRs don't often have like an hour meter, battery indicator, and even an easy-to-reach single-lever deck height adjustment. These improve comfort and easy controls over your mower thus making it more efficient for you to plow through anyone's yard.
| Pros | Cons |
| --- | --- |
| Great for hills | Front swivel tires dig into the dirt |
| Easy controls for better maneuverability | |
| Great speed for mowing | |
Overall
This cub cadet is a crowd favorite that does its best in putting everything you need in a single ZTR. This particular model is ideal since it is a mid-range zero-turn mower but functions like a professional z-turn making it a great machine for large properties as well as gently sloping hills.
Best Electric: Ryobi Zero Turn with Bagging Kit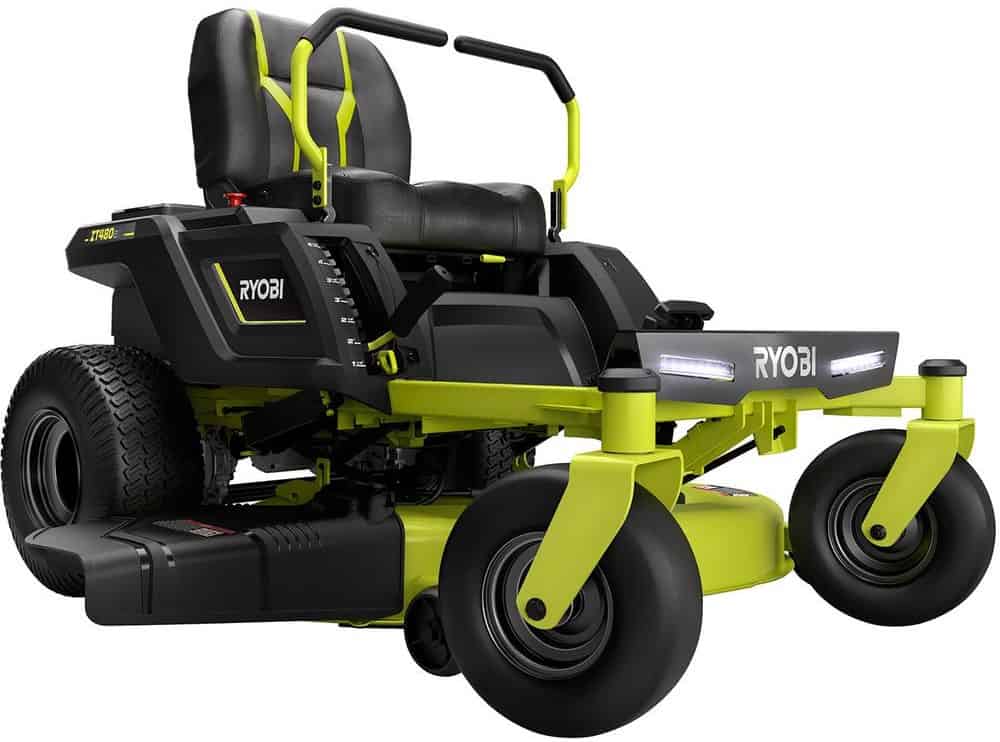 Quality build
Designed with a 12-gauge steel body, this electric riding mower is a dream mower for many eco-friendly property owners. With a durable but stunningly designed body, you not only have a powerful machine that can easily trim your property but you can also mow your property in style. 
Engine
Unlike any other gas-powered engine, this mower allows you to mow your lawn on a single battery charge. Since it is energy efficient a single charge can cover up to 3 acres of mowing without easily breaking down, heating up, or losing its power right in the middle of a mow. 
What I do love about this is that it has four brushless motors that offer unrelenting torque and power. The engine itself is a work of art, it has close to zero maintenance since it doesn't have spark plugs, belts and fuel filters to replace every now and then. Its zero-maintenance allows you to spend less time post-mowing.
Mowing Width
The Ryobi only offers up to 42 inches of z-turn mowers. However, even with a smaller mowing width, it still offers the same quality cut and precise lawn care. Since the Ryobi is a powerful yet gentle machine that flows through your garden or lawn, despite a smaller mowing width, it offers superb cut quality.
This model also comes with 2 bagging blades and a bagging kit. You can replace your mowing blades by getting the best mowing blades for mulching or all-purpose mowing. The bagging kit can easily be attached to the side discharge of your mower.
Riding Safety and Comfort
Crafted with a superb seat, the Ryobi also provides amazing riding comfort. The padded seat, levers and a full handle covered with a hand grip, the mower is definitely very comfortable to ride and even control. Since it doesn't have a gas-powered engine revving below, it has less noise and less emission. 
Additional Features
This is a great gardening partner for many since it has a hitch and tow attachments that let you pull carts, seeders, and more over your property. Since this is an electrical mower it includes an all-in-one dashboard that offers you easy-to-read gauges like battery level and hour meter. It even comes with strong headlights which is perfect for low light conditions.
| Pros | Cons |
| --- | --- |
| Noiseless and low maintenance | Not fit for hills |
| Easy controls and fast mowing speed | |
| Towing attachments for additional gardening use | |
Overall
The Ryobi is a wonderful electric mower. Though there aren't any larger mowers of its kind, this surely cuts out many of the hassles of a typical ZTR especially when it comes to maintenance. As the future of zero turn mowers, this is a mower that's really great for weekly mowing over flat properties.
Best For Commercial Use: Beast Zero Turn Mower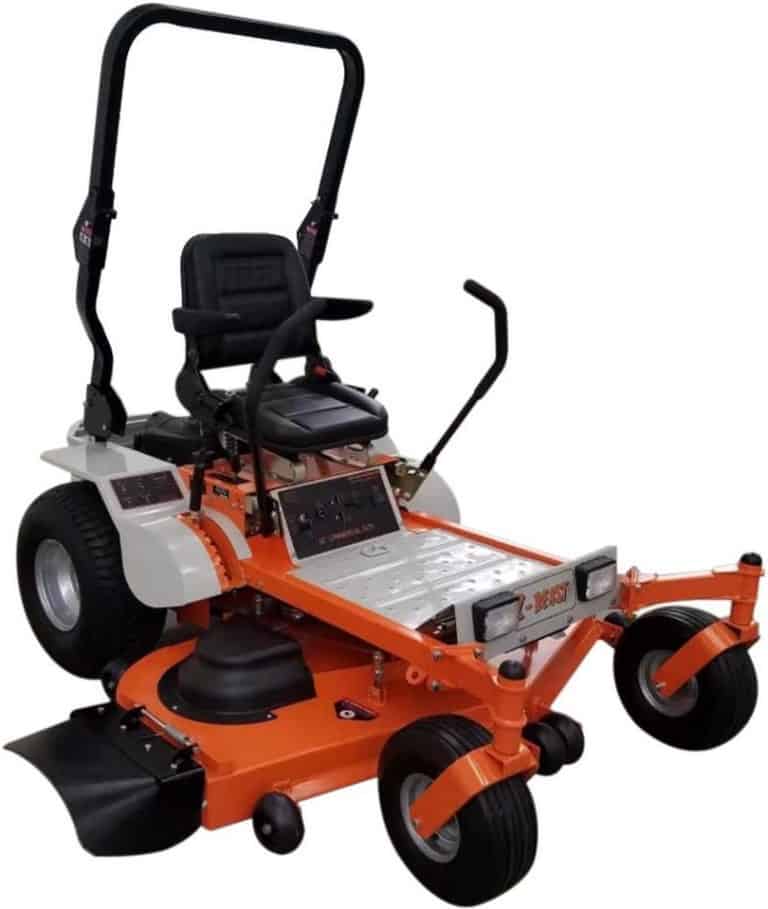 Quality build
Using enhanced steel and a 7-gauge steel deck, the Beast is a real animal when it comes to durability. Built for strength and powerful mowing, this is a machine that will never disappoint you when it comes to intense commercial property mowing. Driving through dense and tall grass, this is definitely a powerful machine that can mow fields of grass in a short period.
Engine
Giving you a 25-horsepower engine, this powerhouse is a real master at mowing acres upon acres of land at top speeds of 10 miles per hour and can perform reverse mowing at up to 6.5 miles per hour. This is one of the fastest commercial mowers you can get your hands on. And with a powerful engine, it also comes with a full tank capacity of 7.5 gallons that allows you to run at up to 6 acres without topping up.
Mowing Width
You have a massive 62-inch deck that's about twice as much as a lawn tractor can cover. Your mowing deck has a deck cleanout system that lessens the hassle of cleaning up your mower after every tough job. Mowing hours of land can still take a toll on you but you don't have to worry much about post maintenance on your deck.
Riding Safety and Comfort
The rider's seat may not look as comfy as others but it offers great support. The thick padding provides a soft cushion to reduce the vibration caused by the machine and heavy mowing underneath. In addition, you also have foot-assisted deck height adjustment and easy lap bar adjustment to make every rider feel at ease at mowing. 
The Beast also has a rollbar in place of a rollover protection system. The rollbar improves the center of gravity and prevents your mower from tipping over when you're performing tough turns.
Additional Features
This Beast comes with a pair of strong headlights to help your mow even in really dim lighting. What you'll also love is that it also has a side discharge and hitch and tow attachments making it a great partner for heavy gardening and farming needs.
| Pros | Cons |
| --- | --- |
| Highly safe and secure mower | Digs through soft soil |
| Perfect for tough mowing conditions | |
| Fast but with great cutting precision | |
Overall
This is a real powerhouse mowing machine that is great for any businessman. It's a worthy investment that will definitely make your lawn mowing business a great success. This zero turn mower is not just good for business but it is versatile equipment that any farmer might also want to have in their vast farmland.
The Final Verdict
Choosing the best zero turn mower is all about finding the best match for your needs. You don't need a strong mower if you only intend to use it for your lawn but if you're looking for a strong machine that you can use as a side hustle, then investing in a heavier duty and stronger machine is a sure win for you. As a ZTR owner, I know just how much a zero-turn mower helped me in making my life easier when it comes to maintaining my lawn and I'm sure you're going to find the best fit for you too.