What's a better way to kill two birds with a stone other than attaching a good tow-behind spreader to your zero-turn mower? There's a difference when you invest in a good, nice tow-behind spreader; the components –be it grass seedlings, fertilizer, sand, or salt– are properly and evenly distributed, which is one of the most important aspects of maintaining your yard. 
You will hate to see clumps of grass growing green in patches, or many areas of brown stripes where the fertilizer didn't meet or overly-met and eventually burnt the spot. I know you might think no spreader is capable of such sabotage, but you will find a few. That is why I bring to you the best tow-behind spreaders for your zero-turn mower so that when the need arises, you know exactly which spreader to seek. 
Some features belonging to your terrain, size of yard, or you in specific will enable you to pick the right tow-behind spreader amongst all. I will be discussing all of the instances so that you match your requirements to the worthy spreader. Shall we?
Sturdiest Spreader: John Deere Broadcast Tow-Behind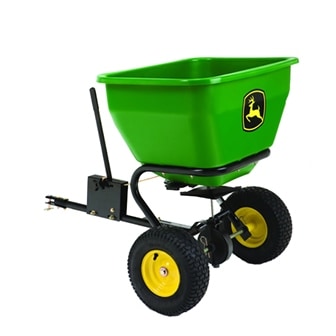 If you prefer to run across your yard with your zero-turn on full throttle and you're afraid it would be consequential pulling a tow-behind while at it, no worries because you can go for the John Deere tow-behind spreader. This product is particular for the wide stance that grants it reputable stamina on the move so that when you pull the spreader around your yard, you would not fear it tipping over its wheels or spilling its content as you whizz by.
This tow-behind spreader will sweep your fertilizer or grass seeds well around 12 inches of width space, saving you enough time to get off your yard. It comes with a universal hitch so attaching it to your mower is quite easy, and equally as easy to operate thanks to the raised on/off control that you can reach across your zero-turn mower seat when you're in motion. 
The best part is the quantity of stuff it can carry; you can pour about 175 pounds of fertilizer, grass seeds, grit, or whatever you may need into the holding space and it will spread well around your yard. This means that if you fill this spreader to the brim, you wouldn't need to refill till three-quarters of your one-acre yard is blanketed with your desired content.
 If you're into commercial landscaping and you prefer to speed through the many acres you tend to, the John Deere tow-behind spreader is the one for you. It has the required stance to keep it steady at full speeds as you go.
| Pros | Cons |
| --- | --- |
| It is simple to assemble | You will need to purchase a rain cover separately |
| Absolute best for bumps | While the stance is great, the tires are not as nice for bumpy terrain |
| Very easy to attach and use | |
Best For Large Yards: Brinly Tow-Behind Broadcast Spreader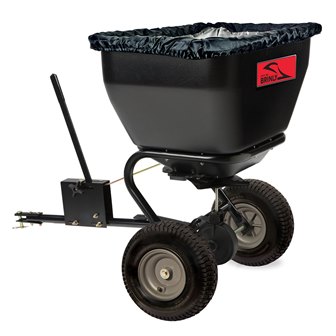 Some spreaders are not built for heavy-duty; they might be fit for small lawns that would only require them to be towed once a week or so. That is why you need a durable tough spreader that will withstand the pressure if you have a large yard. 
The Brinly spreader has a capacity of 175 pounds which will cover roughly an acre of yard with a rigid build for the long run. So, if you are seeking to fertilize or spread seeds, salt, or anything else over an acre of yard, this is the perfect tow-behind for that purpose. They come equipped with 13 by 4-inch pneumatic tires for good stamina to keep them grounded while you pull them across your yard, and a spread width of 10 to 12 inches. All you have to do is attach the Brinly spreader to your zero-turn mower – which is easy to do because of the universal pin hitch system it comes with – and you're good to go. 
Everything about this product was thoroughly considered for the average extra-hour duty; from the stainless steel hardware gear to the durable, rust-proof polythene that prevents harsh fertilizers from wearing the surface out.
| Pros | Cons |
| --- | --- |
| It will last you a lifetime | It is not quite ideal for spreading sand because of the plastic spreader disc |
| Perfect choice for large yards | The handle is a little too out of reach for comfort; difficult to grab when you're in the riding mower |
| Spreads evenly and properly | |
| Has a standard rain cover | |
Best Multi-Purpose: Precision Tow-Behind Spreader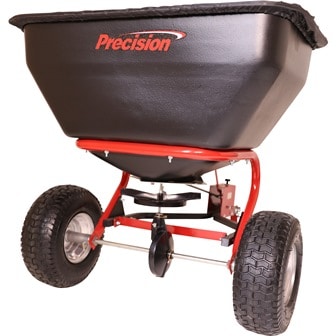 The precision spreader is famous for its 130-pound holding diverse capacity, best for you if you like to diversify your duties because weighty substances like sand and salt are not difficult to sprinkle for this spreader; there is a unique internal screen that properly distributes the particles to avoid clumping. To enhance durability, the steel frame of this spreader is coated heavily with powder to ward off erosion which is great for a piece of equipment you'd hope to last long for your money's worth. You'll find that the tires are 15-inch in size which is a good size if your terrain is bumpy. All gears and knots are greaseable further expelling the concept of rust on this tow-behind spreader. Everything is put together properly to ensure you enjoy the machine for a long period. 
The spreading width varies from 10 to 12 in radius covering both sides depending on the weight and composure of the substance. Also, you are able to turn the Precision tow-behind on and off and regulate the broadcast radius from the seat of your zero-turn mower, although with a lot of stretching. It is equipped with a universal hitch attachment system so you don't get worked up trying to affix the spreader to your ZTR.
| Pros | Cons |
| --- | --- |
| Very easy to set up; no misleading instructions | The design flaw makes the handle impractical to use. You'd find it a hassle reaching and controlling the handle of the spreader |
| Spreading is good for all kinds of substances irrespective of texture | |
| Comes with a rain cover | |
Best For Fertilizing: Yard Commander Tow Broadcast Spreader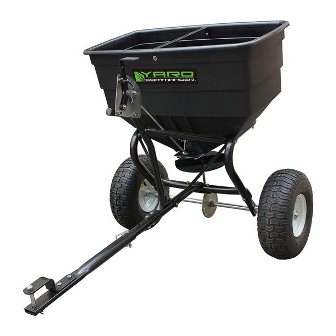 When you have a specialty, you know exactly what you're looking for and it narrows down your options even better. The Yard commander spreader is built for lightweight content like seeds, fertilizer, or pesticides, and it spreads superbly! If you're looking into seriously improving your lawn and grooming it in the best way imaginable, go for the Yard Commander. 
Showing up with a 125-pound capacity, you have enough leverage to disperse as many seeds and fertilizer as you require. The material of this spreader is built to withstand the harsh chemicals of the fertilizer so that it lasts you for as long as acceptable. You will be met with a universal hitch for easy fixing, wide pneumatic tires at 14 inches, and a spread radius of about 10 – 12 radius coverage. 
The best part of this equipment is the fact that they're easy to put up; you don't need help from Einstein to assemble this spreader. All the instructions are straightforward to understand. For easier assembling, use a power drill and a hex; you'd find it smooth as the breeze. 
The handles are easy to reach and operate, in comparison to other spreaders with the design flaw of short unreachable handles. Although they have wide tires, they don't do well on bumpy terrain. This possibly has to do with the stance of the spreader. Perhaps if the company produced them with a wider stance to defeat slopes, then they'd be perfect for small-sized residential lawns. In essence, though, they make a good spreading tow-behind equipment for your zero-turn mower.
| Pros | Cons |
| --- | --- |
| They are significantly easy to assemble | They don't fare well on irregular-plained terrain |
| The handles are within reach and pretty accessible | They're not ideal for coarse substances like sand |
| | They lack the rain cover, so you would have to improvise in case of a drizzle |
Best Budget: Craftsman Tow-Behind Spreader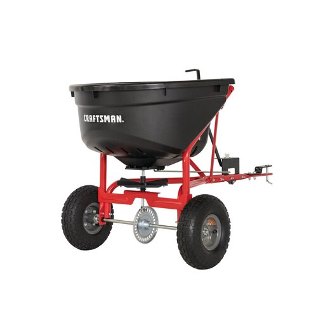 If you are a fan of Agri-Fab merchandise, you'd be pleased to find that the Craftsman spreader is manufactured by Agri-Fab factories. This spreader does not come with the fun characteristics you may fancy on the previously mentioned heavy-duty tow-behinds, but you get a decent amount of responsibility from the Craftsman anyway. Unless you have very specific requirements, if your lawn is about 1 acre and below, you'd be very satisfied with this tow-behind spreader. 
For a fraction over $100, you get 110 pounds of capacity coupled with pneumatic tires and a universal hitch for easy set-ups. Spreading fertilizer and grass seeds over your lawn will be very ideal with this equipment. They are small and easy to maneuver around the yard so if you have obstacles, this one is best for you. I have to warn you though, they are not meant for heavy-duty and will crack under the weight if you subject the Craftsman to those. I strongly suggest you get this spreader if you are handling a rather small residential lawn that would require easy maneuvering.
| Pros | Cons |
| --- | --- |
| Quite affordable | They do not cope well on bumpy terrain |
| Easy to set up | They are not meant for heavy-duty tasks |
| | Do not come with rain cover |
The Overall Best Tow-Behind Spreader For Your Zero-Turn Mower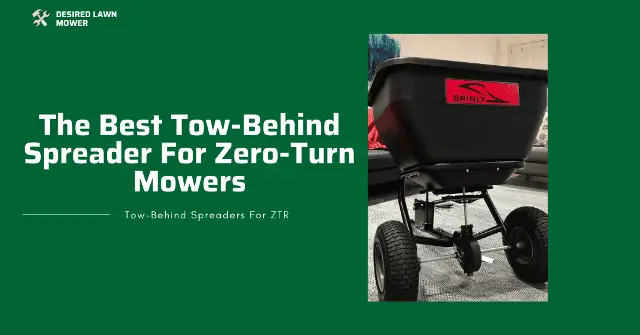 On choosing a good spreader, you would want to make sure the spreader is durable, easy to use, and functions properly in all conditions. Your lawn or yard may be small and flat as the nicely tarred roads, but it will still be safe for the spreader to have good stamina so that it fares exceptionally well in rather decent conditions. 
I highly recommend the Brinly tow-behind broadcast spreader to offer you all that you need when you're set to spray your lawn. 
The Verdict
Selecting a good tow-behind spreader may be tricky, but that's only how bad it can get. You have a variety of tough options out there, but with a discussion like this, you're a pro in this field. Use the features of your lawn and your requirements to select the best tow-behind equipment for you. 
There's no possible way it could go wrong for you when you choose a befitting tow-behind spreader that will tick all your requirements, or at least most of them because I'm sure some landscapers wouldn't mind their equipment going to the moon!