When you're talking about lawn mower brands, you simply can't be all-rounded without mentioning Gravely and Hustler. These companies have been in the lawn machine game for as long as the early 1900s, and have well-deserved recognition for producing high-quality and efficient mowing machines for the market. You'd be comfortable going with either brand, however, they have certain differences that you can highly benefit from depending on what you seek. So, a comparison like this can help you decide which brand is best for you.
Gravely produces longer-lasting and more durable mowers in comparison to Hustler. On the other hand, Hustler produces much more modernized and efficient machinery. It will depend on your priorities to make your ultimate choice in the end.
In this article, we'd be drawing a parallel between the Gravely and Hustler brands to help you select the trademark that suits you the most, depending on your mowing needs. Let's get into it!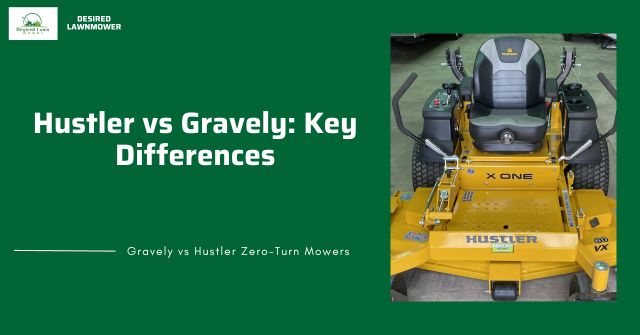 9 Key Differences Between Hustler And Gravely Riding Mowers
1. Gravely Offers Residential Mower With Commercial Benefits
Gravely is known for gifting residential-grade mowers with commercial components that all together will improve the lifespan of your machine. For example, the Gravely ZT XL zero-turn residential model features a heavy-duty steel frame, a high back seat complete with armrests, and a foot-operated deck lift to easily adjust your cutting height from 42 – 60 inches! Though these features may seem insignificant, they heavily contribute to the ruggedness and lifespan of the mower positively.
2. Hustler Zero-Turn Mowers Are Much More Compact And Maneuverable
The Hustler brand is well-known for pairing their mowers with the SmoothTrak steering feature that allows better maneuverability, precise cuts down the time, energy, and fuel spent mowing the lawn. However, this is only limited to the zero-turn line and not the tractors. If you're a commercial lawn tender that would rather get the job done very quickly with neat and precise cuts, go for the Hustler instead.
3. Gravely Riding Mowers Are Best For All-Season Use
If you're hoping to use your mowing machine to mow as well as plow snow, the Gravely is your best bet. They are equipped with the SmartChoke feature that allows you to start up your machine easily without the stress of manually adjusting the choke. This feature is only associated with the zero-turn models with Briggs and Stratton engines, so you should ask your dealer enough questions about the SmartChoke feature before purchasing a model.
4. Hustler Offers Premium Mowing Comfort
Mowing the lawn may sometimes include getting beaten by your riding mower. Sometimes, the seats provide little to no suspension or protection from the angry shock waves that attack when you ride over your bumpy terrain. Thankfully, the SmoothTrack feature of Hustler zero-turn mowers provides premium suspension for the machine. They contain coil-over shocks mounted at the rear axle and front wheels of the machines, that help to protect you from the shock waves during motion.
5. Gravely Has Better Lawn Mower Experience
Being in the business since 1916, there's no doubt about the immense experience Gravely company has earned for themselves. This level of experience has thrown the brand up the scale in terms of credibility including user experience worldwide.
If you are seeking a brand with better assurance, Gravely is your best option. As opposed to this, Hustler entered the show 54 years after Gravely and quickly gained recognition thanks to their innovative and clever machinery. However, nothing beats the long-term experience Gravely is using to their advantage today.
6. Hustler Riding Mowers Have Better Cut Quality
When it comes to cut quality, Hustler models bag the deal. While Gravely may excel with their quality top-notch deck blades, Hustler mowers include a suspensive feature called "flex forks" that allows the deck to float across the terrain providing a much more detailed and consistent cut. It also minimizes scalping when you're treading over uneven terrain.
7. Gravely Mowers Are More Affordable
Gravely produces more affordable machinery compared to Hustler. The requirement for modernized features put the Hustler company up the scale in terms of cost. On the other hand, Gravely produces more value for money but with a less ergonomic or modernized design. If you have a tight budget and are interested in durability, the Gravely mowers are your best bet. Otherwise, you can explore the fun side of mowing by going for the Hustler.
8. Hustler Mowers Have Better Stamina
Hustler mowers sit lower to the ground and have a wider stance in comparison to the Gravely. While Gravely manufactures their mowers with bigger tires, these mostly assist with protecting the mower from wearing out quickly over time. Hustlers with a better center of gravity will be most suited for hilly or bumpy terrain.
9. Gravely Has Better Customer Service
Gravely companies have quicker and easy-to-reach customer service to help you with your concerns. On the other hand, the Hustler brand is competitive with the mobile service program they offer that allows customer service to traverse your place of residence to alleviate your problems. Overall, the best and most efficient customer service goes to Gravely.
The Best Gravely Zero-Turn Mower Models To Purchase
Whether you're seeking to mow your lawn or delve into commercial mowing, these models listed below are a great head start.
| Name | Use | Deck Size | Capacity |
| --- | --- | --- | --- |
| Gravely Pro-Turn 600 | Commercial | 60 Inches | 35 Horsepower |
| Gravely Pro-Turn 200 | Commercial | 52 Inches | 27 Horsepower |
| Gravely Pro-Turn 100 | Commercial | 52 Inches | 24 Horsepower |
| Gravely ZT XL | Residential | 42 Inches | 22 Horsepower |
| Gravely ZT X | Residential | 42 Inches | 22 Horsepower |
| Gravely ZT HD | Residential | 54 Inches | 24 Horsepower |
The Best Hustler Zero-Turn Mower Models To Purchase
With Hustler lawn mowers, you'd be sure to get the job done effortlessly. The modernized and ergonomic design of the models permits them to serve you in the best way possible, allowing a shallow learning curve and an automatic method of approach during mowing.
| Name | Use | Deck Size | Capacity |
| --- | --- | --- | --- |
| Hustler Super Z | Commercial | 72 Inches | 35 Horsepower |
| Hustler Super 88 | Commercial | 88 Inches | 33 Horsepower |
| Hustler Fastrak SDX | Commercial | 60 Inches | 27 Horsepower |
| Hustler Dash | Residential | 34 & 42 Inches | 10.5 Horsepower |
| Hustler Raptor XD | Residential | 48 Inches | 21.5 Horsepower |
| Hustler Fastrak | Residential | 54 Inches | 24 Horsepower |
Should I Choose A Gravely Or Hustler Residential Zero-Turn?
When it comes to residential zero-turn mowers, Gravely aces the comparison with flying colors. I find the ruggedness of Gravely residential ZTRs quite efficient in terms of durability and productivity. Gravely is keen on producing residential mowers with commercial benefits; matching commercial-level decks with residential models including transmission systems, engines, comfort features, and the entire frame of the machine.
Are Gravely Commercial Zero-Turns Better Than Hustler ZTRs?
The commercial models of both brands are quite competitive. If you select either of the competitors, you'd be fully satisfied. However, it would help to know that the Hustler commercial ZTRs cost way more than the Gravely, but they will deliver the best user experience and efficiency. They also have better traction and stamina for bumpy or rough terrain.
Gravely on the other hand delivers top-notch durability and resistance in the toughest mowing situations. In the end, it will depend on your aesthetically pleasing preferences or your choice between durability or efficiency to make your deal.
How Do I Contact A Gravely/Hustler Lawn Mower Dealer?
To contact a Gravely or a Hustler lawn mower dealer to make further inquiries, all you have to do is go to their home page and find the dealer locator link. Click on this link and enter your zip code to locate the dealer closest to you. It's important that your lawn mower dealer is close to your place of residence to make communication and purchasing easier.
Sometimes, there'd be special deals allocated to your location that you wouldn't want to miss. Also, you must consider hauling the machine home after you have made a purchase; it would be such a hassle bundling it to your home from a thousand miles away!
Wrapping It Up
The major difference between Gravely and Hustler is what each brand prioritizes. Gravely puts serious thought and work into building long-lasting and efficient machines – the type that you can pass down as a family heirloom – and the Hustler prioritizes user comfort and productivity in a much more modernized way. So, if you're seeking likely everlasting mowing machines, the Gravely is your best bet. If you would rather have a fun time mowing and trying out new fun designs, go for the Hustler instead.