With dozens of zero turn mower brands and hundreds of models to choose from, getting the right z-turn mower for your lawn can be a tricky decision. Unlike your average manual push lawn mower, you need to consider many factors before choosing a riding lawnmower. Making the wrong decisions is a very expensive mistake. To avoid that, I made this easy-to-understand buying guide to help you choose the best residential zero turn mower for your lawn.
Tractor vs zero turn mower: Which one is better for residential mowing?
Riding mowers are now in the rave, they're fun, efficient and can literally cut your mowing time down. However, many debates over which of the two is better at mowing your grass. Tractors and zero-turn both function the same but operate in completely different ways. But when choosing the right mower, you need to always consider your lawn and what it needs for superior maintenance.
 Tractors and ZTRs are perfect for a sizable lawn though they can both cover acres of land at a time, many claims that ZTRs are superior when it comes to mowing larger properties. With larger deck sizes, riding mowers can easily mow through large pieces of land. However, lawn tractors can only go as large as 62 inches. Though it isn't as common as you think because larger deck sizes increase the weight of the mower significantly affecting its performance. 
Zero turns are more compact allowing them to have deck sizes as large as 72 inches. This makes zero turns more effective when it comes to large pastures. 
Most riding mowers often have the same set of blades and height adjustments. But the intended grass meant for both mowers also differs. Tall, tough, and brushy grass are hard to mow and can really have a heavy bearing on the machine whereas the zero-turn engine has more power to handle types of grass-like these. ZTRs can cut grass up to 10 inches. Lawn Tractors don't recommend cutting grass taller than 8 inches.
When it comes to mowing slopes and terrains, most ZTRs are limited to gentle slopes. Zero-turns can go through gentle slopes but not steeper than 15 degrees. On the other hand, a lawn tractor can go up to 20 degrees. Lawn tractors hold better traction on gently sloping terrain.
One of the perks of owning a zero turn mower is its visibility. Sitting on top of the engine and the mowing deck gives a better 360-degree view of the property as you mow. Whereas, a lawnmower limits your vision with its large bumper. This could be problematic especially for those who have unequal terrains.
One factor you have to consider when buying a mower is your location. As great as zero-turn mowers are, they're not ideal for mowing grass in winter. Lawn tractors have more upgrades that accommodate winter mowing. 
With a more powerful engine and better visibility, zero-turn mowers can run as fast as 10 miles per hour and reverse mow in half that time. In comparison, lawn tractors are limited to only up to 6 miles per hour. With a large bumper up front, speeding up can cause problems with a lawn tractor.
Riding lawn mowers are powerful machines that can mow over your property without hassle or delay. However, when it comes to sizes, lawn mowers are only limited to a maximum cutting width of 60 inches. Whereas, zero turn mowers can stretch up to 72 inches.
There are no other large mowers than a zero turn that offers superb precision because of its zero turn radius. Lawn tractors let you go around and track back to areas you haven't mowed. This can slow down the process of effectively mowing your lawn
Things To Consider When Looking For A Residential Mower
The basic things you need to know about getting a mower are its cutting width and engine. We all know that most z-turns have a dual hydrostatic engine. But when buying a residential lawn mower, you don't often need to purchase a machine with a large horsepower. This can drive up your cost and can also be a decisive factor in how much fuel your mower is going to consume every time you mow your property. An 18-horsepower engine is not a problem for a sizable yard.
Many property owners love going big, it's more affordable and the benefits are outstanding, however, buying a large mower doesn't always guarantee satisfaction. As a matter of fact, you can simply opt for a smaller machine but still get your desired results. But one of the major things that I really consider when buying a zero turn is whether or not it's going to fit through your gates, into your shed, or in your garage.
You also have to consider the pathways of your property especially if you have obstacles to deal with. The best sizes for most residential mowers, considering that most properties are only up to 2 acres of lawn, are between 42 inches to 54 inches.
If you have a property that drops to a foot every 3 to 4 feet, then a zero turn mower may not be ideal. However, if you have a flat property with considerable obstacles, a z-turn is highly beneficial.
Best Residential Zero Turn Mowers
John Deere Z345R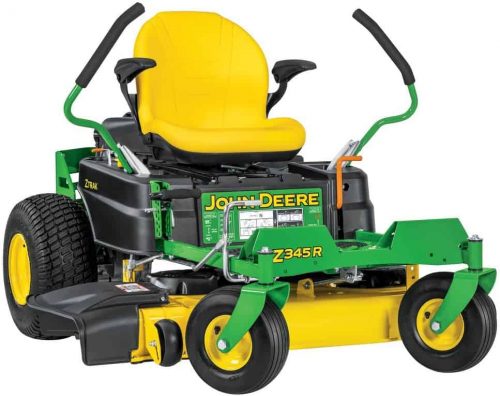 Engine and Make
Get your ultimate mowing experience with a John Deere Z345R. Designed for average to tough mowing jobs, you can easily track through your lawn leaving no inch untrimmed with this great z-turn mower.
Powered with a 22-horsepower engine and a fully welded steel deck and frames, you are assured that you're going to have a decent mower to trim your lawn for a very long time. The Ztrak's heavy-duty frame allows you to perform a  robust mowing task without worrying about your mower breaking down and can even extend average mowing services to your neighbors with this John deere riding mower.
Size
This small mower comes with a 42-inch mowing deck that allows you to clear your property of unkempt grass. This is large enough to quickly trim your lawn but has just the right size to fit through average doors. With a smaller machine like this, storage is far quicker and simpler.
This mower comes with a 3-gallon tank allowing you to mow up to 2 acres of land without having to fill it back up again.
Lawn preference
The John Deere can easily handle flat lawns with multiple obstacles. If you have a garden or a patio to mow around, this surely won't pose a problem for your John Deere.
| Pros | Cons |
| --- | --- |
| Choke-free engine start | Not fit for tough brush mowing |
| Speeds up to 7 miles per hour | Can mow grass only up to 7 inches high |
| Convenient foot deck for easy machine access | |
Ryobi Zero Turn Mower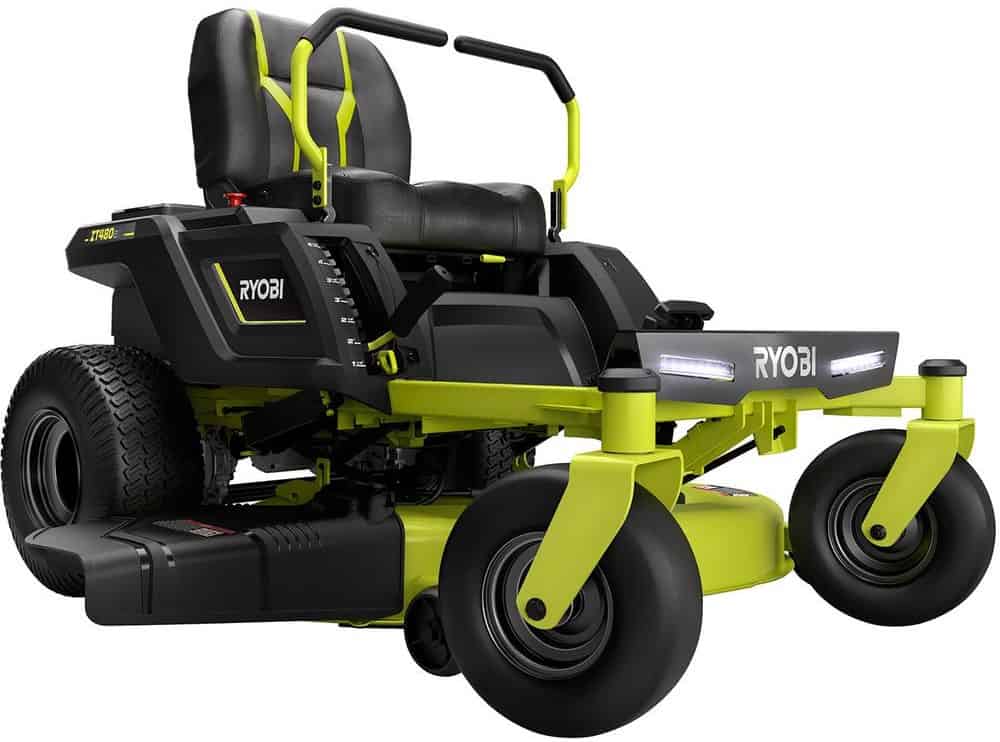 Engine and Make
This exclusive electric mower is a powerhouse driven by 4 brushless motors adding better engine efficiency and lessening troublesome maintenance. With a brushless motor, you have less wiring and belts to deal with making maintenance less of a hassle and also increasing the lifespan of your mower.
The Ryobi is built with a heavy-duty steel deck and fully welded steel body, this electric zero turn mower is a dream mower to own. Though more costly for its size, its long-term cost of ownership is significantly lower than an average mower since it has less parts to replace and repair like spark plugs, belts, wiring, and more.
It also comes with a built-in headlight making this a great mower for those who prefer mowing their lawns in low light conditions.
Size
I still chose the 42-inch mowing deck since it really is the ideal size for residential mowing. Though Ryobi has larger sizes, I prefer this mower mostly because of its increased mowing capacity. Small as it may be, it's highly efficient and upkeep is far better and easier for smaller mowers.
Lawn preference
The engine is powered by a 100Ah battery allowing you to mow up to 3 acres of flat property in a single charge, that can go lower to 2 and a half hours for properties with gently sloping hills of up to 15 degrees in slope. If you have softer terrains, this is a good machine to own since it has an electric transmission that makes it easy to adjust the throttle in different types of soil.
| Pros | Cons |
| --- | --- |
| Top speed of 7 miles per hour mowing and 4 miles per hour in reverse | Unfit for winter mowing |
| Large battery capacity mowing up to 3 acres | |
Toro Zero Turn Riding Mower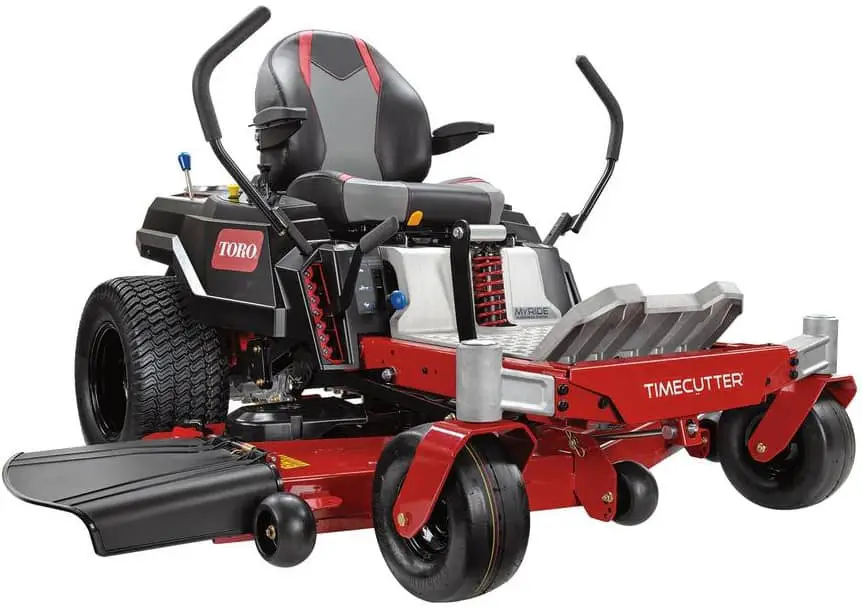 Engine and Make
If you're looking for a mower with a more powerful engine to handle tough grass and slight brush, then I'm suggesting this Toro Timecutter do the job for you. Built with 10 gauge steel you have a mower that can easily plow grass with ease without digging into your soil. The fabricated deck makes a full solid mowing deck offering a highly durable machine that offers intense mowing capacity. 
The 24.5 horsepower engine allows you to power through your mowing task without it breaking down. It also speeds up the process of mowing your property since it can handle heavy-duty mowing tasks.
Size
Blessed with a triple-blade 54-inch mowing deck, this is a mid-sized mower fit for up to 3 acres of property mowing. What's even better is that despite being a larger, more powerful machine it's very comfortable since it comes with shock absorption that prevents you from a shaky uncomfortable ride. Adding fun and absolute power as you mow through your property, this machine leaves you with precisely cut grass in every pass. 
Lawn preference
Although this is a powerful machine, it still can't go over lawns that have steeper slopes. It is heavier and significantly more efficient but not on hills. However, This is still a great mower that can cut through 10 inches of grass and mild brush allowing you to tend to really tough grass and weeds.
| Pros | Cons |
| --- | --- |
| Comfortable ride throughout | Weak in slopes |
| Maximum mowing speed of 7 miles per hour and 3 miles per hour in reverse | |
Beast Zero Turn Riding Mower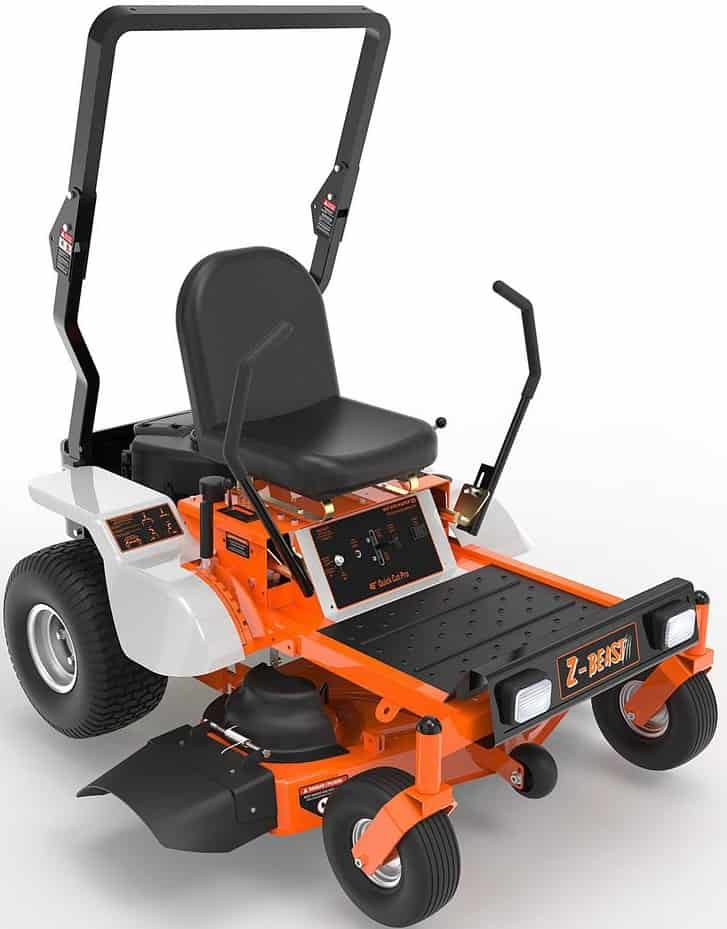 Engine and Make
Get a Beast to deal with stubborn grass and keep your lawn looking beautifully kept. Powered by a 20-horsepower engine, this machine comes standard with an 11-gauge steel body that can withstand harsh conditions from both the weather and tough mowing tasks.
This Beast zero turn mower uses its patented soft-start clutch and spindle brakes giving you a longer belt life and lower maintenance. With wider rear and front wheels, you won't have to worry about lines on your property or your mower digging into the soil as it mows along a water bank. Though it can gently tread over soft soil, you need to be very cautious because it's still a pretty heavy machine.
What's amazing about this machine is that it can mow your property faster than others in its category since it can run up to 10 miles per hour. 
Size
Giving you a cutting width of 48 inches this machine allows you to cover more space at a time in mowing. It also allows you to spend less time mowing your property. You'll love that it can still fit through a typical garden shed door or your background door with ease.
Lawn preference
Great for tough grass, mild brush and softer terrain, this is perfect for flat to obstacle-filled properties. It works great around sharp turns and complicated landscape designs as well as gently sloping terrain alongside water banks like ponds or rivers.
| Pros | Cons |
| --- | --- |
| Maximum mowing speed of 10 miles per hour and reverse mowing speed of 6.5 miles per hour | Cannot make sharp turns on top speed |
| Comfortable ride and precision cutting promotes | |
Cub Cadet Ultima ZTX4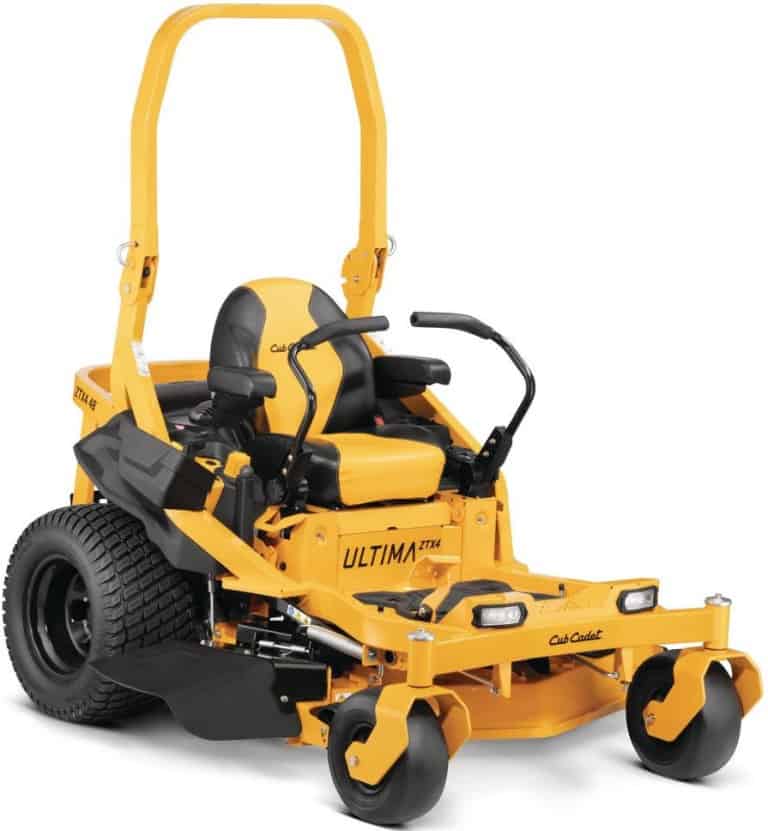 Engine and Make
Made with a strong Kohler 23 horsepower engine, this will allow you to have a strong machine that can handle tough mowing conditions from stubborn grass to tough weeds and mild brush, you can handle mowing at any time of the year. With a strong engine, you can mow up to 4 acres of land on a single run with its 5.5-gallon tank.
This mower is designed with a 10 gauge reinforced fabricated steel making this a dynamic mower capable of withstanding harsh mowing conditions and still leaving your lawn looking professionally manicured.
Size
The mowing deck comes with a 48-inch mowing deck with triple-blade precision cutting lifting blades. With intense mowing, you can accurately mow your way through your lawn with ease. It has a sizable deck that allows better circulation of your clipping making it easy to clean and maintain.
Lawn preference
The Cub Cadet has rollover protection, though it's not completely designed to mow hills and steep slopes, it's still the best residential mower fit to handle slopes below 20 degrees. Nonetheless, this is a wonderful mower for flat lawns with multiple obstacles since it's generally a midsized mower, it can easily fit through pathways and more.
| Pros | Cons |
| --- | --- |
| Great for steeper slopes | Heavy and noisy mowing |
| Gentle mowing over soft soil | |
| Comfortable seats | |
The Final Verdict
I chose a selection of really great mowers. And all these have their own specialty, however, my favorite by far as the best residential zero-turn mower is the Beast Zero Turn. It offers a powerful engine accompanied by a strong built and speedy mowing.
However, if you're looking for a really long-lasting and low-maintenance mower, then opt for the Ryobi Z-Turn. Not only is it cost-efficient, but it is also eco-friendly.
On a final note, if you have a lawn sloping down a terrain, I think you'd love the Cub Cadet Ultima it's a great machine with a strong center of gravity and rollover protection making it a better z-turn mower for residential estates with sloping hills of up to 20 degrees.