The Ryobi and EGO electric zero-turn mowers are very close to winning over the majority of lawn owners and landscapers. They come in a blast of unique features and striking aesthetics, making it troublesome to put together your choice and seal the deal. So already, the two brands are solid choices, but which one is best for you? 
If you are eyeballing an electric riding mower, chances are you would rather not launch the never-ending chain of chores that come with gas-powered riding mowers or you're simply fed up with keeping up with them. Whichever chance is accurate, the Ryobi and EGO Company are connoisseurs in manufacturing battery-powered zero-turn mowers and are precisely the best place to look for an electric zero-turn mower. 
In this comparison, I'll be discussing crucial points that will help you decide which brand's zero-turn mower is the best for you, and also which brand wins the face-off as the overall manufacturer for the best riding mowers. 
Picking out the boss amongst bosses is a tricky affair, but there's nothing a good discussion couldn't break down. Let's cruise!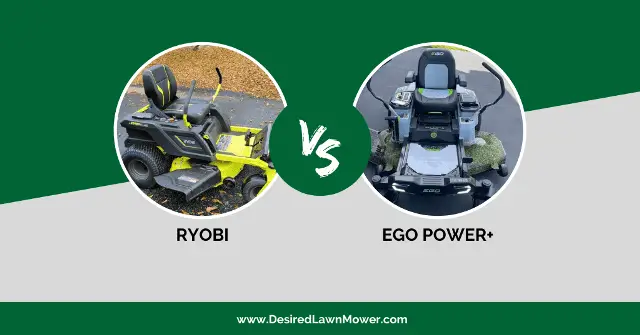 A Pinch of Experience 
Ryobi Company dates far back to 1943 when manufacturing die-casts kept them hot in business. Ryobi began manufacturing power tools in 1968 which later dominated their image as experts in die-casts and finished technical products. The company's name was rewritten to the currently-known Ryobi Limited in 1973 and further ahead,  got licensed by Techtronic Industries. 
After that, the progress of the company skyrocketed as now they've established 12 manufacturing facilities in six different countries. The Ryobi lawn mowers didn't show up in the general market until the 2000s and are mainly manufactured in South Carolina, USA. 
EGO Power+ was brought into the limelight in the USA, in 2012, and quickly defined its place in the electric lawn equipment populace. Although the EGO industry's battery-powered merchandise was only launched in 2014, it had been operating as part of the International manufacturing business since 1993, which still isn't that far back as compared to Ryobi. 
EGO Industry is branded by Chevron Company; a Chinese company recognized for going huge on displacing gas-powered equipment and replacing them with battery-powered machines fantastically. They are famous for manufacturing powerful magnificent Lithium-Ion batteries that could compete with gas and defeat it with environmental and economical benefits. 
There's no dragging; Ryobi will put together a good battery-powered zero-turn mower, but you can't beat EGO mowers in their electric mower battery-structuring game. 
EGO Zero-Turns Are Equipped With a Tougher Battery Power For Sure
The EGO zero-turn mower runs on their well-known in-house 10Ah 54V ARC Lithium-Ion battery that arrives in a set of four or six. For EGO Industries, the battery is the life of the mower and they put a heavy load of work into producing them. They have chewed every thought and covered all the aspects that improve battery performance; the power cells are shaped to allow proper airflow for heat resistance and are made with no memory so that mowing on any percentage left is not damaging to the battery life. 
The EGO batteries are capable of producing 22 horsepower for your 3.5 acres of yard, propelling the mower at speeds of 8 miles per hour. 
On the other hand, Ryobi zero-turn mowers are powered by a single 75 – 100Ah 48V Lead-Acid battery, and unlike the EGO, are not in-house created– which may or may not matter. Though the batteries are cheaper to replace, they can be a thorn in the rump; they require to be maintenance-charged and that takes a great deal of time to completely replenish, they possess memory and comical battery life! 
Ryobi generates 20 horsepower – good enough for most mowing situations, induces a speed of 7 miles per hour, and promises to "mow up to 3 acres of yard on a full charge" which is quite impressive!
This Simply Means That–
The EGO zero-turn mower batteries will serve you better on the lawn as compared to the Ryobi mowers. Although there have been promises made by the Ryobi company to throw a bang of 80V Lithium batteries which certainly will soothe their pissed-off customers. Until then, go for the EGO zero-turns– they have much better battery power compared to Ryobi. 
The Ryobi Is Easier To Steer Around Obstacles
Ease of work is a big part of electric zero-turn mowers, it's only the major reason why people jump over gas-powered machines for the electric. So comfortably steering through the task is something to look forward to. I have to admit, the difference isn't quite large on a major scale of variations, but you'll find the levers of the Ryobi zero-turns to be a lot smoother to steer in comparison to the EGO mowers and are a better fit for obstacle-filled lawns.
The new Ryobi zero-turns come with a joystick at the right side of the mower instead of the regular two alien-like levers. There's quite a great plunge of a learning curve to this, but with a reward of an impressively stressless maneuver which is ideal if you have a challenge or two with mowing. Plus, now you can sip or chug a drink with your free hand! 
Ryobi Will Serve a More Reliable Cutting Performance 
Starting with deck sizes, both the Ryobi and EGO zero-turn mowers stand at a draw. They come in 54 and 42-inch decks to suit the required needs of your lawn or your preference. 
For the Ryobi zero-turn mowers, the decks are stamped and fabricated for the smaller and bigger models. (There's been a never-ending argument on if stamped decks superseded fabricated decks; the general agreement is that fabricated decks deal better because of how strongly welded they are, but only if they're welded properly, to be honest).
The fun flank is that Ryobi mower deck blades run on individual motors; a clever idea for stabilizing the cutting action in case one blade bums the show. They have a magnificent range of 12 cutting heights from 1.5 – 4.5 inches for even better customization. 
On the other side, The EGO zero-turn mowers' decks– majorly steel fabricated deck types – are equally durable and properly stabilized for tough war zones of grass against blades with cutting heights that range from 1.5 – 4.5 inches in an arrangement of 10 positions, which is remarkable without comparison. 
On a trial of which deck performs better, the Ryobi has the upper hand because of the individual one- motor-to-blade system. The thoughtfulness put into the deck already covers possible unforeseen problems, so that in case a blade fails, it doesn't bring your whole day down with it.
EGO Zero-Turn Mowers Have Better Stamina For Uneven Terrain 
If you put the rivals side by side, you'll easily notice that the EGO mowers come equipped with beefier wider tires in comparison to the Ryobi mowers, which is a feature that is highly recommended for slopes and uneven terrain. Backed up by their magnificent power outage, the EGO mowers will propel you up and down any slopes in one piece more effectively. 
Ryobi mowers cope considerably well with terrains too, but definitely not as good as EGO mowers. Although the rear tires are specifically boosted with individual motors to each tire, the battery strength doesn't quite put them in a position to win. Your best chances are with the stable and properly powered EGO zero-turn to haul your weight up a slope, and down with a safe amount of traction. 
The EGO Covers a More Advanced Control System 
The controls are pretty simple and low-profile on the Ryobi mowers. Perhaps they are built for you if you care less for knick-knacks. They have a pretty straightforward control panel highlighting a start key, mower speed and blade regulation button, a light switch, and a battery indicator– nice and easy! 
On the fun side, which is the EGO zero-turn, the control panel has a more futuristic look to it featuring an all-around led-lighted screen showcasing battery power with buttons around the sides to control the blade and mower speed, a light regulating button, and a Bluetooth switch for direct industry updates. There's a lot of consideration by the EGO industries to make their mower much more adaptable and fun to use, enabling a much less boring mowing time for you. 
The Ryobi is Much More Affordable
The budget is more or less the starting point of the whole mower selection journey, and it's quite important to align with it. Thankfully, there isn't much of a grand difference between the two brands, but there is a difference anyway; the Ryobi zero turn mower costs about 5,000-5,700$ depending on the deck size, battery amperage, or your dealer.
On the other hand, the EGO zero turn mowers cost around 5,500 – 6,000$ also depending on the deck size and your dealer. Okay, maybe 500 – 200 $ is quite the extra budget, but if you're looking at it from a larger scale, it doesn't look so bad. Especially when the prices inflate like they're being pursued. 
The Final Verdict 
After proper deliberation, our discussion is conclusive and straightforward; the Ryobi brand has a long reliable history of powered products and outdoor appliances, but the EGO company is highly experienced in manufacturing electric lawn machines and has won the rank for the best electric zero-turn mower brand.
However, I strongly advise you to seek your preferences so that you can make the best choice for you; if your lawn is rather uneven and bumpy, or maxed at 3 acres of grass, the EGO zero-turn mower is your machine. Otherwise, if you're on a light budget with a relatively small lawn of less than 2 acres, the Ryobi zero-turn mower will suit you just fine– P.S: they might have promised to mow more than 2 acres, but their lead-acid batteries sabotage their claims! You'll be quite disappointed if you match a Ryobi to large yards, believe me.