One of the reasons why zero turn mowers are so efficient in mowing grass is their tires. The right type of tires allows your mower to run with ease at top speeds without hurting your soil. Every part of your ZTR is essential to maintain its efficiency and for it to perform optimally, you also need the right tires. Though it's quite difficult to get a complete set of z-turn tires due to the different models and brands, you can still find tires that will fit your mower. I made this guide to help z-turn owners to find not just the right type of wheels but the best tires for zero turn mower.
Types of Zero-Turn Tires and How to Choose Them
There are three different types of tires on your z-turn mower: front-wheel tires, deck tires, and rear-wheel tires. These tire types are different from each other mainly to balance the mower and to evenly spread the weight of the mower and reduce tread marks on your soil. 
Front-wheel tires
Almost all mowers have two front wheels, only large mowers with at least 72-inch mowing decks can stretch up to 3 front wheel tires. 
The front-wheel tires measure between 11 inches to 15 inches in diameter. They are relatively smaller than the rear wheel tires simply because these are what makes ZTR mowers have a zero turn radius. It's in the front wheels that make you navigate your machine across your lawn. And to get the right type of front wheels you need to consider the following:
Traction
Ideally, floating tires or smooth tires are made to be front axle tires because they need to swivel and turn without causing any damage to your soil. Front wheels are the most active when it comes to movement. Floating tires allow your wheels to easily make turns even when your machine is at full throttle. Plus, they don't dig deep into the soil.
These are perfect for residential use with a typical flat lawn as well as areas with high soil humidity or less dense soil. Softer soil tends to easily get tread marks while loose soil can easily make your tires sink in deeper.
Tractions tires are perfect for powerful machines that speed through your lawn. Front-wheel tires have shallower grooves. The presence of the treads improves your wheels' traction and grip on the soil. This is wonderful because it also means that these tires have a thicker inner lining to accommodate the treads. They are heavier but they are made for long hours of mowing and tough trimming conditions.
They still turn just as well as floating tires but they have the tendency to sink and dig into the soil 
Size
Size matters when choosing the front wheels of your tires. It has to be exact. Unlike rear-wheel tires, you can go for an inch bigger or smaller than your actual set of tires. Front wheels need to be efficient in turning and following the exact to almost exact fit to your wheels is a very important factor in smoothly turning your wheel.
Deck tires
These are the smallest set of wheels that you have in your mower. They are what holds and drives your mowing deck. Depending on the size of your mowing deck, your set of wheels can be as little as just a pair of tires to a set of 6 tires supporting your mowing deck. Before making a choice, consider the following:
Size
Like your front wheel, the size of your mowing deck has to fit right. Larger wheels can cause an imbalance in the mowing deck. A small set of wheels can sink your mowing deck and affect your mower as a whole since it doesn't have enough support to host your deck. A larger set of tires can affect your height adjustments and may even affect the result of your trim.
Wheel rim
Fitting is the most important factor for mowing deck wheels and this includes the wheel measurement. A slight difference can also prove to affect your mower's cutting precision. The right wheel to tire measurement is key when choosing the right set of wheels for your mower.
Rear-wheel tires
Your rear wheels are the core of your mower. They are the largest wheels in your mower and are also what drive your machine. They hold the core weight of your machine and is also the one that anchors your mower when it mows over slopes and various types of terrain. There are two main factors to look at when choosing your tires:
Size
Unlike the front wheels and the deck tires, the sizing of the rear wheels is not strict. You can choose an inch smaller or bigger than your allocated tire size. Rear wheel tires vary in size. They can range from 18 to 25 inches depending on the brand and model of your mower. 
Traction
Most rear wheels would require treads since they take over the grip of the mower on the soil. However, there are also different types of grooves and these grooves also affect the performance of your tires as a whole. Choosing the grooves also depends on what type of lawn and soil you have and how often you use your mower.
Low Traction Tires
These are perfect for flat lawns only. Ideally, these tires are for those who live in a dryer climate since smoother tires slip on hilly terrain and wet lawns.
Floating Tires (Smooth Tires). These types of tires literally have no treads at all. They are smooth and flawless and are definitely fit for flat and gentle mowing. If you have a small mower that you only use twice a month on a flat lawn, then you don't need to get tires with extra features you don't need.
Slick Tires (Flat Tires). They are gentle on the turf. They don't have much traction but a few lines to just improve the grip on the soil. They are ideal for flat lawns as well.
Mid Traction
Fit for all types of mowers since these tires are generally gentle on the turf but also offer good traction for gentle slopes.
Ribbed tires. These tires are still similar to slick tires but they have grooves set out like ribs. They improve the grip of the tire on the ground but are also gentle on the turf. This allows your mower to go over gently sloping hills sideways or downwards. But they do not provide enough ration to help your mower move uphill.
Turf-saver tires. They have more grooves but the lugs are shallower and the spaces between the lugs are narrower. They significantly improve the traction of your tires allowing you to go over and around sloped terrain. They are also better when it comes to lawn care since they are true 'turf savers' reducing tread marks since they are less likely to dig into the ground.
Deep Traction Tires
Made for tough mowing conditions over harsh terrains and climates, these deep traction tires are definitely made for commercial and heavy-duty use. Though they can be used on residential mowers, these tires are better off on dense grassy areas and tougher terrains.
Knobby tires. They are also known as all-terrain tires since they are ideal for almost all types of terrains. From slopes to wet and dry surfaces, these tires offer superior performance regardless of the terrain it's on. They're perfect for muddy areas as well.
Tires with large lugs. Offering you the best traction over all the tires on our list, tires with large lugs allows you to ride your mower uphill even in full throttle (still be careful though). These tires allow you to tread over 20-degree slopes but I really recommend that you don't do that because over 20 degrees can cause major problems for you and your tires.
What are the two and three number sizes?
The two number sizes (i.e. 00×00) indicate the diameter and the width of the tire. While the three number size (i.e. 00×00.00-0) indicates the diameter, the width, and the width of the rim. The three-numbers are quite different since the measurement refers to the diameter of your tire when it is not inflated or not attached to the rim. The last number also indicated the width of the rim and not its diameter. Confusing as it may be, the tire sizing is always better when you measure your tire and buy exactly the same size.
Best Front Axle Tires for Zero Turn Mowers
Carlisle Smooth Lawn & Garden Tire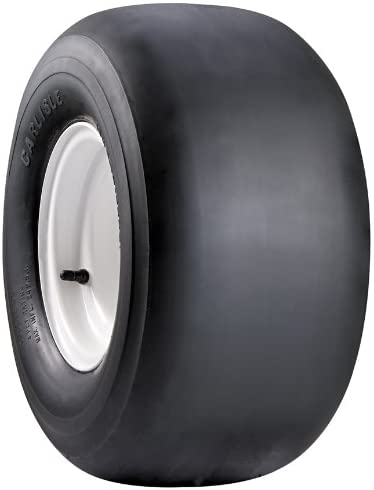 Tire type
Designed as a universal utility tire, the Carlisle Smooth Lawn and Garden Care Tire is a great replacement not just for wheelbarrows, small transport vehicles, and farm equipment, but also for zero-turn mowers!
This smooth tire makes optimum contact with various work surfaces, especially on different types of lawns. The full surface contact allows easy-flowing traction and a smooth roll. It also works as a wide-floatation tire improving your movement and easy zero-radius turns without causing any damage to any of your surfaces.
Brand fitting
The Carlisle fits many brands and models. In fact, it suits many types of machines as well. This is a tire that fits smaller mower models by Poulan, Ariens, Husqvarna, John Deere, and many more. The smaller pair of wheels improve speedy turns. The agility it offers allows you to quickly navigate your way around your mower.
Terrain type
This is ideal for flat even lawns, it improves your movement throughout the lawn without much worry. What's great is that it significantly reduces tread marks on your property and that it also increases your turning speed thus allowing you to go around obstacles with very little worry.
| Pros | Cons |
| --- | --- |
| Improves mower agility | Limited only for flat dry yards |
| Great durability despite the smooth surface | |
Overall
Designed for proper lawn care, Carlisle tires are known for their golden standard tires. These smooth floatation tires don't just make turning faster and easier it also prevents you from getting sucked into a mud pit. However, they are only best used for residential mowing purposes.
MARASTAR 21446-2PK Front Tires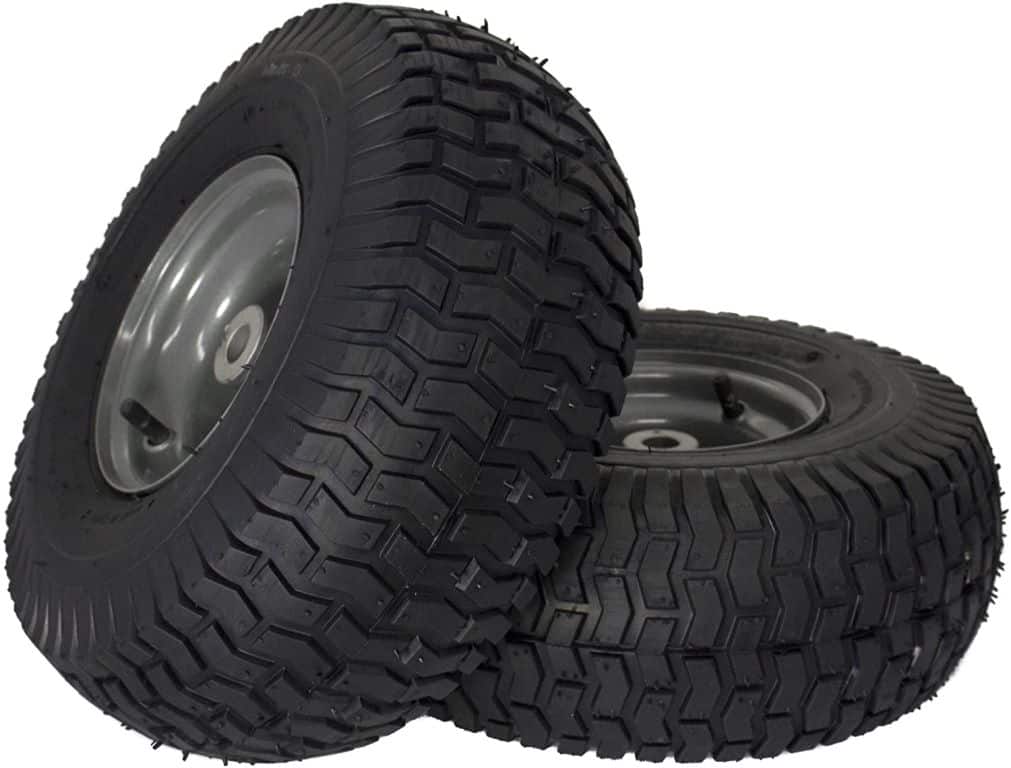 Tire type
This pneumatic 4-ply rating tire has turf-saving traction. This makes your front wheels a good turning point but also improves its grip on the ground preventing you from slip-ups and generally improving the movement of your mower on undesirable terrains. The shallow lugs increase air flow preventing you from easily getting stuck into surfaces while maximizing surface contact.
Brand fitting
This Marastar front wheel assembly is a low-hassle, low-cost solution to repairing or replacing your worn out zero-turn tires. Though it is designed to custom fit Craftsman z-turns, it also fits many other brands like Kubota, John Deere, Poulan, and the Ariens.
Terrain type
This is a versatile tire that works really well with different types of surfaces and terrains. Making it an ideal tire for various terrains such as gentle sloping hills, wetlands, and even extremely dry climates. With a turf saver, you won't have to worry about soil that easily sinks and creates undesirable tread marks.
| Pros | Cons |
| --- | --- |
| Gentle on all types of terrain | Bad traction for uphill mowing |
| Improved traction and movement over difficult terrain | |
| Fits most zero-turn mower brands | |
Overall
What I personally like about this wheel is that it fits many mowers and that even if it has grooves, it easily glides over soft terrain reducing marks on the soil. It's also a great wheel that improves traction especially for those who have hilly properties.
Best Deck Wheel Tires for Zero Turn Mower
Aftermarket Anti-Scalp Deck Wheels Replacement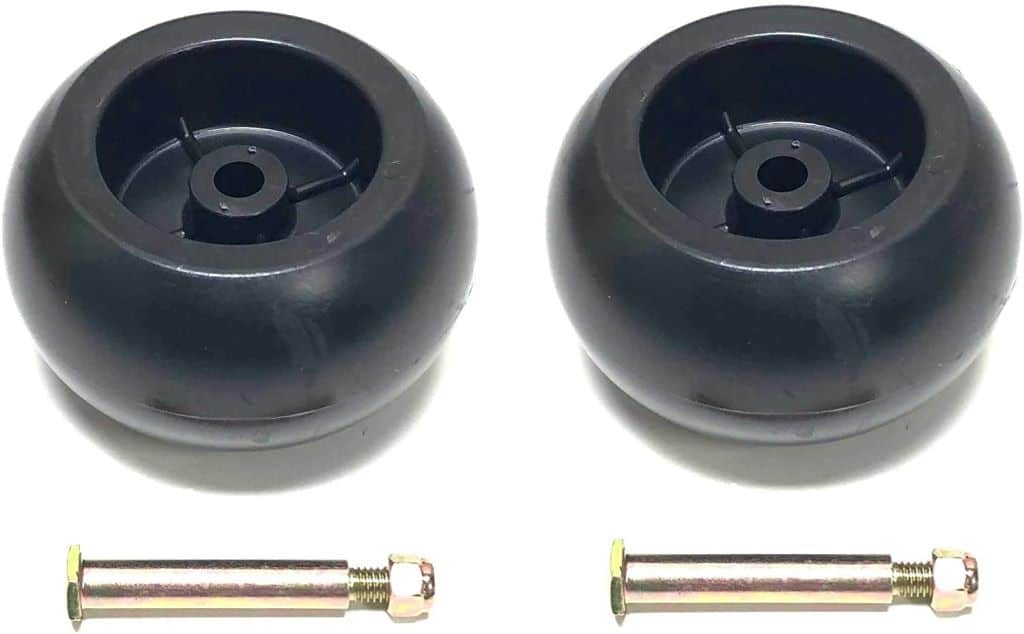 Tire Type
Made of rigid PVC, this solid polymer pair of wheels are smooth floatation tires that allow your mower to glide over grass and cut them with ease and precision. With smooth tires, they don't push your grass down on the ground preventing you from cutting them properly.
Deck Tire Fitting
Since it is also a universal pair of tires, it fits many brands and models such as Husqvarna, Poulan, Ariens, Craftsman, John Deere, MTD Gold, and many more. What's great about these tires is that they are wider but fit well into most mowing decks. They are sturdy and they are also anti-scalping wheels which means that they don't easily wear out or breakdown no matter what condition you put them in.
Inclusions
There is only a pair of wheels along with a stainless steel pair of bolts and nuts to secure them onto your mowing deck.
| Pros | Cons |
| --- | --- |
| Anti-scalp smooth surface | Only sold in pairs |
| Light and durable | |
| Easy mounting | |
Overall
I've tried this myself and I agree that these tires are definitely worth the purchase and even better than OEM parts. They are light but they can support tens of pounds of metal and also function well despite heavy-duty mowing. They are very durable and definitely will last your mower for years to come.
Parts Camp Deck Wheels Replacement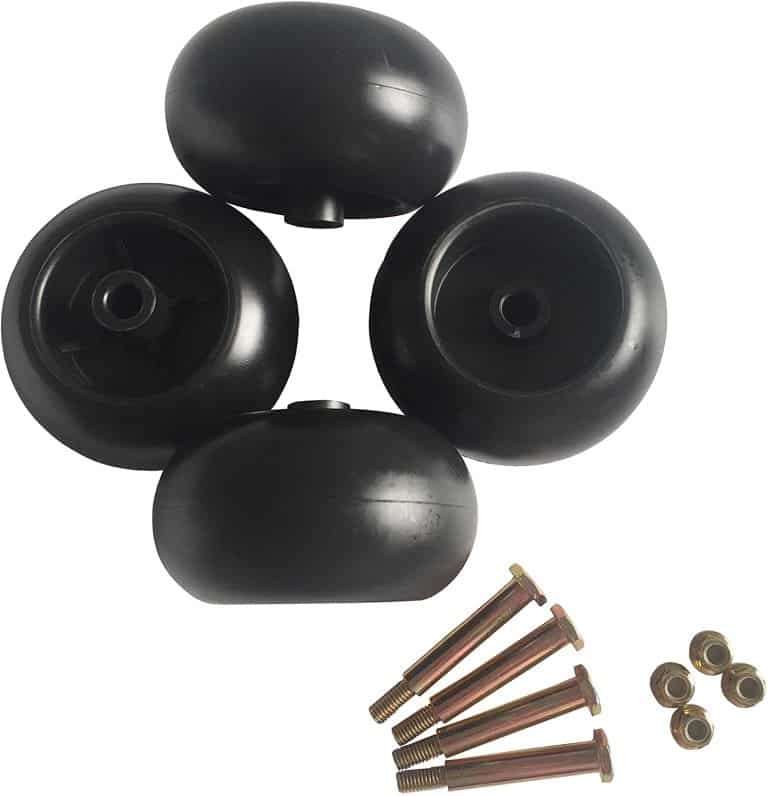 Tire Type
This set of deck wheels is made using high-quality Polyvinyl chloride, or PVC. The rigid type of PVC is thick and durable. It doesn't easily wear out and it is also water-resistant making it a great set of wheels on lawns that you frequently mow wet. Since it doesn't easily wear out, it is a great set of wheels for heavy-duty mowing and constant heavy-duty use.
Deck Tire Fitting
Designed to be universal, this set works well with brands like Cub Cadet, John Deere, Ariens, Murray, Simplicity, Toro, and more. The universality of this set of deck wheels is highly appropriate for most z-turns with a mowing deck size ranging between 42 inches to 54 inches.
Inclusions
The set includes four wheels with shoulder bolts and locknuts. Since most brands, regardless of the size of their mowing decks have a single-sized deck wheel. They simply add more to compensate for a larger deck.
| Pros | Cons |
| --- | --- |
| Universal sizing fitting most ZTRs | Bolt and nut quality is subpar |
| Flawless surface | |
| Durable and lightweight | |
Overall
Parts Camp offers a great set of tires that fits most brands and mowers. These wheels are tear-resistant and since they are made of thick polymer, you don't have to worry about them getting punctured by a sharp rock. These deck wheels are definitely a more affordable replacement for your zero-turn tires.
Best Rear Wheel Tires for Zero Turn Mowers
Carlisle Turf Saver Lawn & Garden Tire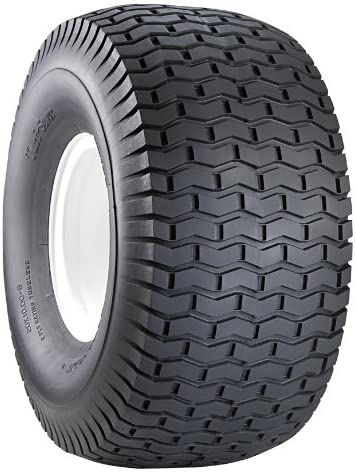 Tire type
This universal turf saver is a wonderful replacement for zero turn rear tires. They offer an impeccable grip on any type of surface while offering smooth tracks leaving you with a beautifully manicured lawn void of any striped or dreadful track marks. 
Even when you're set on full throttle these tires are gentle while offering improved movement over different types of surfaces. You don't have to sacrifice the quality of your mowing with this type of wheel.
Brand fitting
Ideal for common ZTRs, we love that this tire fits most brands. Following standard measurements of typical mid-sized to large mowers, it simplifies the task of finding the right fit. The Carlisle standard offers superb quality tires that not just fit zero turn and riding mowers but also fit other NHS-type machines like golf carts and gardening tractors.
Terrain type
You won't have to worry about digging deep into softer terrain types. Turf savers are made for all types of terrains, it can also handle tough mowing over dense grass and gently sloping terrain.
| Pros | Cons |
| --- | --- |
| Fits many brands, models, and types of NHS | Only fit for gentle slopes nothing steeper than 10 degrees |
| Perfect for tough mowing conditions while offering gentle traction | |
Overall
This is a wonderful tire for machines designed for lawns and yards. What's unique about this is that the tire marks are carefully designed to prevent mud and other debris from getting stuck into the grooves. This is a wonderful choice since it offers both gentleness and improved traction.
Oregon Super Turf Tubeless Tire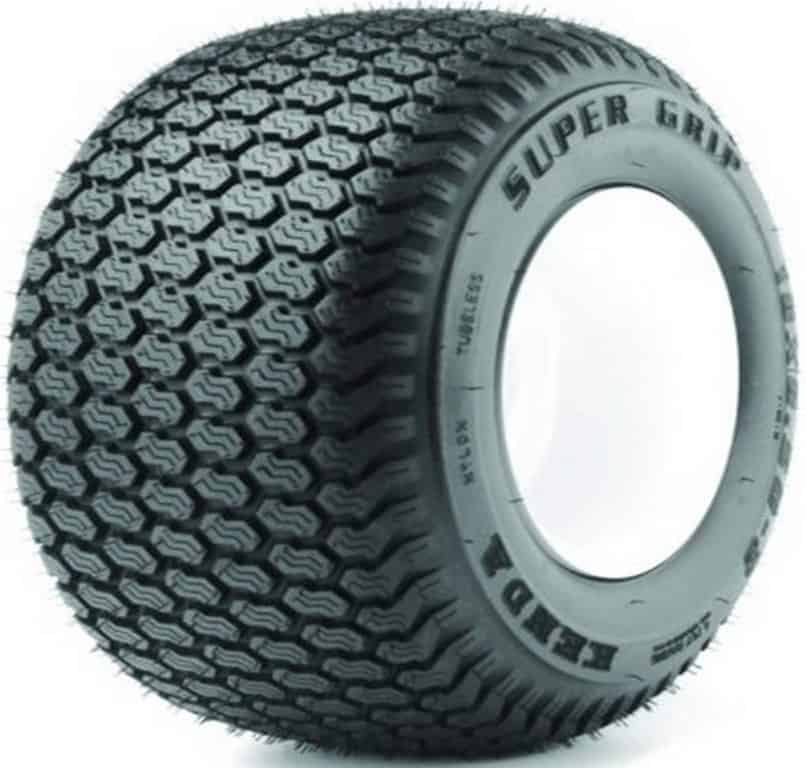 Tire type
Most residential tires are turf savers, they are gentle on the grass and on the track but offer increased mowing quality and improved rider experience. Turf savers are not just good on the track but are also great for comfort since they reduce vibrations.  
Brand fitting
The Oregon is a more specific tire that fits larger mowers ranging from 48-inch to 60-inch decks of different brands and models. It is a great zero-turn mower tire that offers quick and easy installation. 
Terrain type
Like any super turf tire, it works well with almost all types of terrains. It can also handle slopes but not more than 19 degrees. However, it works best with dense grass and multiple obstacles. These turf savers have a knobby design thus increasing surface contact allowing it to float over softer types of soil.
| Pros | Cons |
| --- | --- |
| Wider surface contact for better floatation | Very light thus not fit for uphill mowing |
| Durable and light | |
Overall
In the end, the Oregon Super Turf Tires are also a great choice for many ZTR owners who are looking for a more affordable but just as great quality tire for their z-turns. If you're looking to find tires that will tread over thick but gentle brush, this is also a great fit for you.