We've gone through great zero-turn mowers under different price ranges but it doesn't really say which ones work best for all types of lawns. Not all lawns are the same, from vast lands of greens to tricky well-landscaped gardens, a z-turn mower is a solution many turns to in keeping a clean-looking grassy lawn.
Zero-turn mowers are said to be ideal for different types of mowing jobs for large properties. But how much land can a single ZTR mow? What exactly is the best zero-turn mower for 5 acres of land? Here's a guide to help you out.
Should I Buy a Zero Turn Mower?
Zero-turn mowers are made to simplify large mowing tasks and though you may think you have a large piece of land that requires the power of a ZTR, you might actually be wasting much of your money. You know you need a zero-turn mower when you have at least an acre of grass to cut. But knowing how much land you have to mow regularly should also dictate just how big or how small the mower you should get. 
ZTRs are normally divided into 2 types: residential zero-turn mowers and commercial ones. But to make a more defined category for the array of z-turns you can find in the market, I'm dividing it into four categories:
Basically, these are the typical mowers we can easily get our hands on. These are the best types of mowers for smaller lawns or gardens of up to an acre. Basic zero-turn mowers are very reliable and highly efficient but at absolutely a lower price tag. 
But at a lower price tag, they are made with more affordable materials like stamped metal or typical welded stainless steel. Although almost all ZTRs have twin-engine, smaller zero-turn mowers are also equipped with a single-cylinder engine. However, these engines apply to older models before 2017.
Top Range Zero Turn Mowers
Top Range Mowers are more powerful and more efficient. The main difference compared to basic zero turns is its durability. Built with high-quality steel alloy full welded at critical points of the machine, these machines last longer even when mowing tough lawns.
Designed to cater up to 3 acres of mowing, this machine can power through your lawn with ease. Because it has a stronger transmission, it can handle tough mowing jobs without giving you a problem.
Pro z-turns are the meeting point between a residential and a commercial mower. These are the go-to types of mowers for smaller gardening maintenance services and owners of sizable properties. Ranging from an acre or two, these are great mowers for tough residential and lighter commercial use. They're fast and can mow up to 4-5 acres.
Pro Advanced Zero Turn Mowers
Paying a hefty price will give you an upgrade on everything from a more powerful transmission, larger fuel tanks, improved comfort, and a smooth quiet ride. Designed with heavy-gauge single piece steel frames, fully welded into your mower, you're guaranteed intense durability and improved mowing time despite harsher conditions. You can mow up to 10 acres with a single commercial mower without having to stop for gas.
Comparing the Four Types of Zero-Turn Mowers
| Feature | Basic | Top Range | Pro | Pro Advanced |
| --- | --- | --- | --- | --- |
| Deck Size | 30 to 54 inches | 34 to 60 inches | 34 to 60 inches | 34 to 72 inches |
| Tank Capacity | 2-3.5 gallons | 3-4 gallons | 5-8 gallons | 5-13 gallons |
| Speed | 6-7 miles per hour | Up to 8 miles per hour | Up to 8 miles per hour | Up to 10 miles per hour |
| Horsepower | 10.5-24.5 HP | 16-25 HP | 16-25 HP | 16-31 HP |
| Engine Type | Single or Twin | Twin | Twin | Twin |
| Acres | 1 | 2-3 | 4-5 | More than 5 |
Features of a Zero Turn Mower for 5 Acres
Considering the four categories I've mentioned, you're looking for a professional to a commercial z-turn mower. They are larger and more equipped with a stronger engine. To mow larger areas, you should choose mowers with a large mowing deck to cover a larger mowing area.
 You should look for a mower with at least :
8 gallons of fuel
54 inches of mowing deck
24 horsepower engine
Best Zero Turn Mower for 5 Acres of Property
Best for maneuverability: John Deere Z375R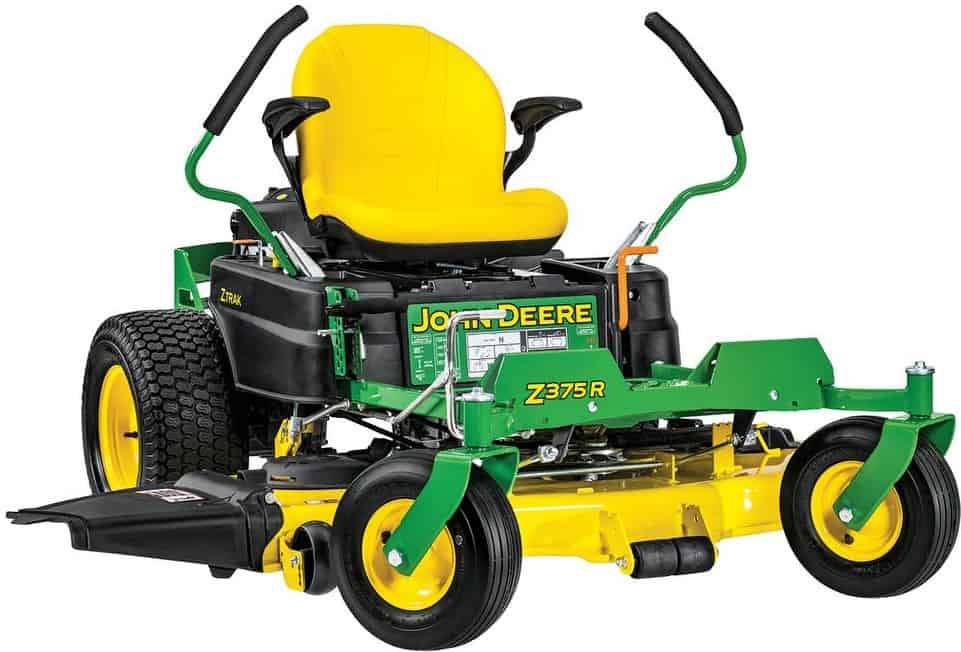 Material
The John Deere is designed for maneuverability and its impressive trimming capacity. Designed with durable high-grade steel, it is well-known for its ability to mow well quickly. The John Deere boasts its supreme rider comfort simplifying the moving process with a ReadyStart system that provides a choke-free engine start.
Cutting Power
With 54 inches of quality cutting, you're guaranteed a smooth trim of your lawn in less time. A larger deck allows you to mow your property with little difficulty and ease your way into a beautifully maintained lawn. Most ZTRs offer a 1.5 inch, but the Ztrak offers a lower cutting height of only 1 inch. This allows you to also prolong the number of times you're going to mow in a month.
Mowing strength
The John Deere Ztrak has a 25-horsepower engine. This rakes your speed of up to 8 miles per hour reducing your cutting time of up to 50%. With a maximum speed of 7 miles per hour forward and 3.5 miles per hour in reverse, you'll have better control over your mower and cut more grass in less time.
| Pros | Cons |
| --- | --- |
| Ease of use | Presents difficulty in raising and lowering the mowing deck |
| Easy startup | |
| Simple maneuverability due to light controls | |
Overall
The John Deere Ztrak is a very popular Zero-turn mower. It's known for its ease of use and simple controls making it an ideal mower even for a beginner.
Best for Durability: Toro TimeCutter Commercial Riding Mower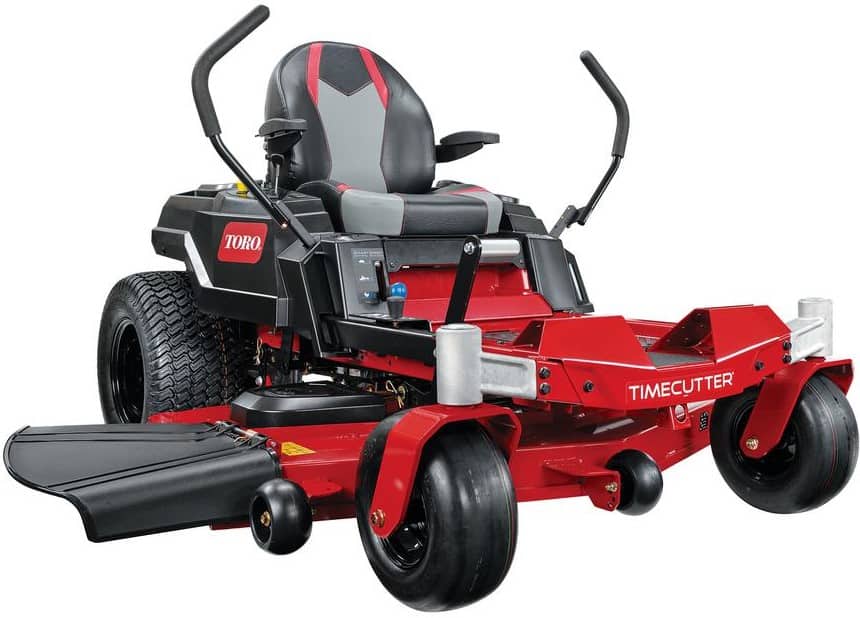 Material
Made with a fully fabricated 10 gauge steel deck and body, your mower is going to be a machine that can withstand long power cutting. Built to reduce your mowing time in half, you're guaranteed a machine that will keep your property and pristine. This Toro z-turn mower is powerful enough to trim your grass nonstop without sacrificing the health of your mower.
Cutting Power
With a set of all-purpose mowing blades, your machine is not just designed for cutting your grass, it can bag and mulch your clippings with ease. This machine is made for intense trimming and mulching over properties of more than 4 acres. With a 60-inch cutting width, you're going to power through your lawn in no time.
Mowing strength
With a 25-horsepower engine, your 5-acre property will surely be a simple task. Accompanied with electric transmission, controlling your machine is going to be a smooth and trouble-free ride. Since it can run up to 7 miles per hour, you can easily mow large property with 40% more efficiency.
| Pros | Cons |
| --- | --- |
| Large mowing deck but easy maneuverability | Small tank will require top-ups in the middle of a mowing task |
| Protective side fenders | |
| Extra cup holders and wide cargo bed | |
Overall
The Toro is an animal when it comes to mowing large property areas. Designed for safe mowing, you have a machine that's built with durable materials and safety features to make sure that you're not just riding in comfort but in absolute safety as well. 
Best for Precision Cutting: Cub Cadet Ultima ZT2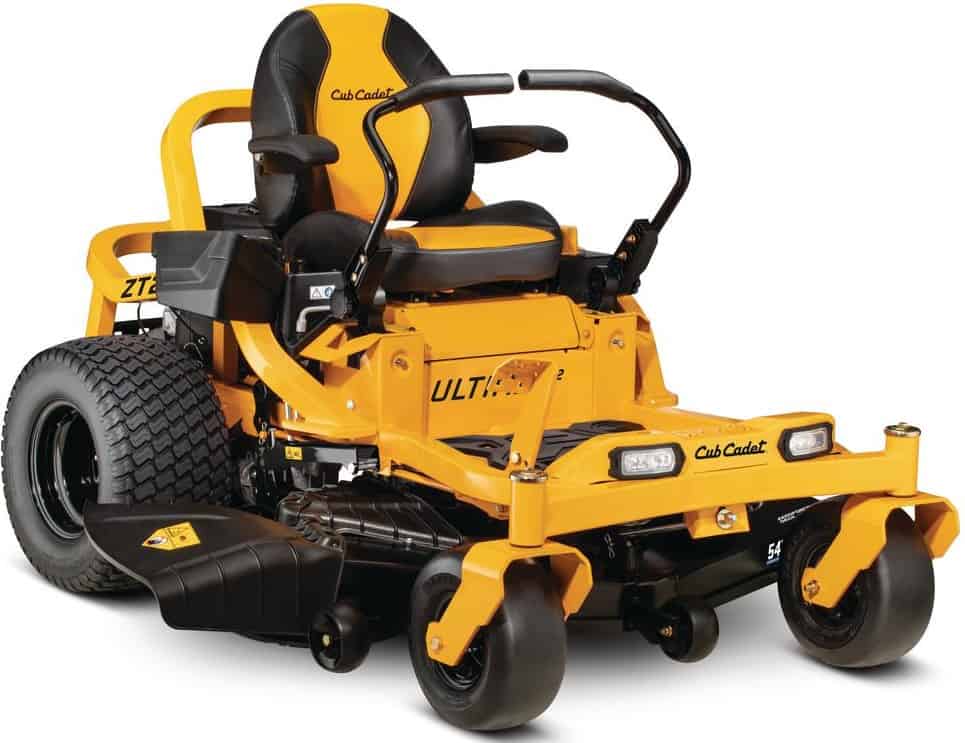 Material
You'll want the Cub Cadet Ultima as your ultimate choice for mowing your large property and even your neighbors. Built for strength, this machine uses 2 x 2 Continuous square tubular steel frames for enhanced durability. No matter how hard your machine works, your mower won't easily get scratched or damaged in demanding terrains.
Cutting Power
Your triple-threat set of blades cuts your grass with precision leaving your lawn looking majestic after a mowing task. You won't have to worry much about troublesome mowing when dealing with mild brush and tough weeds in your lawn. With a large mowing deck cutting up to 54 inches, your mowing deck is a sure win for many property owners who have different types of grass and weeds growing on your property.
Mowing strength
This Cub Cadet's 23 HP engine can surely power up a strong mowing task, accompanied with a large mowing deck, you're bound to mow your property in less time than expected. This machine is also designed with a heavier center of gravity making it an ideal mower for gently sloping terrains.
| Pros | Cons |
| --- | --- |
| Mow up to 15 degree slopes | Small tank |
| Grass cut to precision with Aeroforce blades | |
Overall
If you're looking for a riding mower that can easily mow through tough and gently sloping terrain, you're looking at the right machine. The Cub Cadet is known for its mowing strength and this model is surely not an exception.
Best for Overall Performance: Beast Pro Engine Zero-Turn Mower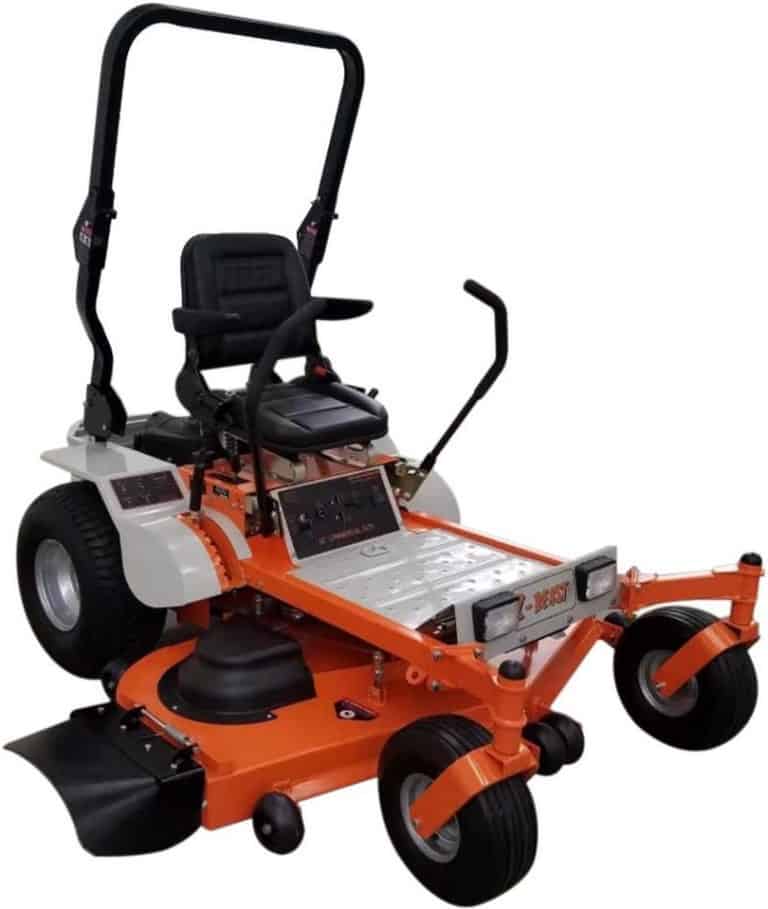 Material
Made with commercial-grade materials, from your 7 gauge steel deck to a fully welded commercial-grade steel body, you're not playing with a simple ZTR, you're riding an extremely durable machine that can withstand extreme conditions both in weather and mowing obstacles. It also offers great comfort and convenience providing you with built-in headlights and padded seats for extreme comfort as you ride your mower over vast areas of land.
Cutting Power
You have 62 inches of high-grade blades that will effortlessly trim your lawn. Get rid of all your troubles with just a single machine. What's great is that you can even upgrade your mower to a powerful mulching beast as you mow your way around tall grass and mild brush. With this size, your blades can cut grass as tall as 10 inches.
Mowing strength
You have a 25-horsepower twin-engine that can cope with the intensity needed to mow at least 5 acres of land speeding at a maximum of 12 miles per hour. With a powerful engine, you don't have to worry much about it stalling on you in the middle of a long tough job. The engine is powered to keep up with highly demanding tasks from morning to evening with practically no signs of slowing down.
| Pros | Cons |
| --- | --- |
| Accessories include seat belts and roll bars | Heavy weight can leave track marks on softer types of soil |
| Extremely fast and efficient | |
| Low cost of maintenance | |
Overall
The Beast is a definite beast when it comes to mowing your property. No matter how large your property is, the Beast can course through your lawn leaving you a trail of beautifully cut grass. This is an impressive commercial mower that you will surely love to own especially if you also own large patches of land that need constant maintenance.
Best for Versatility: Troy-Bilt Mustang Zero Turn Mower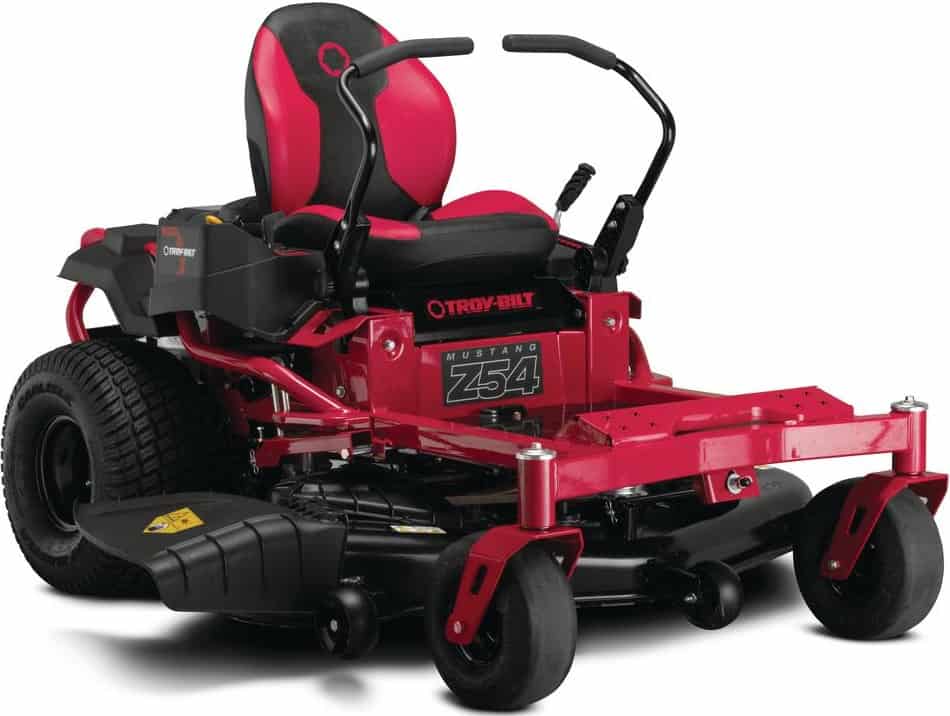 Material
Giving you a great machine made with fully welded solid steel, this machine is a powerhouse when it comes to mowing tracks of land. Durable and stable, this offers maximum performance for every mowing job you need. It offers cutting-edge technology to make your mowing task easier, more comfortable, and much easier.
Cutting Power
This is a highly versatile machine because it makes upgrading very easy even for beginners. Providing you with multiple platforms to upgrade your mower, you have everything you need to pimp your ride. It comes with 54 inches of mowing strength providing you with clean cut precision after every mow. 
Mowing strength
The Troy Bilt engine comes with full pressure lubrication. It ensures smooth delivery of oil giving you optimum performance every time. With a 24-horsepower engine, your machine won't easily wear out despite harsh mowing conditions. Speeding up to 7 miles per hour, you're sure to get the strength that you need to trim your lawn with more efficiency in lesser time.
| Pros | Cons |
| --- | --- |
| Centralized system for easy controls | Unfit for slopes |
| Quick cutting mower deck for precision | |
Overall
The Troy Bilt Mustang is a fan favorite giving you easy controls and easy maintenance. This is a great choice for many who have large properties in flatter terrains. It simplifies the overall use of your machine with the latest technology dashboard.
The Final Verdict
By all means, go for Beast Pro Engine Zero Turn Mower if you have a very demanding terrain. This commercial powerhouse can give you a beautifully clean-cut property without hesitation. You have a large tank, large mowing deck, and a powerful engine to match giving you the best mowing service. However, if you're looking for a more affordable pick at almost the same quality, I highly recommend the John Deere Ztrak. Hands down, it is a powerful machine that can mow through your property with ease while providing you with the best user experience.