Pulling dirt, gardening equipment, logs, potatoes, and the sort is a regular task for yard owners, and since there's a zero-turn mower lying around, the obvious thing to do is put your thousand bucks worth of money to extra use and get a suitable trailer to marry your mowing machine.
We can all agree that dealing with machines or equipment online is almost like putting all your eggs in a basket; you are suddenly at the mercy of luck. This is because yards differ in various ways and unless you have a strong recommendation from a trusted person or meet a concise article like this one to refer to, the possibility of a sour buy is a solid 50%. The reason is that you simply couldn't tell by pictures or sweetly-written descriptions which trailer is best for you and your zero-turn mower. 
Since all zero-turn trailers fit various purposes and lawn owners differently, I'll be discussing the most suitable trailers for each yard-work requirement so that you pin the right trailer for you and your zero-turn mower correctly. Read on!
Four Highly-Recommended Trailers For Your Zero-Turn Mower 
Most Aggressive Stamina: Gorilla Cart 2-in-1 Convertible Dump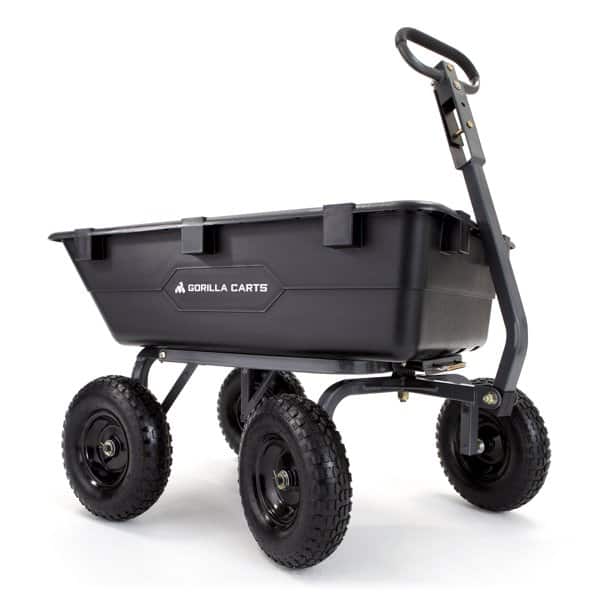 At first glance, the Gorilla cart really is a wheelbarrow sort of equipment as there aren't many pictures of zero-turn mowers towing the carts which is such a waste of good publicity if you ask me. These carts are easily one of the most trusted zero-turn trailers you will find on most lawns or small farms in the great green fields! As they were initially created for the purpose of dragging heavy products around bumpy farm-like terrain, they possess a rigid amount of stamina to suit that goal.
Your gorilla cart will be equipped with four threaded 13-inch semi-pneumatic tires, a low wide stance, and a convertible handle that allows you to easily attach the tow of the trailer to the hitch of your zero-turn mower and stalk it away to wherever you decide. In terms of capacity, this trailer is built to carry a weight of 700 Ibs at least, successfully finishing a flat bottom and a well-sloped sharp end for easy dumping.
The best part of the Gorilla trailer is the steady rides they deliver as you tow; nothing like the wonkiness or shakiness you get with regular 2-tired trailers that will have half of the content on the floor before you reach your destination. The carts are made out of durable plastic and before you kink your brows in disapproval, plastic alleviates the avenue for rust to settle in allowing for a much lightweight journey which is all you need for a long-lasting experience. Unless you projectile-throw heavy bricks into the cart that can potentially ruin even metal, you'd be sure to last years with the Gorilla Cart. 
The only problem I have with the Gorilla zero-turn trailer is that the manuals are quite confusing; you will need to summon the engineers from the company for you to successfully put up the trailer! To further back this up, the customer service is a sorry case– I will advise you to look in and out properly before you place an order because as soon as you do, the customer care employees would suddenly be too busy painting the sky and frying rocks to attend to you properly. Despite all this, I would totally recommend the Gorilla convertible cart again and again if you have uneven or bumpy terrain– they are simply worth the praise!
| Pros | Cons |
| --- | --- |
| Favorable for rough terrain | Poor customer service |
| Easy to use | Poor assembling instructions |
| Rugged and durable build | |
| Has a 1-year limited warranty | |
Best For Commercial Use: Arnold EZ Stow Hauler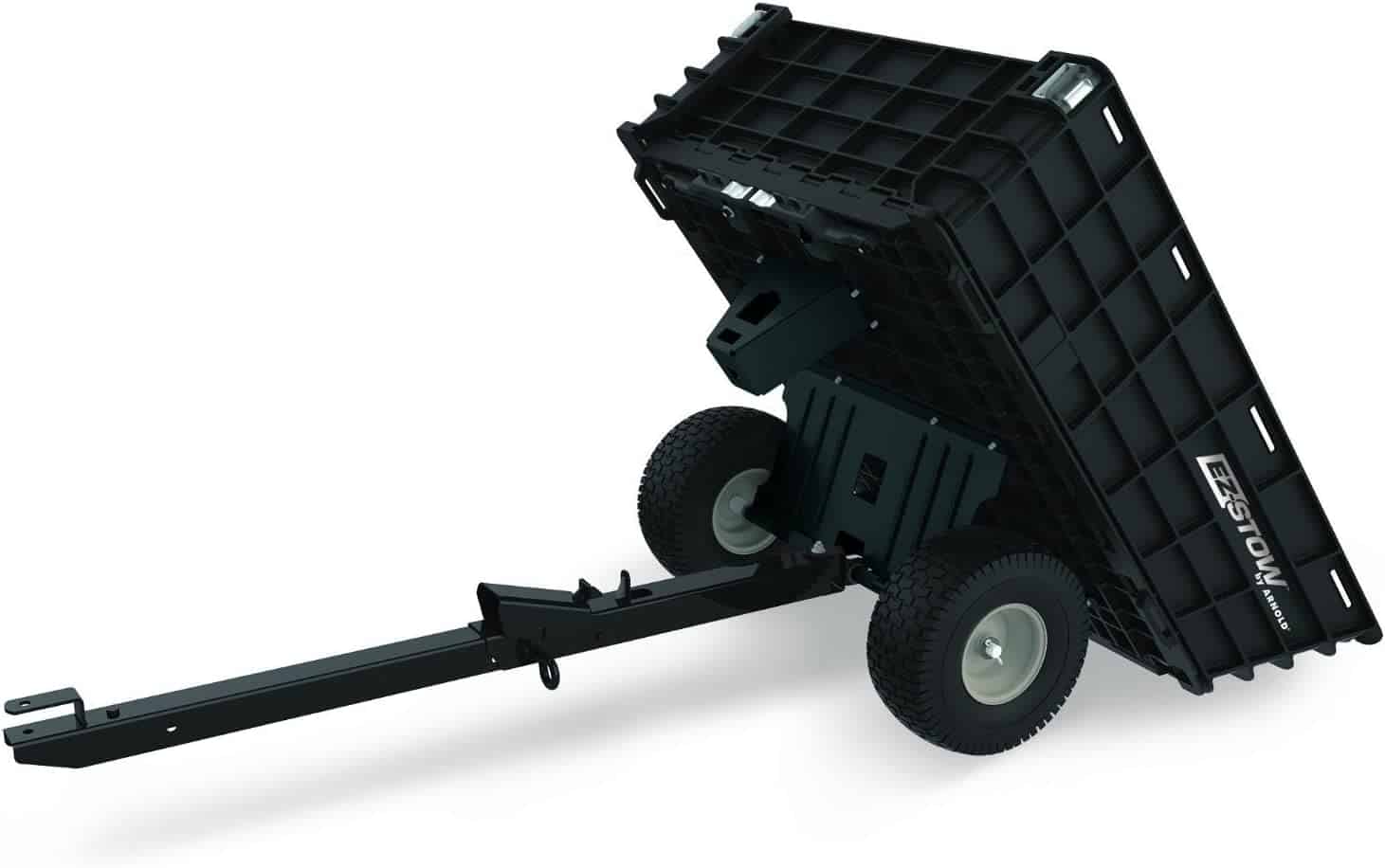 If you have a commercial zero-turn mower, then this is the trailer you need. No need to squander all that horsepower on trailers that will have you going back and forth a hundred times to transport your product successfully. We're bringing a heavy-duty towing solution to the picture; where you'd need a 1200 lbs capacity trailer to suit your hefty workload. 
With the Arnold EZ trailer, you'd be cutting the tow time by a great half in comparison to regular lawn trailers. Although ruggedly built, you'll find the trailers to be exceptionally simple to use; the only tools you need to assemble this trailer are your hands, really. Every part of the Arnold EZ was built for the handyman who would rather purchase their trailer and get to work immediately. 
The best part of the Arnold trailer is the unique storing engineering of the equipment; the four walls of the trailer are built in a way that allows you to unhinge them and fold them inwards to make a flat surface. To further complement this feature, the tow bar has a storage slot for when you need to pack the trailer so that when you fold it in there's no awkward rod sticking out of the build. This foldable feature saves about 70% of storage space and allows you to transport the trailer from one place to the other easily without dismantling the whole frame.
The durability of the tires is easily quite remarkable; they are semi-filled with sealants so that in case of a puncture, there would be an immediate backup to keep you going till the problem is officially sorted out which is quite useful for those long working hours on the yard. With this feature, your entire day isn't halted by a tiny accident. 
The major dilemma I have with this trailer is that tackling bumps and slopes wouldn't be that much fun to do. Although the tires are durable, they seem to be a little ill-fitting for the heavyweight capacity of the trailer and the user with a bumpy yard. All things considered, I highly recommend the Arnold EZ stow hauler as the best choice for your commercial-duty towing.
| Pros | Cons |
| --- | --- |
| Excellent storage function | Does not fare that well on slopes and bumpy terrain |
| Anti-flat tires in case of accidents | |
| Capable storing capacity for heavy-duty work | |
| Does not require tools for assembling | |
Best For Small Lawns: John Deere 17p Utility Cart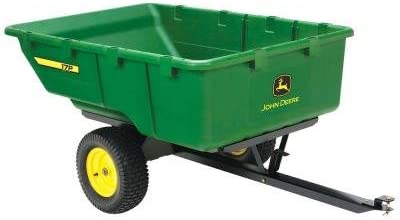 Gardening tasks require trailers that would offer a rugged stance to tackle the bumps and ditches that are possibly featured by digging here and there and the John Deere utility trailer was built just for that reason. Perhaps you own a small zero-turn mower that can swivel through the garden, obstacles, and trees of your lawn and would need a sizable simple trailer with the stamina to withstand a bumpy ride, you can easily go for the 17p JD trailer to offer you an easy trailing experience. 
Usually, people will opt for the bigger the better, but nothing beats easy storage and remarkable durability– it's like eating your cake and having it.
The John Deere trailer will offer a capacity of 1000 lbs so that whilst dirt, mulch, and garden tools will fit in, heavy stuff like logs of wood wouldn't be impossible to transport either. On this trailer, you'll find that the tires are pneumatic tuff fully treaded tires strong enough to handle the weight of the stuff you wish to haul. This also makes slopes a lot easier to handle thanks to the commendable traction. The John Deere trailers further come with molded slots for DIY dividers in case you need to demarcate seeds or content of similar value. 
The central downside to this trailer is that although a lot of work was put into the stamina of the equipment, not much of the work was put into the durability of the plastic material. Everything is rosy and nice until it's winter and the plastic starts to crack under the same weight you must have towed during other seasons. In comparison to other trailers though, you don't get a rather small but mighty trailer like the John Deere carts. I highly recommend this product if you have a bumpy lawn and are seeking to trailer-work reasonably few amounts of time.
| Pros | Cons |
| --- | --- |
| Small but mighty equipment with rugged stamina | Questionable quality of plastic material |
| Can carry up to 1000 lbs for its size | A little too pricey for its nature |
| It will save a lot of storage space | |
Best Budget: Agri-Fab Dump Cart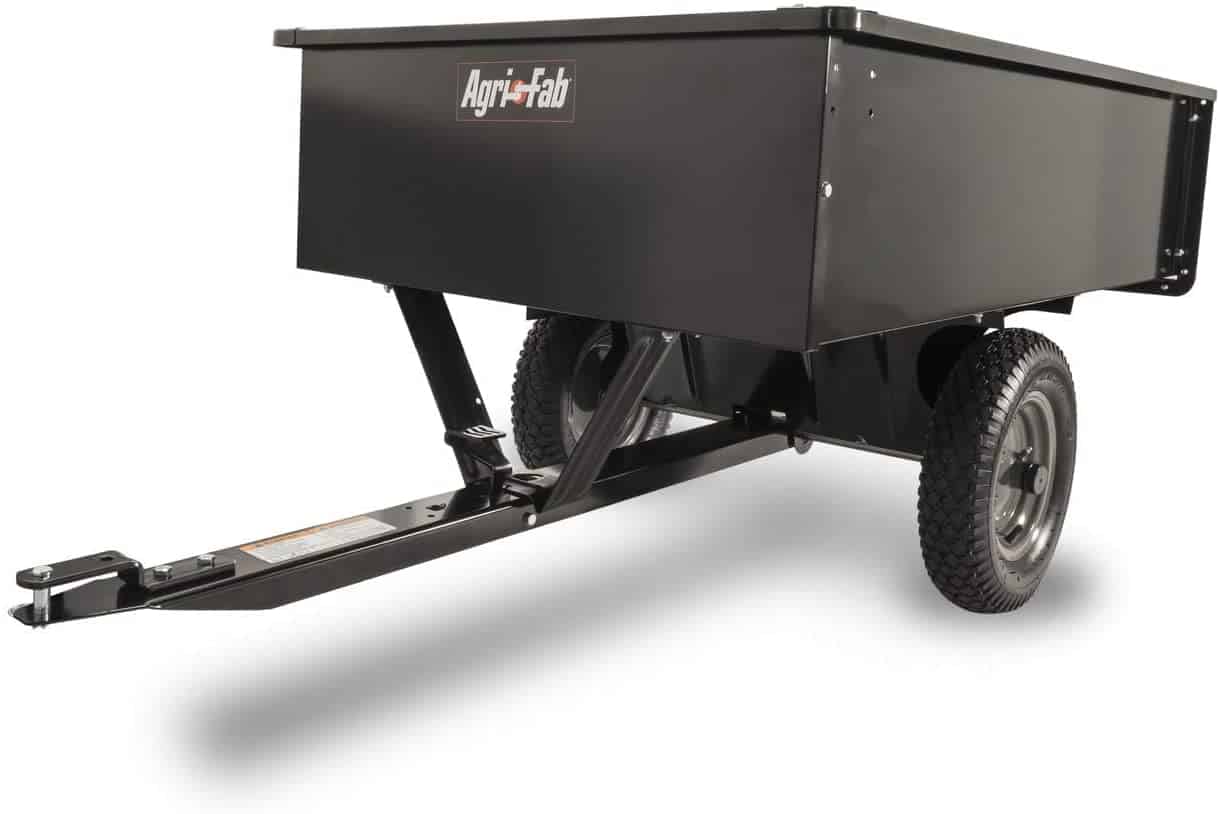 If you have a minimal amount of towing tasks to do and would rather be able to do it much faster at a cheaper price tag, then the Agri-Fab dump cart is your best choice. To dive right into the goodies, the Agri-Fab dump cart is made of durable alloy steel material, in comparison to its rivals made of plastic. They have a weight capacity of 350 pounds with reinforced edges and a removable tailgate for in-depth cleaning and easy dumping.
In terms of stability, the Agri-Fab trailer features a wide stance with 13-inch pneumatic tires to keep your mulch or dirt steady as you surge through your lawn. They are simply the best trailers for a small budget you can expect, especially for the measurable durability and material quality that further allows you to use this product during the snowy seasons.
However, the problem with this trailer is the stressful method of dumping the content; you have to walk around the trailer and waste time removing the tailgate before you can empty the trailer. I find this to be quite a bummer, especially for such a quality material of a trailer. Also, assembling this product isn't as easy as they come; the metal sheets don't align properly and you will need a lot of trickery to warrant a neatly assembled trailer, which I think isn't the nicest way to appreciate the buyer. Other than that, you'd be getting a good deal of work out of this feisty little trailer!
| Pros | Cons |
| --- | --- |
| Made of long-lasting alloy steels material | Stressful dumping feature |
| Portable and lightweight which is suitable for lightly powered zero-turns | Difficult to assemble |
| Has a rugged stamina | |
| Quite affordable | |
The Final Verdict
For some lawn tenders, selecting a preferable trailer is a trial and error affair. This is because the trailers differ in their various strengths and weaknesses making sure that every yard is awarded a different experience. So, it is quite important to consider the kind of tasks you indulge in so that the trailer will match your zero-turn mower sufficiently. If you work frequently, the best trailer to purchase is a commercial-grade rated trailer like the Arnold EZ stow hauler that will withstand the wrath of regular labor. Otherwise, if you are seeking to tow or task once in a while, a regular trailer – like the Gorilla Cart – is the absolute choice for you. The trick is not to underwork or overwork your trailer and zero-turn mower through and through.