Lawn care is a great business especially since many do not have the time or the desire to maintain their own yard. Sure a great yard can be the welcoming jewel of your abode but the time and effort it takes to keep it lusciously green and pristine require a lot of hands-on upkeep. For that reason alone, many start providing lawn mowing and gardening services to keep the trouble off of the property owner's hands. If you're one who's thinking about entering the lawn mowing business or a professional currently on the hunt for the best commercial zero-turn mower, I made this guide just for you.
What's the difference between a commercial and a residential zero-turn mower?
Commercial mowers are built for strength and heavy usage while residential mowers are designed for regular but infrequent mowing. Most people often consider the difference between a commercial and a residential zero turn mower depend on the size of the mower, this is actually wrong. There are many other factors that make a zero turn mower fit for commercial or residential use.
Frequency of use
Just based on the name alone, a commercial zero-turn mower is built for frequent and heavy usage. But mainly, these are designed to be used every day of the week. You can use it all the time but never have to worry about damaging it due to being overused.
Residential mowers, on the other hand, are designed for less frequent use. Though they are strong and powerful in mowing your lawn, it's ideal that you only use them once a week.
Overall build
Naturally, you'd expect a commercial z-turn would use stronger sturdier materials. However, both commercial and residential mowers have durable frames and mowing deck structures. Usually made with at least 12-gauge steel, z-turns are definitely developed to withstand harsh conditions and intense mowing. However, the overall quality of commercial mowers are levels higher than residential mowers. 
Engine
Commercial mowers have stronger larger engines. The horsepower is significantly larger to cope with constant mowing. To power up a z-turn, the engine is built like a car engine so that you can use it daily.
Residential mowers have smaller engines. Although they also have a strong and high horsepower, the engine is only designed to keep up with the speed of your mower.
Structure
Z-turns are designed for a more aggressive use that's why they're built with fabricated metal. Fabricated metal is a reinforced stronger steel structure that holds a commercial mower together. Residential mowers use either fabricated or stamped steel.
The difference is that fabricated steel is made of thicker pieces of metal welded together. While stamped steel is a single piece of metal "stamped" to what the mowing deck already is. This is rather thinner than fabricated steel. In general, fabricated steel is deemed sturdier than stamped.
Price
With a stronger engine, sturdier frame, and overall better construction, commercial mowers are surely much more expensive than residential mowers. The smallest commercial ZTR's deck size is 48 inches and since the price tag is directly affected by the size, commercial mowers are more costly.
In addition, commercial mowers have more complex features thus hiking up the price of your mower. On average, a residential mower costs between $2000 to $5000 while commercial mowers cost at least $4000. See "Zero Turn Price Guide" to learn more about the price range.
Strength and Endurance
As mentioned, residential z-turns are designed for regular mowing only though they can be used for intense trimming of your turf. Commercial mowers, on the other hand, have larger stronger machines that can handle daily heavy-duty work.
Smaller residential mowers that have less than a 42-inch deck have single-cylinder engines while all commercial mowers have dual cylinders. Furthermore, no commercial mower has less than a 20-horsepower engine. 
Commercial zero-turn mowers are crafted to run longer even under harsh mowing conditions. With that said, their engines are designed differently. Now, this doesn't mean the residential mowers are flimsy and will easily break down. The thing is, they are only intended to be used up to thrice a week for only a couple of hours. Commercial ZTRs are made to endure long hours of mowing with a massive field of grass.
For example, you can only mow the size of a baseball field once or twice a week while commercial riding mowers can mow up to 3 baseball fields in a day on consecutive days.
Safety Features
Commercial mowers have extra safety features because they are larger, heavier, and have more blades. Most (if not all) commercial z-turns have rollover protection, though this doesn't make it completely ideal for hilly or sloped terrain, it does add a bit of grip on the ground when you go on slopes.
Other safety features added to commercial mowers are secure startups and ignition. Unless a rider is sitting on the seat, the mower won't start. They also have auto-transmissions making commercial mowers adjust to different types of grass, terrains, and turf thickness and height.
Additional Features
Since commercial mowers are intended to mow large lawns, this takes more time. So in addition to the typical residential mower, all commercial ZTRs have cup holders, cargo beds, battery and hour gauges on the dashboard, and additional hitches for pulling gardening equipment and more.
In summary, here's a table I made to give you a simpler understanding of the differences between commercial and residential z-turns.
| | Commercial Z-Turn | Residential Z-Turn |
| --- | --- | --- |
| Frequency of use | 6 to 7 days a week | Once to thrice a week (not on consecutive days) |
| Deck Size | At least 48 inches | Less than 54 inches |
| Engine | Dual cylinder | Single or dual cylinder |
| Buying Price | $4000 to $25000 | $2000 to $5000 |
| Engine horsepower | At least 20 HP | 16 HP and above |
| Safety features | Rollover protection | Optional rollover protection |
Can you use a residential mower for business?
Residential mowers are intended for at least a half-acre lawn. Depending on the size of your deck it can mow up to 4 acres. Now, high-end pro residential mowers may be used for business purposes. But not for heavy-duty mowing. If you are mowing a collective 4 acres of lawn in different locations, you may use a residential mower with at least a 51-inch deck and at least a 20-horsepower engine.
However, you shouldn't use your mower on consecutive days since it might end up putting a toll on your engine and your deck. Mowing your neighbor's lawns for a price is a good side hustle but not enough to establish a lawn mowing business especially if you're just using a residential mower.
Do I need a commercial zero-turn mower?
If you plan or already have a lawn mowing business, then a commercial mower is the only thing you need. However, if you are simply buying a z-turn mower for your extra-large field of grass that is at least 5 acres then, you should consider buying a commercial z-turn.
Residential mowers can only mow up to 4 acres of land while commercial riding mowers aren't limited to the size of your property. But if you have a massively huge land for crops agricultural production, you need a swather.
5 factors to consider when buying a commercial zero-turn mower?
Quality build, engine, and deck size are the key features to look for when buying a commercial zero turn mower. I always mention these features because they're the most important parts of your mower. The strong body and deck allow you to power through any type of terrain with very little problem. Here are another five features to look for:
1. Rollover protection
This is very important since commercial ZTRs are more capable of handling hilly areas, they need to have a safety feature that protects you and your mower. Don't just rely on its heavyweight and its strong center of gravity. A zero-turn can still tip over even with a balanced center of gravity, with rollover protection, this will allow you to mow uphill on gentle slopes. 
But still, be cautious, it's always best to mow downhill.
2. Extra safety features
One of the most prominent safety features of a z-turn mower is its seatbelt. A commercial mower absorbs most of the shock from the vibration of your mowing deck but rugged terrain can still cause a rider to get out of balance and in this case, a seat belt comes in really handy.
Rollover protection is always good to have because a zero-turn mower can weigh up to 1,700 pounds or almost 2 tonnes. You do not want it tipping over and crushing you under all that weight.
Other safety features include automatic idle, this occurs when you get out of your seat. Some mowers do not start operating until weight is placed on the seat indicating the weight of a rider sitting on it.
3. Custom rider adjustments
 Not every rider has the same height or size. Easy adjustments like adjusting the height or the distance of the lap bars from the seat are essential for many owners. These easy adjustments improve the mowing experience and also lessen discomfort.
4. Rider comfort
From padded seats to foot-assisted deck height adjustments and easy access to the dashboard are only some of the features that improve a rider's comfort. When you're mowing a large property, you would spend hours on your mower at a time. And comfort is a factor that allows you to perform your duties without having to sacrifice your comfort as the rider of the zero-turn.
5. Wheel types
This may not seem important to many but for a large mower, wheel types and size are incredibly vital. Since you have an extra heavy machine, you need to consider the possibility of your wheels digging into the ground. Wider low traction wheels are perfect for flat commercial spaces like sports arenas for baseball, soccer, or football.
Best Commercial Zero Turn Mower
Toro TimeCutter Zero-Turn Riding Mower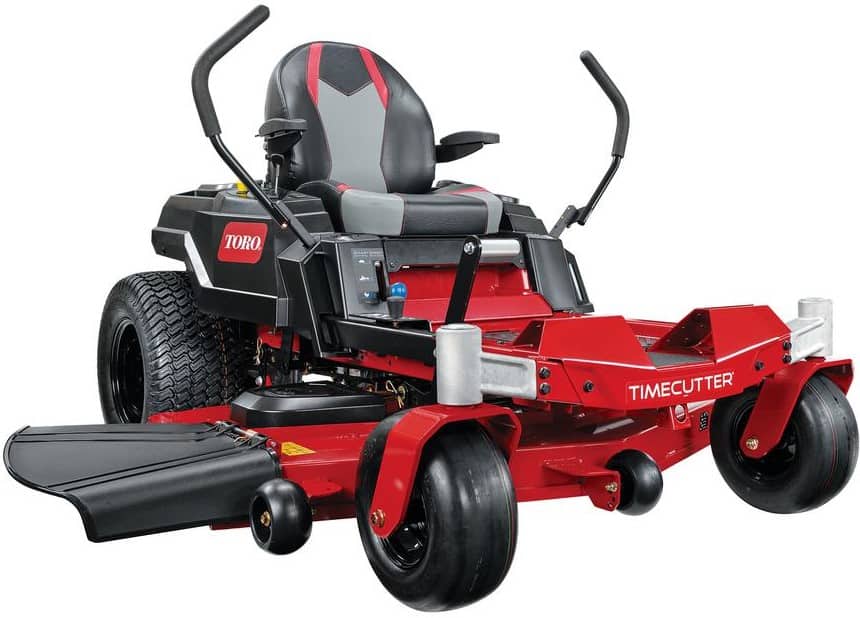 Build Quality
Crafted with a 10-gauge steel deck and fully-welded body, the Toro really does its job at offering superb durability and strength. Accompanied by a 24-horsepower twin-engine, your machine can easily power through lawns of more than 4 acres without fail. The engine lets you power through your lawn with a maximum mowing speed of 7 miles per hour and a reverse speed of 5 miles per hour.
The Timecutter has a massive 60-inch cutting width that offers easier and faster mow time. With a larger space to cover, you can easily power through any lawn, yard, or property that needs clean-cut trimming.
Safety Features
Protect yourself from flying debris with large side fenders. The wet-spraying blockers allow you to mow over damp grass and muck without getting dirty. The Timecutter also offers a cubby under your seat to secure your personal items. From keys and phones to gloves, tools and other materials you need to have on hand, you have everything you need in arm's reach.
Rider Comfort
You'll enjoy smooth steering that's less jerky with its shock-absorbing dampener and a gentle comfy ride with a handcrafted padded seat. Designed to provide optimal back support, your machine lets you enjoy your mowing service day in and out. 
Wheel Type
Glide over the grass with a fully tubular front axle with wide front casters. The front wheels offer smooth turns and gentle traction that prevents the mower from digging into the ground. In addition, you have large 20-inch rear wheels. The wide wheels allow you to move through your lawn with ease without causing any undesirable track marks on the turf.
| Pros | Cons |
| --- | --- |
| Iron-forged fabricated body and deck | Small tank(3 gallons only) |
| Safe cubby space | |
| Shock absorbers for comfort | |
Overall
This is the best affordable commercial zero turn mower to own. Toro Timecutter is a wonderful mower that lets you tread over your turf with ease and absolute precision. It really does stick to its name of offering amazing features to cut your mow time to almost half.
Cub Cadet Ultima ZTX4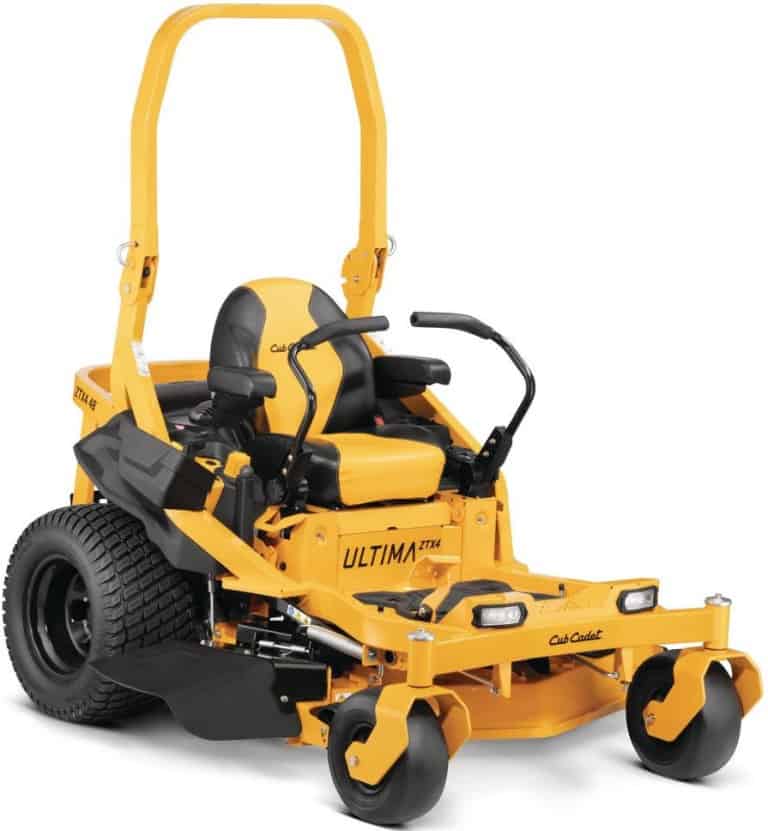 Build Quality
Equipped with a 24 HP 725 cc professional-grade Kohler v-twin engine; the Cub Cadet is well-known for its reliable starting and exceptionally smooth and quiet operation.
The mower has a wear and tear protection system. It is rust and corrosion resistant thus extending the life of your mower despite frequent intense mowing conditions. The deck is made of 10-gauge steel fabricated with side leading-edge reinforcements enhancing the strength of your mower against tiny debris and other potential damages.
This machine comes with multiple hitches and easy gardening equipment upgrades making it an ideal machine for landscapers. You can attach baggers, mulching kits, carts, seeders, and more.
Safety Features
Your mower is equipped with a ROP (rollover protection) to always make sure that it stays on your wheels even on sloping terrain. It also offers precision trimming with three blades highly secured within the deck. The side discharge also offers a quick bagging system making it ideal for commercial mowing tasks where mulch should be taken off the field. 
The mower already comes with built-in headlights giving you the chance to mow fields as early as dawn or as late as dusk. Since the mower has suspension rings that absorb impact and vibration, it improves the quality of your mowing while also offering a better riding experience.
Rider Comfort
The Cub Cadet's front casters are offset to align with the blade's edge to improve trimming precision while maintaining line-of-sight and stable balance. In addition, the Cub Cadet comes with ergonomic hand grips and quick lap bar adjustments for all types of users. It also offers a fully adjustable premium 20 inches high back adjustable seat with cushioned armrests for superb comfort. 
Wheel Type
You have a complete set of wheels that have turf damage prevention. The front has 13 inches smooth tread wheels that easily glide over your grass. The rear wheels are 22 inches wide turf master premium rear tires offer excellent traction that minimizes turfing and provides a better ride on uneven ground at higher speeds.
| Pros | Cons |
| --- | --- |
| Expandable mower for gardening and farming equipment | Not ideal for hilly slopes |
| Turf saving tires | |
| Fast and easy to maneuver | |
Overall
The Cub Cadet is a real master when it comes to commercial mowing. Offering superb versatility and amazing comfort in mowing, the machine is a wonderful choice for mowing properties of up to 10 acres.
Beast Zero Turn Mower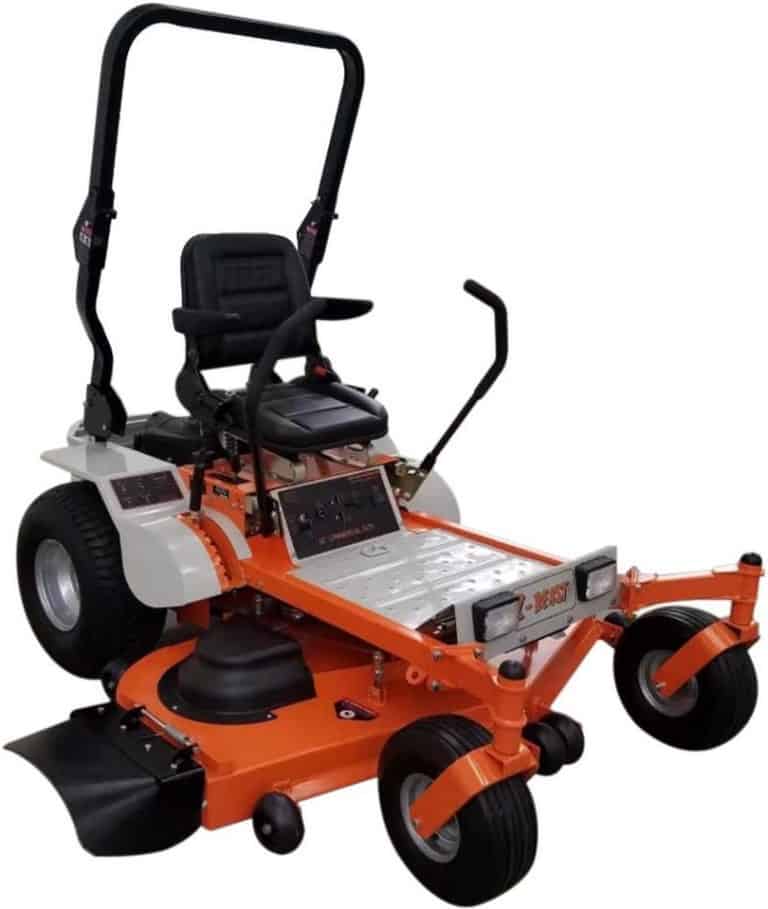 Build Quality
You won't call it a Beast without a reason, fabricated with a 7-gauge steel deck and frame, you have a thick and highly durable frame and body. With a strong build, this is a mower that prevents your deck and body from getting dents and damaged easily. With a strong build, this is amongst the most durable machines you can find. Absolutely fit for mowing vast fields of grass from farms to commercial spaces, this is a powerful mower that you should consider getting your hands on.
With a 25 Horsepower twin-engine, you can easily power through the turf hitting a top speed of 10 miles per hour on flat ground and even reverse mow at 6.5 miles per hour. Accompanied by a 62-inch deck, you cover more ground and at top speeds allowing you to maximize your mowing service with efficiency. This machine really offers strength, durability, cutting precision, and speed.
Safety Features
The Beast comes with a seatbelt for extra protection. It also comes with a center-balanced system that pulls your mower closer to the ground preventing it from tipping over. However, it is not a complete rollover protection system, it acts the same as keeping your mower properly balanced. 
It also comes with a strong pair of headlights to give you easy access and visibility of the lawn you're mowing without any problems.
Rider Comfort
This leather back seat offers superior comfort. Along with an ergonomically designed back support and armrests, feel at ease as you speed through the turf. In addition, your mower is highly equipped with great shock absorbers to relieve the stress and vibration caused by the intense mowing of the grass.
Wheel Type
The 22-inch rear and 15-inch front tires provide excellent traction and make it easier to navigate in uneven terrain. The mid-traction rear wheels come with bristles that easily prevent the wheels from digging into the dirt. The front wheels are flat with triple strips that improve airflow through the tires making it float over your turf while also preventing it from getting stuck in the mud.
| Pros | Cons |
| --- | --- |
| Highly durable and fast | Very bulky, making storage difficult |
| Expandable mower for gardening and landscaping equipment | |
| Intense mowing capacity and precision | |
Overall
I have absolutely no complaints about the Beast. This is an amazing machine that offers everything you're looking for in a mower. From speed to durability and strength, you have all the features you need to fulfill heavy-duty mowing.
Swisher Big Mow 51 Zero Turn Mower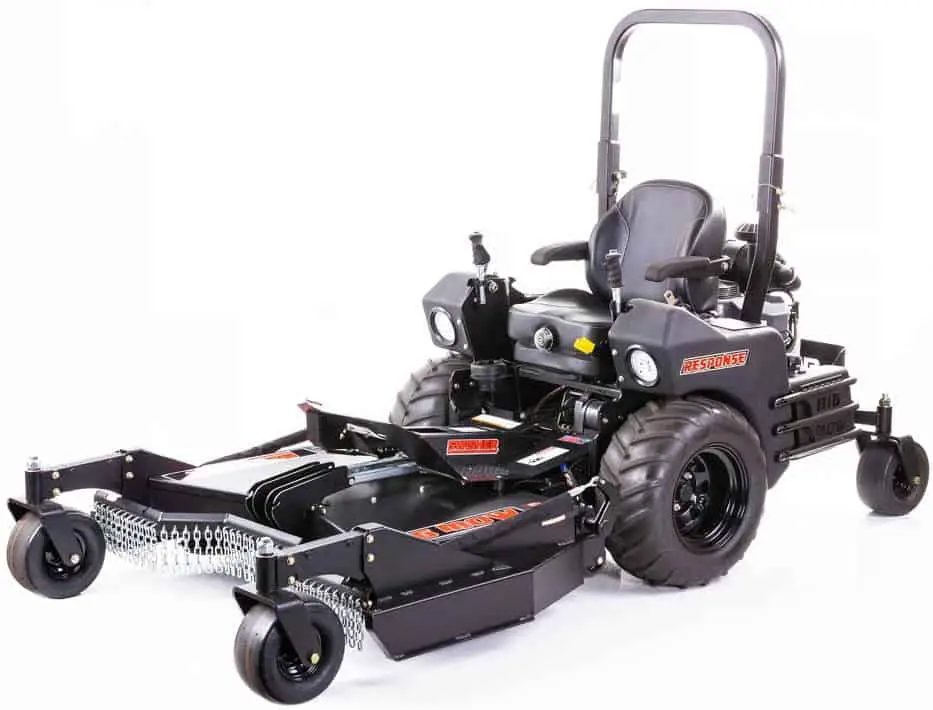 Build Quality
Designed with a 7-gauge steel deck and frame, this is a highly durable machine that easily deals with tough mowing conditions without a hassle. Not only does it come with a strong body, but it also has 6 mulching blades mounted in a front deck increasing your cutting precision.
The Swisher Big Mow is a powerhouse that runs at 10 miles per hour both front and in reverse as you mow on flat ground. It offers a great mowing experience for any rider, and a superb cut since it comes with twice the number of blades. Plus, it has chain protection to push away larger pebbles and stones off the way and prevent them from getting into your deck which can cause damage to the blades.
With 8 gallons of fuel to power up your 31-horsepower engine, you can easily tread over tough and dense turf in a single passing.
Safety Features
You have two large side fenders to protect you from wet spraying mud and from potentially dangerous debris caused by mowing. To improve the center of gravity, the Big Mow has 4 floatation tires both in front and behind the rear wheel tires. This improves grip and stability preventing you from tipping over.
It also has two pairs of massive headlights mounted on the fenders to offer great visibility in low light conditions.
Rider Comfort
Built with a beautifully crafted leather back padded seat, this mower has a strong back support system that improves seat comfort. It also comes with ergonomic armrests and comfortable hand grips on the la bars. The seat and lap bars are highly adjustable to fit all types of riders. 
Wheel Type
You have 4 12-inch floatation wheels at the front and the back to improve your glide over your turf. The rear wheels are high traction ribbed tires that improve your grip on the ground while also preventing the mower from damaging the grass.
| Pros | Cons |
| --- | --- |
| Perfect for massive commercial space mowing | Very bulky |
| Speedy forward and back mowing speeds | |
| Impressive anti-debris system | |
Overall
This Big mow is indeed an incredibly large machine that offers precision, speed and durability. What's outstanding is its powerful cutting precision that allows you to have a steady trim at top speeds mowing forward and back.
John Deere Ztrak Z535M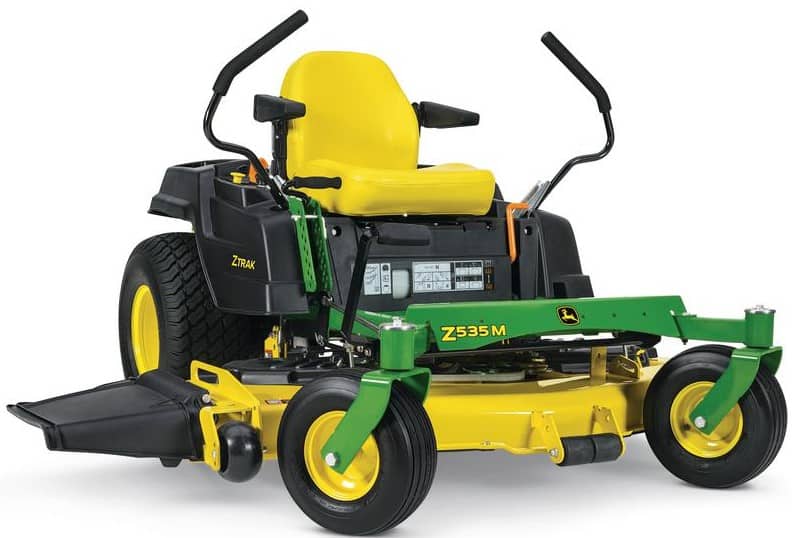 Build Quality
Crafted with 11-gauge steel fully welded into a strong tubular frame body, this strong machine is capable of heavy-duty mowing in various types of terrain without giving you the worry of damage and dents. Thus, making it the best heavy-duty commercial zero-turn mower.
This 25-horsepower v-twin engine allows you to course through the turf at 8.5 miles per hour in flat mowing and 4 miles per hour in reverse. You can cover more ground with its high speed paired with a 62-inch deck.
Safety Features
With a seat belt and large fenders to protect you from muck and debris, be at ease as you tread over the turf mowing. You also have a keyed start making it easy to start your engine and immediately start mowing. 
Rider Comfort
John Deere definitely offers one of the most comfortable mowers you can find. The padded seat with full back support cares for your back and butt for endless hours of mowing, the rider's seat really elevates rider experience. In addition, the mower has shock dampeners reducing vibration and noise significantly.
Wheel Type
The John Deere has 2 flotation tires that are 12 inches wide. They smooth over your turf without causing damage even when you make sharp turns. It also comes with a strong pair of turf savers that improves ground grip but also prevents the wheels from digging into the ground as you trim the lawn even at top speeds.
| Pros | Cons |
| --- | --- |
| Durable and highly efficient | Fit for flat lawn mowing only |
| Easy to maneuver | |
| Zero-tool maintenance | |
Overall
The John Deere is definitely more equipped to handle large flat properties. It is a decently amazing machine that offers superb comfort for all types of users.
The Final Verdict
Hands down, the Cub Cadet and the Beast are tied in my opinion. These great machines are really built for comfort and high precision cutting for commercial use. In all aspects, they can do more than just complete the job of mowing large grassy fields but are also highly capable of offering landscaping assistance to professional gardeners and landscape artists.