The John Deere S240 and X350 are great residential-grade lawn tractors. Known for their durability and performance, mowing the lawn will be as seamless as taking a stroll if you choose the right mower for you. Pairing the wrong ride-on mower to your lawn can go horribly; you have storage issues, maintenance, comfort, and cut quality to think of. So, you must make the right decision so that you can enjoy your purchase for years to come.
The S240 is built for regular yard exercises while the X350 fairs greatly with heavy-duty residential jobs. Choosing between the two models would depend on your yard's workload.
In this article, we'd be comparing the S240 and X350 models to help you make the best choice possible. Let's dive!
John Deere X350 or S240: Which Model Is Superior?
The John Deere X series is a few steps ahead of the A series in terms of functionality and power. They can withstand heavy-duty work including other jobs like towing and snow blowing efficiently. You'd go for the X series if you've got a large yard and enough work on your hands. That being said, the superior model amongst the two competitors is the X350 because it was built to withstand a tougher workload in comparison to the S240.
However, in this case, your requirement is the yardstick in determining which model is superior. When you're on the lawn mowing away, all that matters is how efficiently the job is done and mowers most of the time are not a one-size-fits-all affair.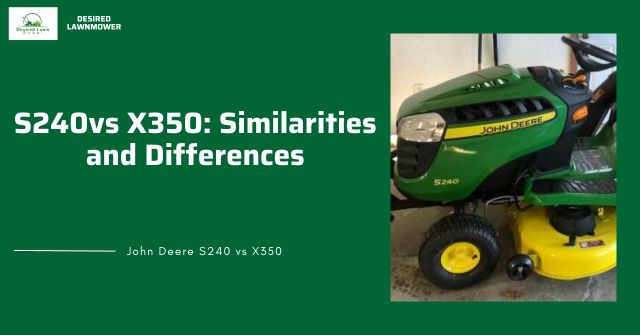 8 Key Differences Between The S240 & X350 Lawn Tractors
The differences between each model will put into perspective what you really need from a lawn tractor. Ensure you consider your requirements more than aesthetics so that you can make a good profit out of your purchase.
| S240 | X350 |
| --- | --- |
| 18.5 horsepower | 22 horsepower |
| K46 hydrostatic transmission | K58 hydrostatic transmission |
| Runs at a maximum forward speed of 5.5 mph (8.9 km/h) and a maximum reverse speed of 3.2 mph (5.1 km/h) | Runs at a maximum forward speed of 7.5 mph (12 km/h) and a maximum reverse speed of 3.5 mph (5.6 km/h) |
| 42-inch cutting deck | 48-inch cutting deck |
| 3.3-gallon fuel tank | 2.7-gallon fuel tank |
| Tires are 15×6-6 inches at the front and 20×10-8 inches at the rear | Tires are 16×6.5-8 inches at the front and 22×9.5-12 inches at the rear |
| Does not have armrests or cruise control. Has a regular steering wheel and foot mat. | Has armrests, cruise control, and a deluxe steering wheel. Also has a larger foot mat |
| Costs $2,600 – $3,000 | Costs $3,500 – $4,000 |
1. Engine And Power
The engine is one of the most important aspects of the lawn tractor that will determine the machine's efficiency in your yard. The S240 is equipped with a V-twin engine that revs at 18.5 horsepower, meanwhile, the X350 runs on a 22-horsepower V-twin engine. Certainly, the X350 will tackle the job easier and quicker than the S240.
2. Transmission
The transmission systems on the S240 and X350 are quite different. On the S240, you'll find the K46 hydrostatic to the transmission system that conveys less torque than the K58 hydrostatic transmission on the X350. K58 transmissions are built to last longer and deliver more power to convey the machine through tough situations, which may be your regular mowing depending on your yard.
3. Speed
Speed is important to get the task done in time. The quicker it is, the more efficient and stressless your mowing becomes. The S240 will run at a maximum forward speed of 5.5 miles per hour (8.9 km/h) and a maximum reverse speed of 3.2 mph (5.1 km/h). While the X350 runs at a maximum forward speed of 7.5 mph (12 km/h) and a maximum reverse speed of 3.5 mph (5.6 km/h).
Although the X350 is faster and thus, more appealing, remember that speeding across the lawn may not provide you with a neat trim especially if you have an interest in mulching.
4. Cutting Deck
Another major difference between the S240 and X350 is the cutting decks. The S240 carries a 42-inch cutting deck in comparison to the X350 with a 48-inch deck. If you seek to cover more areas and save time, the bigger deck is what you need. However, bear in mind that large cutting decks are easier to cut grass with than to trim tight corners. You'd probably have to follow the stragglers left at tight angles for a perfectly neat cut if you use the bugger-sized deck.
5. Fuel Tank Capacity
Large fuel tanks are ideal if you seek to mow large areas at a stretch. It would save you the need to refuel every now and then. Thankfully, the X350 has a fuel tank of 3.3 gallons which can take you a while to exhaust if you don't tow heavy loads or run at top speed frequently. On the other hand, the S240 offers a 2.4-gallon fuel tank which is great for the capacity of the model.
6. Traction And Stability
In terms of traction, the X350 wins the spot again by showing up with an optional all-wheel drive, an all-wheel steering system, and larger tires. The tires on the X350 are 16×6.5-8 inches at the front and 22×9.5-12 inches at the rear. Meanwhile, the S240 is equipped with 15×6-6 inches at the front and 20×10-8 inches at the rear. The bigger the tires, the better surface area you get which is good for slippery or bumpy terrain.
7. User Comfortability
Again, the John Deere X350 is much more comfortable than the S240. The X350 provides the luxury of armrests, a much fancier and more practical steering wheel, a cup holder, the cruise control feature, and larger foot mats. On the other hand, we have the S240 which is comfortable enough but does not contain armrests, cup holders, or cruise control.
There are certainly ways you can purchase and install armrests on your S240 if you choose. You can even change the whole seat to a suspension seat that would enable you a comfortable mowing time, especially if you have a tender back.
8. Pricing
The starting price for the John Deere S240 is $2,600 ending at $3,000 and for the X350 $3,500 – $4,000 depending on your area and the availability of discounts during the season. Extra accessories also attract extra fees, so ensure that you know all about the prices from your dealer's before you bag your deal home.
How To Make Your Decision Between The John Deere S240 & X350
After the differences between the two models have been acknowledged, you can then apply your requirements to see which lawn tractor delivers the most of what you need.
How Large Is Your Yard?
Your yard is the determining point of which model to choose between the two. If you have over 2 acres, the X350 will suit you most and if you have under 2 acres, the S240 is your ride-on mower. Although other features apply to this fact, sizing out your yard is a great way to begin making your decision.
How Featured Is Your Yard?
If your yard is featured with slopes, bumps, and ditches, you will need a tougher transmission and better traction to get around it, which is the X350. However, having a small yard that's featured different obstacles will require a small lawn mower to get around, which is the S240. If your yard is large and heavily featured, go for the X350. Otherwise, small featured or obstacle-filled yards will do just fine on the S240.
What Kind Of Job Do You Seek To Achieve?
Do you consider extra tasks like towing, tiling, or aerating the soil? The X350 is built for just that. You can use this model throughout the seasons like plowing snow during winter or pulling leaves around in a cart during fall. Ensure you get a durable snow plow that wouldn't wear out the transmission of the machine in the process.
The S240 can carry out some tasks too, but usually just minor towing and carting around. Best suited for a small yard with little work to do.
How Comfortable Do You Seek To Be?
If you're particular about having your lumber area intact when you alight from your lawn tractor after a hectic job, the X350 is best suited for you. The armrest and extra cushions make it more comfortable than the S240, especially for elderly folks or people with sensitive backs. However, I can't guarantee a fun ride even on the John Deere X350.
The best ride you can get is on a suspension seat; one with great shock absorbance and vibration resistance. You'd be more comfortable on the S240 with a suspension seat than the almighty X350 a hundred times.
What Is Your Budget?
It's always advised to spend within your budget when you're buying a lawn tractor so that you may be able to squeeze a little extra for some unforeseen expenses like maintenance or extra appliances. I have listed the price range of the lawn tractors above, to ensure that you make the best decision with your budget at hand.
If you are seeking to purchase the X350 and have now discovered the S240 is enough for you, great! You have extra for a few necessary expenses like a towing cart or a nice pair of armrests. If you have underbudgeted, I suggest you meet a dealer for more instructions on what to do. Perhaps you can benefit from a lucky second-hand purchase somewhere.
Frequently Asked Questions About S240 and x350
What's the warranty for John Deere S240 And X350?
Both the S240 and X350 carry a 2-year/120-hour limited warranty on both parts and labor. Note that the warranty may differ depending on your area.
How can I find a local authorized dealer?
There's a "dealer locator" tool on the John Deere website that can link you to a dealer close to you. Remember that you have to haul the lawn tractor of choice to your shed, so you should consider the distance.
Can I take commercial jobs with the X350?
The X350 may be impressive, but they are not built for commercial mowing. It will seriously affect the lifespan of this model to mow commercial jobs with it.