Every lawn owner and landscaper share a mutual desire; to make mowing as easy as possible. If you've been in the lawn-care party long enough, you would understand that bigger or fancier doesn't always mean better. It's very possible that for two zero-turn mower models where one of them is an advancement of the other, the upgraded model might just have all the features but the one you require. For instance, the machine could be missing a particular comfort feature, or your favorite engine, maybe an accessory you have grown accustomed to.
Well, in almost every case, the consumer's need is the priority for picking out a zero-turn mower. So whether the models have awesomely dope details, they wouldn't (and shouldn't) matter if they do not apply to your necessities. Hence the reason for an informative contest. 
Some people tend to a whole country-sized residential lawn, others are professional landscapers and they both would need nothing less than a commercial-grade zero-turn. The Toro Titan Max and the Toro Titan are a great way to begin and I have gathered all you need to know about the perfect Titan for you!  Here are eight critical points of view to help you finish off this debate once and for all.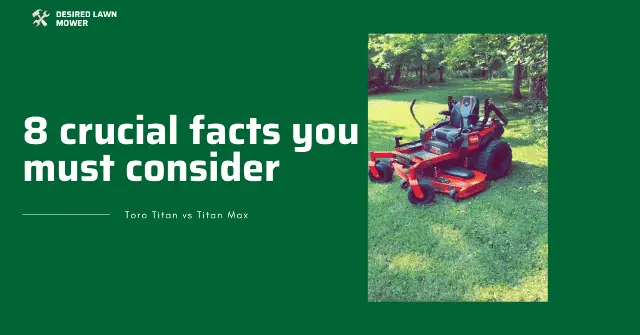 The Titan Max is a Lot More Powerful 
A powerful engine is every lawn enthusiast's fundamental need. Thankfully, the Titan Max model comes through with an exceptional 7000 Kohler 26 horsepower motor, for a much more effective mowing time. Especially if your acreage is friends with hay grasses and tough-stem weeds, including steep terrains, nooks, and crannies. They are also the best choice if towing heavy appendages is more or less your quirk. 
On the Toro Titan, you get a 24.5 horsepower v-twin Toro engine furnished with a commercial canister air filter to walk you through your chores. There's no saying that this model wouldn't mow effectively— they are quite impressive. Only that in comparison to the Titan Max, this mower will lag in a race of power. Weeds and all the weighty attachments are no match for this species, but there's only so much that this soldier can do, and pushing further would cause potential problems for you. 
The Transmission System is Much More Advanced on The Titan Max
Both of the models rock a ZT Hydrostatic transmission system— the best zero-turn transmission you can get. On the Titan Max, you will find a ZT-3100 hydrostat transmission. This calls for premium maneuverability and smooth luxurious steering and turns the learning curve down a notch. It is also a huge breath of relief for experts who have been working with a less advanced transmission; the difference is as clear as day. 
In comparison, you have the Toro Titan with a ZT-2800 hydrostatic transmission. They're pretty great on a normal day-to-day mow, but you will find them a little stiff on the steering. This is a pet peeve if you're tackling enormous plots of land with no time to lag and delay at tight turns and contours. If that is your case, I would suggest the Titan Max.
The Titan Max Delivers an Aggressive Stamina
Stamina is of general importance when you're tackling zero-turns. Although it's usually associated with slopes, there are a few other reasons that could cause you to tip over whilst mowing, like treading throngs of thick tall grass or climbing over bumps. The Titan Max is equipped with large viciously textured tires measuring 23 by 12 inches. They are perfect for all sorts of tippy situations on the lawn. They offer a perfect grip on slippery or sloped landscapes with a standard R.O.Ps bar, offering you much-needed extra protection. 
Although with all these goodies, you might have to put up with tearing your turf once in a while. Which is a dip you wouldn't find on the Titan model that has smaller tires of 22 by 11 inches. If you deal with professional landscape, patching or balding a field is a serious problem to consider before leaping onto larger tires with glee to avoid tainting your good work. 
Both Models Have Brutally Tough Frames, But The Toro Titan is Much More Serviceable
Fabricated decks are famous for being a lot tougher in maintaining your lawn and lasting a while. They are frames that are made from different parts and fastened together by knots and bolts. This ultimately provides a tougher and rigid sense of strength with the much-welcomed ability to maintain the machine properly. Bolts and knots could easily come undone for effortless replacement and repairs, and all of these perks you will find on the Titan model. 
The Titan Max is made of welded steel. Similar to fabricated frames, they are welded together to form the frame of the ZTR mower. Some might argue that this frame is better, but they are not at all easy to repair, which is a bummer because accidents are almost unavoidable, especially for people with obstacle-filled lawns. On the bright side, these frames do not have squeaky screws to trouble your peace on the lawn. So, possibly with high-grade maintenance, you might not need any repairs at all if you get the Titan Max.
Both Models Have Plush Seats, But Overall Comfort Goes To The Titan 
Comfort on a zero-turn is more than just the luscious seats. It's more of a general sense of all the little things combined, and just like many other aspects, are important only to priority. The Titan has an 18-inch handcrafted high back seat with armrests finished with a lever slide. On the MyRide series, you get to meet the Suspension System — simply a comfort feature that connects the seat to the footplate to provide a rocking seat effect — greatly nullifying the impacts of bumps and sharp unsteadiness whilst mowing. 
On the Titan Max, you get a higher back seat of 20 inches, seat belt, and armrest inclusive with a spring suspension. There are not many negatives, but if your back is a little sensitive and you'd rather not piss it off trying to mow your lawn, I would recommend the Titan model with its rocking seats.
The Titan Max Lacks a Fuel Gauge But Has Enough Tank Space For Lavish Trips
Honestly, I can't understand why this feature is nonexistent on the Titan Max. There is a cutout space covered with a transparent material on the tank for you to see how much gas you have, but unless you carry around a damp rag to wipe it every moment, there'd be a film of dust obstructing your view of the gas level. As small a problem this is, it's quite an inconvenience when you do get to the job. 
On the bright side though, the tank measures a good 7 gallons of space, meaning you could mow 4 acres of land two and a half times! As opposed to the Titan with only 5 gallons of space. There's a little step-down but it is just as effective. 
The Decks Are More or Less The Same
The decks are an A-game for both models. They are a marvelous IronForged 10-gauge steel deck with a bullnose edge. They are equipped with 3 deck caster tires and extra reinforcement of four-point steel chainlinks attaching the deck to the frame of the machine. This provides additional vigor and stability to the deck at all times.
The deck sizes for Titan Max are limited to only 60 inches, but you will find 48, 54, and 60 inches on the Titan. Deck size is a huge point to consider and although bigger could be better, it wouldn't serve you properly if it doesn't fit into tight spaces or your storage. 
The cutting height for the Titan Max is 5 inches maximum with the least 1-inches, this also means that Titan Max sits a bit taller compared to the Titan with a 4.5-inch maximum. Although the differences could be overlooked, there are still many instances that would need the extra 5 inches like professional jobs with a height requirement. Also, you have a commercial pin system to change heights as you please. A fancy knob would've been much better, but it is still good news for pin lovers. 
The Toro Titan is Less Expensive 
Our least favorite feature of the Titan Max is the price. For an extra spray of fanciness and efficiency, the price starts at $6,999 and for the Titan, they start at $5,599. If you're wondering if an extra couple of bucks is worth the deal, I would suggest that it is. You get to bag tougher power and stamina with other stuff that has been mentioned. Added to this, you will make a good profit out of a resale. 
The Final Ruling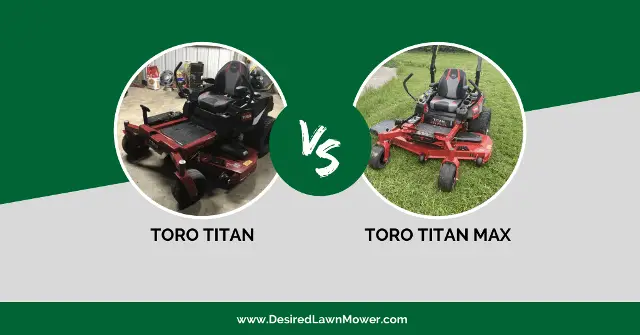 The Titan Max is the obvious upgrade of the Titan. The mower is a collectively small extra price to pay for some superfluous fun, that is if you can do without a fuel gauge and are well accustomed to managing larger tires. At least you'd be waving goodbye to stubborn weed and getting stuck in an awkward nook. In a fair comparison of which model does better, the Titan Max will suffice. This does not mean the Titan is less efficient because if you put a larger engine on the Titan, we just might end up comparing it all day long and still turn out with a draw. After all, the Titan has a better shot at comfort already.