The ultimate bummer is when you purchase an upgraded model of a machine worth a chunk of change only to find out they don't fit your requirement or they just happen to not have the quality you expected. Some of us have been there; some of us have instantly or later regretted an upgrade we've made, and on the other hand, ended up happier than we began. Of course, the upgrade would have fun new features but are they worth the hype? 
The similarities between the John Deere Z900 mower series are many. So it's safe to say that if you fancy a Z915E, the Z920M will pretty much appeal to you and vice versa. The E and M alphabets work as labels to describe the categories of the series to make differentiation a lot easier – or trickier if we're being honest. Hence the reason for this article. 
I will be putting the two models – Z915E & Z920M – under a modifying glass to help you recognize their similarities and differences and to conclude your decision on which model to get. 
Without further ado, let's get into it! 
Standard Features of The Z915E and Z920M Zero-Turn Mower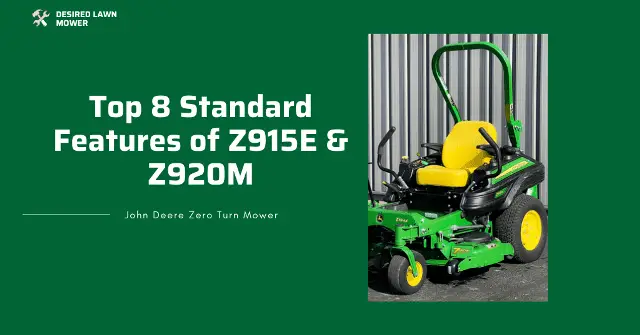 Dual Element Canister-Like Air Filter
The canister-like fuel filter is a standard feature of the Z900 series which includes our topic of discussion– Z915E & Z920M. This filter is manufactured with two layers of different materials to effectively filter out airborne particles whilst mowing. The canister enclosure allows easy access to the air filter for much effortless maintenance, all the better and more effective for your commercial zero-turn mower. 
Spacious Easy-to-fill Fuel Tank For Longer Mow Hours
If you would rather go with large tanks that wouldn't have you refilling at unusual hours, you'd be well pleased with the 11.5-gallon tank of the Z915E and Z920M. The tank is featured with a slightly tilted large fuel filler neck to avoid spillage. Both machines consume 1.1 to 1.9 gallons per hour under standard conditions. You have approximately 9-10 hours on a full tank of fuel for your Z915E or Z920M.
Flexible Hydrostatic Transmission System
The mystery behind the maneuverability and speed of the Z915E and Z920M zero turns relies on the hydrostatic transmission system they come with. The Hydrostatic drive features hydraulic twin pumps assigned to each lever and each wheel leading to a high amount of swiftness and sensitivity. The performance is smoothened with a perfect cooling system for intense work hours and thus less maintenance compared to the hydraulic motors. The fact that the hydrostatic motor is placed right under the seat of the mower makes regular check-and-see much easier to do, generally preserving the machine from unforeseen problems. 
Comfortable Deluxe Edition Seats
The deluxe comfort seat is a standard for both mowers in the discussion. They are luscious and well-padded in a bright yellow shade equipped with the comfort glide feature. The seats have a generous amount of rubber springs to avoid or nullify the effects of riding over bumps on the lawn. The deluxe seats come with armrests and a high back feature for better comfort. There's a seat latch to assist you in lifting the seat more conveniently. You're sure to keep your hat on and sit enjoyably with the deluxe seats on the Z915E and Z920M ZTR mowers.
Easy-To-Use Control System
The control panel is situated on the right side of both John Deere models (if you're sitting in it). It contains much-advanced strategies for management. The height adjustment system operates on a knob with a transport height so you can easily twist to your desired height. Added to the platter are a rock-type PTO switch, key switch, throttle, hour meter, and choke control. 
The 7-Iron stamped deck is a standard for both models. They are manufactured for heavy-duty commercial use and are built to withstand several hours of mowing with the durable steel they're made of. The decks are made to have softer curves as opposed to sharper edges to minimize the buildup of dirt and distribute pressure evenly in the deck whilst mowing. 
Also, the spindles are easily accessible thanks to the plastic coverage at the open side of the deck for cleaning and maintenance. The general build of the deck is a match for commercial purposes tackling larger lawns and plentiful mowing hours. 
Deck sizes of the Z915E and Z920M are a standard 48, 54, and 60 inches in width. The height variation is from 1 to 5.5 inches with increments of 0.5 inches. So you have the choice to equip your zero-turn mower with the best deck size for either a much much easier mow on your residential lawn, or an effortless glide across many more acres of grass. 
The drive tires of the Z915E and Z920M are the same size in width. They are turf torque 24 by 9.5-12 or 24 by 12 depending on your preference. You can also request the Michelin Tweel turf tires of the same width to throw away the burden of keeping up with tire pressures if you want, although this will cost you a couple more bucks depending on your dealer. It's worth the extra funds though. 
John Deere offers 36 months or 1200 hours or 24 months with limitless hours of the warranty covering the Z915E and Z920M effectively. If you end up going for the Z920M with a Kawasaki engine, you get a 36-month warranty on the engine and its parts as a bonus.
What's Worth The Talk on The Z920M? 
The Rear Bumper Offers More Protection

 
A rear bumper is an attachment at the back of the riding mower that protects the machine from damages that could occur in case you reverse into obstructions during a mow. It protects the air filters and engine, which are very crucial parts of the machine. This detail, although small, is pretty important if you have obstacles on your lawn. 
You might have tried to mow or shimmy out of a tight spot and found it quite draining considering the dangers of damaging delicate parts of your mower in an accident. To your relief, the Z920M zero-turn delivers a wedge to help you deter unforeseen problems while mowing your obstacle-peppered lawn.
The mowing deck on the Z920M mower is quite similar to the 7 Iron decks on the Z915E. The only difference you'd find is a more intentional anti-slip detail resembling two small parallel ridges welded out of the deck right where you'd place your foot for a step. This deck also has rear anti-skid wheels for better protection from scrapes with an overall firmer stance. 
You'll also find a mulch on-demand function with the Z920M controlled by a simple lever. They offer just the same functions like cut quality and striping effectiveness, but with an extra band of protection compared to the Z915E.
The Z920M uses an FX730V Kawasaki engine generating 23.5 hp and 17.5kw. This engine generates the standard speed of 10mph at maximum. Kawasaki motors define commercial and high-grade mowing much better than other engines in its category. They are efficient, heavy-duty, and last much longer under worthwhile use especially if you plan to use a 60-inch deck or tow heavy items with your ZTR mower. 
You also get a 36-month warranty with your Kawasaki engine covering repairs and replacements of engine parts, but only at a Kawasaki engine mechanic. The only bummer with this engine is having to deal with the downsides of colder regions; the engines function reasonably slower during the winter season. 
Flat-free tires are an airless category of tires attributed to the Z915M. They completely alleviate the bothersome duty of leveling pressures and other air-attributed problems you'd face with pneumatic tires. They are much compatible with commercial and professional mowing of many acres of land as you wouldn't have to bother with bending over to supervise them as a regular stint at all. Some people purchase the flat-free tires separately (view on Amazon) and get them installed on their mowers, but they come as a standard on the Z920M. Quite the mowing bonus! 
How Does Z915E Differ?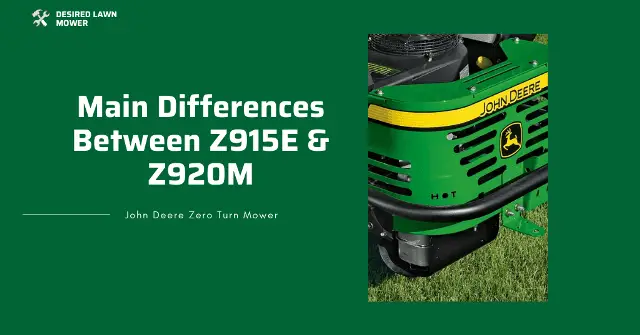 The Z915E is the most affordable grade of the John Deere commercial zero turn mower series. They are built for professional and commercial use at a fairly economical price. Here's how they differ:
A Kohler Engine For Effective Function
The Z915E model is equipped with a CV742 Kohler engine producing 25 horsepower enabling it to mobilize a speed of 10mph with 18.6kw. Kohler engines are the go-to brand for commercial mowers. They come in different models with their complementing abilities. The Kohler engines operate in all kinds of weather temperatures, so you don't have to deal with the problems that come with rather cold regions. They offer a great amount of power and other tantalizing features such as a smart-choke system that allows your mower to run as smooth as water. 
Pneumatic Caster Front Tires
Pneumatic tires are air-filled tires. They require a certain pressure of air to keep them rolling to your demands. For the Z915E with pneumatic front tires, you get better traction and less slipping- this allows for better speed and maneuverability on the lawn. All these, of course, with the price of dealing with tire pressures and maintenance. You will have to lean into refilling your tires and patching them up if need be.
The Final Decision 
Both models are built and equipped properly to withstand the hard work of mowing for longer hours and on far wider lawns at a stretch. The Z920M mower is just the Z915E but with extra spice. If you fancy a little more precaution with the benefits of a follow-come Kawasaki engine, I would recommend you hop on the Z920M. Otherwise, you might want to save your money and cut a few corners for the Z915E. No problemo! After all, both models are equally effective. It's either you negotiate a few modifications for your Z915E to your taste, or you get the Z920M and have a greater profit out of a resale. It's a win-win situation.