AriensCo zero turn mowers are well-known for their speed and maneuverability. The company has been producing riding mowers since the late 1950s and is well-trusted in the market. But aside from the blasting cost, what else do you pay for owning one? How do you weigh your options? 
The Ariens zero turn mowers are a good choice; they result in a plush carpet of green that looks right out of animation, swiftly and conveniently. Already, anything that halves the task is essential, especially when it has to do with dreadfully hanging out with grass in the scorching sun.
There are many points of reasoning before sealing a deal for a new riding mower, so I have gathered the points that would resolve your concerns. 
7 Reasons Why Lawn Owners Choose Ariens Zero Turn Mowers
Well, I would say for a better-looking lawn or land and easier mowing method. But asides from being a generally good choice, here are the reasons why they stand out;
They are well known for their luscious well-padded seats; they balance at the center of the mower, backing the engine. Giving a clear view of work as well as a properly balanced bearing. The ZENITH series come with a padded armrest and additional seat padding, including a high-back seat feature. This is much appreciated as the ZENITH is equipped for many acres of land – similar to the APEX series – that would be rather uncomfortable to endure without the extra padding. 
Excellent speed, precision, and maneuverability

 
This is one of Ariens' best-selling features when it comes to zero-turn mowers. The ability to manicure about 8 miles per hour is simply excellent for lawn enthusiasts. You get to slash the workload effectively with the zero-turn mower. They have 7 to 15 cutting positions. 
Variety of deck width options

 
There is quite an array of decks to choose from to suit your taste ranging from 34 to 60 inches. Again, this depends on how many acres you seek to mow. Many have agreed that this step is very crucial– imagine bypassing the EDGE series with the 34 inches for the 52 inches only for it not to fit into the shed. My word is that there is every fit for every lawn or plot of land, so there is the luxury of choosing the best zero turn mower for your needs. 
Another bonus is the power of choosing cutting heights effortlessly. The varieties of cutting heights go from 8 to 16 inches depending on the series. There is an intuitive method of adjusting the cutting heights; The EDGE has a foot-operated deck placed at the right side of your foot, with an easy-to-operate lever at your reach so that leaning out too far is out of the game– good news for your back. The  ZENITH series operates with a single vertical pin system.
AriensCo boasts of using the Kawasaki twin engines, Kohler or Briggs & Stratton engines to generate amazing horsepower for such compact machines, thus inducing its signature speed and maneuverability. 
I have thrown accolades on the structure of the Ariens zero-turn mowers for being suitably sized to be packed effortlessly. The win goes to the residential EDGE series, it is the smallest ZTR and most handy of them all. For a machine of such power, it's a bonus to be able to move it around without breaking out a stream of sweat. 
I will always emphasize how genius I think of the cup holder added to the IKON XD series. Quite a convenient idea. Mowing larger acres of land, it wouldn't hurt to hydrate for a minute. There's also a mulching and bagging kit – although sold differently – for much neater and easier work. 
How Long Can They Last?
Ariens Zero-turn mowers give a guarantee of at most 15 years with at most 3000 hours of work with proper maintenance and servicing. Because they calculate the amount of service per hour, there's a well-informed owner's manual for how much servicing you'd need for a certain number of hours spent, what to look out for, and how to go about doing the most you can. 
Also, the machines are manufactured with heavy-duty steel; reinforced to withstand obstacles on the lawn. The steel frame protects the lifespan of the machine saving you the pain of fixing obstacle-inflicted scars like dents and scrapes. So, just like any other lawn machine, how long the zero-turn mower would last depends on how much maintenance it is given. 
How Much Maintenance?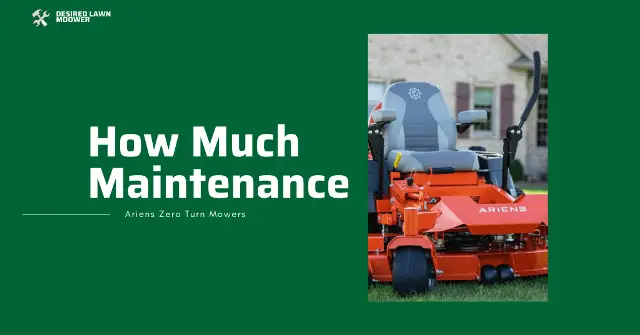 You might be wondering if Ariens' zero-turn mowers are needy. The answer is yes and no. This is because the level of maintenance is based on how much use it's put to or how it's being used. While most of it includes basic routine tasks, the Ariens Mowers are equipped to slow down wearing; thus reducing the level of maintenance.
For example, the cutting decks have anti-skid wheels to avoid scraping the blades and damaging them. Also, the self-adjusting belt technology reduces tension and wear and tear. 
5 Common Ariens Zero Turn Mower Problems
You might encounter being shaken off your seat while mowing. The reasons for this could easily be items getting stuck in the mower, loose parts, uneven tire pressure, a problematic deck, or bad bearings. This results in terrible jerks or vibrations of the mower while in use. This problem is usually followed by a broken drive belt which often gets reported. 
The decks are problematic
Shakey decks are a common problem encountered with these mowers, especially when you tend to sloping or elevating lawns. This could be a result of loose knots or uneven tire pressure.
They are difficult to control
This is like the counterfeit of maneuverability. The levers are sensitive and take a long while to master and that is a bummer especially when you want to get to work right away, but it just makes the mower a lot easier to swerve around when you finally get a hang of it. See "How To Start a ZTR".
Also, bad dampers and uneven tire pressures will cause the zero-turn mower to tilt to one side while mowing, making it unsafe in some cases. See "Are Zero-Turn Mowers Dangerous" for more information about the danger of z-turns.
 It is not built for angles higher than 15 degrees or deep steeps. This is a good point to consider before owning one. 
The signature orange paint of the mowers
Believe it or not, some deem the color as a design flaw because it stands out of place. So if you're seeking to maybe camouflage while mowing the lawns of your enemies, this wouldn't be the best option.
Ideally, there is an amount of smoke that you would deal with, but there's a line where it starts to scream problems. The mower releases an undesirable amount of smoke. Although it might be a design flaw, it could easily be the result of too much engine oil, a clogged filter, or spilled oil. 
This problem is not entirely unique to Ariens' zero-turn mowers, but they do pull the brand down the chart enough. 
Should I Get The Ariens Zero Turn Mower?
This sizzles down to what you expect from a riding mower. If you are looking for comfort, effective maneuverability, speed, and an aesthetically pleasing lawn, I would totally recommend them. Though they are way better compared to a regular riding mower, they do have competitors in terms of stability if you are seeking a much more sturdy mower. Additionally, the Ariens family series would allow you to choose a mower that best suits your needs.
Frequently Asked Questions about Ariens Zero-Turn Mowers
How many series of Ariens zero-turn mowers are there? 
Ariens has four series: EDGE, IKON XD, APEX, and ZENITH.
EDGE series: 
34" deck width with Kholer or Briggs engines.
42" deck width with Kholer or Briggs engines.
52" deck width with Kawasaki engines.
IKON XD series: 
42" deck width with Kholer or Kawasaki engines.
52" deck width with Kholer or Kawasaki engines.
60" deck width with Kawasaki engines.
APEX series: 
48" deck width with Kholer engines.
52" deck width with Kawasaki engines.
60" deck width with Kawasaki engines.
ZENITH series: 
60" deck width with Kawaski engines.
Where are Ariens zero-turn mowers manufactured?
Ariens is an American-based company, and manufacture the majority of its zero-turn mowers in Wisconsin, U.S.A.
How good is their customer service?
Sadly there isn't a five-star review on their service. Although reachable, they offer not much help.
Is there an alternative for Ariens zero-turn mowers?
The Husqvarna and Cub Cadet are your other options with only slight differences from the Ariens mowers. However, if you are seeking a residential z-turn mower, I highly recommend reading this in-depth review.