Husqvarna zero-turn mowers are one of the leading lawn products in the technical market, and also one of the priciest common brands. The company rolled into the business over 300 years ago and produced its first ZTR mower in 1919– that's 200 years' worth of knowledge and wisdom poured into manufacturing the first z-turn, inclusive of the improvements they've acquired over the years since the 1900s to date.
For you to explore a Husqvarna zero-turn, you probably are interested in high-quality lawn machines that guarantee your money's worth, and offer commercial-grade-like comfort for basic use. If otherwise, you simply stumbled upon the brand and are wondering whether they're worth all the rap, you've landed on the right article to deliver your verdict.
Husqvarna zero-turn mowers are solid and dependable. I find them to be worth the price, time, and consideration, as they are long-lasting and perform mowing and other tasks vigorously.
6 Reasons Why You Should Get A Husqvarna Zero-Turn Mower
Every zero-turn mower brand has its pros and cons. To decide which is adequate for you, you have to consider just how much each side will affect your experience.
1. The Impressive Power Supply
If you have any experience at all with z-turns, you will understand that power is easily one of the most important aspects of the machine. Husqvarna zero-turn mowers are equipped with either Kohler, Kawasaki, or (majorly) Briggs and Stratton engines that pump the machines with 23 to 31 horsepower; starting from the low-grade residential to the commercial-grade models. To put it into perspective, some brands have their commercial-residential models at 23hp and are quite proud of it.
If you're a beginner considering your dense and aggressive yard, Husqvarna ZTRs will quench your worries sufficiently.
2. They Slice Through Turf Like Powered Ninjas
Matched with their impeccable power supply, Husqvarna zero-turns have remarkable decks to improve mowing quality. They are specially engineered to stimulate significant airflow that will properly spruce up the grass before they encounter the deck blades.
The decks range from 42 to 72 inches, can be welded or fabricated, and are either 11 gauge or 12 gauge depending on the grade of the model. In terms of cut quality, they're quite sturdy– no wonkiness or shakiness to affect the integrity of the trim. You'll also find the cutting heights to be from 1 ½ to 4 ½ inches in quarter increments.
If you have been burned before by awful cut quality and are keen on purchasing a better zero-turn to deliver your needs, Husqvarna z-turns check your list.
3. The Seats Are Comfortable (Progressive From Low-End To High-End Models)
If you're going to be spending a chunk out of your pocket to purchase a riding mower, the least you should be guaranteed is to climb off in one piece.
The Husqvarna has comfortable seats paired with its ZTRs. They are built properly with fair suspension and padding for entry-level models. Although they wouldn't quite "suspend" you properly from the vibrations of the activity, they are worth the pay.
The quality gets better as you progress through the models; the high-grade and commercial-grade zero-turns come with suspension seats and armrests that will help you neutralize the shockwaves you'd experience in motion.
4. They Are Swift And Easily Maneuverable
When the sun hits the grass, the only thing on your mind would be to get in and done, fast. Husqvarna zero-turns run from 6.5 miles per hour to 13 miles per hour on forward speed, from the lowest to highest grade models.
No one would like to spend an entire day in the yard on a screeching machine. If you match the suitable acres to the correct model, you'd be properly equipped to zoom past your "turfy" problems in no time.
5. They Are Safe To Ride The Highs And Lows
One of the lawn tender's biggest problems is highly-featured terrain. Maneuvering a zero-turn mower over bumps and hills requires immense skills, a z-turn up to the task, and luck. The stability of the Husqvarna is impressive; the weight of the machine is properly distributed, great traction threaded tires, and a wide stance, all contribute to the overall balance of the ZTR.
If your bumpy or steeply sloped terrain weighs on your judgment, you can trust the Husqvarna for safety.
Make sure you take the tire pressures and other safety measures seriously to ensure you do your part on your end.
6. Profound Experience & Expertise
I hate to confirm this, but the older the brand the better the equipment. Zero-turn mowers cost a fortune! It's not a joke to invest in one, and that is what a brand with an experience like Husqvarna has over its peers. Of course, in present times, information is highly saturated, and producing high-end products wouldn't cost an arm and leg as it would have in the '90s, but nothing beats experience and centuries of wisdom.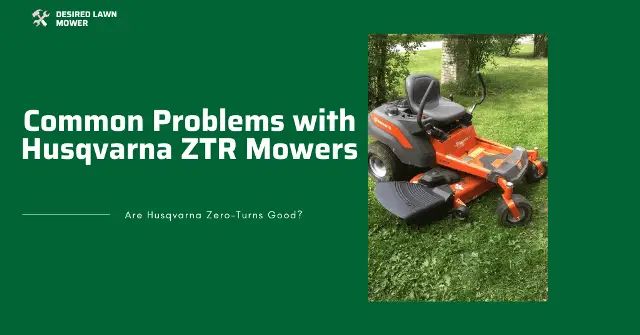 5 Common Problems With Husqvarna Zero-Turn Mowers
1. They're Quite Pricey
The Husqvarna z-turns cost a brow-raising couple of bucks; you start at $4,000 for the entry-level and progress over $10,000 for the high-end commercial-grade models. While they reimburse quality products, the pricing is something to consider before making your choice.
2. The Cutting Blades Are Not Too Satisfactory
I did mention earlier that the cutting decks are above and beyond. However, I find the blades to be a little mismatched as they wither rather quickly over time. This is a minor problem since the blades could be exchanged for much more durable sets, but I can't fathom why such an expensive mowing machine couldn't do well to have dependable cutting blades.
3. Jamming Issues
I wish this was about music, but it so happens that Husqvarna ZTRs have a problem with the controls suddenly locking up. This isn't a common problem – I deem it a production error – but I find it highly troubling and frightening. If you do get a Husqvarna, I advise you to take routine checks seriously to ensure the chance of encountering this issue is extremely low.
4. The Plastic Parts Are Notorious For Breaking
Similar to the blades, the plastic areas on the Husqvarna ZTRs break easily and seemingly have little resistance to vibrations. This may not be a completely 'put-off' downside, but it sure is annoying.
5. They Need Constant Maintenance
All zero-turns require to be properly maintained. Still, Husqvarna particularly needs to be watched closely to prevent or diagnose unforeseen problems (like the problems with jamming). They generally have very little tolerance for less supervision.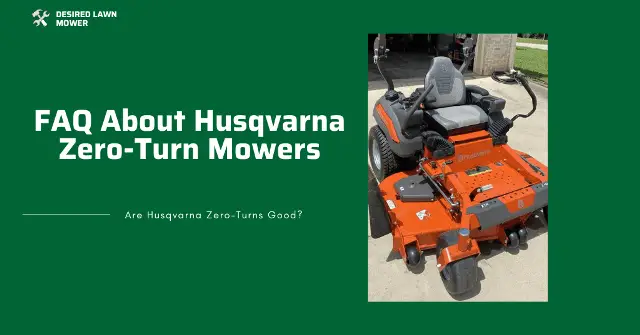 Frequently Asked Questions About Husqvarna Zero-Turn Mowers
How long do Husqvarna zero-turn mowers Last?
If you provide the correct maintenance and match the appropriate model to the number of acres, type of duty (residential or commercial), and features of your yard, Husqvarna ZTRs will last up to 15 years.
Where are Husqvarna zero-turn mowers manufactured?
They are manufactured in the USA; Orangeburg, South Carolina, McRae, and Georgia.
Do Husqvarna companies offer good customer service?
The customer service is sadly not fun to chat with. They either take ages to respond or they don't help with the exact situation.
Are there other zero-turns similar to Husqvarna?
I find the John Deere and Scag quite comparable in terms of performance, quality, and pricing to the Husqvarna ZTRs.
What is the warranty for Husqvarna zero-turn mowers?
They carry a 3 – 4 year warranty on parts and labor depending on the model you choose.