You are most likely into acreages if you're eyeballing these baddies, or you're a fan of sufficient power and wouldn't settle for anything less. The Bad Boy ZT Elite and Maverick are your best options for heavy-duty home-grade or light-weight commercial mowing, but how do you decide on which one to buy? 
The features of your lawn or field play a huge part in deciding whether to choose the ZT Elite or Maverick, the other percent relies on certain details you prefer attributed to a zero-turn mower. Originally, the ZT Elite was made for heavy-duty residential mowing and the Maverick for entry-level commercial tasks but at the end of the day, you know your yard best, so it's crucial to fully understand your desired machine as well before you purchase it; I'll address all of that as we roll.
To help you get your money's worth out of either zero-turn mower, I'll be discussing both of the Bad Boy ZTR models and how they differ, relate, and which one will suit you better so that you don't bag yourself the incompatible mower.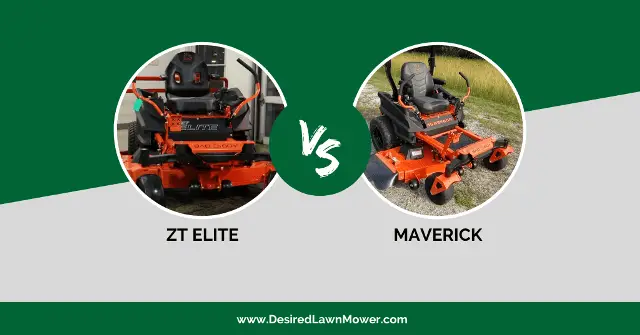 Nitty-Gritty Specs Of The Bad Boy ZT Elite & Maverick In Five Blockbuster Points
The obvious difference between the Bad Boy ZT Elite and Maverick zero-turn mower is the appearance. You'd firstly notice the Maverick is a little bigger and more defined in comparison to the ZT Elite. But if you take a closer look at the two grass-mongers, there's a field of differences to unveil. Let's dive: 
Both zero-turn mowers are fully equipped to handle heavy-duty tasks. For the ZT Elite, you get the Kohler 725cc 25 horsepower, Kohler 747cc 24 horsepower, Kawasaki 726cc 24 hp, and Briggs 724cc 25hp engines respectively. 
For the Bad Boy Maverick, you get the Kawasaki 747cc 25 hp, Kawasaki 726cc 24 hp, Briggs 810 27 hp, and the 686cc 22.1hp. The Kawasaki and Honda engines cost about an extra $500 added to the Kohler because they're generally much more reliable and end-to-end tougher than the Kohler engines. At the same time, it's only what works for you that should be considered. Make sure to go for the type that you feel most comfortable with. 
The Bad Boy ZT Elite will come with a 3100 hydro-gear transmission system that will prep you with a speed of 7miles per hour. 
On the other hand, we have 3200 hydro-gear transmissions generating a speed of 9mph for the Bad Boy Maverick. So you have enough juice to blast you through the fields in no time! 
The Bad Boy ZT Elite is equipped with 13-inch front wheel tires and 22 by 11 rear turf treaded tires. Meanwhile, the Maverick is equipped with 13-inch front tires and 23 by 10-inch at the rear. 
If the ZT Elite is your mower, it's possible to request the Maverick-sized rear tires for extra traction. Otherwise, you're very much good to go with each option. 
Both of the riding mowers sit lower to the ground with a wide stance inducing a more stable center of gravity and overall aggressive stamina. 
To further protect you from accidents, the Bad Boy Maverick comes with a standard roll-over protection bar (ROPS bar), which you'd have to purchase separately on the ZT Elite. 
Decks and Cutting Quality

 
For both the ZT Elite and Maverick the decks are the same; you get the 7-gauge fully fabricated decks in 48, 54, and 60 inches. Deck height adjustment goes from 1.5 to 4.5 inches and is adjusted by a foot-pedal and dial knob combo for both models for an easy and intuitive adjustment. 
It's possible to get the electric deck lift option for extra bucks, which is the perfect option if you find the foot-pedal challenging. 
The Bad Boy ZT Elite is garnished with well-padded high back seats with shock-absorbing suspension springs to protect you from spine-shattering impacts whilst mowing. On the Maverick, the seats are a little more padded and suited for longer mowing sessions. 
To enhance stability, the whole frame and build of both zero-turns complement the anti-shock seating feature; you have the cast iBeam front bar and forks for a more stable ride, also the EZ-Ride suspension system on the rear and front tires offers a float-like experience when the mower is in use. 
For the overall durability of the frame, you can rely on the welded and fabricated 2 by 2-inch steel welded frame of the models for the long run. 
Why Should I Get The Bad Boy ZT Elite?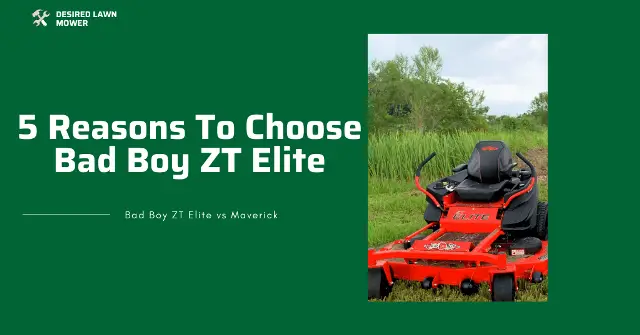 The Bad Boy ZT Elite is the best-selling machine of all the Bad Boy zero-turn lineup. Why? Because you get a residential mower with a ton of commercial benefits at a reasonably low price!
Here are five good reasons why you should get the Bad Boy ZT Elite:
You Mow More Than Three Acres, But Less Than Eight
The Bad Boy Elite is the absolute best for residents who have a great deal of yard to tend to and would need a suitably powerful zero-turn mower that isn't necessarily commercial. The high-grade residential mower will be your best bet; most likely a commercial-residential hybrid. So if you toil around six, or seven acres of grass the ZT Elite is your mower. You can get the 60-inch deck to make the task much faster to accomplish. 
Bear in mind that although the ZT Elite can mow many acres of yard, they're not built for mowing that much yard on a daily basis. If you want to mow daily, you'd better seek the fully commercial grade Bad Boy mowers. They're built and generally equipped for such labor. 
You Mow Less Than 3 Acres, But Your Residential Yard Is A Jungle
Our yards differ in many ways, inducing different methods to warrant a generally satisfying outcome. In this scenario, you may have about 3 or less than 3 acres of grass to mow, but you also have the toughest weeds and plants imaginable. You are precisely residential, but regular residential zero-turn mowers are no match for your yard. 
Also, you might need the extra power to mulch effectively whatever you run over. The ZT Elite is the best for this scenario; Nothing too large or too serious, but serious enough to devour tough surfaces, make the work a lot easier to accomplish, and withstand the workload like a champ! 
You'd Like To Make Small Business Out Of The ZT Elite
If you're a residential-commercial landscaper, this could mean you probably spend more hours mowing in a week, but not as many hours to fully upgrade to the commercial mower– Say, 3 to 4 times a week. The ZT Elite is the best for this case because not only do they have the right specs, you'd make reasonable earnings considering the relatively low capital of the business. 
Remember you have a high-grade residential mower with commercial privileges, all you have to do is slap on a tough engine and a sizable deck, and you're good to go! 
Your Lawn Is As Wavy As The Sea
Traction is a very important detail for zero-turn mowers to possess in cases where you have a considerably small lawn, but a handful of steep slopes and ditches that would need extra power and durable traction to run over. It's possible to affix wider tires on regular residential grades, but if you really consider keeping your machine for a long while, the last thing to do is overload the mower with tasks that put a sizable strain on it on a normal basis. 
The ZT Elite is just the right mower for this outline; you have enough power and traction to defeat slopes and ditches while sticking to the residential line. You could get a smaller deck to suit your preferences if that is your case.
Over $5,500 Isn't Your Ideal Price

 
There are very few residential grades that offer commercial privileges for $4,000 – $5,000. Even most of the high-grade residential mowers with limited residential benefits go well above 5 thousand grand. The budget for the ZT Elite is undoubtedly affordable on all counts– the literal cherry on top! 
Why Should I Get The Bad Boy Maverick?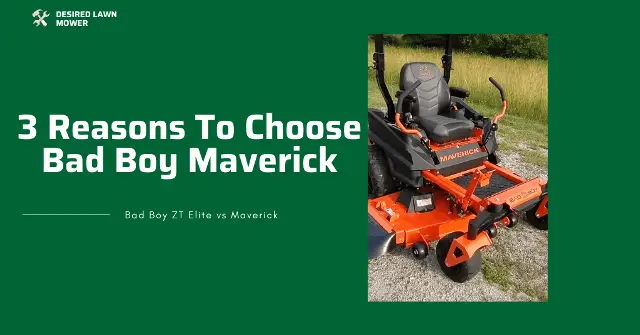 The Maverick is associated with commercial use, but there are loopholes that you could benefit from. Here are three good reasons why you should get the Bad Boy Maverick: 
You Have Fully Considered Commercial Mowing

 
The Maverick is an entry-level commercial zero-turn mower and a great way to start before pouncing on the fully commercial grades. Perhaps you have a lawn care service that is picking up at a nice pace, and you wouldn't want to stretch your budget over $9,000 for a full-time commercial mower, the Bad boy Maverick is the best for you. 
Your Terrain Is All Hills, Valleys, And Threatening Bumps
You have better traction, stamina, and rigidity with the Maverick in comparison to the ZT Elite which is no surprise, but if you're very particular about effectively and safely mowing your 7 yards of uneven and bumpy field, you might also consider getting a Maverick with a 48-inch or 54-inch deck. 
The best part is you could easily switch to a 60-inch deck if you decide to go commercial without buying a brand new one or exchanging the mower for a more powerful one.
You Spend A Lot Of Hours On The Mower In A Week
Comfort is a very crucial part of commercial mowing. If you have a zero-turn mower that has horrible seating, like it or not, the job wouldn't just be as effective. The Maverick comes with a much luscious body-hugging seat that will suit 5 – 6 hours of mowing regularly and the patented EZ-Ride suspension system to absorb shocks better.
 Also, power plays a big part in the durability of the machine. If you mow many hours daily, it's only befitting to match the task to the correct horsepower. That way you are fully equipped and not overworked. 
Decisions, Decisions…
The ZT Elite and Maverick offer different experiences and are built for different reasons. So there's no loss in choosing each of them as long as you pick your cards correctly. There are endless possibilities for both machines to accomplish with you if you know exactly what you need. In cases like this where the similarities are striking and a great deal of money is involved, the best thing to do is understand the features of your lawn properly so that you relish your final option for as long as required.