There is a notable difference between the Husqvarna Z254 & Z254F, underlining either the lack or availability of certain features on each model. The hovering cloud of thought is which one is made for you?  
Zero-turn mower brands from a general standpoint will always have new and fancier models that promise – for extra bucks – to be an upgrade of the previous model, but are they any useful? How exactly do they help you out for the extra money you pay to get them? Sometimes, an advanced zero-turn mower model could have new features that completely have no better impact on what you're seeking to achieve. 
It's possible for mowing with an upgraded model to be a little more difficult for you in comparison to the older model– this happens a lot!
In the end, you do not want to waste money, effort, or a good opportunity to make mowing a lot easier. That is why I've huddled a good discussion on the Husqvarna Z254 and Z254F models, so you don't make the mistake of choosing the wrong model for your yard, and also to decide which Husqvarna model bags the overall best model trophy.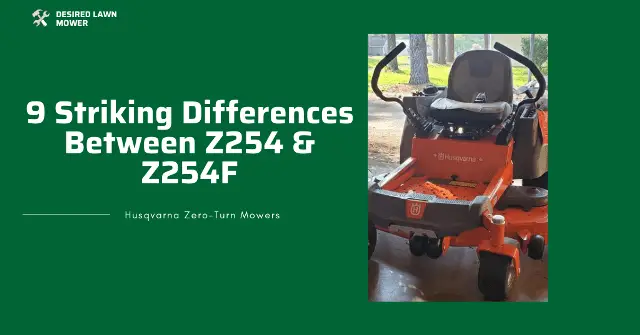 A Trial For Power
Everything else on a riding mower could be intact, but without sufficient power, you're signing up for a miserable time in the yard. You might as well cut your aggressive tall bahiagrass manually with a reel mower. 
The Husqvarna Z254 is equipped with a 24-horsepower Briggs & Stratton engine that runs the entirety of the machine. On the other hand, the Z254F is equipped with a 23-horsepower Kawasaki engine– a difference of 1 horsepower. If you're wondering what 1hp can do, it's simply enough power to pull roughly five average-sized white rhinos in a straight-line distance of 1 foot in one minute– see the significance? 
Conclusively, the Z254 is more powerful than the Z254F and thus, carries an extra benefit of force for all situations which is excellent for residential use!
The Futuristic Control Panel
The Z254 and Z254F mowers have the same ergonomic control panel system featuring a key ignition switch, PTO switch, a digital hour meter, choke switch, and a throttle lever mounted on the right of the mower if you're sitting in it. 
On the right side of the mower – if you're again sitting in it – is the commercial-grade deck height adjustment lever which is quite a bonus for a residential mower because most brands use the pin system for residential use. 
Following the control panel is the cup holder for holding your cup of whatever liquid properly so that you can take a huge sip of grass clipping juice whilst mowing– How very thoughtful! There's also a tool holder space for small items that could fit into it. This feature is also present in both of the Husqvarna models. 
Functionality and Cutting Deck Efficiency 
This point references the main duty of a zero-turn mower which is simply to cut grass. The Husqvarna Z254 makes use of an 11-gauge steel stamped deck with air induction mowing technology to propel better airflow and increase the overall performance of the blades. They are equipped with aluminum spindles and greaseable mandrels to make maintenance a lot easier to achieve, rounded up with 4 anti-scalp wheels for safety. 
The deck of the Z254F differs slightly from the Z254; it has a 10-gauge steel fabricated deck in comparison to the stamped deck of the Z254. They are supported by 6 anti-scalp wheels providing extra protection from scalping your lawn and also extending the lifespan of the deck by a reasonable percentage. The mandrels are greaseable and the spindles are made of steel, not aluminum, so extra rigidity is warranted.
Deck washing ports and cutting methods are the same for both models; that includes cutting, mulching, and bagging precisely. There are 6 cutting heights for the Z254 and Z254F models ranging from 1.5 to 4 inches, which is more than enough for residential use.
The major difference in the cutting performance of the two Husqvarna models' decks is that the Z254 deck will land you a much finer cut because of the airflow, but the Z254F fabricated deck with two extra anti-scalp wheels is much more reliable. 
At this juncture, it depends on if you are seeking a longer-lasting deck or a much more aesthetically pleasing cut.
Stability and Speed
The Z254 and Z254F perform with the same value of stamina– very poorly. If you have slopes and bumps here and there, you will need to be quite careful with how you maneuver the machines. For both models, the tires measure 18 by 9.5 inches at the rear and 11 by 6 inches at the front. Perhaps if the brand company used wider tires, there'd be better hope for mowing on slopes and getting off in one piece. Caution; inspect the tire pressure and make sure it's even before going for a ride. This will help the bumpy situation a little. 
In terms of speed, they also measure the same mile per hour thanks to the hydro gear 2200 transmission; they run at a speed of 6.5 miles per hour forward, and 3.5 mph in reverse which is sufficient for a residential riding mower. You get to mow 3 acres of grass in a matter of an hour, although the mowers are built for 2.8 acres. Well, extra good is always welcome! 
Comfort and Convenience
Notably, the Z254F model comes with a high back seat feature- which honestly is underrated. It makes mowing a lot bearable for people who are rather on the big side. Though I wouldn't necessarily assert that both mowers are exceptionally comfortable because the vinyl seats do not come with any notable spring suspension system or anything really to support a rump when riding through rough terrain. 
Every jolt and jerk will either be slightly painful or very disturbing depending on how you mow. At this point, any extra inch of relief is highly welcome, which is also why the Z254F is a much better option for comfort. 
Armrests will help you a tad bit, but they're sold separately (view on amazon) from the machines and cost about less than a hundred dollars. I will get them if I were you because you'd surely need them. 
In general terms, the Husqvarna Z254F is more comfortable than the Z254 mower and will serve you better in case you have a rough landscape.
Aesthetics and Stuff
The build of the Husqvarna Z254 and Z254F is fairly the same and the differences are almost invisible; there's no notable difference in appearance aside from the seat heights. What you will visibly notice on the Z254, you'll notice the same stuff on the Z254F.
The front wheels, rear wheels, and levers are all the same on both models. At the rear end, both zero-turn mowers are defended by a plate of metal encasing the engines for extra protection while in use. So, if you're wondering whether you'd make any loss or gain in terms of the appearance of either the Z254 or Z254F, I strongly doubt you will. 
Lifespan and Nitty-Gritty Maintenance 
There isn't much maintenance to do for both Husqvarna models aside from the usual oil changing, greasing and general cleaning of debris from the deck which is already an easy task because of the wash port.
The transmission system of the Z254 and Z254F is maintenance-free, so that is also off the list. With proper maintenance and care, the Z254 and Z254F will give you 3,500 hours in the space of 10 years– impressive! 
Warranty
There's a bumper to bumper 3 years warranty on both parts and labor for both models. That means that genuine accidents from the user or the machine are fixed with no charge whatsoever. 
Last, and Least Favourite- Pricing
The Husqvarna Z254 costs about 3,000 – 3,200$, while the Z254F costs 3,200 -3,500$. The range depends on your dealer or other extra knicks like distance if they're being delivered to you. For accessories, you slap down roughly a little less or more than 60$ for the mulch kit and light kit. There are hitch kits, mulch plate kits, and armrests that cost less than 50$. 
If you have other needs for your yard, you can purchase the extra bagging, towing, and hitching accessories that cost over 100$ – they all are applicable for both mowers. 
You can get a clear picture of the accessories via the Husqvarna website. 
The Verdict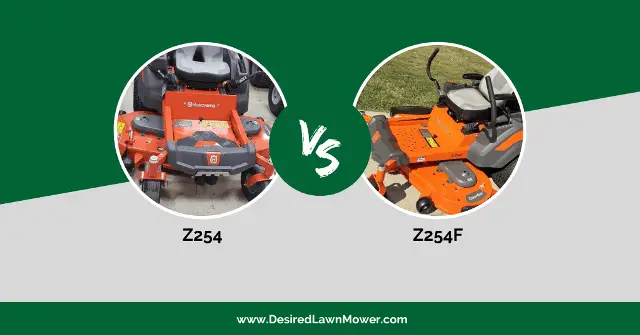 From a general perspective, the Z254F is the best zero-turn mower; it has a better chance of surviving rigid conditions and terrains because of the extra power and comfort. Though the chance may be slight, it's still notable anyway. The Z254 will evidently lay a nicer cut, but because the overall purpose of a high-grade residential mower is to withstand high-grade obstacles, the Z254 is put down the chart by a tiny percentage.
In an alternate universe where the models are built for an acre, the Z254 with a better cutting efficiency will ace since there'd be no need for significant amounts of power. 
However, the champion between the Z254 and Z254F solely depends on your requirements. If you seek nicer cleaner cuts, the Z254 is your mower. Otherwise, if you're keen on rigidity and build, I suggest you go for the Z254F. 
I cannot analyze the zero-turn mowers based on your type of terrain with precision because both mowers uphold a laughable performance on slopes. I deem this problem a design flaw and truly hope Husqvarna Company will fix this issue soon to enable a safer and more efficient experience for you.