There's a convenience that comes with purchasing merchandise from a well-trusted, well-known, and well-established corporation; most of the questions have already been asked and answered, and the luxury of familiarity has settled in. It happens that no matter how long the brand name might be, it simply becomes a symbol for a quality item.
John Deere's first grand entrance began with their quality plows far back in the 1800s. They are famous for generating excellent building materials for lawn machines, manufacturing most of their engines, and for being coined the most trusted lawn mower brand by Lifestory Research and residents. 
I have gathered valuable information that would answer your questions on the John Deere zero-turn mowers, highlighting the common upsides and downsides of the brand to help you make the best decision. 
What Are The Pros of John Deere Zero-Turn Mowers?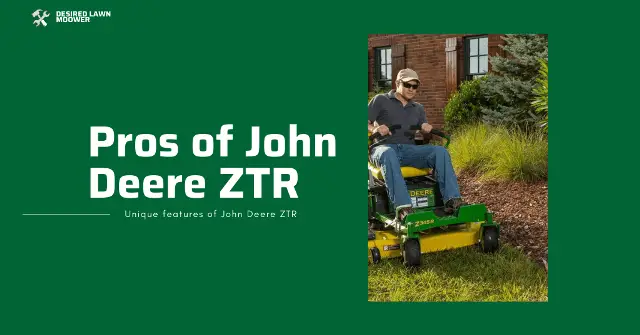 "Nothing runs like a John Deere," they say. Here are the common reasons why John Deeres stand out:
The Mowers Have Super Duper Engines
John Deere ZTR mowers are made of powerful Briggs & Stratton, Kohler, or Kawasaki V-twin cylinder engines with a pair of perfectly durable HydroGear EZT transmission systems. This in turn generates easy power-to-weight ratios, continuous high power curves, efficient torque, and magnificent horsepower ranging from 22hp to 27hp depending on the series and can run as fast as 7 to 10mph. The transmissions are non-serviceable, so they are formulated to last ages. 
Although this company is known to produce its engines, most of its mowers rely on engines that are made by other corporations of equal capabilities; they produce less noise, effective cooling abilities, and fewer vibrations because of the type and placement of the engines. The machines are a perfect choice if your lawn/scape is filled with slopes and bumps; the engine will power you through and through. 
Mulching is an A-Game For John Deere Zero-Turns
Equipped with an Accel deep mower deck, the John Deere zero turns are easily one of the best mulching machines you can find:
The blades are made of durable steel and are shaped like the wings of a stingray, with a slightly outer-line bend feature to enable proper airflow and distribution of clippings. 
For some mowers, mulching is rather a pain in the neck because it would leave a line of clippings on the lawn, but for the John Deere ZTRs, that is easily alleviated due to the excellent airflow of the mowing deck. The powerful engine of the machine also provides enough horsepower to surge through tough grass fields. If your lawn or field is rather tough, I would recommend the John Deeres for their perfect design of engines and deck system. 
Maintaining Mowing Deck is Easy Peasy

 
Grooming the deck is stressless. The sheet of metal above the deck where your feet rests is moveable, giving you easy access to the deck for all the tidying up it would need.
There is a wash port built into the deck frame for the attachment of a hose to flush in water to all areas. The water comes in with the right amount of pressure that flushes out dirt and debris from underneath the deck and between blades, so you can attach the water hose while you wait for it to clean. Although, I would advise you to peep in to ensure all the debris is properly washed away. 
The Zero-Turn Levered Steering is Stable
The regular levered steering pattern comes in with its pros and cons. Some residential zero-turn mowers have more sensitive control systems compared to the others (depending on the brand). In the case of the John Deere, the steering method is sturdy and safe.
The design of this specific brand has the steering a little stiffer than the others. Although this might be a damper for some, it provides stability and drops the percentage of swerving into accidents. It is easy to stabilize and does not require much to keep it on track. While this might seem insignificant, it's a much-welcome trait if you spend all day mowing large acres of land, or fields with bumps and hills. 
They are Equipped With Awesome Tires
With the John Deere zero turns, you get the benefit of using Michelin X airless tweel turf tires on the Ztrack series. These tires are airless, flexible, and about three times stronger than the regular air-pumped tires. You can relax without having to think of uneven air pressures, flat tires, or dangerous bumps on your lawn. See "Best Tires for Zero-Turn Mowers" for more information.
The structure of the tires allows the machines to dent round objects, preventing the usual bounce that comes with climbing over rocks. This feature is genius considering most of the zero-turn problems – drive belt problems, faulty decks, and transmission issues – could be linked to uneven tire pressures. 
What are The Common Problems With John Deere Zero-Turn Mowers?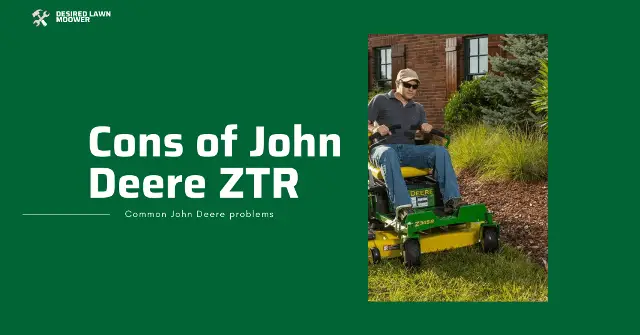 The problems encountered with the riding mowers might not entirely be unique to the company. However, these are the most common problems associated with this brand; 
Their Drive Belts are Very Problematic
I have concluded this to be a design flaw. The drive belt has a habit of falling out or breaking in less than enough time. The most accepted reason for this is that in some cases the drive belt is a little too long causing it to slip or tear. 
There is a Stream of Low-Quality Zero-Turn Mowers By The John Deere
It is disappointing the 'low-quality for cheaper amount' system that is endorsed. John Deers have implemented the sales of low-quality zero-turn mowers for as cheap as $1000 with a very feeble frame in comparison to the "durable steel" the company is symbolic of. It is a total waste of money and will not last long before a flood of maintenance bills start to come in. I do not recommend purchasing these categories. See "Best Zero-Turn Mowers Under $3000" if you are looking for a high-quality mower within a reasonable budget.
The Air Filters are Poorly Structured
There is a common problem with dirt getting into the carburetor because of the poorly structured air filters. This causes the carburetor to surge and disintegrate. It also gets clogged by all the dirt causing little or no airflow to the engine. This problem is also a result of the accel deep deck structure as the clippings tend to get everywhere during mulching. 
The Fuel Gauge Doesn't Work Properly
There is a signal for when the fuel tank is empty, but there is no way to tell otherwise the amount of fuel in the tank. It's an inconvenience that you'd have to endure while mowing with the zero-turn mower; you would either have to make-shift a working fuel gauge or simply never know how much gas you have in the tank. This is quite a petty design flaw for John Deere's zero-turn mowers.
Should I Get The John Deere Zero-Turn Mowers? 
I recommend the John Deere zero-turn mowers if powerful engines, quality material, and a productive mulching method sound pleasing to you. The mowers come in five different series with a variety of convenient features – for both residential and commercial reasons – that would suit your mowing needs. They are also one of the perfect brands that are known for producing high-quality ZTR mowers for tough, fast-growing grasslands and bumpy terrains. 
How Long Will a John Deere Zero-Turn Mower Last? 
You have about 2,000-2,500 hours of time on the machine. With proper maintenance, the actual zero-turn mowers can last for more than 10 years. I say 'actual'  since there are similar but economical categories produced; those have a maximum of 1000 hours on them and half the life expectancy of the sterling category. This is because the basic metal frame will wear out faster than the primary machine's.  
John Deere Zero-Turn Mowers Review: The Final Verdict
John Deere's zero-turn mowers are good machines and will deliver the sole purposes of a durable riding mower- they mow efficiently and will last you a lifetime if maintained properly.