Isn't it just annoying and tiring to mow the lawn? Every time the grass grows taller, the heavy burden of trimming the growing grass becomes overbearing requiring you to look for affordable lawn mowers. Unfortunately, looking for the most affordable one led you to just a couple of seasons of nicely trimmed grass requiring you to discard it and look for another. Why not invest in a truly durable, more efficient, and even more enjoyable means of trimming your grass? Make a better investment and buy the best zero-turn mower under $3000! 
I put together this list to help you understand what you need and what will surely suit your budget.
What to look for in buying a budget zero-turn mower?
Choosing the right riding mower is not just an easy pick. Since it is a costly investment worth thousands of dollars, you need to nail your decision right on the spot especially if you're on a tight budget.
A single ZTR mower costs between $2,000 to about $7,000. But to help you make the right decision in choosing the right one under $3000, here are some features you need to take note of.
Transmission strength
One of the factors that drive up the cost of zero-turns is transmission. With a more powerful transmission, you're getting a mower that can handle a large field of grass to mow. To save on cost, you need to figure out whether or not you need a powerful transmission.
If you have a small to an average-sized lawn around 8,000 square feet, you can settle with a low-grade transmission. Anything beyond means you should opt for a stronger transmission so that it can cope and handle the heavy-duty mowing.
Engine
Everyone seems to think that the more horsepower you have, the better it is. If you're buying a car, that's absolutely true but when you're purchasing a machine meant to mow your lawn, then speed isn't everything.
Though a powerful engine makes the job done quicker, it can be an unnecessary addition to the hefty price tag of the mower you're buying. Fast doesn't always guarantee a quality grass trim. What matters more is efficiency, a powerful engine is only required when you're a professional landscape artist or one who owns a large estate with a garden or lawn larger than an acre. If not, you can easily settle in with a less powerful engine.
Mowing Path
Most lawn owners see the benefit of getting a zero-turn mower with a wide mowing path or cutting width. Though this increases your efficiency and speed in trimming your lawn, it can also pose a problem. Knowing the mowing path is essential, especially for those who have a garden or lawn with intricate paths and designs. It's also ideal to measure the narrowest paths and obstacles around your lawn and use it as a basis in choosing the cutting width of your mower.
Fuel Consumption and Capacity
Like any other mowing machine, fuel consumption is extremely vital. Knowing how much it consumes in mowing your lawn is, in itself, another investment. Rest assured though that most of the latest machines are made to consume as little fuel as possible.
You also need to consider how much fuel your ZTR can hold especially if you own larger pieces of land that need a trim.
Best Zero Turn Mower Under 3000 Dollars
It's hard to choose which mowers are the most efficient and which ones offer the best quality manicured lawns. I understand that you need to keep your budget in mind too when choosing such expensive machinery. Here's my list of the best budget zero turn mowers.
Snapper 360Z Twin Engine Zero Turn Mower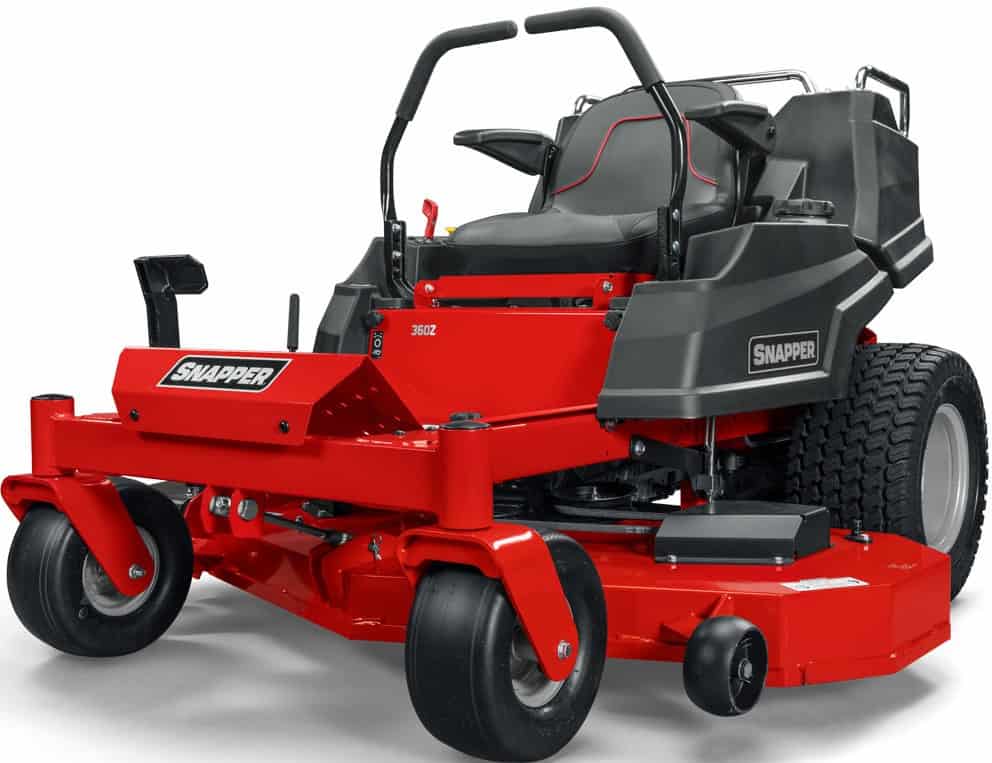 Popularly known for producing durable yet more affordable lawnmowers in the market, Snapper is a brand that often finds itself in the arms of happy clients for years at a time.
Transmission and Engine
The Snapper 360 comes with a 25HP high-performance engine designed to conquer a field of uncut grass. It has a 4-stroke engine allowing you to navigate through your lawn for quite a while. The machine has a maximum speed of 6 mph moving forward and 3 mph moving back.
Mowing Path
The Snapper Twin Engine has multiple mowing path sizes to choose from. But with the 52-inch cutting width, it's an ideal size in navigating your way around a large lawn. This is perfect for landscapers and gardeners catering to a large piece of land.
What I did like about this is that it has 7 height adjustments allowing you to adjust the height of your trimmed grass from 1.5 inches to 4.5 inches.
Capacity
With a 3-gallon fuel capacity, this allows you to mow your massive lawn with ease. The machine also allows you to store up to 50 pounds on your cargo bed. This is great when multitasking around your garden, it allows you to trim your grass while also having the tools you need to maintain other parts of your garden using the tools you can put in the cargo bed.
Other Features
Steering is one of the best things I noticed about this machine. It's smooth and it also comes with an easily integrated brake system. Maneuvering from one point to another is quite easy despite a wide mowing path.
Made of fully welded steel, you're guaranteed a piece of machinery built for durability. It is built with a thick front axle and spindle from aircraft-grade aluminum, this machine will surely stay with you for years, and even decades if you care for it well.
| Pros | Cons |
| --- | --- |
| Durable steel body | The cargo bed is sold separately |
| 7 height cutting adjustment | Large size fit only for residential use |
| Large lever controls for easy navigation | |
Overall
As great as the features may sound, I wouldn't recommend this for commercial use. Though it is durable, its performance is well fit for an average-sized lawn. This is quite an affordable mower at its size as compared to other mowers in our list.
Simplicity Courier Zero Turn Mower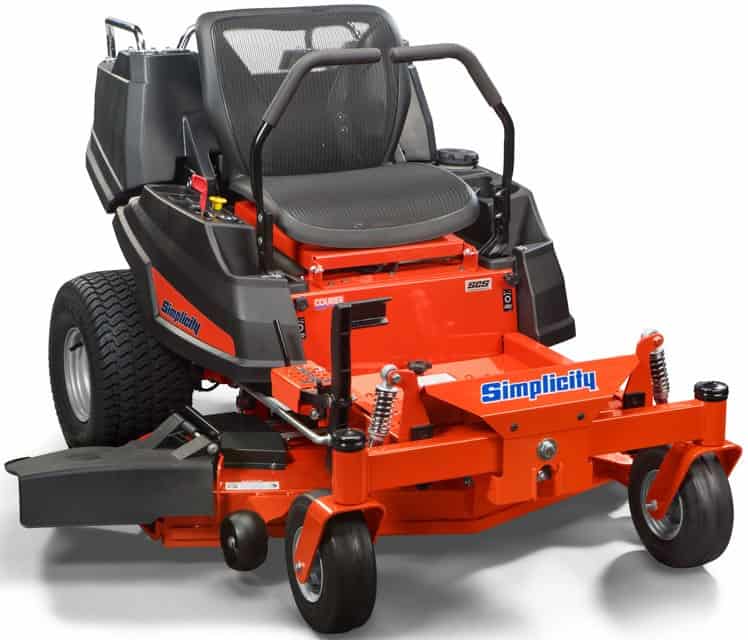 Contrary to its name, Simplicity sure isn't built for the simple runs of a lawnmower. In fact, it is highly regarded as a powerful ZTR that's built for strength and commercial use. But it does serve you with simpler and even more comfortable means of cutting your lawn.
Transmission and Engine
Simplicity has a high-powered 23 HP twin engine. The Briggs and Stratton engine is a powerful engine built to go over your lawn without much problem. With a strong engine, you won't have to struggle going over a tough slope and obstacles around your lawn or garden.
Mowing Path
This particular machine has a mowing path of 42 inches. It is just the right cutting width that allows you to move easily through obstacles around your garden. It also isn't too narrow that you'll have to make numerous turns to cover your entire lawn.
It has 15 different height adjustments ranging from 1.5 to 4.5 inches. This is a pretty good range because you can practically choose how tall or short you want your grass to be. A triple-blade deck allows you to trim your lawn in just a single swoop.
Fuel Capacity
With a 3-gallon engine, you're surely able to cover your entire lawn with just one round. What I like about this is that it can speed through your lawn at 7 mph increasing cutting speed and lessening your time fulfilling your mowing chore in a short period/
Other Features
Comfort is the primary thing you will notice with this machine. As beastly as it is in cutting your lawn, it offers superb comfort in providing users with a high-great suspension and a leather upholstered seat. With a great suspension, you will barely feel any hardships as you go around mowing through light slopes and bumps around your lawn.
Steering is superb too. Though it has impressive speed in going over your lawn, it comes with an integrated brake system to prevent any accidents.
| Pros | Cons |
| --- | --- |
| Comfortable mowing experience | Fit for residential and small-scale commercial use only |
| Strong suspension | |
| Commercial grade body and durability | |
Overall
This machine is more than enough for residential use. With its build made for commercial durability, it's a great mower for small-scale gardening services. With its size, maneuverability is easier, and going through obstacles is made much simpler.
Husqvarna Z242F Zero Turn Mower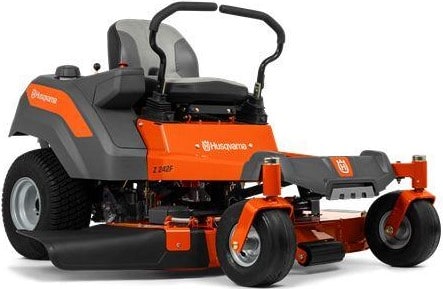 Husqvarna is among the sturdiest pieces of machinery you'll ever need in mowing your lawn. Designed to last for decades this machine is built for strength.
Transmission and Engine
The engine is designed with efficiency and its own self-care system. With an improved filter, it prevents blockages from happening. The added airflow also prevents the engine from overheating especially when dealing with a hot surface trimming in the middle of summer.
The engine is an 18 HP high-powered machine that can handle residential lawns at a maximum of 6.5 mph like any other residential z-turn.
Mowing Path
Husqvarna improved its cutting speed and quality with a reinforced cutting deck. This improves your mowing ability and performance even cutting through tough weeds and other unwanted plants in the process.
The Husqvarna also comes with a deck fan that blows through your grass thus improving the quality of your trim. It also improves the even cutting of your grass producing a smooth manicured look.
Other Features
One of the prominent features I love about the Husqvarna brand is its safety features. With almost all of its parts reinforced like the engine with a protective guard and a quality cutting deck protection, user safety doesn't stop there. The mower comes with a pedal, once you take your foot off the pedal it immediately halts. The pedal is perfect for homeowners with uneven slopes and rolling hills. It also makes it ideal to mow through the land with steeper than normal areas and numerous obstacles.
| Pros | Cons |
| --- | --- |
| Advanced safety features | Unfit for commercial use and large residential lawns |
| Ideal for sloping lawns | |
| Zero maintenance | |
Overall
Husqvarna promotes zero maintenance to its z-turn lawn mower. Many of its features are dedicated to maintaining its users' safety making sure that its users are protected from any potential hazards. This makes it an ideal residential lawn mower especially fit for families. It's also a great machine for those who have lawns with different slopes. However, if you are not tight on budget then I would recommend that you read this article where I've reviewed zero turn mowers under $5000 including a better model by Husqvarna.
Troy-Bilt Mustang Riding Mower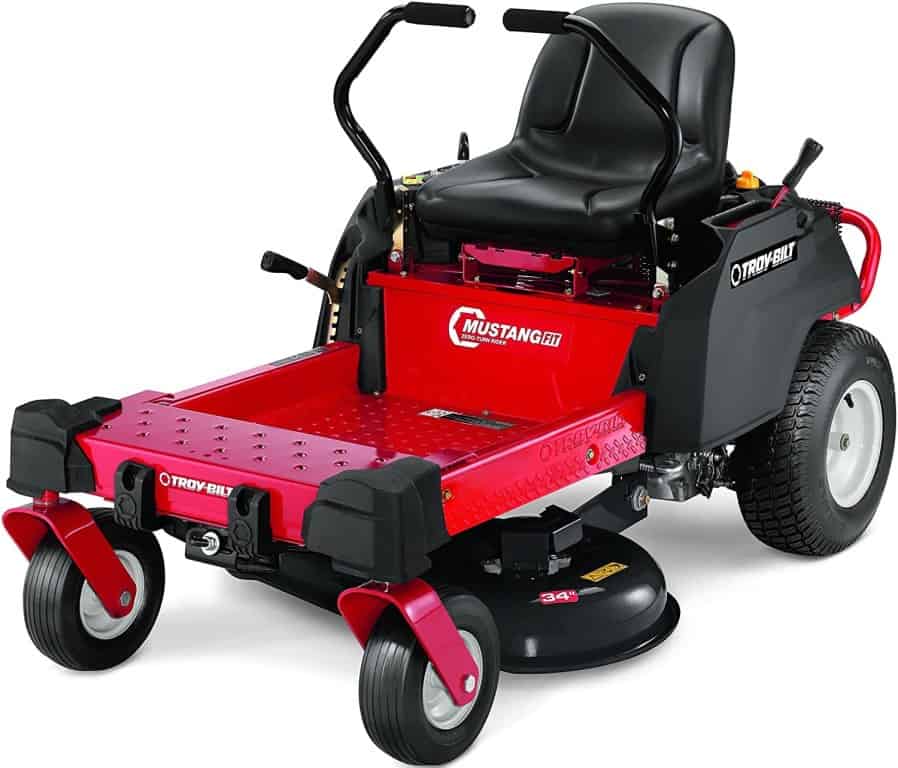 If you're looking for a reliable mower that can cut through rough grass and clear your lawn without a hassle, then you're looking at the right zero turn mower. 
Transmission and Engine
For a smaller mower, it has a 452cc engine. This powerful engine can mow through tough terrain without any difficulty. Since it is significantly smaller and lighter than other mowers on our list, this allows you to go through areas that are harder to reach and climb steeper slopes with less worry.
Mowing Path
With a narrower cutting width, maneuverability is drastically improved. Set at 34 inches in mowing capacity, this is the perfect machine to cut through a lawn surrounded by trees, fences, and garden plots. With many obstacles in the way, you need an efficient machine that can grant you easy access to all the grass on your lawn.
Fuel Capacity
With a 2.8-gallon tank, your set to mow your lawn for a good period of time. Since it is lighter, it requires less fuel to navigate through your lawn making the fuel capacity highly efficient and cost-effective.
Other Features
One of the prominent features of the Troy Bilt is its efficiency and reliability. Due to its heavy-duty steel frame, it's designed to handle tough terrains while maintaining its agility.
| Pros | Cons |
| --- | --- |
| Lightweight and agile | Unfit for large lawns and commercial use |
| Low fuel consumption | |
| Great navigation and control | |
Overall
This Troy Bilt zero turn mower is efficient at its finest. It's the ideal machine to have for smaller to mid-sized lawns. It is also ideal for gardens with design features that make it difficult for homeowners to trim and maintain. With its slim feature, not only is it more affordable but it is also cost-effective because of its low fuel consumption.
Ariens IKON Zero Turn Mower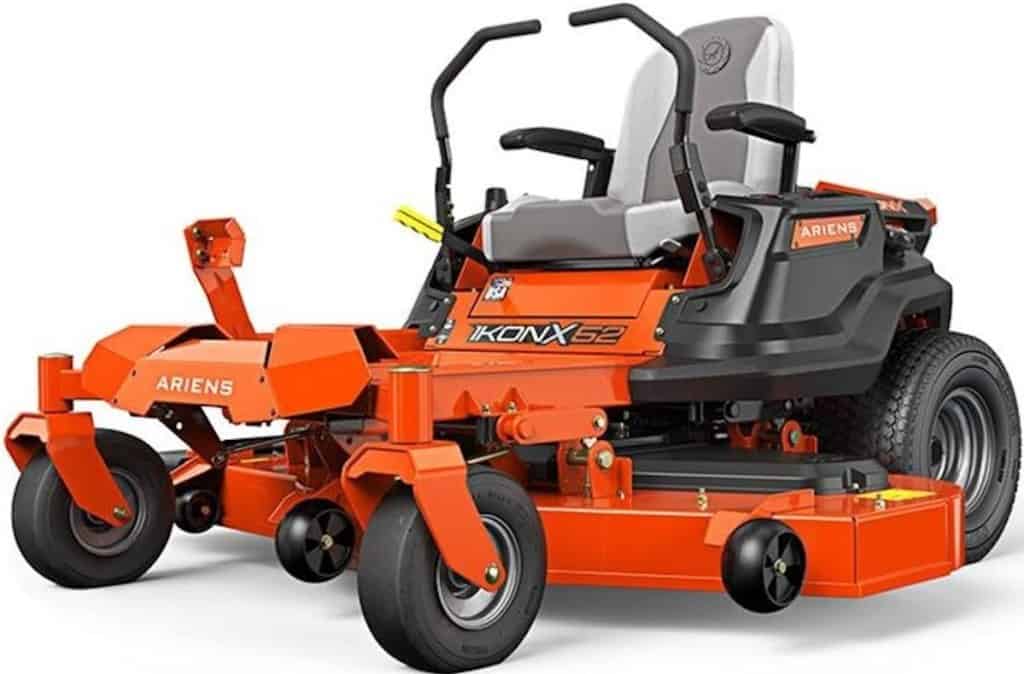 Ariens is a trusted brand that can go through lengths in providing ease in making your garden a utopia. Ariens is popularly known for its precision in making even-looking grass trims.
Transmission and Engine
Powered with a 23HP 726cc engine, you're never going to go wrong. Built for precision cutting accompanied with this beast of an engine, this lawnmower is perfect for professional use. To keep up with the demands of a strong lawn owner, the maximum speed for the Ariens is 8mph
Mowing Path
Precision is the name related to Ariens when it comes to its cutting ability. It has a CBT (constant belt tension) system that promotes thorough cutting of your grass. This is a great feature that allows you to maintain a smooth and even trim throughout your entire lawn.
Despite being a wide lawnmower with a 52-inch cutting width, this lawn mower is highly agile. Movement is easy with the strong axles built on the front wheels, it makes easy turns as you continue trimming your grass.
Fuel Capacity
As one of the most efficient in our list, the Ariens Zero Turn Lawn Mower offers great fuel efficiency. Consuming 10% less fuel than its competitors, it brings you a larger mowing distance using the same amount of fuel compared to other brands.
Other Features
Built with a tubular frame from industrial grade 10-gauge steel. This means that the entire machine is built on a rather sturdy skeleton. Designed to withstand impact from tough terrains and hard surfaces, this is certainly one of the best machines built for strength and durability.
| Pros | Cons |
| --- | --- |
| Commercial use | Rather difficult to master using it in the beginning |
| Durable, powerful, and precise grass cutting | Refurbished mower for under $3000 |
| Rollover protection | |
Overall
Ariens is surely the best mower when it comes to precision cutting. With a powerful engine, this is an ideal tool for landscapers and gardening agencies. It can stand against large estate lawns, golf courses, and other heavy-duty grass-cutting needs.
The Final Verdict
I'm only looking for three things when choosing a zero turn mower: precision, maneuverability, and efficiency. Almost all mowers are built for strength, but getting all other features is quite hard. But not for the Ariens IKON-X 52″. Though you can only obtain a refurbished mower at less than $3000 the quality is superb. Providing you with a smooth manicured lawn, you're guaranteed to have a quick and enjoyable mowing experience and always get the results you need whether for residential or commercial use.
My second pick for the best zero-turn mower under $3000 would be the Simplicity Courier. This compact machine is an ideal tool for clearing your grass with ease and speed. Designed for smaller areas, it surely makes the mowing experience unique and unforgettable.