One of the most dreaded chores to do is mowing your lawn, that is until riding mowers came into existence and it has become a source of home amusement. However, as fun as ZTR mowers may be, it's a question on whether or not they can mow the grass on hills. To help you out, I've tried multiple zero-turn mowers and tested how well they do over sloping hills. I've listed 5 of the best zero turn mower for hills to help you make your pick.
Are zero turn mowers good on hills?
Simply put, YES! They are. Zero-turn mowers are good on hills that are not steeper than 15 degrees. ZTRs are quite costly but they come at the price of premium safety and security. These riding mowers also don't make you circle back to where you've cut, unlike a lawn tractor. This means that it can mow through the slopey areas in your property and still manage to give your lawn a nice clean cut.
However, like most riding mowers, steep hills are already a big challenge. Mowing a steep hill is, in itself, quite dangerous and it's always recommended that z-turn mower don't go over slopes steeper than 15 degrees or at most 20 degrees.
Considerations When Choosing a Suitable Zero Turn Mower For Hills
The slope of the hill
This can be tricky to figure out, especially if you don't know how you're going to measure the steepness of the sloped areas around your property. But in determining the slope of your hill, compare it to a highway. If your slope is steeper than normal highway slopes, then it's over 10 degrees in angle.
Highways aren't constructed over 10 degrees in angle. You should also try standing at the steepest part of the hill and see if you're either having a hard time keeping your balance or you're putting effort in keeping your center of gravity, then this means your riding lawn mower won't be able to do the same.
Though they're not accurate in measuring the steepness of the hills around your property, it's close enough to understand if a riding mower is suitable for it at all. Still, it's best to use a slope indicator.
Manufacturer recommendations
Most manufacturers would recommend the steepest slope their machine can handle. However, without any indicated slope, most mowers can handle up to 15 degrees. In other cases, especially larger mowers with powerful engines, they can go up to 20 degrees but nothing more than that.
Safety features
All ZTR mowers are equipped with multiple security measures to ensure the safety of the rider, but one of the most important features to remember are the brakes and the rollover protection system. A powerful and accessible braking system will make it easier for you to immediately put your machine to a stop when you're starting to sense the danger of mowing.
A rollover protection system is also handy since it would help maintain the center of gravity of your machine.
Mower weight
This consideration is highly controversial, some would say choose a lightweight machine since it would ease through a hill, while others would opt for a piece of heavier machinery.
As it turns out (after trials and errors) I've concluded that going for a heavier unit is better. It has more safety features added and it also has a heavier and more secure grip on the ground.
Heavier machines have a wider center of gravity making it less like to topple over. See "How much does a zero-turn weigh" for more pros & cons and comparison between heavy and lightweight z-turn mowers. 
Transmission: Automatic or Manual?
Manual transmission is great for a lawn mower that is if you've fully mastered riding your ZTR. Plus, it is quite different from driving a car. It's a bit difficult to keep changing gears when you're going downhill then uphill. An automatic transmission easily adjusts to the changes in slopes and will also help you move your way over a hill with ease.
Engine Power
A powerful engine is needed to keep your mower well-balanced when going over a hill. And with a zero-turn mower's twin-engine, it improves the stability of your mower. However, a powerful engine comes at the expense of more fuel consumption. 
Top 5 Best Zero Turn Mower for Hills
Swisher ZT2760B Zero Turn Mower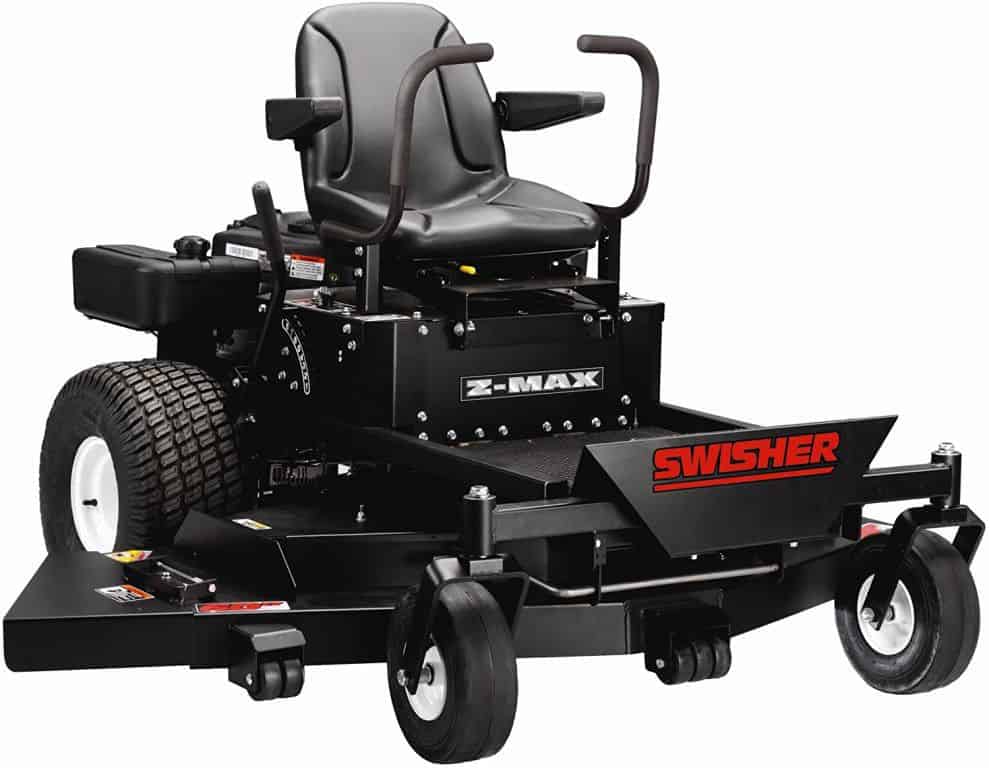 A powerful machine ideal for massive pieces of land leaving you with a beautifully manicured lawn.
Machine strength
With 24HP, the Swisher ZT2760B is quite a big machine that's designed for heavy-duty use.
As a mower in large fields, it can handle tough jobs repeatedly without fail. But when it comes to slopes, you need to mow your slopey areas downhill and go round back. The machine is quite heavy making it hard to mow uphill if your slope is over 10 degrees.
Handling and Maneuverability
This model by Swisher is popularly known for its maneuverability. Its handling is very light and simple and with a 360-degree central axis turn, it can easily move its way around tight corners without difficulty. 
Transmission
The dual Eaton transmission or twin-clutch makes the Swisher a performance-oriented machine while maintaining fuel economy. This makes it a great machine going downhill and uphill because you have better control over your machine. You will have better movement even when you're going over a hill allowing gentle maneuvering over obstacles on slopes.
Mowing Path
With 60 inches of mowing path, your machine makes it easier to go over larger pieces of land. With a wide mowing path, you're cutting your mowing time shorter and also increasing your efficiency.
| Pros | Cons |
| --- | --- |
| 360 central axis turn | The maximum speed is only 6mph |
| Twin clutch for better control | |
| Wide cutting path for faster mowing | |
Overall
The Swisher is a very powerful machine that is able to withstand heavy-duty work. Since it is easy to maneuver and its partnered twin-clutch, you can mow sloped hills but only up to 10 degrees in angle. The machine is heavy with a  good center of gravity but its precision in cutting is sacrificed when the engine is focused on maintaining its balance on steeper hills.
Simplicity Contender XT Mower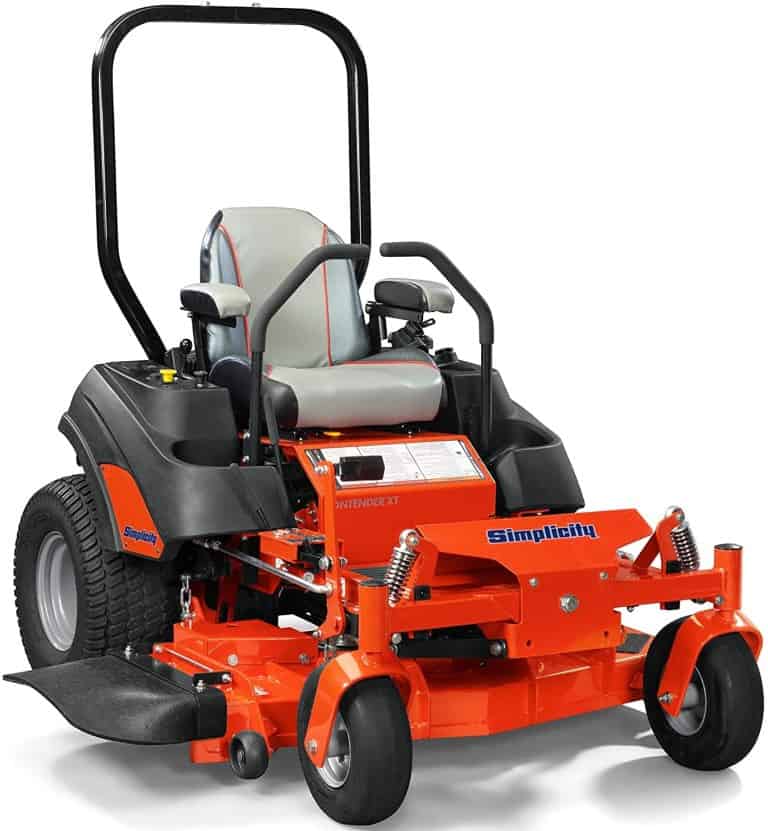 Machine strength
Built for precision, the Simplicity Contender is a mower that's well-loved by its owners. With 25 HP, you know you're with a  powerful performer. Though made with great strength, this machine weighs 975 pounds, this may be great for downhill mowing but not ideal at all for an uphill battle.
The mower is precise and it takes cutting precision as its main priority, to get the most out of your mower, it's best to not go over a 15-degree angle mowing downhill.
Handling and Maneuverability
The machine is not just a precise cutter, it also offers superb comfort. It has a suspension ring on all four wheels making the ride comfortable despite bumpy and uneven grounds. Even if it might be heavy, going around corners is not a problem.
You can do more than just mow your lawn, you can also bring in your other gardening tools and put them in the cargo beds found on both sides of the machine.
Transmission
The Simplicity Contender has a pivot transaxle with shock, this makes it easier for you to handle the machine with ease and comfort. With an added suspension, you can easily go downhill at a maximum of 15 degrees without costing you any trouble. however, due to its heavy weight, going uphill can be a struggle especially when it goes over 10 degrees in angle.
Mowing Path
A cutting width of 61 inches means your mowing time is enjoyably shorter. You can raze over your lawn with lesser rounds and still be guaranteed smooth and even cut grass.
| Pros | Cons |
| --- | --- |
| Very comfortable | Not fit for uphill mowing |
| Precision cutting | |
| Cargo bed on both side fenders for tools and other stuff | |
| Comes with a cupholder | |
Overall
What makes this residential mower great for hills is its precision cutting and its suspension coils. It means that the machine takes care of itself when it comes to working on tough areas including slopes.
Snapper 460Z Zero Turn Mower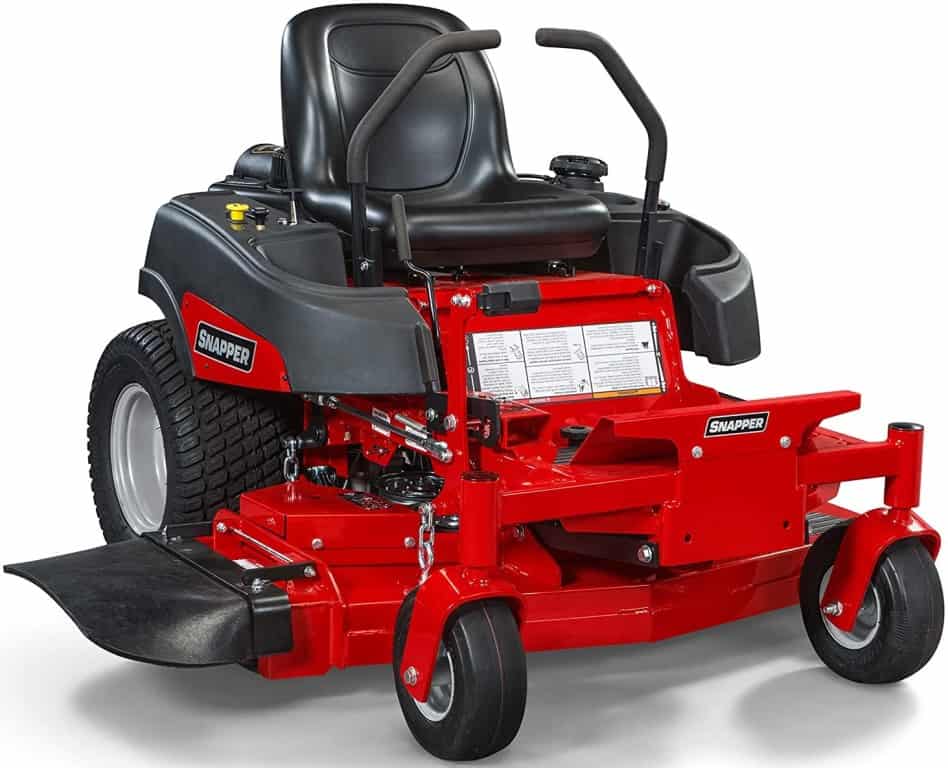 Designed to snap the grass and create your ideal manicured lawn.
Machine strength
The Snapper 460z is smaller compared to most of the mowers on our list, but it does pack a lot of power when it comes to mowing. With 25 HP, you're guaranteed a long-lasting run with your mower.
Handling and Maneuverability
What makes this a great mower for hills is that the entire machine is lifted at a tall space from the ground. This is ideal for mowing over hills because none of the parts of the machine will get caught or get dragged when you're mowing uphill.
Since it is lighter it's easier to go through sharp turns and make your way around and over obstacles. When going downhill and uphill as you mow, the Snapper can handle a gentle slope of up to 15 degrees. Though it is said to handle up to 20 degrees, it may be prone to sliding or tipping over because of its lighter weight and a lower center of gravity.
Transmission
The engine has powerful transaxles that require little maintenance. What's great about this machine is that it is reliable and can power through your lawn with precision. When it comes to mowing, you can easily mow through slopes uphill and downhill making mowing more efficient.
Mowing Path
It has a 48-inch cutting width, running through your grass and cutting them short in a smooth swoosh. The Snapper also has turf protection preventing you from damaging the grass that you have already mowed.
| Pros | Cons |
| --- | --- |
| Uphill mowing | Tendency to slide down a slope because of the lower wheel traction |
| Sturdy body structure for longevity | |
| Low maintenance | |
Overall
The Snapper offers improved movement mostly because it is lighter in weight. However, what makes this stand out is its ability to climb over hills with less burden. The Snapper is a great machine for smaller lawns and is built to endure hours and hours of heavy mowing.
Ariens IKON-X Zero Turn Mower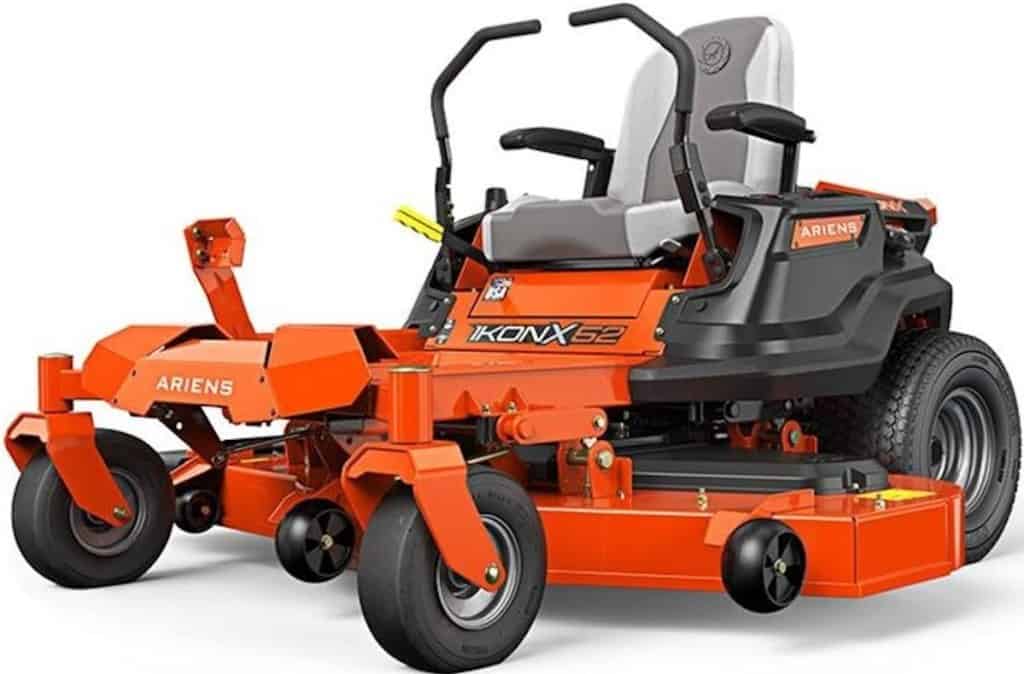 The Ariens IKON-X is an amazing performer cutting through demanding obstacles with speed and precision.
Machine strength
With a 23-horsepower engine, you know you're getting a machine that will smoothly graze over your tall grass no matter how demanding the terrain may be. The Ariens zero-turn mower is capable of handling tough mowing conditions.
The Ariens is built with light metal making it significantly lighter than most of the mowers on our list. However, with a heavier engine, you know that it has a weighted core making it more stable even on slopes.
Handling and Maneuverability
Movement is smooth with the Ariens, but it can be a bumpy ride since it has an average suspension. Going over hills is easy, especially within a 15-degree angle. Although it can handle up to 20 degrees, it's best not to push the mower beyond what is recommended. You can also maintain the maximum speed of 7mph over the hill but this will take a toll on your engine.
Transmission
The Ariens has transaxles allowing you to have better controls and improve the movement and efficiency of your machine. Since it is an automatic transmission, you don't have to worry about manually making adjustments when mowing over a hill.
Mowing Path
Granting you 52 inches of cutting power, your zero turn mower also comes with multiple cutting height adjustments.
| Pros | Cons |
| --- | --- |
| Hill mowing at 20 degrees | Bumpy because of low suspension |
| Lightweight and improved movement over steep mowing | |
| Fuel-efficient | |
Overall
The Ariens IKON-X is a wonderful mower for sloped terrains, Though not meant for steep slopes, it is a top performer in maintaining quality trimming despite demanding conditions.
Husqvarna MZ61 Zero Turn Mower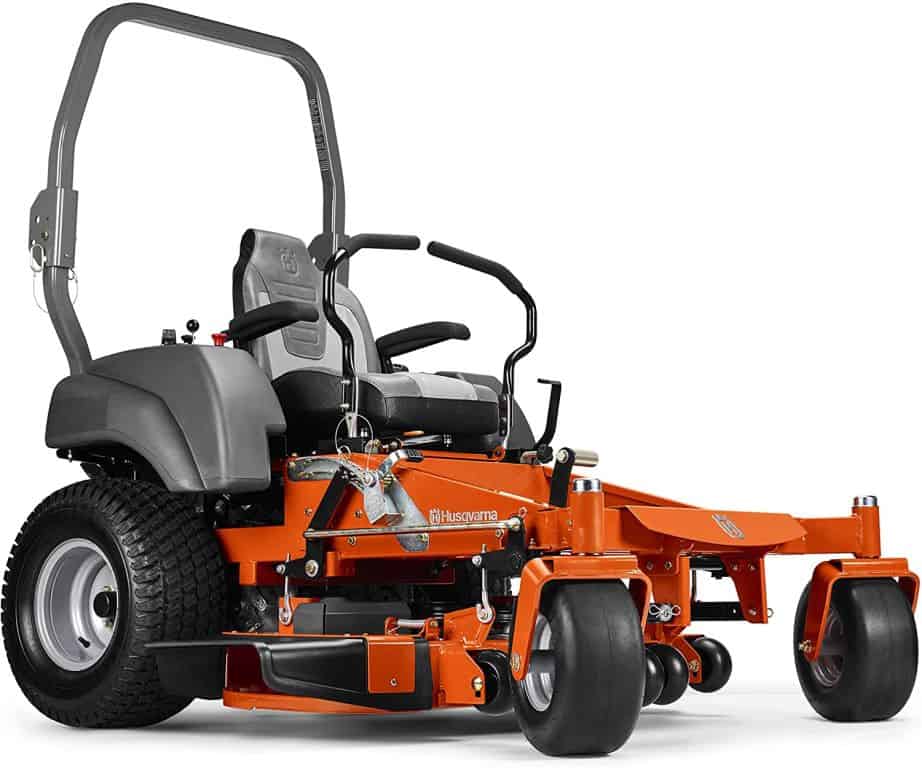 With a powerful mowing experience, give yourself a machine that can handle tough terrain and rolling hills. The Husqvarna Riding mower is a tool for all your mowing needs.
Machine strength
Powered with a 24 HP engine, your machine grants you a strong engine that lets you mow through your lawn for hours on end. The mower itself is designed for heavy-duty cutting. And with reduced horsepower, it's also designed for fuel economy.
The Husqvarna MZ61 is a great mower for sloping terrain because it is equipped with a ROPS, or roll-over protection system, that always maintains the balance in your mower. This helps it go over sloping terrain with ease at 15 degrees.
Handling and Maneuverability
Despite being a heavy vehicle, this machine offers comfort and ease of use. Since it is ergonomically designed to handle tough mowing and mulching, you're mowing through your lawn as if you're simply driving a shopping cart.
Transmission
Powered by a strong hydro-gear transmission, this machine can go up to speeds of 8mph. This allows you to move over hills without manually adjusting your gears and cut your mowing time.
Mowing Path
You have 61-inches of mowing prowess under the Husqvarna MZ61, with an efficient engine and durable body, the blades are also powerful instruments that will guarantee even trimming of your lawn.
| Pros | Cons |
| --- | --- |
| Rider and mower protection | Very heavy making it a bit of a struggle mowing uphill |
| 8mph speed | |
| Durable body | |
| Powerful trimming | |
Overall
This powerful machine is a gift for homeowners with massive rolling hills. Offering rider and machine protection, you won't have to worry much about mowing through those tiny hills.
The Final Verdict
Mow through your rolling hills with the right machine for the job, I highly recommend the Husqvarna MZ61 as the best zero-turn mower for hills not just for its impressive mowing accuracy but mostly for its ability to mow over sloping terrains. This machine comes with unique rollover protection that will keep you and your mower safe even when mowing over a hill. As an alternative, I also recommend the Simplicity Contender XT because of its precision cutting and upgraded suspension maintaining great balance and cutting quality even on hills.