Judging whether or not Toro zero-turn mowers will offer reasonable profit for you is highly layered. This is because every z-turn brand has a signature feature that will apply to you differently from your pal that lives a couple of streets away based on features mainly centered on the landscape.
However, if you are an enthusiast of good old familiarity, you'll find solace knowing the fact that the Toro Company has been well-known for manufacturing machines since 1919. To further butter this bread, they are also the manufacturers of the Exmark and Spartan mower brands! Purchasing products from the connoisseurs has always been pretty reassuring which is a great note to start with since you're weighing whether or not Toro z-turns will offer you any good.
Toro zero-turn mowers offer unmatched comfort, useful customization, and versatility– attributes that don't often come in a package. For this reason, they are quite a good brand.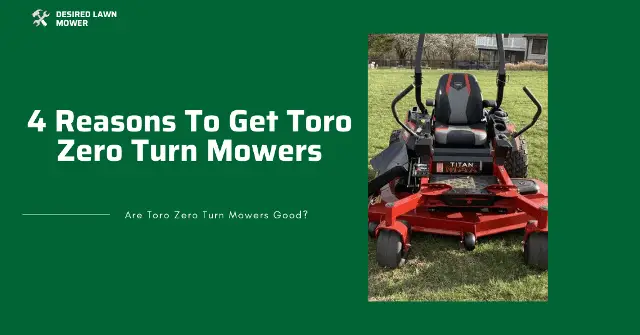 4 Good Reasons Why Toro ZTRs Are Superb
The best part of this zero-turn mowing machine brand is the greatest highlight of this episode.
The My Ride Seating Feature
The MyRide Toro Z-turn feature is easily the most significant and outstanding detail for this brand of mowing machines. They are also the only zero-turn mowers engineered with this attribute for the sake of offering promising comfort for you as you mow.
The MyRide feature almost completely detaches the seat from the frame of the mower causing the seat and the footplate to float gracefully like a rocking chair when you run over ugly bumps on the lawn.
You can also tailor this feature to your weight to properly control the seating so that it doesn't become overbearing or insignificant which I found to be quite an extremely clever point of reasoning by the engineers. This way, the shock is appropriately distributed and waved away by the rocking motions of the seat. Although you wouldn't find this feature on the low-grade residential machines, they are available for high-grade and commercial-grade mowers.
If you are dealing with a landscape that is rather rough and threatens to throw you off your seat, the Toro zero-turns with the MyRide feature will help you in battle discomfort whilst mowing. Also preferable for elderly folks who would like a little bit more care for the back area, because as I mentioned, Toro zero-turn mowers are the only brand that comes with the MyRide system.
The Cutting And Striping Quality
The cutting quality of the Toro zero-turn mowers is simply exceptional. They stripe beautifully and mulch superbly in both wet and dry conditions all thanks to the engineering of the cutting decks.
The Toro ZTRs are known for possessing lightweight 10-gauge iron-forged decks so much that the 60-inch commercial decks could be lifted by a child! This is because of the suspension of the decks; they are infused with springs that help reduce the weight of the foot pedal as you push down on it effectively lessening the load and pressure on your foot. In turn, the cutting quality is already up by a significant percentage as impulsively stepping on the pedal to avoid bumps that could scalp your terrain is a lot easier to do for you.
Diving deep into the point, the decks are built specially to propel a great amount of airflow in comparison to many other models allowing for the grass strands to be properly erect before getting sliced by the blades so you don't leave any trail of stragglers as you go. Most of the time, stragglers are caused by a lack of airflow by the deck, and so, I'm very happy with the way Toro has handled the issue. Added to this, if pretty lawn stripes give you butterflies, I highly recommend you hop on the Toro.
Tough Engines For A Lifetime Of Ease And Breeze
Another thing that is attributed to Toro zero-turn mowers is the in-house motor system some of the machines are equipped with. While some will feel much more comfortable using the regular Kawasaki or Kohler engines, I find in-house engines to be highly attentive to detail, and in general the consumer benefits. There will definitely be a few tweaks here and there to further tailor the engines to suit the machine brand for a much more pleasurable experience if given a chance.
The engines run on 22-26 horsepower from the lowest residential grade to the commercial grade riding mowers. In general, they are properly equipped with enough power to face basic challenges.
It's a Toro ZTR fact that the motors responsible for the blades are simply relentless, almost in a way that the blades are a little under-built for the power rendered which is responsible for the clean cuts the mowers deliver even in wet conditions. I have no complaints about this brand in terms of power. Though Toro doesn't make the most powerful mowing machines out there, they are equipped with enough capacity to offer a satisfying job.
The Toro SmartSpeed Technology
I am a big fan of customization because although a standard mechanism for mowing is important for reference, we all experience it differently and may require different features which is why the SmartSpeed technology is quite a big deal.
This mechanism allows you to control the speed of the zero-turn mower to tow, turbo, or fast speed. Here's how to apply these: if you are towing any equipment, it's safer to use the tow mode to avoid straining or ruining the appliance due to the full speed, the turbo mode is the most effective for mowing and mulching residential yards, and the fast speed is for golf-course kind of terrain that you can zap through without any challenge. All in all, I recommend you go on turbo because it's safer for your machine in the long run.
The Toro z-turn will run at speeds of 7 – 9 miles per hour from the lowest to the highest grade machines. Of course, some brands do better, but for what is worth it's enough speed to get the work done. The mile-per-hour speed isn't a fist of joy in the air, but they're quite usable and ultimately much safer for you on the bright side.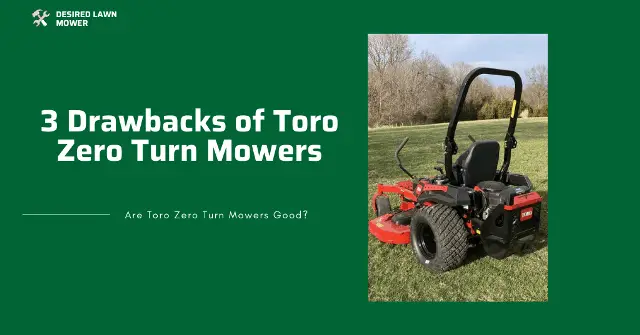 3 Major Drawbacks Of Toro Zero-Turn Mowers
Although I speak highly about the Toro ZTR, here are a few deals I'm not too happy about.
Stamina Isn't All That Great
Toro zero turn mowers sit a little higher in comparison to other z-turn brands. Since stance is highly associated with stability and traction, the lower the stance of the machine the better stamina you achieve, simply put. The higher stance of the mowers will benefit you if you have bumps that will be thankfully much easier to go over, but I can't defend the same benefit if you trudge hilly terrain. The tires could offer good grip, but some fair angles will be potentially dangerous to climb since the mower rests a little high above the ground. If your yard has a lot of hills and slopes, I will advise you to tread carefully to avoid accidents that could occur, especially if you are new to using zero-turn mowers.
There Might Be Frequent Scalping
To defend the user comfort of the Toro zero-turn mowers, the machines are endowed with large beefy tires that support the frame of the mower. In my opinion, the tires are a little mismatched for the weight of the machine. Unless you weigh enough to fully rest on the tires of the mower or are absolutely skilled, there will be skid marks here and there on your lawn especially if you mow around obstacles or in yards less than 2 acres. The best way to handle this issue is to tweak the tire pressure and mow on the turbo mode more often than the fast mode to avoid screeching at the end of the line.
Not Enough Leg Room For Larger-Sized Pals
If you are above 6ft tall, you might have to deal with your knees at your chin with Toro zero-turn mowers. It might not be that much of a pain in the neck for some people, but if you're a commercial landscaper, the truth is you will wish you had more room to stretch your legs in the middle of your 4 to 5-acre or 2 to 3-hour ride. If you're below 6ft, you will be comfortably seated with your legs properly stretched out, uncramped, and happy.
How Much Does A Toro Zero-Turn Mower Cost?
The pricing of Toro z-turns will fluctuate depending on your dealer and the specifications of the model you seek to buy; regular models cost less than the MyRide model. Generally, the Timecutter (residential grade) models cost about $4,000 – $7,000, Titan (residential-commercial grade) models cost about $8,000 – $10,000, and the Titan Max (commercial grade) about $10,000 – $13,000. Compared to some high-end brands out there, they are kind of affordable. If otherwise, they appear to be over your price range, I have recommended a more affordable option further in this discussion. Scroll on to see.
Do Toro Zero-Turn Mowers Last?
Both the residential and commercial grade Toro z-turns are made of the same iron-forged 10 gauge material. The only differences are a few extra reinforcements the higher up you go on the price list. The brand will give you 1000 – 1500 hours and last 8 – 9 years if treated with ultimate care. The many moveable parts the MyRide models have for exceptional comfort do not help the durability of the machines— now you have more joints to worry about. They are reliable to an extent, but still not the most durable brands out there. Take for instance the Scag zero-turns; with the same maintenance offered to the Toro, you can get 2,000 hours or even more of use.
Should I get Toro Zero-Turn Mower?
One thing with zero-turn mower brands is that they all have their distinct pros and cons even though they might be similar. You can easily relate our discussion to your landscape to see how my verdict applies to you. Again if you run over hills and slopes, I strongly advise you to reassess your options; the Toro just might not be the mower for that sort of duty. In general terms though, they are great for the long run!
4 Zero-Turn Mower Brands To Seek Instead Of Toro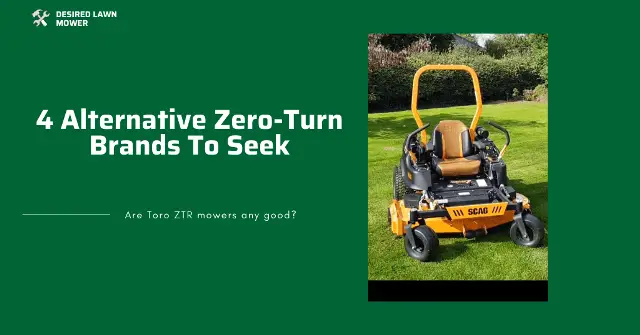 You can always seek other options if sealing the deal on a Toro z-turn is a little tricky for you. Here are the options I recommend:
Cheapest Alternative; Cub Cadet ZTR
Cub Cadet z-turns have a variety of models to choose from and are currently the cheapest zero-turn mower brand you can find starting at $3,500 – $4,000 for the low-grade residential models. In retrospect, for every equivalent Toro model, you spend $1,000 less for a Cub Cadet. See "Toro TimeCutter vs Cub Cadet ZT1" for an in-depth comparison between these two brands.
Alternative For Slopes; Hustler Z-Turn Mower
The Hustler z-turns are best known for their stamina because of how low to the ground they sit. While the danger angle for most zero-turns is 15 degrees, the Hustler exceeds by 5 to provide a 20-degree safety mark granting you a better and safer chance of handling steep slopes in comparison to the Toro zero-turn mowers. If you've been unable to scratch that patch of grass that has been mocking you from a dangerous spot, you might want to switch to a Hustler instead. You'll be able to get there with a breeze.
Alternative For Smoother Rides; Ferris Zero-Turn Mowers
Similar to the Toro z-turns, the Ferris are well known for their intricate and intentional spring system design that ultimately reduces rattling and jerking when you go over bumps or obstacles. They are equipped with springs linking each front caster to the deck to ensure your knee caps stay in place as you mow. Although they're simply not as comfortable as the Toro zero-turns, the machines are still a good competition. Perhaps they just might be your style of comfort if excessive rattling throws off your mood.
A Ruggedly Built Alternative; Scag Zero-Turn Mowers
Scag zero-turns last a lifetime if maintained properly; they can live up to 15 years in good hands offering good services. They are highly reinforced from wheel to seat to lengthen the lifespan of the mower. Nothing like wobbling decks or screeching bolts. The only problem is that they come a little pricey. However, if you plan on purchasing a family heirloom, I suggest the Scag in place of the Toro zero-turn mowers.
The Verdict
There are many Toro zero-turn models to choose from that will apply to your needs properly, but I highly advise you to focus on the MyRide-featured models. I don't know a single complaint concerning the system. It's all roses, the breeze, and a happy spine with the clever mechanism.