Bought your first house? Have you finally moved into a property with a sizable lawn you've been dreaming of? The beauty of owning a large property is euphoric but when the realization kicks in, keeping it neat and well-maintained is more than a handful, especially when it comes to mowing your lawn.
So, to help you out as a starter in your lawn care or maybe as someone who just got tired of using the wrong tools in caring for an acre lawn, here is a guide on buying the best zero-turn mower for 1-acre properties.
Common lawn mowers used in mowing 1-acre properties
There are many types of lawn mowers you can get to give your property a nice trim. And to be honest, almost all lawn mowers can practically mow an acre-sized property but when it comes to speed and efficiency, there are types that really do the job better than others.
Whether they are corded or cordless, they are great for mowing ½ to 1 acre sized properties. These are easy to maintain and are less noisy than other types of gas-powered lawn mowers. However, they are just as great in mowing grass that is less than 7 inches tall. They are lighter and can be used over softer types of terrain. 
On the downside, they are not fit for properties with obstacles or lawns that you can't mow in a straight path. This is troublesome for properties with tough weeds and tall grass.
In my opinion, they're perfect if you have a flat square lawn void of garden patches and fountains and other landscaping.
Leave your mower on the ground and have it mow your property with ease. They are light, easy to store and they will do the job for you. You simply turn them on and leave them to mow your property. They are electric powered so they also save money on fuel. These mowers randomly trim your grass but because of its sensors, it can track back and cut every portion of your property that needs mowing. In addition, the cutting height of these mowers is very accurate.
On the downside, these things are super slow and have a short battery life span. You may end up having to charge your mower every half-acre of lawn mowing. They are also pretty expensive to begin with but they become more expensive when you need to repair them plus they're not fit for wet or dewy grass.
If you ask me, robotic lawn mowers are great for areas in the south where the climate is warmer. They may be great since you don't have to worry about mowing your grass yourself but the fact that the cost of maintenance is equivalent to the cost of maintaining and topping up a gas-powered lawn mower, I just don't think it's worth the cost and the hype.
Lawn tractors are perfect for at least an acre of grass. However, lawn tractors are more efficient since they are twice as fast and as large as typical electric mowers. These mowers are made for heavy-duty grass trimming and can really make a difference in giving you a quick, easy and precise trim.
On the downside, they are pretty huge machines. Lawn tractors have a bulky front that obstructs your view. They also take up quite an amount of fuel and maintenance is costly. But, maintenance on these parts of your mower doesn't really require frequent maintenance. They are quite heavy as well and are unfit for sloping with a  steeper angle than 20 degrees. See "Zero turn vs riding mowers" for a full comparison.
Zero-turns are your powerhouse machines that can handle almost all types of mowing conditions with ease. The advantage of a z-turn is its accuracy in mowing, leaving you with clean-cut grass with absolute comfort and efficiency. These machines are easy to master compared to relearning how to drive when using a lawn tractor. They are easy to maintain and they are also very fuel efficient.
On the downside, ZTRs are quite useless on slopes. Even with rollover protection, these machines have strong safety features that prevent you from mowing over 10 to 15 degrees of slope angles.
Why are zero turn mowers best for a 1-acre property?
Zero-turn mowers trim larger pieces of land at a time at faster speeds that range from at least 6 miles per hour to 10 miles per hour. ZTR mowers are highly efficient machines designed to improve your mowing experience and even cut your trimming time up to 50%. Although we can usually handle manually mowing our 1-acre properties, the time and effort it takes to do so can be excruciating. Hence, we witnessed the evolution of lawn mowers simplifying our daily lives and saw just how effective a z-turn mower is. 
Zero turn mowers are practically my personal choice for mowing large grassy properties. The range of options in choosing a ZTR is great and they all offer the same results:
ZTRs are far easier to master than a riding mower. Even if you know how to drive, making adjustments in your driving style applies when learning to ride a lawn tractor. Though they are pretty easy to use, they are practically easy to learn. They don't require a long time for you to master maneuvering because you have a 270 to even 360-degree view of your surroundings.
Zero-turn mowers offer great precision in cutting mostly since the number of blades can range from a dual-bladed mowing deck to a commercialized 6-blade deck. These multiple blades make it easier for you to mow your property without any problems.
All ZTRs have height adjustments that can cut grass as short as 1 inch to a height of 5 inches. What's great about precision cutting is that your entire lawn will really leave you with an evenly cut lawn without leaving tread marks, unfinished lines, and furthermore stripes. 
Even with a powerful engine, these mowers don't consume much fuel. They allow you to trim acres of grass at a time under a single tank.
What makes ZTR unique is its versatility, not only does it make an effective mower, but it also acts like a machine that can aid you in gardening. With multiple attachments and upgrades, you can make use of your mower aside from just cutting the grass.
Zero-turn mowers cover more width than any other mower. In addition, it also has the fastest speed in mowing properties because of the way it was designed. With no front fenders obstructing your view, it also provides great visibility improving better control over your machine. Plus, it makes an ideal machine for your properties with landscapes and gardens surrounded by manicured grass pathways.
What to look for when buying a 1-acre property zero-turn mower?
I've made many discussions over what features to look for when buying a zero turn mower. But when choosing a zero turn mower for your property:
Aim for a cutting width of less than 48 inches because smaller properties mean that you only have a small space to store your mower, a smaller mower will also make it easier for you to move around, and in and out of your shed or garden.
Choose an engine lower than 20 horsepower. Honestly, any engine will be fine but going beyond 20 HP for an acre property will be overkill. The size and strength of the machine will just be a costly mistake since your engine will need to consume more fuel. A smaller engine is fine and will even go beyond your expectations. Plus, a smaller engine is quieter.
Get steel material made of 10 to 12-gauge steel if you're going to buy a mower that you can also use as a side job mowing an acre of property.
Look for one that also offers great comfort while mowing and additional features like a shock absorber or additional gauges on your dashboard.
Best Zero Turn Mowers for 1 Acre Properties
Ryobi RY48ZTR75 Zero Turn Mower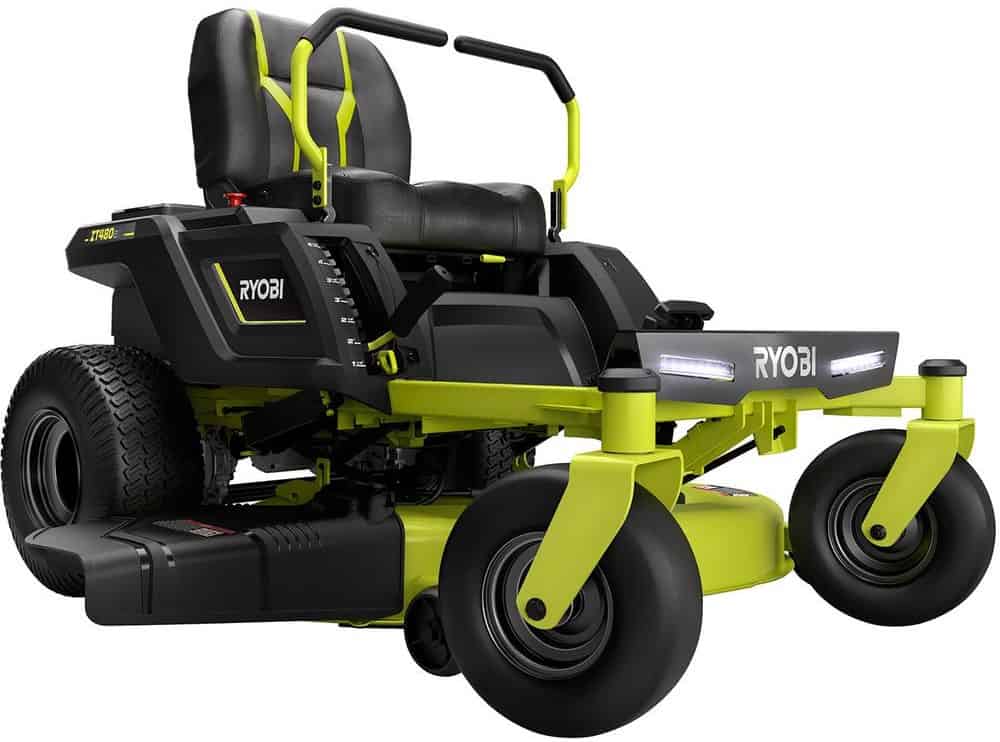 Material
Crafted with solid 12-gauge steel, this battery-operated mower is built to stand against tough weather conditions. Despite rough terrain and harsh mowing conditions, the Ryobi 42-inch zero-turn mower can still offer optimum performance.
Cutting Efficiency
The double-bladed mowing deck easily cuts through your grass without a problem. The mower has low-lift blades allowing great air circulation within the deck. This helps drive air and pull the grass towards the blades giving you a precise cut after a single pass. 
Engine Power
Unlike any gas-powered mower, the Ryobi is a real energy saver. With a battery-powered engine, you can cover up to 2 acres with a single charge. Since it has four brushless motors, it produces unrelenting torque and power making your machine a heavy-performance mower. The machine has a rear port charger that allows you to power up your mower using a 120-volt port
Z-turn Features
The LED highlights and onboard control panel give you ultimate control. On top of the No gas and zero carbon emissions, it also includes a towing hitch or towing assembly hardware for sprayers and spreaders on your garden.
| Pros | Cons |
| --- | --- |
| Mowing up to 2 acres in a single charge | The double-bladed deck cannot handle tough weeds |
| Quieter mowing experience | |
| Highly cost-effective | |
Overall
The Ryobi is the perfect residential zero-turn mower for those who want to save on fuel and those who are gearing towards a more eco-friendly living. What's great about it is that its accuracy in cutting is just as great and as smooth as any gas-powered zero-turn mower.
Toro TimeCutter Zero Turn Mower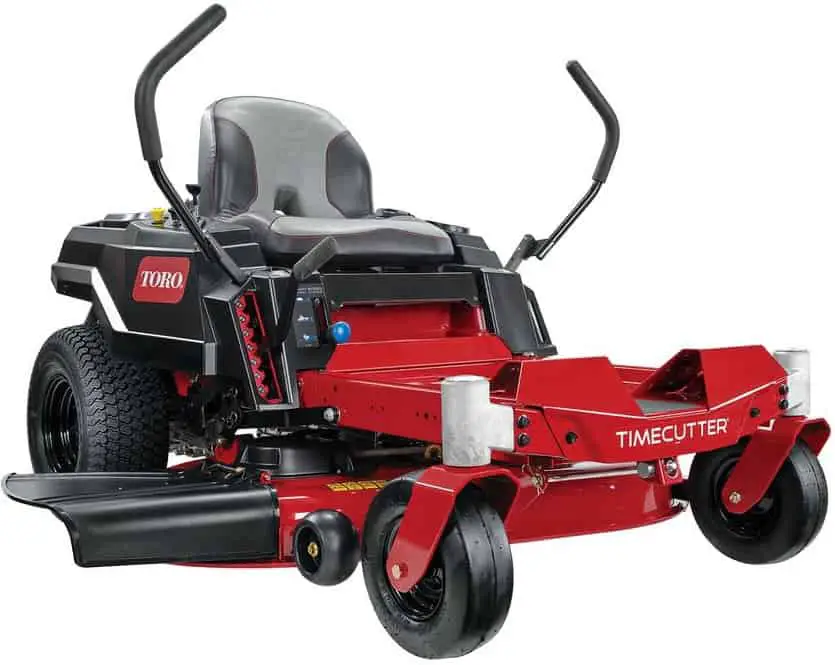 Material
Save yourself time and effort in trimming your lawn with a powerful and robust machine crafted using 10-gauge solid steel. Built to last and to endure tough mowing conditions, the Toro TimeCutter is a powerful tool that covers your property with precision. I love that this material is made with a stronger but lighter material making it a durable mower that will surely last longer than you'll expect.
Cutting Efficiency
Blessed with two flat blades, you get the exact cut you're looking for. You get a clean cut from your blades leaving you with a beautiful yet healthy lawn. With the multiple height adjustments that range from 1.5 to 4.5-inch grass heights, you get the perfect trim every single time. 
Engine Power
With an 18-horsepower engine, you get the right power to course through your lawn with ease, speed and definite efficiency. Don't miss out on using a great mower that doesn't consume much fuel and produces less sound.
Z-turn Features
The TimeCutter has a built-in hitch that allows you to tow wagons across your property. You can tow in sprayers as well as other tools and equipment you may need. It also has an anti-vibration handle that prevents your arms from getting sore as you mow through your entire property. The suspension absorbs the shock allowing you to have a  smooth ride throughout your mowing experience.
| Pros | Cons |
| --- | --- |
| Gentle sound and smooth ride | Not good for soft soil |
| Easy to use and navigate | |
| Very strong frame and deck | |
Overall
This Toro is just the right zero-turn mower you need for a 1-acre property. It is compact and highly durable and you can use this even in tough mowing conditions even on an average-sized property. 
John Deere Z335M Zero Turn Mower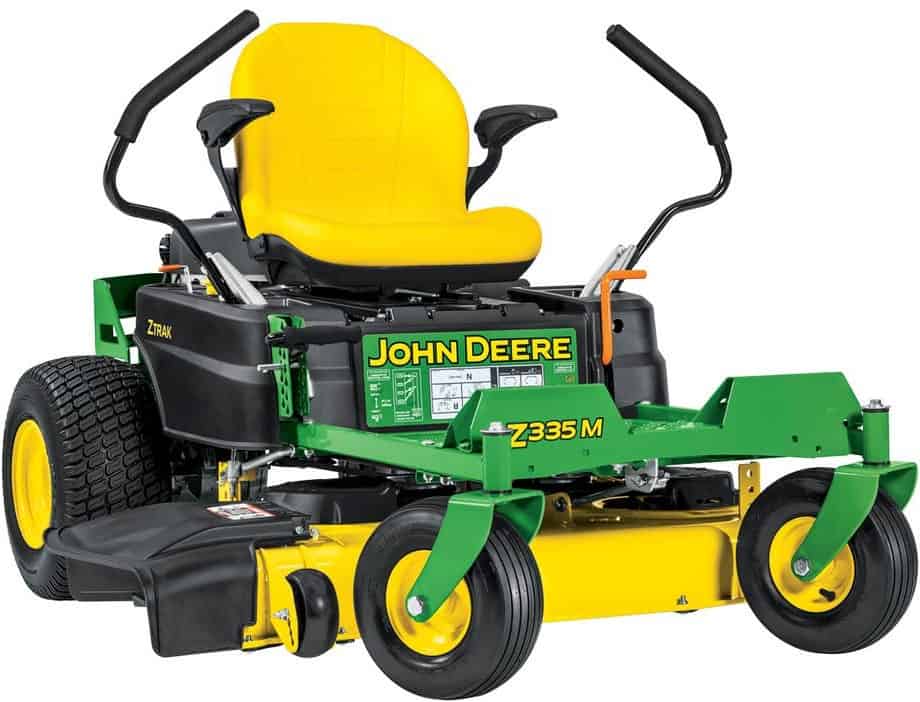 Material
ZTrak mowers are designed with 12-gauge heavy-duty steel. formed and welded frame for strength and reliability. Fully equipped with a strong frame, your machine is a powerhouse that can trim your grass in a shorter period of time. What's great is that the steel frame allows it to handle tough terrain and stubborn grass to mow.
Cutting Efficiency
Designed with 2 flat blades, you get an even cut on your lawn without much of a mess. What's great is that it leaves a clean cut and does not rip your grass making it prone to disease and easy drying out. The mowing deck is made with an accel deck making it perfect for mulching and easy discharging while improving its cutting efficiency. 
Engine Power
This Ztrak has a 20 HP twin hydrostatic engine that allows you to mow your property with absolute ease at a relatively shorter time. With a 7 miles per hour maximum mowing speed you can cut your trimming time to almost half. Plus, with a strong hydrostatic engine, you can also easily cut grass on a property of up to 2 acres. 
Z-turn Features
The Accel deep mower deck comes with a deck cleanout simplifying the task of cleaning your machine and clearing all the stuck clippings from your deck preventing it from further damage like rust and corrosion. What's great is that it comes with an easy-access dashboard giving you a cup holder, an hour meter, and button gauges that let you control your mower with just a press of a button.
| Pros | Cons |
| --- | --- |
| Easy controls | Not fit for slopey hills |
| Light and accurate mowing even when making sharp turns | |
Overall
This Ztrak from John Deere is indeed a strong and powerful machine that is equipped for great residential use even on the most demanding terrain. From tough work to easy frequent use, it allows you to power through your lawn while you comfortably sit on your mowing throne.
Cub Cadet Ultima ZT1 Zero Turn Mower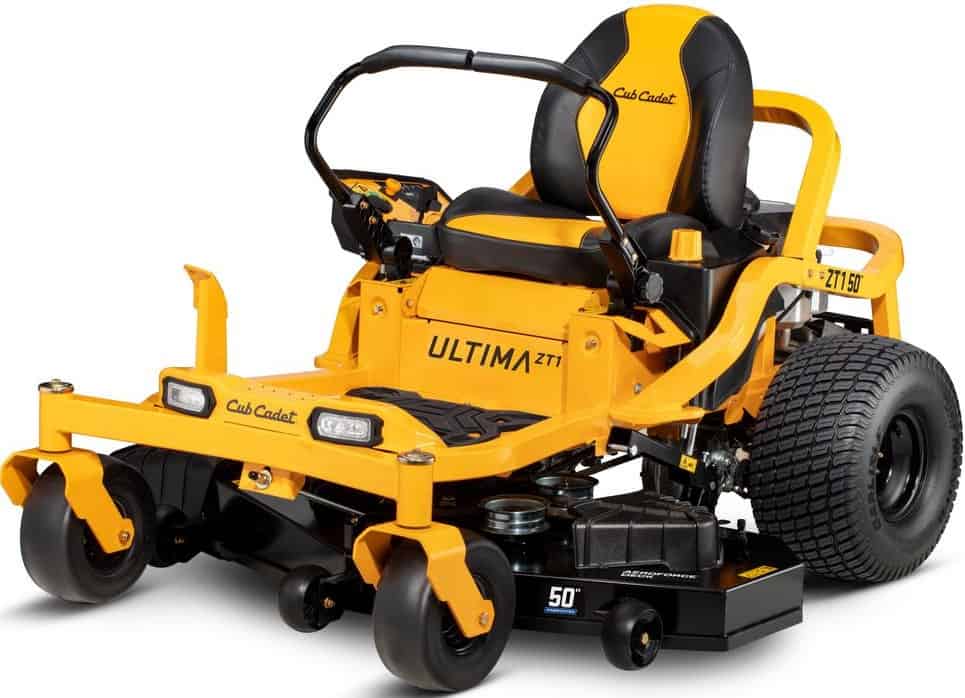 Material
Framed using a 2×2 continuous square tubular steel frame for enhanced strength and an 11-gauge steel mowing deck, this machine is a real power tool for properties that have difficult obstacles to maneuver around. With intricate landscaping while dealing with tough grass and stubborn weeds. The pneumatic tires improve movement and even increase your grip on sloping terrain.
Cutting Efficiency
Power through your lawn with a  double blade mower that cuts your grass with speed. The double blades swift through the tip of your grass leaving you with an even cut and a beautiful-looking lawn. This medium-sized mower is perfect for properties ranging from half to two acres. Designed to complete a great mowing experience, you also have a deep mowing deck that increases airflow to your mower speeding up your mow time and discharge.
Engine Power
With an engine displacement of 679 cc 22 horsepower V-twin OHV engine, you have a reliable starting and exceptionally smooth, quiet operation. The engine displacement shows just how much power it can ride through your lawn thus allowing you to mow grass at higher speeds but with lesser noise.
Z-turn Features
The best feature I love about this mower is the deck wash. Simplifying the clean-up process and improving the longevity of your mowing blades, is a real treat for many property owners like me. I love that this zero-turn has headlights and comfortable fender additions like cupholders, battery power indicator, and hour meter. It also has a transparent fuel tank for easier topping up of your gas.
| Pros | Cons |
| --- | --- |
| Great for sloping properties | Unfit for slopes |
| Headlights for low vision mowing | |
| Reduced noise in mowing | |
Overall
This is by far one of the best zero-turn mowers under 4000 for a 1-acre land but if you have a flat obstacle-free lawn, then this would be overkill since the features of this mower are equipped to handle tougher terrains and even sloping hills.
Beast 48ZBM20R Zero Turn Mower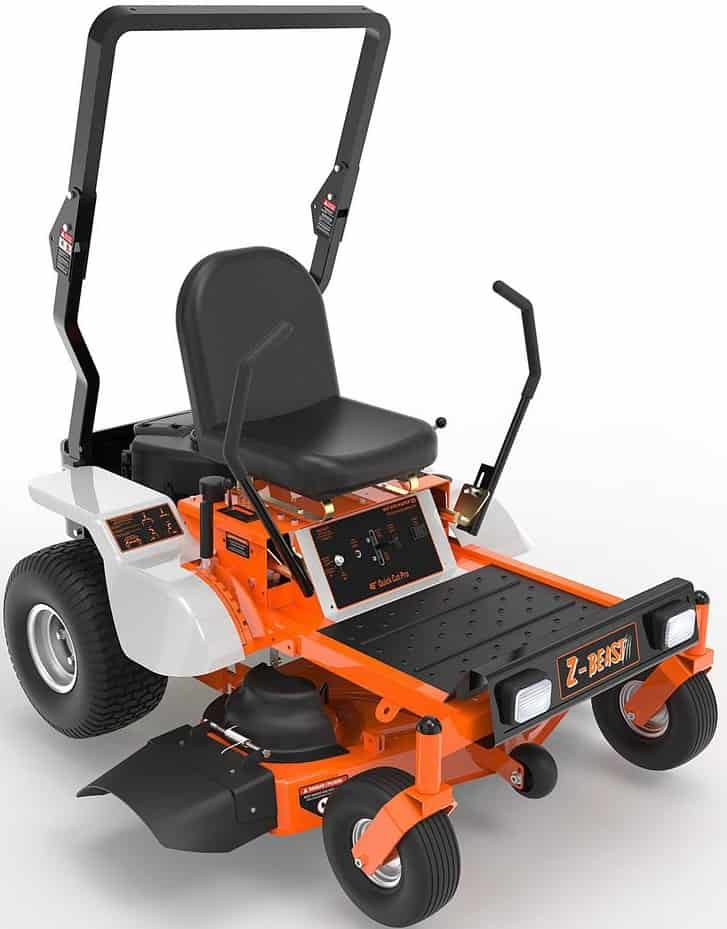 Material
The heavy-duty construction of this mower with 11-Gauge steel deck and ¼-inch steel frame components gives you a strong body that not just allows you to tread over your property with ease but also increases the lifespan of your mower. 
Cutting Efficiency
With a triple-bladed deck, you can mow your property without leaving a single grass uncut. Designed to fulfill an accurately manicured lawn, the three flat blades improved cutting quality. It also comes with a quick-adjust floating deck that you can set between 1 ½  inches to 5 inches at ½ increments. This gives you multiple height options that you're definitely going to love having in for your lawn.
Engine Power
The Z-Beast 48 in. zero turn mower is a must for properties of at least an acre and for lot owners that want performance and dependability. The 20-horsepower Briggs and Stratton v-twin engine along with its dual hydrostatic transmission provides the power to cut more grass in less time but at optimal precision and efficiency.
Z-turn Features
This z-turn mower comes with built-in headlights for better vision in dim light. To improve user experience, the padded seat is accompanied by a cup holder that allows you to lull your body to relax as you feel the gentle vibration of your machine.
| Pros | Cons |
| --- | --- |
| Powerful engine and strong blade precision | Top speed causes wheels to dig into your soil |
| Medium-sized mower for reduced mowing time | |
| Comfortable seating for rider | |
Overall
The Z-Beast is definitely a great machine for your 1-acre property but it would also be a great option if you use it for commercial mowing for smaller pieces of land thus allowing you to make use of its multiple features rather than just a routine mowing of your property.
The Final Verdict
My personal favorite as the best zero turn mower for 1 acre will definitely be the Toro TimeCutter. Since we are just looking for the most efficient as well as a machine that covers an acre property while delivering robust strength and precise trims, the Toro is hands down a great machine to own. I also recommend the Ryobi electric mower not just because it revolutionizes lawn mowing but also because it is the best bang for your buck choice in this list. It saves you a ton of money in the long run.