Zero-turn mowers have completely revolutionized the lawn mowing process. Making it a fun chore to do, many property owners like the prospect of having a large lawn and even more so now that they can keep it beautifully manicured as much as possible.
With at least an acre of grass to mow, you have a choice of which price range you should get. Believe me, this isn't such an easy task to do. When choosing the best zero turn mower under 4000 or between $3000 to $4000, you need to consider the following factors.
3 Factors To Consider When Choosing a Zero Turn Mower
When buying your mower, you're often told how strong the steel frame of your deck is. But knowing what those numbers mean will really affect the way you see your mower. Zero turn mowers under 4000 have steel deck sizes between 12-gauge steel to 10-gauge steel. 
Know this: the smaller the number, the stronger, thicker but heavier it is.
With that said, 10-gauge steel is twice as strong as 12-gauge steel even if it is only 0.03 inch thicker than 12-gauge steel. It also means that 10-gauge steel is more durable making it withstand a more intense battering. You may not notice the thickness of your mowing deck but the steel strength matters especially if you are mowing more than just grass on your property. If you're mowing stronger grass, weeds, and even mild brush, a 10-gauge steel deck can handle tougher tasks.
Smaller mowers often have 2 blades in their deck while mowers that are at least 42 inches have triple blades. Triple blades are definitely more efficient and precise. They are also perfect for mulching your grass making them ideal for many property owners with a sizable property.
Engine Power and Matching Deck Size
You may wonder why some mowers have a 48-inch mowing deck but with an 18-horsepower engine while other brands offer a 24-horsepower engine with a 48-inch deck. This combination really affects the price of your mower and knowing what the difference is matters just as much.
You see, a stronger engine means that it can handle a long run without overheating, or suffering much damage. When you have a large property, you need a strong engine to handle the task. An engine with smaller horsepower is great for typical yard mowing. If you don't have many obstacles to deal with or slopes to go over, then a smaller engine is better. Engines with higher horsepower are unfortunately noisier though.
When choosing your deck, going big isn't always the solution especially if it's just for residential use. Plus, you also have to consider storage. Where will you park your mower, will it fit in your garden or tool shed or are you parking it beside your vehicle in your garage? 
Best Zero Turn Mowers Under $4000
Cub Cadet Ultima ZT1 Zero Turn Mower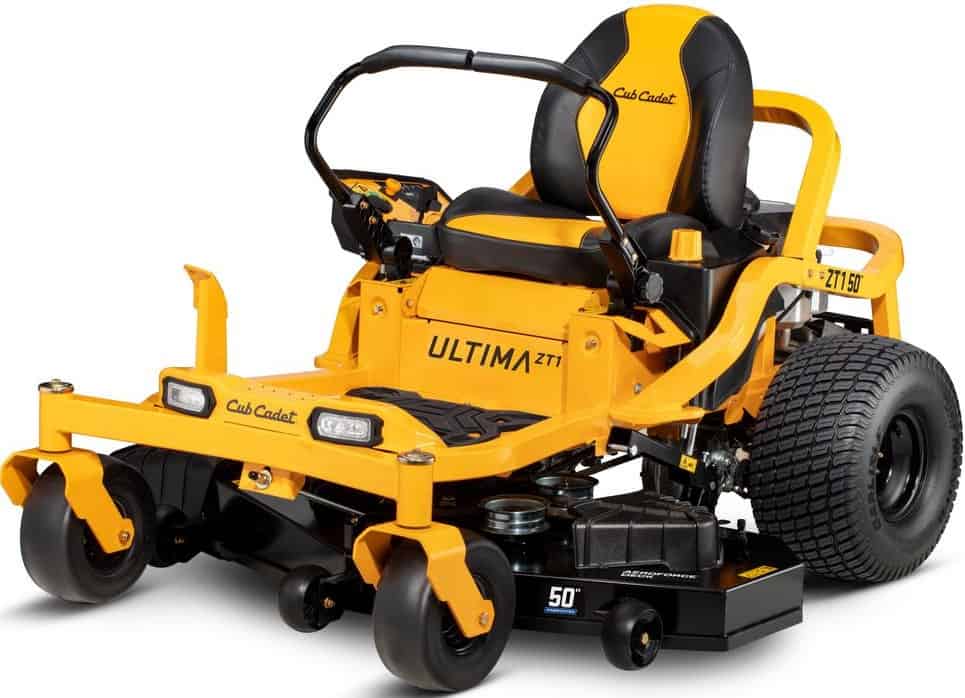 Material
Built with 11-gauge steel, you have a mowing deck that's able to withstand harsh mowing conditions for hours on end. Designed to handle a tough mow, the mower is full-welded giving you the reassurance that your mower is going to live well and mow well over the years to come.
Since the frame of the mower is fabricated, it is hand-catered to make sure that every corner of your mower is durable and highly functional even after years of regular use.
Cutting Width
This Cub Cadet has a 50-inch mowing deck with triple low-lift blades. This large-sized mower simplifies your task of clearing your lawn with a wider mowing coverage thus cutting your time to a fraction! It has easy upgrade kits that you can buy separately improving the cutting prowess of this mower.
Engine
Bring out the most of your mower with a 23-horsepower hydrostatic engine. With dual electric transmission, you have a reliable engine that will constantly help you run at great speed and with optimal performance.
With a larger horsepower, you can mow up to 4 acres without having to deal with overheating or mid-mowing breakdown. Since the Cub Cadet comes with a 3.5-gallon fuel capacity, you don't have to worry about stopping to top up your fuel.
Additional Features
Your Cub Cadet comes at a premium with a stunning dashboard, not only does it come with the typical cup holder. It also has a battery indicator to show when you need to have your battery powered up and an hour meter to help remind you when you need to service your mower and replace some parts.
What you'll love about this is a keyed startup, not only is it safer but it is also a quicker way to rev up your machine and get it ready to go. The Cub Cadet also has built-in dual headlights. This is great for those who love mowing at home in low light conditions.
| Pros | Cons |
| --- | --- |
| Large deck size and powerful engine | Sharp turns cause the turning wheel to dig into the soil |
| Decent fuel tank capacity | |
| Built-in headlights | |
| Great for hilly properties | |
Overall
The Cub Cadet is a dream to own. For less than $4000, you really will get the power, prowess, and comfort you are paying for. Plus, this is a great zero turn mower that does more than keep your lawn looking stunning in every corner.
John Deere Z375R Zero Turn Mower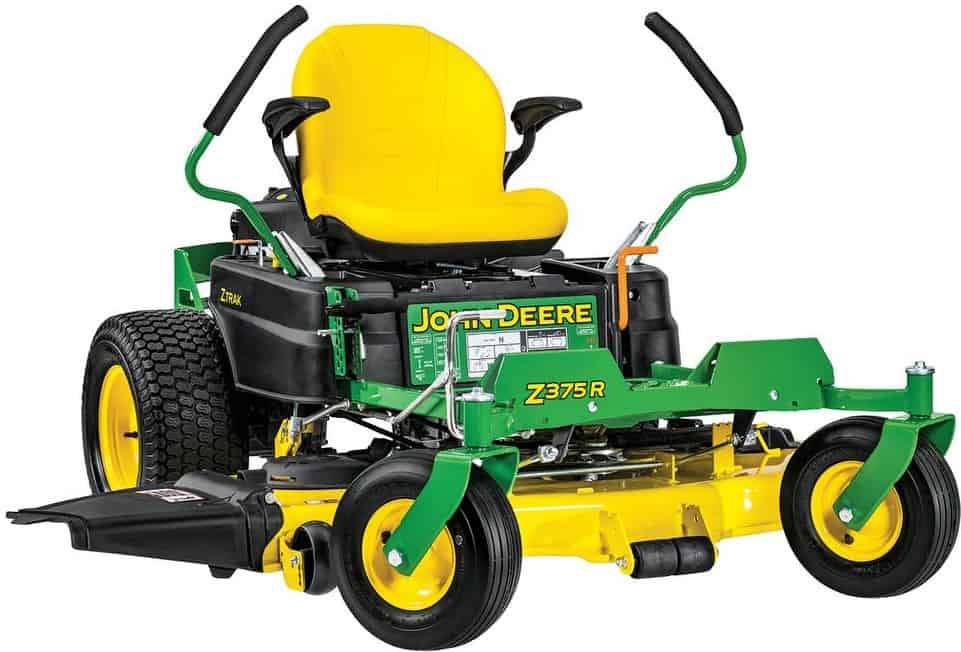 Material
Get a very durable mower when you try the John Deere. Made with 11-gauge steel and stamped deck, you're sure that you have a well-built machine designed to withstand extreme weather conditions and tough mowing jobs. The single solid steel, you know full well that your mower can handle even the most terrible mowing conditions and still continue the same difficult task for a long time.
Cutting Width
With less than $4000, you get your money's worth with a 54-inch mowing deck. This large coverage increases your efficiency and lessens the time you need to spend mowing through your property and even your neighbors. With such a large deck, it's the perfect size to help you mow through large properties like your neighborhood's soccer field. 
Engine
Pair your large mowing deck with a 25 horsepower v-twin engine by John Deere itself. Designed to perform at full capacity without easily wearing down, your engine won't easily give up the task of what your 54-inch mowing deck and mow. This creates a powerhouse engine that gives you precise cuts, impressive speed, efficiency, and of course, a beautiful law by the end of the day.
You'll love that it can power through at least 4 acres of land without a hitch at a maximum speed of 7 miles per hour on mowing mode and 3.5 miles per hour on the reverse mowing mode. Though it has a powerful engine and a large deck, it's unfortunate that it only has a 2.1-gallon fuel tank capacity only allowing you to mow up to 5 acres of land or less if you are in full throttle. However, read this guide if you need a specific z-turn for mowing 5-acres properties.
Additional Features
What you'll love about this is that it comes with a deck cleanout which makes it easier to wash off the clippings that stuck onto your mowing deck. These clippings can cause damage in the long run if you don't clean your mower after every use. The moisture from the grass and the soil sticking to the metal deck will cause the deck to rust and wear out much faster.
| Pros | Cons |
| --- | --- |
| Powerful cutting prowess | Small tank size limits how far your mower can go |
| Comfortable padded seats, and highly adjustable parts to accommodate all people of all sizes | |
| Easy access to parts for maintenance and replacements | |
Overall
The John Deere really offers superb user comfort and great performance, especially for large properties. You really get a bang for your buck with this ZTR mower since it can course through your lawn with ease and speed. 
Toro TimeCutter Zero-Turn Mower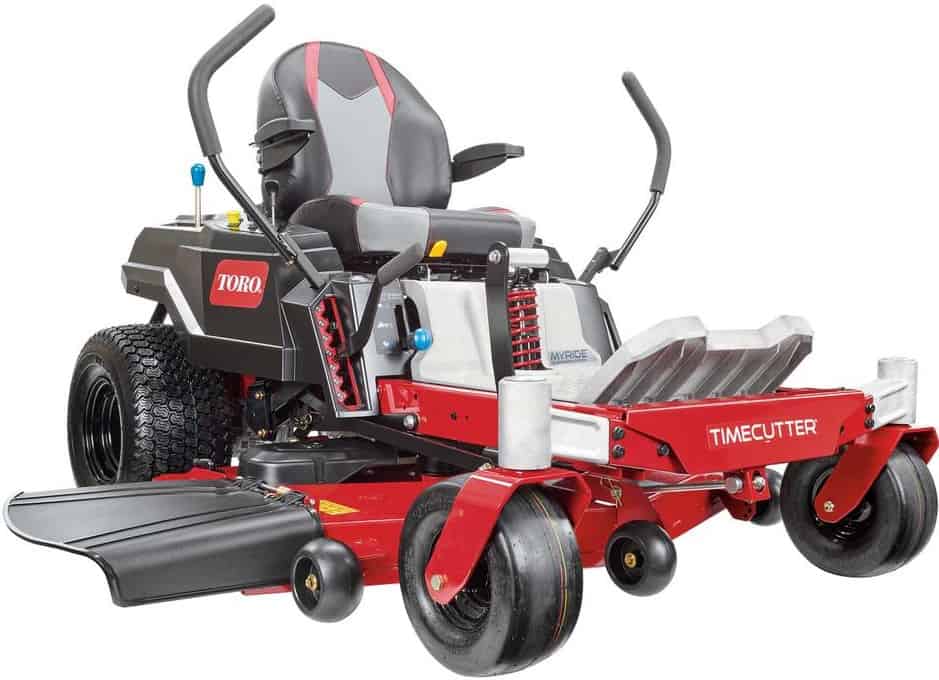 Material
Built for speed and precision, your mower is also as strong and durable as a bull. Built with 10-gauge steel, you have a strong core that allows you to tread over terrains of different grass types. In addition to its durable fabricated deck and fully welded body, you have a wide set of tires that reduce the chance of creating a rut on soft ground and enjoy its improved floatation. 
Cutting Width
Be a matador and drive your Toro across your lawn leaving you with precisely even grass and a superb finish. Spend less time mowing with a 50-inch cutting width allowing you to pass through your lawn precisely cutting and trimming your grass off. Toro is a meticulous machine that really targets uneven grass cuttings and evens it out with the low-lift triple blades in its deck. 
Engine
You don't have to cut your engine short, you have a 24.5 horsepower engine that allows you to course through your grass property measuring up to 4 acres. Don't worry much about your engine failing on you because with a large deck and a pretty big property, you will easily cut through the grass with ease. Plus, you have a 3-gallon full tank capacity giving you just the right amount of fuel to cut a 4-acre 
Additional Features
What I personally love and recommend about this mower is the seat. Handmade to perfection, it's a comfortable body-shaping padded chair that really levels up your mowing experience. Plus, it has a simplified foot-assisted deck height adjustment making sure that you don't need to take your hands off the steering to make height adjustment changes.
| Pros | Cons |
| --- | --- |
| Comfortable seating | Reverse mow is inefficient |
| Possible sharp turns in tight corners | |
| Deck fenders for splash protection | |
Overall
The Toro Timecutter is definitely one of the most comfortable rides you're going to get but also one of the best riding experiences to beat as well. With comfort, large mowing deck, and a powerful engine along with an easy mower to maneuver, it's a real win for those looking for z-turn mowers under $4000.
Troy-Bilt Mustang 54 in. Zero Turn Mower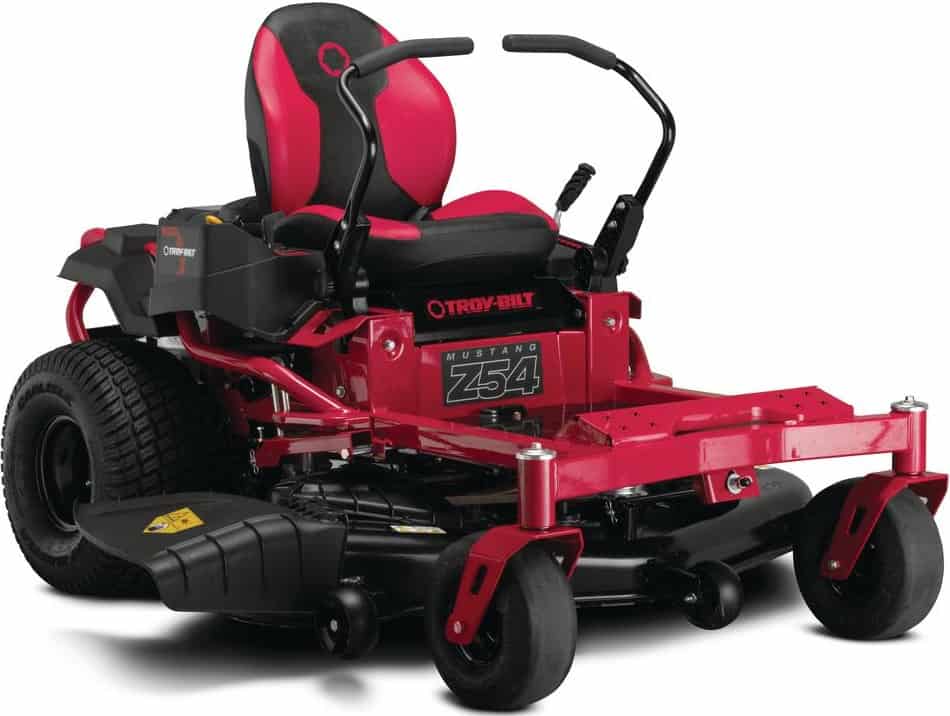 Material
Built to be as strong as the walls of Troy, this durable 12-gauge steel body mower is made for strength and reliability. The Troy-Bilt is designed to be a strong mower that won't let you down no matter what especially with a mowing deck created with a solid steel frame. Its reliability also extends to working on slightly hilly areas on your property making it a great mower for uneven terrains.
Cutting Width
The Troy-Bilt has a 54-inch mowing deck that comes with a fast-acting triple-blade deck that trims your grass with absolute precision. Giving you a pristine lawn looking wonderfully even. It's also a great way for you to showcase a clean property absent of the nasty brush and dirty tall grass.
Engine
Powered by a 24-horsepower engine, this Troy-Bilt Mustang matches a large mowing deck covering at least 4 acres in a single tank. With a 2.8-gallon full tank capacity, you can power through your lawn or yard and get premium cut grass with just a single ride.
Additional Features
The dashboard includes a battery indicator showing you just how much power you have left to keep your gears and electronics working. It also comes with an hour meter to give yourself a heads up on how close you are to maintaining and inspecting your ZTR. The mower has a transparent gas tank allowing you to clearly see how much you have left. This prevents you from running out of gas in the middle of a mowing task. On top of that, you get a cup holder for a more enjoyable ride.
| Pros | Cons |
| --- | --- |
| Tool-free adjustments with easily removable belt covers and easy access to engine parts | Maximum cut height only at 3.75 inches |
| Rear hitch for easy upgrades for sprayers, spreaders, and other attachments) | |
Overall
Troy-Bilt Mustang is really a reliable machine. It's a great machine that powers through your lawn with precision. 
Beast 48 in. Zero Turn Mower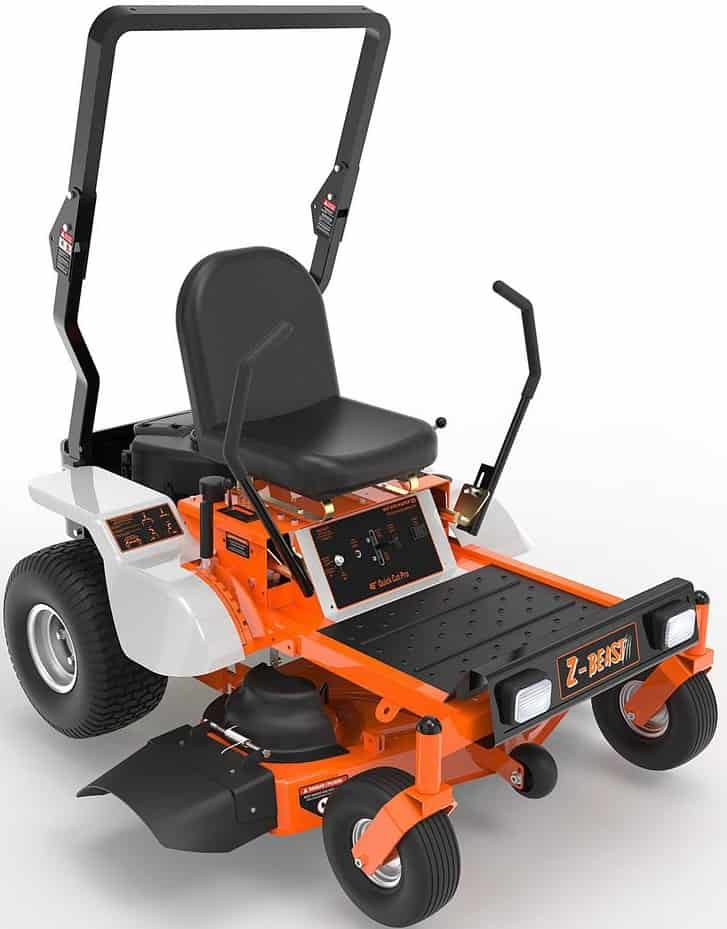 Material
Bring a Beast that's made with an 11-gauge steel deck with a solid steel structure that guarantees a robust mower offering you endless mowing capacity despite working in challenging trims. But since it has a reinforced body, this Beast will definitely charge through your lawn while still leaving you with a fantastic-looking yard by the end of the day.
Cutting Width
Though smaller than the rest of the mowers on my list, this 48-inch is still a powerhouse. It's the perfect mid-sized mower that can easily fit through everything yet act like a large mower covering more ground and speeding through more poverty in as little time as possible. The machine comes with three flat blades giving you a precise cut in every single pass. The triple-blade produces accurately cut grass especially since you have more extensive grass height options where you can cut as low as 1.5 inches to as high as 5 inches.
Engine
The engine has a 20-horsepower hydrostatic transmission making this very reliable. I must say that the engine is powerful enough to have a large mowing deck but to match it with a smaller deck means that this machine can do more than just cut grass. It can also act as a spreader, sprayer, or other tool and upgrades that will simplify gardening.
With a powerful engine, you can speed through your lawn at a maximum of 10 miles per hour and reverse mow at 6.5 miles per hour. I also like the fact that this mower has a 5-gallon full tank capacity, the smaller deck provides better space for a bigger tank. 
Additional Features
Having built-in dual headlights makes mowing much easier in dull gloomy weather or in any low-lit condition. What I personally like about this is that it has a rollover protection. Since it is smaller and has the potential of tipping over, its rollover protection is ideal.
| Pros | Cons |
| --- | --- |
| Extensive mower upgrades | Sharp turns can cause tread marks |
| Rollover protection | |
| Slim and smaller can fit through doors and sheds | |
Overall
This 48-inch Beast zero turn is a great mower for many property owners who don't need a large deck to mow their property. It is a great machine for those who are looking for more than just a mower. This strong mower allows you to do more than just cut your grass. With multiple extension capabilities, this is perfect for gardening.
Quick Mowing Tips for Starters
Practice driving your mower on your driveway before actually mowing your property. This avoids damage to your property and it will also allow you to master maneuvering your zero-turn properly. 
For those who are new to zero-turn mowers, this is how you mow your property. You mow in a straight line, stop then pivot, and finally turn and mow a straight line once again. This is a pretty simple technique that allows you to mow your grass with precision. However, if you are mowing on a dewy or wet field of grass, it's best to go around from the outside in. This technique prevents your mower from digging into the soil and leaves undesirable tread marks on your lawn. 
Zero-turns aren't actually equipped to mow in hills or slopes steeper than 15 degrees. Although the best ZTR can handle a 15-degree incline, the safest is at a 10-degree angle. That would be the typical incline on a highway. For more information about the best suited zero turn mowers for hills click here.
When mowing downhill, never turn or pivot your zero turn. Just a simple movement is fine but any hard turn can be dangerous even if you have rollover protection. Go downhill with a reduced throttle, this will also reduce the speed at which your mowing blades are turning. It allows you to mow downhill with ease and still get the z-turn trademark clean cut.
We all love trimming our grass to the lowest possible height but that can be counterproductive because:
Cutting too low can pull pebbles, rocks and other small objects into the mower causing damage
Soft spots on your lawn can leave unevenly cut grass
Low grass makes moisture from the soil evaporate quickly
Short grass easily dries out
Short grass promotes weed growth 
Leave your discharged clippings where they are
I know it's tempting to clean up the clippings of your grass to get a smooth and beautiful lawn. But even if you don't, your lawn still looks smooth and pristine. Leaving your clippings where they help protect the newly cut grass from losing its moisture under the intense heat of the sun. the clippings are also small enough and easy enough to decompose nourishing your soil.
The Final Verdict
You can get an array of mowers under $4000 but these five are by far some of my favorites. Giving me the top benefits of precision, speed, and reliability. However, the one I really want to recommend the most as the best zero turn mower under 4000 dollars is the Toro TimeCutter. It has the perfect combination of power and strength and it offers more than just a quick trim, plus, you get the premium features of a powerful mower within your budget. But if you're looking for speed, I highly recommend the Beast Zero-Turn. Even with a smaller deck, it can still compensate for speed and reliability.