We can't deny just how strong zero-turn mowers are. From mowing fields of grass to additional features like mulching and trimming small brush, ZTR mowers are undoubtedly the king in mowing your lawn. But with so many zero-turns sold in the market from different brands and their dizzying array of models and sizes, it's hard to pick what to get. I created this list to guide you in choosing the best zero-turn mower under 5000 dollars. And also, to help you understand why they're expensive and if they're at all worth it.
Why are zero-turn mowers so expensive?
Buying a z-turn mower is an investment worth thousands of dollars. The price of zero-turn mowers ranges from $2,000 to a whopping $15,000 while lawn tractors cost about $2000 to $6000. There are many factors that affect the cost of a zero-turn mower. 
Material
About 90% of a zero-turn's body is made with high-grade metal. The material used in making a z-turn greatly affects its cost as well. All mowers have fully welded metal bodies. This prevents the machine from falling apart or from having joints that many consumers would have to maintain or replace in the future. 
A fully welded metal body makes it a single unit that is sturdy and surely built for strength and durability. Some brands like Husqvarna, Troy-Built, and Snapper use high-grade steel; while other brands like Ariens, Toro, and Altex use lightweight aircraft-grade aluminum.
Steel is very robust but it is quite heavy while aluminum is versatile and light. But both are incredibly strong and can withstand intense pressure and use.
Engine
Unlike a lawn tractor, a ZTR mower has a twin engine that is separately attached to each rear wheel. This means that your mower is a tad quieter than riding lawns and has a longer lifespan because the two engines are dividing the workload. This lessens the pressure and wears on the engine making it last longer. 
Twin engines also have less vibrations adding comfort to the rider and require less maintenance as well.
Kawasaki vs Briggs and Stratton Engine
You will always and often come across these machines. Many brands offer similar models but different engines manufactured by these two companies: Kawasaki, and Briggs and Stratton.
I have to say that both machines are really robust and can't say much about the difference when it comes to power even the most demanding z-turn. The difference lies in maintenance.
Kawasaki is easier to maintain, despite being a Japanese brand, getting parts of a Kawasaki engine is easier compared to Briggs and Stratton. Briggs and Stratton is an American brand but the parts are quite expensive and can drive up your cost if you're going to have to replace them.
Kohler is another engine used for mowers but though a little less used, it's still a powerhouse when it comes to tough mowing. However, this machine also poses some limitations and extra expenses when it comes to getting parts for maintenance because they can be costly.
Mowing Path
The size is definitely one major factor directly affecting your machine. If you have a bigger lawn, you'll definitely need a machine with larger horsepower. While a smaller horsepower is enough to mow you a one to three-acre lawn. The best zero-turn mower has a mowing deck that ranges from 36 inches to 72 inches.
ZTRs have a really great mowing prowess, that's because they come with a triple-blade mowing deck. The mowing deck is often found under the rider's seat while others are found up front. A front deck ZTR is more expensive than a mid-mount mower, that's because it requires a stronger engine and more metal to have a front deck mower. But just know that front-decks are only fit for smaller z-turns because they can affect the maneuverability of a machine with pretty long frames.
Aside from the position of the mower, the size of the mowing deck affects the size of the entire machine, a wider cutting width means a wider and bigger mower.
Accessories and Upgrades
Not all zero-turn mowers are equipped with mulching upgrades. Mulching upgrades are sold separately or included as an upgrade when you buy a mower. These upgrades definitely drive up the cost of buying a z-turn mower. 
Other accessories include a cargo bed, armrests, and even suspension. You'd often expect to have a suspension when getting a zero turn because you'd love to have a comfortable ride when riding your lawn. Since most riding mowers are built for flat to slightly sloped flat terrain, a suspension is not a requirement but an optional feature.
Steering and Traction
Steering doesn't just mean you're considering the steering levers or lap bars. The most important aspect of your steering that drives the price of your mower is your wheels. Smaller mowers have smaller wheels, although you have a small land to mow, you also have to consider the soil you're going to mow. Thinner wheels can dig through softer moist soil while larger wheels do not.
Also, you need to check your rear wheels for their traction, this is important if you're looking for mowers that can tread over hills much easier than other brands or models or run over rough paths without a hitch.
How to choose the best zero-turn mower under $5000
Before I give you a list of great mowers you can get from Amazon here's a list of considerations you need to make:
Choose a larger horsepower because it increases your productivity.
Opt for a larger deck especially if you have larger land.
Go for a larger fuel tank for non-stop mowing.
Get one with an hour meter if you're getting a commercial mower to track your hours better.
Never choose a mowing deck with less than 3 blades.
Know the speed limit of the mower for a faster mowing task.
Learn how many cutting height adjustments the mower has.
Pick one with great mowing comfort, especially for longer mowing time.
5 Best Zero Turn Mowers under $5000
Ariens Apex Zero-Turn Mower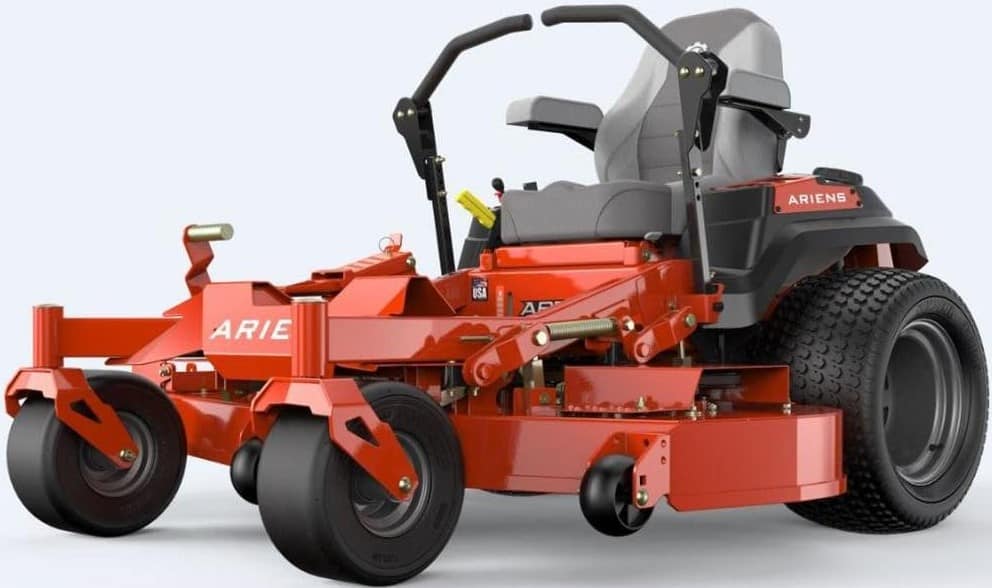 Material
Even out your most rugged terrain of grass with the Ariens IKON-X. Known for its precision and power-cutting, this machine is a favorite among many property owners. 
Made with commercial grade 10-gauge welded frame and deck. The design features the deck 5-1/2 inches in deep mid-mount with a reinforced leading edge providing the airflow needed to tackle tough mowing conditions.
Engine Type
Built with a 24 HP V-Twin Kawasaki FR series engine,  you're riding your mower with less noise and with smoother output. Ariens designed this ZTR with great durability to withstand long hours of mowing, this engine powers up your vehicle to withstand highly demanding mowing hours.
This is a commercial-grade powerhouse made with cast iron cylinder liners for a longer lifespan. It has an automatic compression release for easy start-ups and an internally vented carburetor for better fuel efficiency
Mowing Deck and Path
The full steel mowing deck houses three 60-inch cutting blades to make sure that not an inch of grass is left uncut. This immense mowing deck accompanied by a mower that can speed through your lawn at 8 mph will surely graze your property effortlessly.
Steering and Traction
Granted with larger front wheels and rear wheels with deep treads, this machine offers a smooth ride as you mow your grass. Treading over your lawn without causing any damage to your terrain and your soil, this mower is bound to pass through your tall grass leaving it beautifully manicured from end to end.
| Pros | Cons |
| --- | --- |
| Self-adjusting belt tension technology keeps deck belt tension constant | Many great features for Ariens are sold separately |
| Aluminum spindles maintain temperature for cooler operation | |
| Foot-operated deck lift system with 5 inches maximum height and 15 adjustments | |
| Mulching upgrade available | |
Overall
Calling this machine a powerhouse is an understatement, with great durability and incredible mowing power, this is a great pick! The Ariens Apex is a versatile mower that offers a complete mowing experience with durability, precision, speed, and comfort.
Poulan Pro P46ZX Zero Turn Mower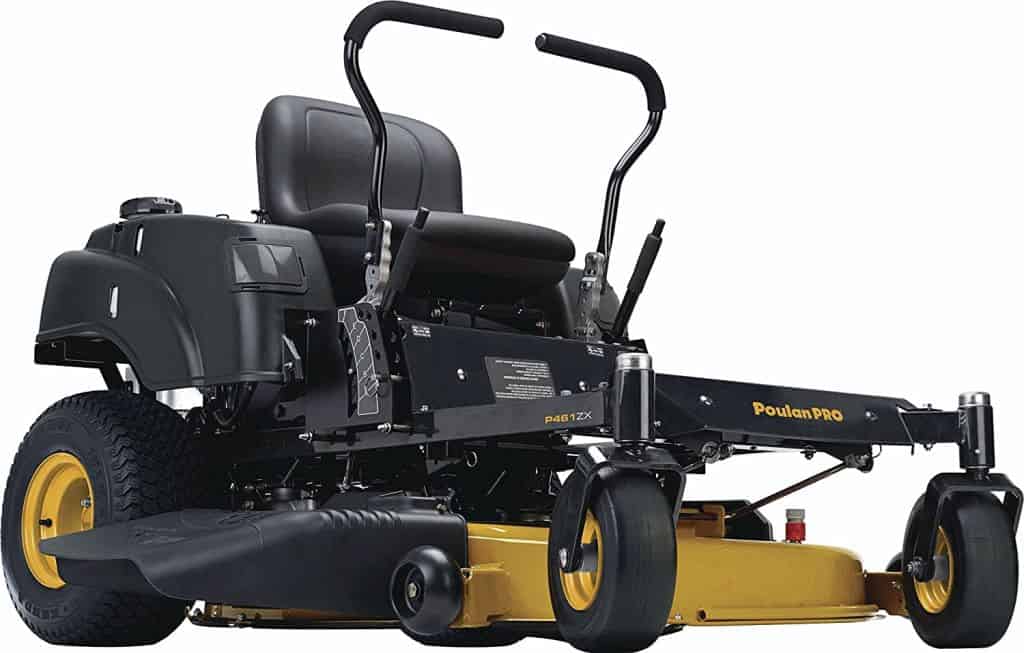 Material
Power through your lawn with a robust machine made with fully welded high-grade steel. Designed to withstand tough grass and weeds, this is a machine built to last. The Poulan Pro also has a durable reinforced deck for extra strength.
Engine Type
Powered by a Briggs and Stratton 22 HP twin-engine combined with the Hydro-Gear transmission and electric clutch, you're guaranteed to race through your property leaving you a golf course finished lawn. Equally trimmed to perfection, you won't have to worry about your machine wearing out that easily.
Mowing Deck and Path
In addition to your powerful engine, you have two 46 inches of cutting width going through the lawn clearing out the eyesore in a more enjoyable ride. Rid yourself of the tedious task of mowing your lawn with a small mower and increase your productivity with the Poulan Pro P46ZX.
Your mowing deck has a fully welded steel barrier to prevent any tough brush from damaging your blades. This increases the longevity of your blades keeping their efficiency for years to come.
Steering and Traction
Gear through your lawn with this mower, granted with thicker wheels and easy steering, despite a large size, you can easily get your vehicle to go around your lawn. The mowing deck also comes with additional wheels to equally distribute the weight on the wheels and for it to have a more stable center of gravity making it ideal for steeper slopes.
| Pros | Cons |
| --- | --- |
| Easy to maneuver | Side fenders can block your view from the side |
| Compact design for lighter weight perfect for mowing gentle hills | |
| Electric clutch for easy steering | |
Overall
This Poulan Pro is an incredible residential lawn mower that runs through your lawn without a problem. The mower is extremely comfortable and is a great mower, especially for places with tons of uneven ground and obstacles.
Troy-Bilt Super Mustang Riding Mower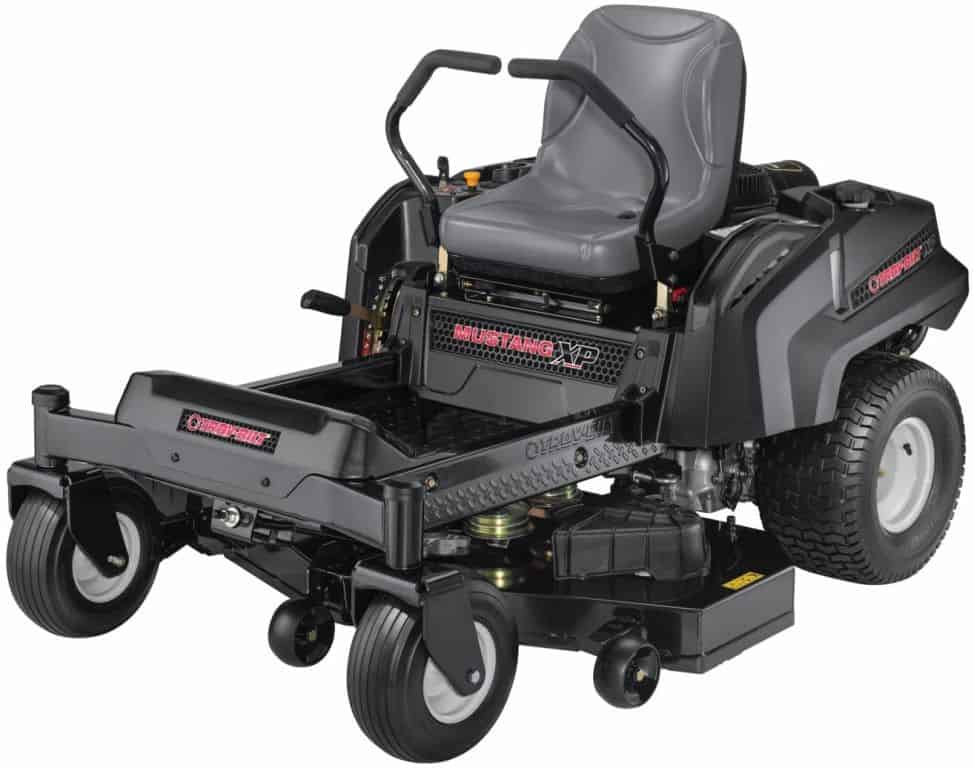 Material
Troy Bilt has created its powerhouse Mustang for your lawn. Standing by the origin of its name, this is a strong machine built with a reinforced heavy-duty steel frame. 
Engine Type
It has a powerful 724cc OHV engine with EZT dual Hydro transmission packs enough strength to mow large plots of rough grass. With a 24 HP engine, you have a machine that can ravage through your grass and leave it looking beautifully manicured. Furthermore, it can run at 7 miles per hour cutting your mowing time short.
Mowing Deck and Path
With a 50-inch mowing deck with eight different height adjustments, this machine delivers an easy cut throughout your lawn. With two polished to perfection blades, you won't have to worry about your lawn looking chunky and uneven. Get a manicured lawn in just a single sweep of your Mustang 50.
Steering and Traction
You have a mower that's built for stability, with a pair of 13-inch front wheels and 20-inch rear wheels with deep tractions, you're guaranteed to go over your lawn without causing any damage. Despite tender soil beneath, your anti-scalp front wheels won't dig through the dirt causing dents on your lawn. Your mowing deck also comes with 3 extra wheels for additional support.
| Pros | Cons |
| --- | --- |
| Leather padded back seat | Makes slow turns because of the additional wheels |
| 8-position height adjustment | |
| Fit for heavy residential use | |
Overall
The Troy Bilt Mustang is a great residential mower that's designed for a lawn the multiple obstacles. If you have a sizeable land with rolling hills that needs your tender grass care, then this is the right mower
Husqvarna MZ61 Zero Turn Mower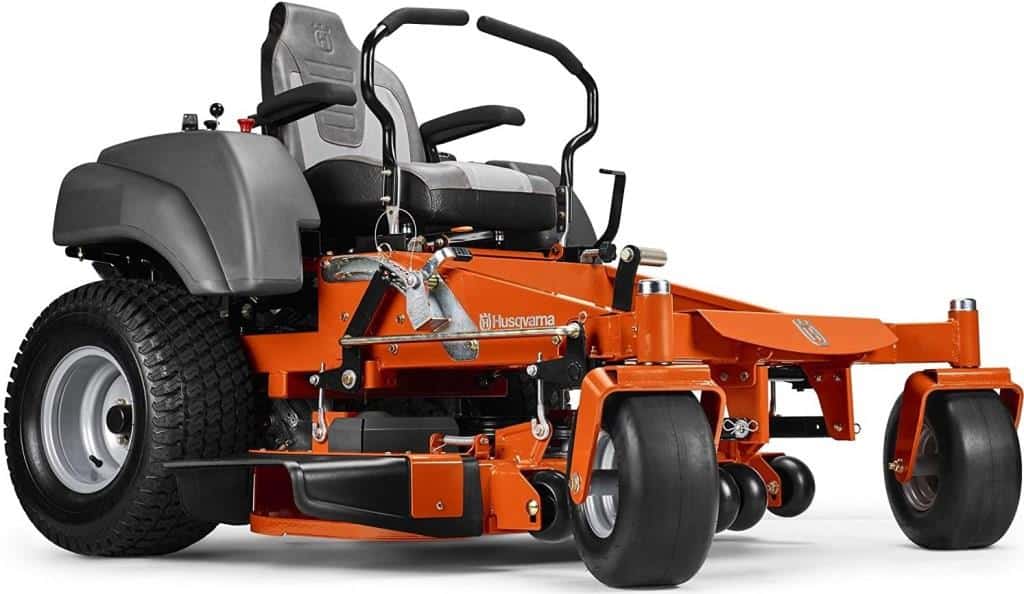 Material
Built with rugged commercial steel, your mower can stand against extreme heavy-duty use. From long hours of mowing to endless acres of grass to cut, the Husqvarna can handle tough jobs with its pure solid steel frame.
What I love about this is that it has a clippings collection bag that allows you to immediately collect all that mulch without having to go back to your lawn and clear your cuttings.
The high seat also comes with suspension springs making your ride smoother and definitely more enjoyable. 
Engine Type
To match a large mowing deck, the MZ61 has 27HP Briggs and Stratton Twin Hydrostatic engine providing you with the ultimate cutting system. The powerful machine makes it one of the best residential mowers as well as a great ZTR for light commercial use.
You also have easy access points to all parts of your engine making maintenance extremely easy and less hazardous.
Mowing Deck and Path
With a 61-inch triple-blade, you're not going to regret getting yourself a powerful mower that can slice through your tough grass and your small brush. This is a far better model than the improved version Z242F that we reviewed in the $3000 budget zero turn mower article. The mowing deck comes with 12 different height adjustments ranging from 1.5 inches to 4 inches of grass.
Steering and Traction
Built for speed and stamina, this machine is not only fast but can also cope with rugged and smooth terrain. With 4 extra wheels supporting your mowing deck, you can grace through acres of grass and not cause any soil damage.
| Pros | Cons |
| --- | --- |
| 9-bushel mulch collection system upgrade | Can't drive backward |
| Hour meter and service reminder | |
| Foot-assisted deck height adjustment | |
Overall
What more will you look for than a 61-inch zero turn mower that's under 5000 dollars? The MZ61 is a known model by Husqvarna and is popular not just for its cutting prowess but mainly for its ease of use and maintenance. With everything you need just in an arm's reach, this machine is a definite top pick.
Snapper 560Z Zero Turn Mower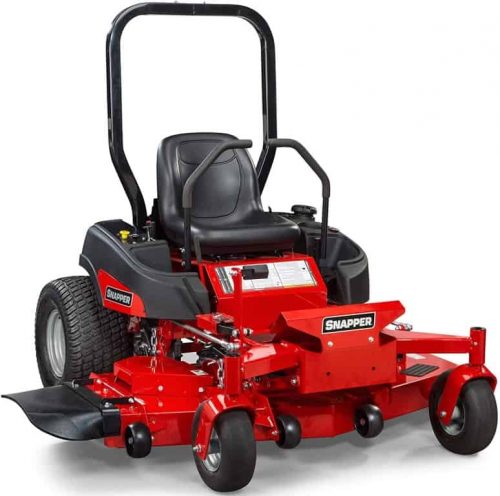 Material
Made with a full steel body, this machine is a tank when it comes to tough mowing tasks handling tough heavy mowing and remains unscathed. The Snapper 560Z has reinforced steel gauge protection and transaxles making it such a durable mower.
Engine Type
With a 25HP Briggs and Stratton twin-engine, your riding mower can manage hours of mowing without a hitch. You're guaranteed a smooth mowing experience without wearing your engine down.
Mowing Deck and Path
You have a 52-inch mowing deck that can clear through your lawn with ease. With a triple dozer blade, this Snapper can snap your grass in a single passing. The deck has a wrap-around steel bumper to ensure the longevity and integrity of your blades.
Steering and Traction
Smooth clearing with wide front wheels, maneuvering the Snapper around is a really easy task. The rear wheels have deep treads that make it a great mower for slippery dry grass.
| Pros | Cons |
| --- | --- |
| Very easy to steer | A bit noisy when mowing |
| Comes with a large cargo bed | |
| Side fenders offer extra rider protection | |
Overall
The Snapper 560Z is a great residential mower built for durability. With a few acres of lawn to mow, this residential mower offers smooth turns and easy steering making it a great machine to own.
The Final Verdict
The best zero-turn mower under 5000 is definitely a big machine that can easily mow your property and give it that perfect golf course finish. I highly recommend the Troy-Bilt Super Mustang XP Riding Lawn Mower for basic residential use, this is a great machine that really does more than it says it can. But to get the most of your money, why not opt for an incredible machine, the Husqvarna MZ61 Zero Turn Riding Mower. It can mow acres of land without a problem, plus, you can even use it for commercial purposes.