If you simply flipped a coin to purchase either the Cub Cadet or John Deere, you'd be making a good choice nonetheless. These riding mower brands are as different as night and day, and just as unique in their efficiency and methods of delivering a stressless job.
 The aim is to bag a zero-turn mower that would make mowing a lot easier to accomplish; a mower that would hit the nails precisely in terms of efficiency and durability, both of which could be delivered in unique manners based on the features the machines would have. That brings us to the reason for this article; helping you categorize the best zero-turn mower for you in tune with you and your lawn's needs. It's simply like building an avatar but with features that would make mowing a casual stroll in the sun for you!
John Deeres are famous for manufacturing parts that would survive the end of the world. They produce in-house engines with jaw-dropping amounts of power and a stance that would take you above and beyond. On the other hand, Cub Cadets are best for producing the most favorable residential zero-turns. They have quite competitive structures and will offer you commercial luxuries for residential purposes– it's like a win-win for Cub Cadets. So, how do you bag your mower? Read on for a satisfactory conclusion! 
Why Should I Get a Cub Cadet?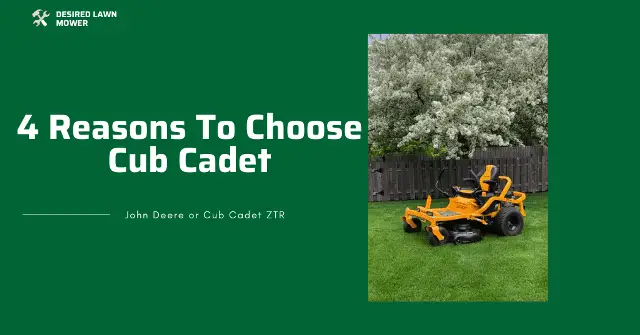 Every mower brand has certain features that are unique to their machines alone. In case you might've missed them, here are four distinct features of the Cub Cadet that make them stand out:
They Have an Anti-Corrosive Continuous Tubular Steel Frame
The Cub Cadet's steel frame is a signature piece that comes with the brand. They are protective bars made of anti-corrosive metal ultimately providing a one-piece steel frame that serves as a skeleton for the mower. This satisfies the same function as a stamped piece; it gives luxury for more rigid stamina and builds. Also, the extended bars at the rear of the machine provide extra safety to the engine of the mower, should you bump or hit any obstacle in reverse. You'd be pleased to know that worrying about the frame of your machine is out the window if your mower is a Cub Cadet. 
The Control System is Modernized and Easy To Use

 
Just as I mentioned earlier, your Cub Cadet is a middle ground for residential and commercial properties. The control panel features all the keys and switches in an easier-to-point-out manner, laid out on a plate-like extension that makes the panel. The residential models also come with a knob for adjusting cutting heights instead of the usual beginner lever or pin system, and this tool sits right above the lever saving you the need to bend or stretch. 
They Possess an AeroForce Mowing Deck

 
Another staple feature of the Cub Cadet is the AreoForce deck. This detail provides an impressive flow of air all around the blades for better mulching and distribution of clippings. The deck is shaped with a wider outlet underneath the rubber chute that powerfully projects confetti of properly cut grass right back on the lawn. There are no clumping or rain problems when you're mowing on wet grass too! Come rain, come shine, the Cub Cadet will mow through it all. 
They Bring To The Field Standard Twin Led Headlights
Usually, headlights on zero-turns come on the super commercial models or mostly in a light kit you'd pay for. All that is an unnecessary talk for the Cub Cadet because you're sure lighting your path with the cheapest of them all. You are completely settled if you mow in the early dark mornings or late evenings. This feature is quite overrated in my opinion because the lack of led lights does set a limit to what time you mow or not. Also, if you have a lot of shady trees or corners in your field, you will need an extra ray of brightness for additional safety, don't you think?
Why Should I Get a John Deere?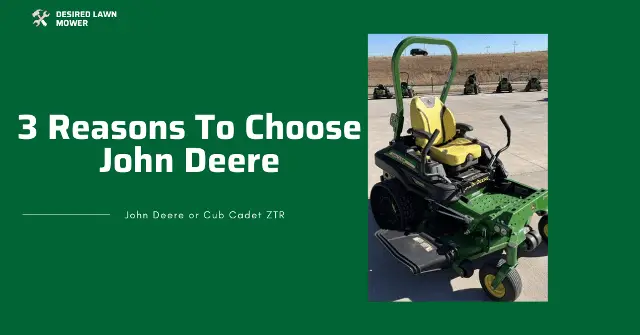 They say nothing runs like a Deere and you're about to find out why. Here are distinct features of the John Deere zero-turns that sets them apart: 
They Are Equipped With Aggressive High-End Cutting Blades
The JD are connoisseurs in creating durable metal materials for parts and frames of machines. Is it any surprise the quality cutting blade the zero-turns come with? The blades last a lifetime because of their compact shape and thickness, so sharpening or replacing them is more or less out of the picture for you if you own a John Deere. This is a small feature, but in the larger picture, you get to cut grass faster and much easier. Plus, you generally take a percentage of the workload off the engine. 
They Have a Less Steep Learning Curve
Mastering a zero-turn mower is no small business. The tutorials and written instructions you see online are as useful as putting grease on tires. It is very easy to overdo your reflexes and mess up your lawn or hurt yourself. Although this problem is general for all zero-turns, John Deeres specifically made the steering levers a little stiffer and sturdier to ensure the application of force is easier to measure for beginners and people who would rather take situations by the sturdier and safer side. 
They Offer High-Quality Deck Varieties
The accel deep and high-capacity decks are quite enviable components of the John Deere brand. The Accel decks are made for the residential mowers featuring a flat top design for easy discharge of clippings and ultimate airflow. On the other hand, the high-capacity decks are made with a wider discharge opening especially fitting for much longer mowing periods from a professional standpoint. Both deck types alleviate overheating of the spindles and potential wear of the deck. This allows a more effortless mow for you and a much longer lifespan for your machine. 
A Deeper Dive: Much More Critical Points of Comparison
Power is the most essential and most sought feature when zero-turn mowers come into the picture. How powerful is this crazily expensive grass-devouring invention you're about to purchase?  
For residential use, Cub Cadet mowers start at 22 horsepower going up to 25 horsepower, in comparison to the John Deere, manufactured to produce 20 – 27 horsepower. If we're pointing out the obvious, the Cub Cadet will impress you with how powerful they make their low-end residential mowers. For the commercial models, the Cub Cadets and JD go up to 35 horsepower, making it a draw. Although, the JDs have been specialized in manufacturing tractors since prehistoric times. So, if I was to choose a commercial zero-turn mower out of the two, it would be the most trusted- the JD. The upper hand with this choice is you have much more information and easier service on the machine. 
Velocity and Maneuverability

 
With great power comes great speed. The measure of how fast a Cub Cadet or John Deere can go is highly dependent on the engines. The Cub Cadet starts at 7.5 miles per hour going as far as 14mph, in comparison to the John Deere starting at 7mph reaching 12mph. In summary, the Cub Cadet runs faster than the JD. They save time better and reduce the workload by a small percentage. 
The only downside with the Cub Cadet's speed is the awfully loud noise it emits. If you love your ears, earmuffs would be the least you would wear to defend them from the tremendous sound waves that you would encounter sitting in a Cub Cadet. To be fair, they do get the job done faster, and that sort of makes it even. 
The continuous steel frame of the Cub Cadet places the machine a step ahead of its rival, the John Deere. This is because the frame provides a firmer grip for other parts of the machine to latch onto. So, in a worst-case scenario, the John Deere would most likely fall apart faster than the Cub Cadet would. That's not where it ends though, because if we're looking at other aspects, one common problem with the Cub Cadet is excess vibration. The decks on the low-grade residential mowers are durable and highly efficient, but they would shake like leaves when the blades are powered on. So even though the Cub Cadet's high-grade residential ZTRs do have an exceptionally clever build, they are simply no match for the John Deeres that collectively deliver a sturdier and much more stable experience, especially if your lawn is bumpy. 
If you mow steep or wavy terrains, how much endurance your mower should have would be one of your top priorities. Stamina is usually associated with tire textures and width. Both of which are certain on the Cub Cadet zero-turn mower. These machines are famous for having beefier tires on both the rear end and front casters, helping you defeat those slopes without breaking a sweat. Also, they are engineered to have tougher grips for wet slippery scenarios and are specifically made for slopes of 20 – 25 degrees, so losing stance is out of the picture. Placing the two under what they do best, the Cub Cadet will have you competing with the breeze when faced with slopes and slides. 
The Final Verdict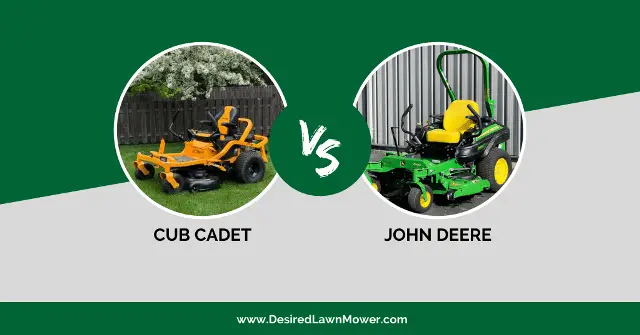 The Cub Cadet zero-turns have found a way to incorporate residential and commercial features into one riding mower. They are a tad more advanced and verily progressive in comparison to the John Deere in terms of speed, stance, and productive creativity. However, the John Deeres are more effective and durable. If you're looking into a low-grade residential mower with all the goodies, the Cub Cadet is just what would suit you. Otherwise, I would recommend you deeply reconsider your decision because, on the other hand, the John Deeres will offer a smoother ride and save you the stress of common repairs or part replacements.