I understand the importance of choosing the right zero-turn mower for your yard and the dismay that comes with selecting the wrong one. The thing is, it's not a fun experience seeing as most riding mower dealers are simply trying to sell out, some reviews are highly suggestive or biased, and your hard-earned money is at stake. Despite these restraints, if you hold on firmly to your requirements, you can decide whether or not the Cub Cadet is your ZTR.
Cub Cadets are recognized for their futuristic design, technological advancements, affordability, immense power capacity, and user-friendliness. The brand has a knack for providing residential users with commercial freebies and commercial users with a variety of beast-like models to choose from. However, they have their ups and downs just like other zero-turn brands and could affect every user differently.
Regardless, I have composed an in-depth review to help you navigate through your decision-making process and land a profitable verdict.
Cub Cadet zero-turns are good riding mowers that ace in terms of proficiency and variety. Although there are certain aspects I'm not too happy with, they do produce good models that will perform the mowing job well.
Quick Facts: Variation Of Basic Features Of Cub Cadet ZTR Models
| Features | Variants |
| --- | --- |
| Engine Types | Kohler, Kawasaki, Briggs & Stratton |
| Horsepower | 17 – 37 |
| Transmission | EZT Hydro gear |
| Speed | 7.5 – 13 mph |
| Deck Type | Stamped or Fabricated |
| Deck Size | 42" – 72" |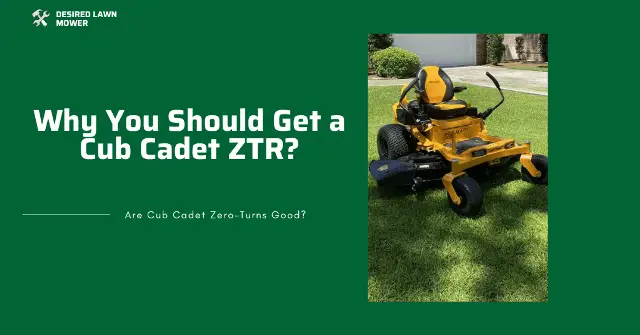 5 Reasons Why You Should Consider A Cub Cadet Zero-Turn Mower
Cub Cadet zero turn mowers are highly varied by model type, allowing an array of possibilities and user customization. Where one model fails to satisfy you, you have a list of others waiting to fulfill your mowing requirements.
Apart from this aspect of Cub Cadet ZTRs that I find interesting, here are 5 other reasons why the Cub Cadet might just win a spot in your shed:
1. The Anti-Corrosive Continuous Tubular Steel Frame
Aside from the material used to build a machine, the way the frame is assembled goes a long way in predicting just how fast the riding mower will fall apart over time.
The Cub Cadet's continuous steel frame presents the machine with a complete backbone that reduces vibrations immensely and protects the parts of the mower. There are shielding bars made of anti-corrosive metal, ultimately providing a one-piece steel frame that extends toward the rear of the machine to protect the engine, should you bump or hit any obstacle in reverse.
It's pleasant to know that worrying about the frame of your machine is out the window if your mower is a Cub Cadet.
2. The Standard Twin Led Headlights For Extra Mowing Hours
Your neighbors might loathe this feature for you, but if you're one to finish as much of the job as you can, you'd be grateful for the headlights. You are completely settled if you mow in the early dark mornings or late evenings as your yard will be properly illuminated.
3. The Spectacular AeroForce Decks
The Cub Cadet ZTR is built with the AeroForce deck that wraps the blades with a significant flow of air for better mulching and distribution of clippings. The deck is shaped with a wider outlet underneath the rubber chute that powerfully propels grass clippings right back onto the lawn. They work exceptionally well on wet terrain too. Come rain, come shine, the Cub Cadet will mow through it all.
4. The Shallow Learning Curve & Ergonomic Design
The control board features all the keys and switches in an easy-to-point-out manner, laid out on a plate-like expansion that makes the panel. The residential models also come with a knob for adjusting cutting heights instead of the usual beginner lever or pin system, and this tool sits on the panel close to your reach saving you the need to bend or stretch.
5. They Start At Affordable Prices
While the low-end residential mowers are not my favorites, you might just benefit from their affordability. The pricing starts at $3,500 for the residential models to $20,000 up the line. Going up, the quality of the zero turns gets satisfactorily inclusive of other variations like the electric models, steering wheel drive, and diesel-powered models which cost a substantial fortune and are the reasons for the significant price leap.
4 Major Problems With Cub Cadet Z-Turn Mowers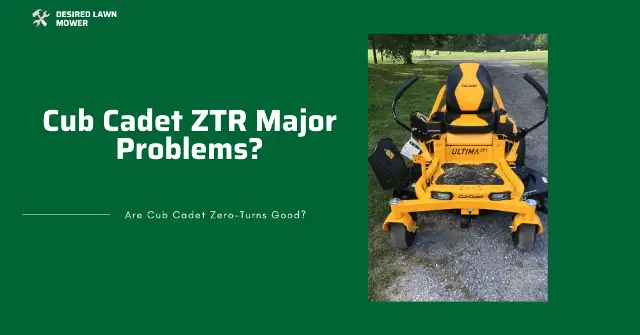 If you're purchasing a Cub Cadet ZTR for your over 2 acres yard, any model that costs lower than $4,500 is a potential gateway to getting pissed off on a sunny day.
It's quite disappointing when you consider that the majority of people who patronize zero-turn mowers are actually homeowners in need of residential-grade models. In fact, the brand made it into our list of worst zero-turn mowers simply because of the distribution of low-quality entry-level categories.
If you're part of that category, here are 4 major problems you must consider before buying a Cub Cadet z-turn:
1. The Aggravating Noise
The low-end residential Cub Cadets scream like banshees when the mower is in use. The neighbors will suddenly be alerted of your misfortune– and theirs. You know how some lawn tenders mount their z-turns without ear protection gear? Yeah, you can't do that on a Cub Cadet– at least if you love your ears.
2. Logic Over Functionality
There's something uncanny about how the seats, on majorly the residential models, plummet limp when you pull them over to access the batteries. I would suggest or expect to see support to suspend the seats from falling on top of the footplate, but there is no such thing. It might seem like a minor problem, but can be quite troubling for older folks to manage.
The same issue plagues the wash ports on the deck; they allow an inlet of water for washing out dry clippings but do not contain the proper suction to match the AeroForce deck types. A lot of reasoning and crouching will end up being used to properly clean the deck.
Besides, frequent water use on your blade and pulley area isn't advisable as it provides a crevice for rust to creep in, better to use the good old dry-scraping method as much as you can.
3. Minor Seating Issues
I'm certainly not impressed by the seating of Cub Cadet residential mowers. For a machine with headlights, I would expect it to provide comfort considering I have to sit in it for hours. While I understand that zero-turn mowers are generally no fun to ride, I do expect a decent amount of suspension and comfort, all of which I see the shortage of at the homeowner level grades.
4. Shaky Deck Problems
While the continuous frame allows for more durability, sometimes the decks are mounted loosely, so much so that you couldn't rest a foot on it. I've encountered this problem on the Ultima ZT1. This isn't a common situation and is not witnessed on every ZTR the company assembles and distributes. However, it's mostly seen in the lower-end models whereas such a problem should not exist.
Frequently Asked Questions About Cub Cadet Zero-Turn Mowers
How many Cub Cadet zero-turn models are there?
There are over 65 models; some models are currently not in production and the company has maintained constant reinvention since the late 90s.
How much maintenance do Cub Cadet zero-turns need?
In as much as the possibility of purchasing a faulty machine exists, the level of supervision is average. Aside from the basic maintenance a zero-turn mower requires, I find that Cub Cadets are pretty independent machines with a fairly rigid build and futuristic design.
How long do Cub Cadet zero-turn mowers last?
This would depend on the models; entry-level prototypes will last a maximum of 8 years, high-ends will last 13 years, and the commercial grade models 15 years max– all under the appropriate conditions and maintenance.
Where are Cub Cadet zero-turn mowers manufactured?
Cub Cadet ZTRs are manufactured in America; Ohio, Mississippi, and Tennessee.
Are there other alternatives similar to Cub Cadet ZTRs?
I find the Toro zero-turn mowers to be comparable to Cub Cadets; they are priced and offer user-friendly attributes similarly. Otherwise, you can go for Ariens ZTR if you are looking for comfort, effective maneuverability, speed, and an aesthetically pleasing lawn.