Lawn tractors and zero-turn mowers have made mowing a much more favorable experience. However, in scenarios where you'd have to pick one over the other, it completely settles on what you're looking to achieve from a riding mower for your terrain. The lawn tractor and zero turn mowers have a good word to their names–  each with their pros and cons relying on your standpoint. 
Both machines are used for residential and commercial purposes and are manufactured in different categories to suit different mowing needs. In this article, I will explain under various points the residential and commercial value of both zero turn and lawn tractor mowers including their strengths and weaknesses and how they can be applicable to your position.
There are so many factors to consider before investing in a riding mower. At the end of the day, the decision will be centered on your lawn/scape. Instead of looking up the most rated riding mower, it would be much safer to consider basic factors like maneuverability, stability, and versatility to expand your understanding of which mower would suit your lawn best.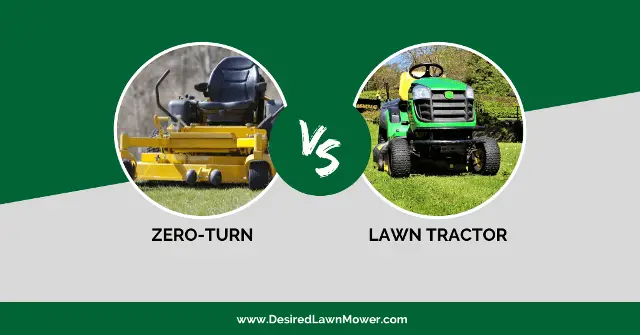 Lawn Tractors Are Sturdier Mowing Machines
Lawn tractors are connoisseurs on elevated or steep slopes. The four wide traction tires maintain a good grip and properly distribute the weight carrying you up and down without you breaking a sweat. Although zero-turn mowers might manage to push you up the hill safely, the smaller front wheels and uneven weight will cause you to topple over whilst mowing down a terrain too steep. In general, slopes above 15 degrees are a 'code red' for both parties; there is no guarantee of not getting into an accident. But in terms of sloping scapes, you will do much better on a lawn tractor. 
Zero Turn Mowers Provide an Unobstructed View of Work
The build of the ZTR mower carries a good atmosphere of ease and visibility, and this is a bonus point if you're seeking to mow obstacle-filled scapes. Nothing like being able to clearly see and mow around flower beds, ponds, and edges without having to follow up with trim. Regardless, lawn tractors provide an equally clean cut, but the enormous engine placed in front of you obstructs some of the view making it difficult to make clean swerves and turns around obstacles. To match the zero-turn mower's precision on a lawn tractor, you would have to hover on the same spot two, or three times in most cases.
You Can Mow and More With a Lawn Tractor
While the zero turn mower is mostly limited to mowing, mulching, and towing lightweight carts, the lawn tractor performs many other duties; you can make a snowblower out of a lawn tractor by attaching tire chains for extra traction and a snowplow blade, a durable aerator by fastening spikes or plugs, or a mini pick-up truck by affixing carts or wagons to the tow hook. There is also a front-end hook to attach a blade for pushing and dumping materials like dirt, compost, and sand. You can also fertilize your land with an added fertilizing kit that can be purchased separately same with the other attachments. 
Keep in mind that although the lawn tractor is multi-purpose, the versatility is dependent on its size. While smaller tractors are limited to pulling small carts or wagons and mulching kits, the bigger sizes can do all of the multi-purpose functions. 
If you will be pleased to more than mow your field, I highly recommend the lawn tractors. 
Zero Turn Mowers Are Experts in Saving Time
Spending the whole day making pendulum-like trips on a lawn or field of grass isn't much fun. ZTR mowers offer a speedier mowing method compared to lawn tractors by 30%. Even though they both compete fairly in terms of miles per hour with the zero-turn exceeding in speed by 1mph, the zero-turn saves you the time of making slow u-turns at the end of each mowed path.
The ability of the zero-turn mower to make turns with a 0-degree radius puts them on a pedestal in terms of slashing the mowing time and keeping a synchronous arrangement of turns.
All in all, I suggest the ZTR mower if cutting mowing time in half sounds nice to you. 
Lawn Tractors Will Be Easier To Master
If you are in tune with the concept of familiarity, the lawn tractors are the best for you. They are built with a steering wheel similar to a golf cart, reducing the learning curve by a considerable amount. Whereas for zero-turn mowers, grasping the steering pattern will take a while depending on how fast you can master it. This includes trying to steer clear of accidents and sticky situations whilst mowing. 
Although zero-turn mowers might portray ease of entry and simplicity, if you are unfamiliar with the levered system of the machine and are aiming at immediately putting your mowing mastery to use on an acre or two, the lawn tractor is the best option. Also, taking into consideration the hydrostatic transmission system of the zero turn mower, you will need time to get accustomed to the speed differences as zero turns generally go faster than lawn tractors. 
Maneuvering is Stressless With a Zero Turn Mower
Do you have trees, flower beds, fountains, or other obstacles on your lawn? Then mowing will be less stressful for you with a zero-turn mower. The flexible front wheels allow you to make sharp turns or curves with ease around narrow or wide obstacles. You can swerve in between or around barriers with a clean cut. The extended deck system of the zero turns allows you to mow closely around an obstacle without bumping or scraping against it. Even if lawn tractors are much capable of achieving the same or similar results, they are slower and more stressful to maneuver. The satisfying outcome of a synchronized cut, also, might not be attained because of the uneven motions of the lawn tractor. 
Learn more on how to mow with a zero-turn mower properly
The Front Wheels of The Zero Turn Get Stuck in Soil Easily 
Mowing grasslands with missing spots in areas of abundant rain could be frustrating with the zero-turn mower; there's every tendency to get stuck whilst mowing in those circumstances. Unlike lawn tractors that have four traction tires, the front wheels of the zero turn mower, unfortunately, do not offer much traction and can easily sink into muddy spots. In this case, going for a lawn tractor kills two birds with a stone because you could easily fasten a fertilizing tray to revive your lawn as well as mow for a desirable result. 
Learn more on how to get better traction with any zero-turn mower.
Mulching is More Effective With The Zero Turn Mower
The mulching kit for both lawn tractors and zero-turn mowers is sold separately. However, when it comes to mulching, the zero-turn mower will evenly distribute the clippings on the lawn. Whereas for lawn tractors, the clippings are distributed to the side and are not mulched as properly as would the zero-turn mower. There is also a visible line of withering clippings left on the lawn left by the lawn tractor. 
Lawn Tractors Are More Affordable
Both machines go well over $10,000 with the cheapest zero turns a little over $3,000 and the cheapest lawn tractor approximately $2,500 depending on their manufacturers – exempting the rare cases of lawnmowers that cost a blasting over $100,000 and recognition from the Guinness book of records.
Questions To Consider Before Owning a Zero-Turn or Lawn Tractor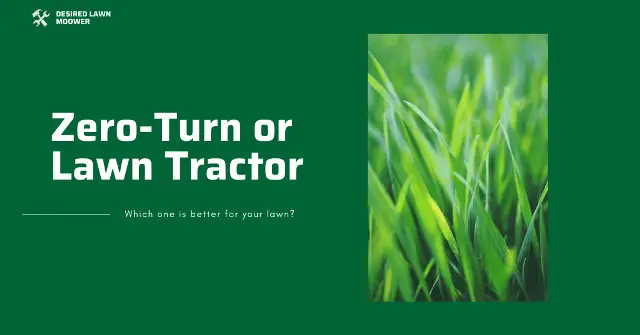 How much land am I mowing? 
This question heavily centers on the fact that zero-turn mowers offer a variety of deck sizes ranging from 42 to 60 inches, while the lawn tractor offers a variety of 42 – 54 inches. The commercial zero-turn aces with an 8-inch difference which is superb for large scapes that would require commercial mowing as it will dutifully reduce mowing time by a reasonable percentage. 
How obstacle-filled is my lawn?
Obstacle-filled lawns and lawn tractors don't exactly make an easy turnout because you would be indulged in lots of reversing and three-point turns. On the other hand, residential zero-turn mowers offer significant maneuverability and much faster results. 
How is the terrain of my land?
Take into serious consideration slopes greater than 15 degrees as this applies to both lawn tractors and zero-turn mowers. Despite this, I highly recommend the lawn tractors for their four wide-traction tires for slopes and bumps.
Is my lawn fully mature?
If you are analyzing mowing grasslands comprising sizable patches and spaces with a ZTR mower, the activity might end up in a tiresome encounter which is the opposite of an easier mowing method. I would advise you to take advantage of the versatility of lawn tractors and to improve your grassland to prevent getting easily stuck here and there. By investing in a fertilizing kit, you can improve the quality of your lawn whilst mowing. 
The Final Verdict
Placing all their objectives under view, the lawn tractor does deliver a good amount of work done at a cheaper rate compared to the zero-turn mower, it is sturdier and more versatile in comparison. Although in terms of maneuverability, precision, and speed, zero-turn mowers remain undefeated.