You will be unbelievably misled if you conclude a deal off of surfing through a zero-turn brand website only; they plaster the most favorable reviews – most of them paid – and every written description will look like sugar, spice, and everything nice. Going to brand dealers is no better either as they are driven by making a sale. Your safest bet will be going through unbranded feedback, comments, or if you're fortuitous an article like this one. 
Not to be confused, this doesn't mean the dubbed 'worst zero-turn mowers' are absolutely terrible and should be erased from existence, no. It's just that the standards are quite high for zero-turn mowers covering both residential and commercial use, so it's a tough unforgiving crowd staring down on the machines, especially because zero-turns are pricey in the least. No true lawn tender will chuckle at disappointment built like a zero-turn after they've bundled it home. 
To avoid all that bad rap, I'll be discussing five mower brands, why they made it into the worst zero-turn list, and why you might need to avoid them!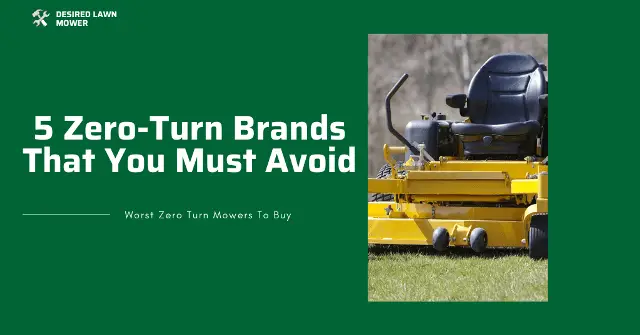 1. Country Clipper- Infuriating Customer Care Department
I can't say the country clipper zero-turn mower is exceptionally known by ALL mowing enthusiasts, and there's a reason for that — the quality build of Country Clipper zero-turns is a sorry case, and an even worse apology is their terrible, horrible customer service. If you are interested in purchasing a country clipper ZTR, you better be living next door to a reliable dealer that is willing to allow you to enjoy your warranty, because you very much will be needing it. 
The cut quality is great, you sit comfortably in the machines, maneuver swiftly and precisely, and everything is nice until the transmission fails in a few hours of work and deck belts break due to the cheap quality. So, belt replacements are very much common. Although I have to say, this is more or less not entirely stamped to the Country Clipper alone since a lot of zero-turn brands experience the same problem, just most likely not as frequently. 
Oil leakage is also quite common– which is honestly a petty problem that shouldn't be in existence at all no matter the excuse. The traction about angles and slopes is a 3/10– I know they claim to govern steeps well, but the make of the mower isn't tough enough to manage such extremities, so I wouldn't advise you to hike with them. Maybe if the Country Clipper's customer care department didn't happen to be SO BAD, you could replace parts as easily as every other brand offers, and they in turn will have enough data on how to better their brand. 
2. Dixie Chopper- Terrible Engineering
Frankly, Dixie Choppers are good mowers on a general term; they last long enough for you to make a good reap of your money. Although they have durable materials, I'm not quite confident in the engineering. This is the only excuse as to why there are a lot of uncharted problems with such good quality equipment. A good example of this is that the Dixie engines do not fare well in wet or humid climates which is quite surprising since they are Kawasaki or Briggs & Stratton that are not known to stutter when faced with a little moisture. 
Belt issues and spindle problems associated with the poor deck build are also very common with this brand. Added to the list is the inability to handle slopes efficiently – that being the 15-degree angle mark for every zero-turn mower – which is often related to uneven tire pressures, poor traction tires, and a weak transmission.  
To soften the blow, not all Dixie Choppers are built like this even though a great deal of them are. Perhaps a bunch of low-quality builds get released into the market, and of course, have to be sold in the end. The best salvation from this problem is to confront a trustworthy dealer if you must purchase a Dixie, otherwise, you can save yourself and seek other options.
3. Ryobi- Ridiculous Battery Power
Ryobi zero-turn mowers are electric and thus run on rechargeable batteries. There are a whole lot of pros to electric riding mowers, so much that if you got one you probably will be swept off your lawn and forget gas mowers exist– you no longer have to deal with gas, fuel tank problems, annoying engine oil & hydro oil maintenance, choke issues, or long term ear problems. Sounds good huh? 
Here's the bummer though; Ryobi's zero-turn mowers will enrage you with how poorly their batteries perform. They use Lead-Acid batteries– the kind of batteries that have all the cons with only a pro on affordability! It's a must to charge the batteries fully before each mow, which would take AGES to reach 100%. That means you have to stop mowing at 50% – the requirement to preserve the battery life –  and you can't start to mow on the 50% without charging back to 100% else you deplete the already weak batteries. So in simpler terms, half battery power is a red bar for the Ryobi zero-turns– not 20%, not 15%, but 50%! 
Since the durability of the Ryobi zero-turn is measured by how many acres it can mow on a completely charged battery, you'll end up mowing only half your entire yard. Afterward, you have about a year and a half maximum to enjoy a Ryobi zero-turn before you change the batteries, which definitely is not part of the plan and shouldn't be! 
4. Troy Bilt- Embarrassing Quality of Build
Troy Bilt mowers are usually compared to Walmart equipment, that's just how poor the quality of the mowers is, and that is already the end game of a zero-turn mower. Poor quality can lead to anything from stragglers to serious accidents, which is why Troy Bilt's zero-turn has made it to this list. 
The overall build of the mowers are user friendly as there really isn't much stuff going on– it's just simple and straight to the point. However, the Troy Bilt zero-turns are notorious for being made with rather low-grade materials that, of course, will wear and tear faster than you can anticipate. The first part to throw you off will be the deck; though they offer a good cut quality in the first few hours, they soon start to deteriorate and leave a bunch of infuriating stragglers as you whizz by. So, mowing over a spot like a giant metal bee will be common– a waste of time and extra gas. 
Engine leaks are also quite usual- way too usual to be ignored. There is a case where one of the mowers caught fire and literally burned a huge chunk of the machine, which could be traced to engine leaks and poor wiring. If I have to hope to get down from my zero-turn mower in one piece, then there's a serious problem with the mower and should be taken into consideration urgently. 
5. Cub Cadet- Miserable Functionality
Before you throw a defensive angry fist in the air, Cub Cadets are well-balanced and durable zero-turn mowers. The reason why they made it to this list is highly centered on functionality, which if I'm being honest is very poor. Though they are kind of fair with the sturdiness of the mowers, the problem is cub cadet zero-turns look better than they perform so you have to do a lot of ignoring this or that to actually enjoy your mower, which is quite a severe bore. 
A good example is how the seats do not have enough spring and bounce to them, so you would need sufficient grease and numbing cream for your spine. They are also quite poorly made both in terms of logic and functionality; the seats fall like a dead limb when you raise them to view the tank. You might think this is too tiny a problem to consider, but it contributes greatly to wearing out the deck since the seats fall on it with a thud! 
Added to this, the machines screech like a banshee and will proceed to slurp away the gas in the tank, the decks are incredibly wobbly that stepping on it with your full weight will be a sour joke, and the tires do not offer much traction that would help you out on slopes. While the mower will last a lifetime under good maintenance, there are a lot of mishaps here and there that are rather shameful for such a reputable zero-turn mower brand as the Cub Cadet. 
A Befitting Summary 
Singling out a string of the worst zero-turn mowers can depend on many things that are distinct to your needs. Although there are quite some ridiculous design flaws that should be locked and buried, no matter how slandered a riding mower brand could be there's always a happy customer out there dropping the only thumbs up in a stream of boos and profanities. The only major thing to consider if you must go for any of the listed zero-turn mowers is a good dealer and dependable customer care service. 
Unfortunately, the Country Clipper ZTR lacks this so I highly DO NOT RECOMMEND THEM! The least you could demand is a functional warranty when the zero-turn mower that you paid fully for is falling apart like a stack of empty plastic bottles– You don't deserve that kind of treatment.