Husqvarna and John Deere manufacturing companies are quite competitive in the lawn mower market. Both sides have worked to ensure their users enjoy their purchases properly, offering a variety of zero-turn mowers to choose from without compromising quality. You'd be in good hands to select a mower from either brand, but you must consider which machine will best suit your yard. Though the Husqvarna and John Deere zero turns are efficient, each brand differs in a way that could either benefit or be a drawback to you.
If you prefer durability over cut quality and usability, the John Deere is your zero-turn. If otherwise, you rely heavily on the cut quality and comfort for satisfaction, choose the Husqvarna. Ultimately, the decision on which zero-turn mower brand is better between the Husqvarna and John Deere will depend on where you're leaning towards.
Before you slap a couple of thousand bucks on a zero-turn, this article will help you decide on which mower brand will serve you the best.
John Deere Or Husqvarna: Factors To Consider Before Purchasing A Zero-Turn
It's important to buy your zero-turn mower from the brand that meets your needs the most. Remember that your z-turn is expected to spend a decade with you. Can you imagine choosing a mower that annoys you every time you mow your lawn?
Brand Reputation
The brand's reputation tells you easily how satisfied other customers have been and how satisfied you will be if you purchase from them. A good reputation is built by consistently good reviews, so the better the brand's reputation, the more satisfied you get in the long run.
Product Durability
Here, you get to truly understand how long the riding mower would last. The brand that produces the most long-lasting machines can be the one you should trust the most. You can tell a brand's product durability by asking around or reading reviews. There's no better person to ask than someone that's actually used the product.
Your Requirements
Your mowing needs are the best criteria for selecting a zero-turn mower brand to purchase from. Every company is peculiar to one or two things you can take advantage of on the lawn.
Your Budget
Lastly, your budget plays a huge role in determining which brand to go for. Remember that the replacement parts should as well be considered when you're buying a zero-turn mower. Are the individual replacement parts out of budget? Will it affect you horribly if you had to repair or replace a part of your zero-turn mower?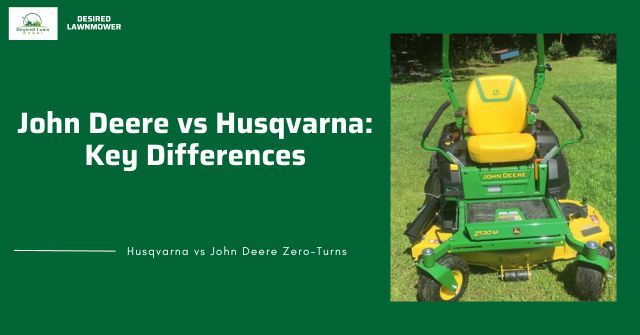 6 Major Differences Between The John Deere And Husqvarna Zero-Turn Mowers
Quick Facts:
| Key Points | Husqvarna | John Deere |
| --- | --- | --- |
| power | –1 | +1 |
| Cut quality | +1 | –1 |
| Speed | –1 | +1 |
| User comfort | +1 | –1 |
| Traction and stamina | –1 | +1 |
| Pricing | +1 | –1 |
| Total points earned | 3 | 3 |
1. A Test For Power
Power is essential in getting any task completed in the yard by your zero-turn. In some cases where the ZTR is underpowered leading to problems like overheating and shutting down abruptly. For the Husqvarna, the capacity of their models ranges from 18 to 26 hp which is quite an impressive stretch. On the other hand, the John Deere zero turns range from 18 to 35 horsepower.
2. Cut Quality
Both the Husqvarna and John Deere zero-turn mowers are great turf chompers. They are durably built to withstand tough grass and various mowing conditions. However, I find the John Deere to be preferable for tough grass and rough terrain. The aggressive build of the John Deere allows it to withstand vibrations and trudge your bumpy turf without sacrificing your cut quality.
While the Husqvarna ZTR can easily compare to the John Deere in efficiency, but when it comes to deck durability, the JD's wins the round. John Deere ZTRs are famous for their Accel Deep feature that allows maximum airflow into the deck while the grass is getting cut or mulched. Similarly, the Husqvarna has a Clear Cut feature that specifically reduces turf tearing thanks to the mechanism of the deck. This ensures that there are no stragglers or dead spots left on your lawn over time.
3. Speed
In terms of speed, the John Deere mowers are much faster than Husqvarna. John Deere ZTRs run at a speed range of 7-12 miles per hour while the Husqvarna is powered by 6 – 8.5 mph respectively. Speed is highly important for saving time on the lawn. It also helps preserve your z-turns lifespan since velocity would require you to finish earlier than usual.
4. User Comfort
After practicality, user comfort is highly essential when you're dealing with zero-turn mowers. These machines most of the time offer poor comfort to the lawn tender so much so that the task becomes even more tedious to achieve.
Husqvarna zero-turn mowers have a much more ergonomic design in comparison to John Deer Z-turns. Some of the residential grade models have the ComfortRide suspension system that ultimately protects you from the painful vibrations when mowing your lawn; an attribute is usually assigned to the commercial zero-turns of other brands.
Both the ZTR brands have equipped their models with vibration dampeners, high-back seats with armrests, cup holders, and much more user-friendly controls depending on the model you choose. However, for the equivalent model of each brand, Husqvarna aces the user comfort competition efficiently.
5. Traction And Stamina
Both the Husqvarna and John Deere zero-turn mowers have great traction and stability. However, the level of traction depends more on the model you choose than the brand. The lower the grade of both brands of zero-turn mowers, the less traction you get. Still, the John Deere zero turn mowers have proven to offer more stability than the Husqvarna with the rear differential lock that helps the rear wheels operate separately so that control over uneven terrain is attained. Coupled with the tuff torq hydrostatic transmission system, you'd be acing your steep terrain with fantastic traction on the John Deere z-turn.
6. Pricing
The pricing of zero-turn mowers would depend on the model you choose. Each brand will have different price variations depending on the efficiency and specialty of the model. So, it's often difficult to compare a brand to the other based on pricing. However, Husqvarna zero-turn mowers are much more affordable than John Deere's. For each john deere model, you'd find a cheaper and equivalent Husqvarna model offering similar efficiency.
Which Zero Turn Mower Should I Buy?
In the end, it will depend on the requirement that matters to you most and your yard. If you seek to engage in heavy-duty mowing including other activities like towing, aerating, or planting with your mower, then you should certainly go for the John deere zero turn.
If you simply would like to keep your yard tidy, nothing too serious or rigorous, the Husqvarna will do you just fine. They may be not as durable as the john deere ZTRs but they will provide enjoyable rides through and through.
Which Is the Overall Best John Deere Residential And Commercial Zero-Turn Mower?
The overall best john deere zero-turn mower for residential mowing is the Z535M. It's a high-grade residential z-turn with commercial benefits powered by a 22-horsepower engine, you can mow through the highs and lows of your yard efficiently. The Z535M is paired with a 42-inch cutting deck making it easy to store and move around your featured yard easily.
The best John Deere commercial zero-turn is the Z997R, surging with a 37.4 horsepower and 72-inch deck. The comfort this model brings is reputable with a fully cushioned high back seat and hydraulic lift for precise measurements so that you don't go through the labor of lifting the heavy deck. Ultimately, this model can mow up to 7.5 acres per hour at a maximum.
Which Is The Overall Best Husqvarna Residential And Commercial Zero-Turn Mower?
The Z242F model bags the overall best Husqvarna residential zero-turn mower. It has a 22-horsepower engine and a 42-inch deck that is conveniently powered and compact for the residential lawn tender. If you are hoping to get around the books and crannies of your yard with the luxury of full power, you'd be best suited with the Z242F.
If you're diving into commercial mowing, the MZ61 will make a great match for you. It's a 27-horsepower, 61-inch machine that will certainly supersede your expectations.