Keeping our lawn looking green, clean, and fresh is not such an easy thing to do. No matter how small or large your property is, it needs the right care and the proper tools to keep it looking alive. For a 2-acre property, a normal lawn mower will not be enough to keep up in manicuring your lawn. For ideal lawn care, you need the best zero turn mower for 2 acres. Here's a quick guide on taking care of your lawn and a few suggestions on choosing the right mower for your property?
Debunking Myths About Lawn Care
You need to mow your grass short
Cutting your grass to the lowest possible height is not actually good for your lawn. It won't give you the golf course finish you want. The ideal height for trimming grass is between 2 to 4 inches. Cutting the grass too short leaves your grass prone to drying and getting all sorts of diseases.
Most property owners would think that mowing the grass shorter will lessen the times needed to mow the lawn. This isn't actually the case since you're making your grass susceptible to weakened growth, bugs, and plant illnesses.
Add fertilizer and don't mow the grass right at the break of spring
As the last signs of winter melt, grass would have grown, many would wait for the grass to grow a bit longer before mowing it. However, mowing it as it grows is actually trimming off the dried-up tips of the grass. Most lawn care would prefer adding fertilizer to let the grass grow better. However, the best way is to actually trim the tips off your grass and let it fall on the ground. The clippings will serve as mulch warming up the soil and enriching the grass as it grows.
Adding fertilizer will lead to excessive and quick growth. This means that you're going to have to cut your grass more often. 
Adding more mulch will improve turf quality
This isn't always true. Once you've mowed your lawn, leaving the clippings behind is enough mulch to nourish your soil adding more on freshly cut grass with smother and kill the grass thus destroying your turf in the long run.
Mowing of seed heads with make them germinate
Seedheads take months before they are ready to germinate and grow. Seedheads are not ideal for a properly manicured lawn. So cutting them will not just keep your lawn looking nice and pretty, but will also help maintain the overall health of your grass. I highly recommend that you cut your grass below 5 inches to remove all types of seed heads from popping up.
Why are zero-turns still a better option than lawn Tractors for a 2-acre property?
Many people debate over whether or not they should get a lawn tractor or a z-turn for their 2-acres properties. The main factor is the cost. Lawn tractors have smaller mowing decks while relatively more affordable than lawn tractors.
Many believe that buying a lawn tractor is more cost-efficient since it is cheaper and it also does the same job of mowing your lawn at a shorter period. However, they are bulkier and do not offer the same precision cut as zero turns do.
Z-turns not only offer a zero-radius pivot point but they also offer increased movement, better visibility, precise cuts, lower tread marks, and faster mowing. But all these come at a higher cost compared to a zero turn mower.
As a personal choice for me and many z-turn owners, we would never trade our zero-turns for a lawn tractor mainly because of its initial cost. The benefits of owning a z-turn override the disadvantage of buying it at a higher cost.
Best Zero Turn Mower for 2 Acres
Beast Z-turn Mower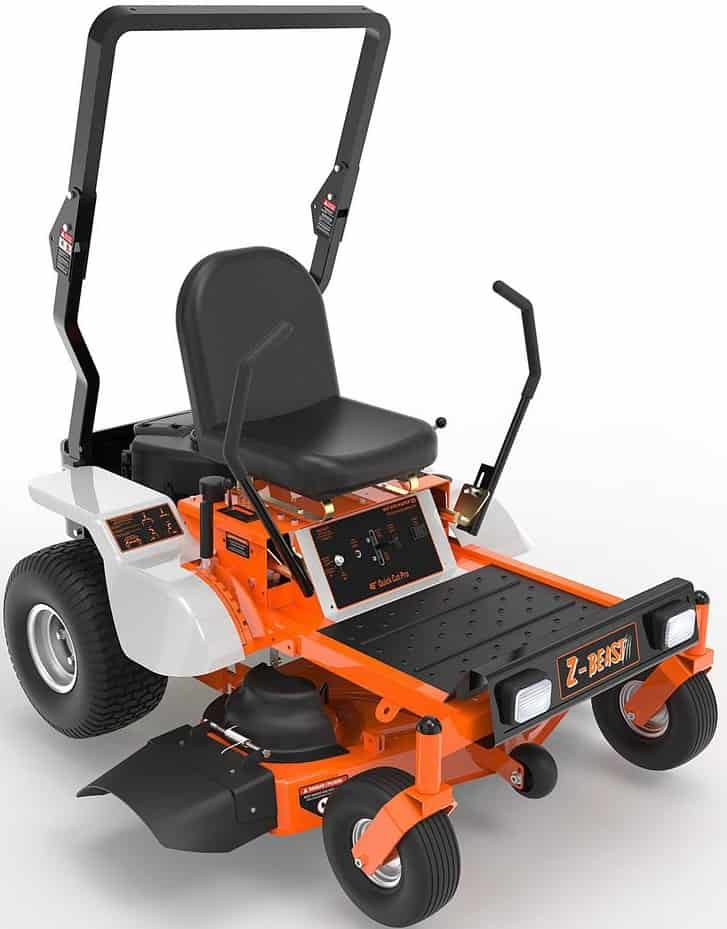 Engine Strength
With a 20-horsepower engine, you have a machine strong enough to power through your 2-acre property and even more. Built for speed, the Beast allows you to handle heavy-duty mowing with dense grass and thick weeds in the shortest time possible.
The 656cc engine allows you to power up to speeds reaching as fast as 10 miles per hour on flat lawns. It can also reverse mow up to 6.5 miles per hour thus increasing efficiency and reducing mowing time by up to 45%.
Gas and Battery Capacity
This z-turn mower is powered by a gas engine. With an electric start-up and automatic transmission, it means that your mower is capable of gauging terrain type and naturally adjusting its gears to easily provide a more comfortable ride.
With a 5-gallon fuel tank, you can mow your 2-acre property up to 3 times on a flat even lawn. On difficult terrain with gentle slopes and multiple obstacles, you can still use its power through your lawn twice with a single full tank.
Mowing Precision
Built with a 48-inch deck and saddled with three blades, you have a strong mower that really does the job of speeding up the mowing process. With triple blades, you're almost guaranteed that you don't need to mow over your lawn for a second round.
Mower Body and Frame
Its heavy-duty construction with an 11-gauge steel deck, ¼ in. steel frame components and 7-gauge reinforced clutch plate, your mower is durable to match its speed. The strong steel body absorbs pulley forces that affect the overall health of your machine.
| Pros | Cons |
| --- | --- |
| High-speed mowing forward and in reverse | Thin front wheels can cause turf damage when doing quick turns |
| Large gas tank capacity | |
| Strong machine for small commercial lawn mowing | |
Overall
I love this particular Beast Model because it practically has all the greatest aspects of a mid-sized commercial ZTR. This lawn mower has power, speed and durability thus giving you a complete mowing solution that you can also use for small commercial use.
Cub Cadet ULTIMA ZTX4 Zero Turn Mower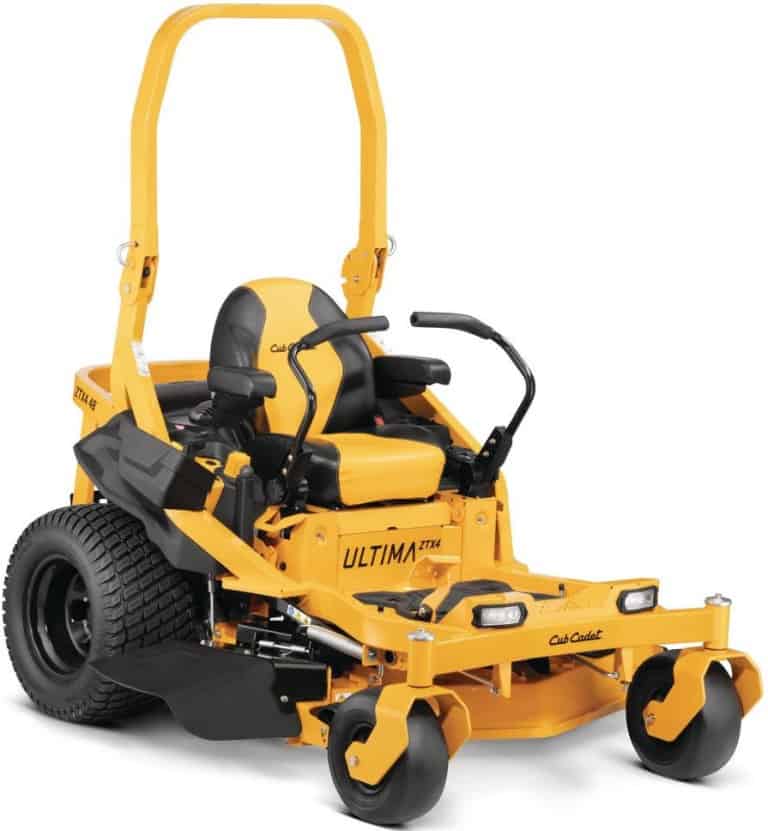 Engine Strength
The Cub Cadet Ultima is powered by a strong 23-horsepower engine offers reliable starting and exceptionally smooth, quiet operation. This powerful engine can drive your machine over slopes and around tricky obstacles and landscaping.
Gas and Battery Capacity
The fuel tank can fill up to 5.5 gallons. This helps you quickly trim your lawn with a single tank and still leave enough gas to mow your lawn a couple more times. With flatter lawns, a single tank can even mow your property for more than 3 times. The strong battery of this machine is capable of extending the reaches of your mower allowing you to tread over hilly areas.
Mowing Precision
With three blades in this deck, you are guaranteed a smooth finish from finish to end. The three high-lift blades positioned for cut overlap offer a smooth clean cut leaving you with flawless results. To support the precision of the three blades, the Cub Cadet has rust and corrosion-resistant deck. This prevents the deck from easily getting damaged due to exposure to wet mud, grass clippings and other elements thus ensuring you a long-lasting deck. Since the mowing deck is made with fabricated steel with maintenance-free spindles, 
Mower Body and Frame
The Cub Cadet has a frame made with 1.5 in. x 3 in. tubular steel providing your machine with optimal strength and rigidity. In addition, the full-body frame allows you to have quick and easy access to all parts of your mower, especially with a hinged or removable floor pan over your deck and engine.
Your mowing deck is also designed with an AeroForce Max 10-gauge reinforced steel providing you with a highly durable mowing deck for mulching and strong mowing.
| Pros | Cons |
| --- | --- |
| Suspension rings for a gentler riding experience | A bit slow |
| Quiet engine | |
| Great for hills | |
Overall
The Cub Cadet is certainly built for durability. Designed and equipped to offer you a delightful mowing experience in the long run. Ideal for properties with at least 2 acres, this is a great mower for hills and intricately designed gardens and landscapes.
Toro TimeCutter Zero Turn Mower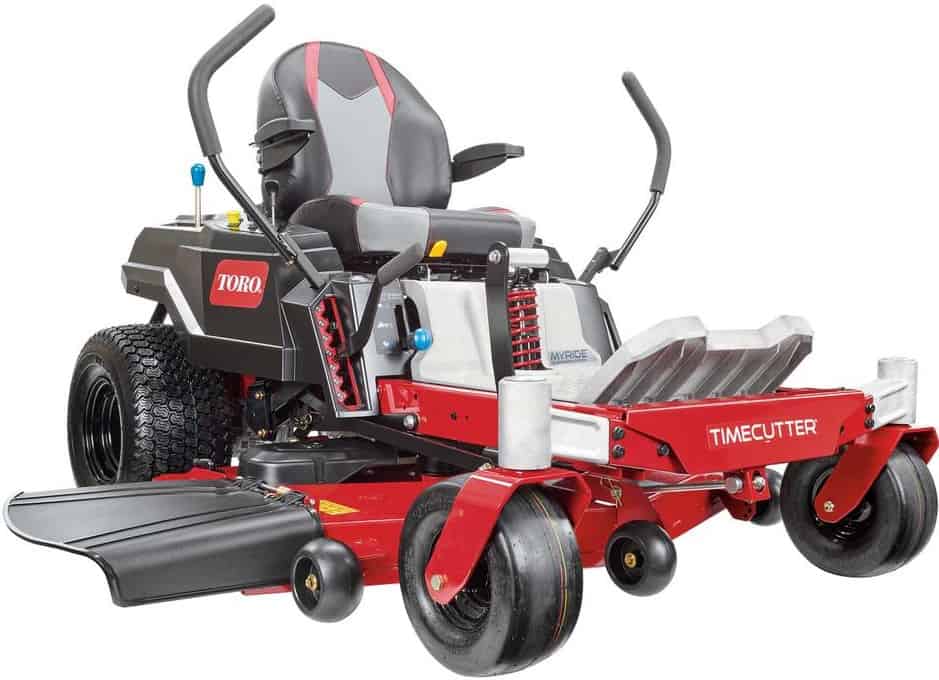 Engine Strength
When your ride gets rough, enjoy luxurious comfort thanks to the world-class MyRide suspension system that saves your body from the toughest terrain. Immediately you can feel the strength of this beast, which features a 23HP Kawasaki engine, along with a fully welded panel as it trims over your lawn at a top speed of 7 miles per hour and 3 miles per hour in reverse.
Gas and Battery Capacity
With a 3-gallon tank, you can easily mow your 2-acre property with just one round. Reduce the instances where you need to stop mowing and top up your gas tank. The machine comes with a battery indicator allowing you to have a constant view over the capacity of your battery and easily power through your lawn. 
Mowing Precision
Move over unforeseen obstacles with ease with its foot-assisted deck lift, this triple-bladed mowing allows your machine to reach its optimal performance. The three blades are low-lift blades thus increasing airflow into the mowing deck creating smaller clippings and producing better quality mulch to nourish your lawn. The large 50-inch mowing deck offers superb quality cuts in every pass.  
Mower Body and Frame
Born to perform, the TimeCutter's design empowers you with features only available to pros. Its 10-gauge steel deck is rust and corrosion resistant preventing your machine from getting damaged due to clumped-up clippings or dried-up mud on your deck.
The frame is made of heavy-duty fabricated steel creating a strong machine that can cope with robust use over rough terrain, dense grass, and mild brush.
| Pros | Cons |
| --- | --- |
| Durable body and deck | Small fuel tank capacity |
| Versatile build for gardening | |
| Very comfortable mowing experience | |
Overall
The Toro TimeCutter gives you the professional efficiency, look and feel that you expected. It's a powerful machine that allows you to tread over your turf leaving it clean and manicured in just a single run.
John Deere Z355R Zero Turn Mower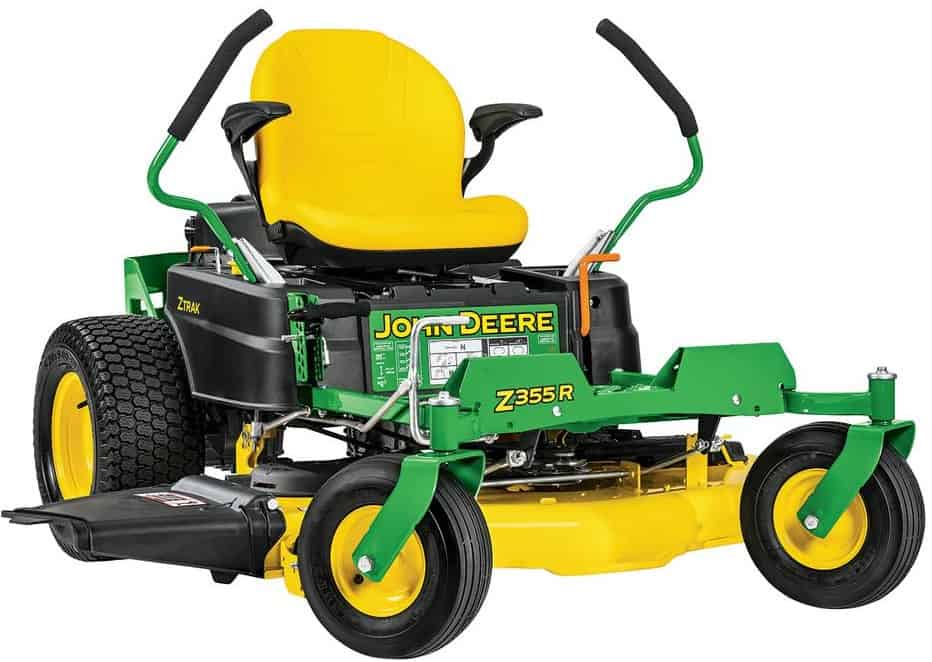 Engine Strength
Powered by a 22 HP V-Twin engine that has plenty of power to handle tough mowing conditions. Considering the strength of this machine, you won't have to ever worry about it ever breaking down in the middle of a trim task.
Gas and Battery Capacity
This gas-powered engine holds a 2.1-gallon tank that's suitable for residential use. With just 2 acres, you won't even consume the entire tank due to its fuel-efficiency engine. Maximize the use of your machine with this cost-effective z-turn. 
Mowing Precision
All John Deere ZTrak Mowers offer unmatched quality, performance and comfort. They are designed for use by residential customers who are looking for an efficient zero turn with exceptional maneuverability and trimming capability. With its triple-bladed 48-inch deck, it's easy to achieve a perfectly cut lawn in just a single run.
Mower Body and Frame
Built with a heavy-duty commercial 10-gauge steel deck and stamped high-end steel frame, you have a machine that's guaranteed to service your lawn for years to come without any hassle.
| Pros | Cons |
| --- | --- |
| Durable body and deck | Small fuel tank capacity |
| Versatile build for gardening | |
| Very comfortable mowing experience | |
Overall
The John Deere is your ideal residential zero-turn mower that offers great mowing precision and durability thus allowing you to easily maintain your crowning jewel (that is your lawn). This mid-sized mower offers great performance throughout its lifespan.
Troy Bilt Mustang Z54 Zero Turn Mower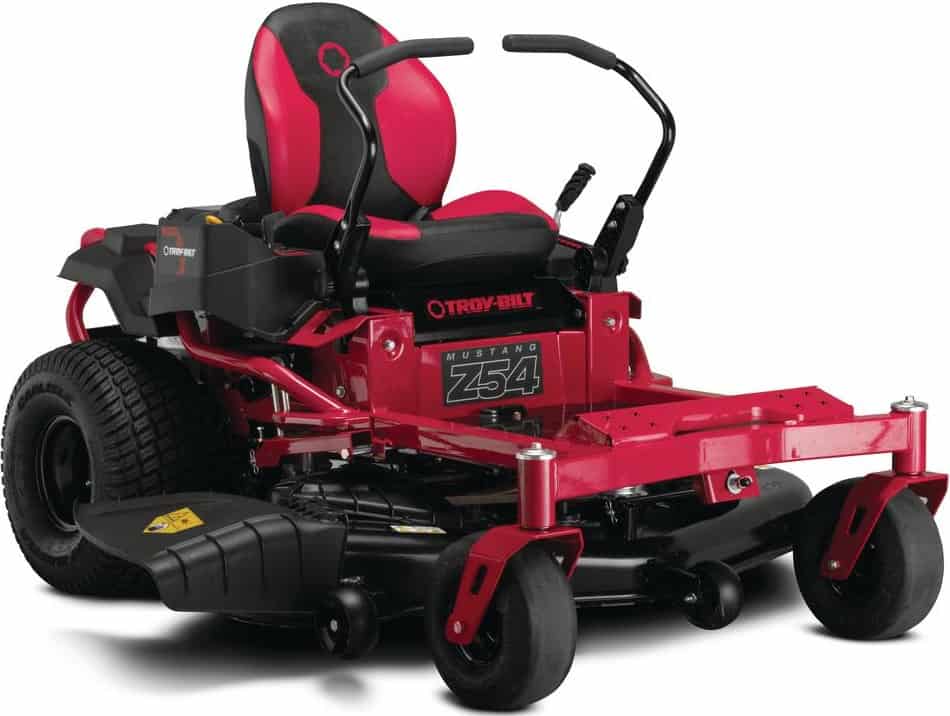 Engine Strength
Powered by a 24 HP Briggs and Stratton Pro engine, you'll have premium power, performance and reliability in every mow. The Mustang Z54 is ideal for large, flat to slightly hilly yards while truly reducing mowing time to 45%.
Gas and Battery Capacity
With a 2.8-gallon tank, your mower will easily run through your lawn without requiring a refill. Powered with a strong battery that offers speedy transmission and startups. Your mower is always performing at its best.
Mowing Precision
The deep 12-gauge steel deck offers great rider protection and improved mulching capability. It also makes it easy to maintain your deck and increases airflow for your mower to discharge its clippings better. The deck accommodates 3 powerful blades offering a clean-cut precision leaving you with healthy trimmed grass. Granting you a 54-inch coverage, you can easily glide over your lawn and with less turns, less time, less effort.
Mower Body and Frame
In addition to the 12-gauge deck, the mower uses commercial high-grade stamped steel to build the body. This makes your mower a durable machine that easily powers through your lawn without a hassle and causes zero to minimal damage.
| Pros | Cons |
| --- | --- |
| Designed for quality trim | Very small fuel tank for a large engine |
| Comfortable ride | |
| Large mowing deck | |
Overall
This Troy-Bilt is a large zero turn mower with an engine for a 2-acre property. Built for precision, this mower is all about the cutting quality of your lawn. If you're looking for a mower that offers a clean-cut and superb quality golf course trim, this is the right tool for you.
The Final Verdict
I love speedy action that can cover my 2-acre lawn with ease but is still gentle enough to care for my turf. I really recommend the Beast Zero Turn Mower because it has all the essentials, plus a mid-sized mower allows you to have better navigation and storage. I would also recommend the Cub Cadet ZTX4 if you have a property that has a ton of obstacles and slopes.