One of the most fascinating reasons why many property owners have shifted to zero turn mowers is the fun it adds to taking care of your lawn. Mostly due to its unrivaled speed, trimming precision, and maneuverability, z-turns have become a must-have for properties with vast lawns. However, with most residential owners only requiring the need for light yard work, smaller ZTRs are in high-demand. Since these machines are quite an expensive upgrade compared to typical lawn mowers, you need to make the right and best decision when purchasing a zero-turn mower.
Does your lawn need a zero-turn mower?
Zero-turns are definitely the power tools for large yards that range from half an acre up to 25 acres of land. On average, a typical yard measures between half an acre to 2 acres, and sizeable properties with agricultural and landscaped gardens measure up to 5 acres. With a large property to maintain, it will take push mowers and lawn tractors more than a day to finish cutting the grass thus resulting in an uneven and unsightly yard.
Aside from size, you need a zero-turn mower if:
You have many obstacles like garden patches, trees, and shrubs to go around.
Your lawn has dense grass that typical grass mowers cannot handle.
You find it expensive to hire lawn mowing services every week but have no time to maintain your property regularly.
You need a powerful machine to tame your lawn that is easy to use and master.
How does a small zero-turn mower save time in trimming the lawn?
Compared to other types of lawnmowers, a 42-inch zero turn mower can trim a half to a full acre lawn in just more or less 45 minutes mid-throttle. On the same-sized lawn, it takes a 22-inch walk-behind mower 3 and a half hours to mow your property while a 42-inch lawn tractor completes the same task in one and a half hours.
Even with the same sized deck, a zero-turn is still faster in cutting your grass compared to a lawn tractor because it has a faster blade spinning and riding speed. The mowing deck is powered by a stronger engine that allows your blades to spin faster. At the same time, the engine powers your machine to run at higher speeds as well. Plus, your ZTR's ability to turn in place shortens the time it takes for a lawn tractor to make a u-turn around your property.
What to look for in a 42-inch zero turn mower?
Many property owners fail to consider some of the most important features in buying a zero turn mower like the type of material used in the mowing deck and the body frame, the strength of the engine, and additional features in a certain brand. Zero-turns carry a hefty price tag, so every decision you make needs to be well-guided especially in choosing a small residential z-turn fit for your type of yard.
There are two ways of making a mowing deck. They are either stamped or fabricated. Though both types are highly durable, fabricated decks last longer and can stand harsher conditions because they are fully welded using high-grade metal.
42-inch mowers for flat yards do not require large engines, however, with thick and dense grass that needs constant mowing along with extreme weather conditions, you may need a stronger machine with higher horsepower.
Riding comfort and security
If you're going to pay thousands of dollars for a ride, you should opt for one that also offers maximum rider care comfort, and security. Some brands offer rollover protection or a locking system that prevents your mower from moving when there is no rider on the seat.
Mower attachments like seeders, sprayers, and other possible extensions are a bonus feature. Not all small ZTRs come with a hitch attachment and have lower weight capacity to pull other equipment but additional features and towing capacity 
Benefits of getting a 42-inch zero-turn mower
All small zero-turn mowers are efficient, however, 42-inch ZTRs offer a variety of benefits that larger mowers do not.
They offer simpler maneuverability
The advantage of getting small zero-turn mowers is that they are lighter. It's less complicated to move around and it's definitely much easier to make sharp turns, go through tight narrow paths and trim over softer turf making it perfect for more humid places where the ground is often tender.
They are easy to maintain
Every little thing is a hand's reach away due to the fact that a 42-inch z-turn does not have a great deal of welded structures obstructing you from any form of repair. Easy access to these small parts helps you determine and resolve problems in your zero turn quickly. In contrast, bigger ZTRs are quite complicated since they have added components like extra wirings from additional features and upgrades.
The components are less expensive
Smaller-sized zero-turns don't require large pieces of high-quality products in their main construction which drives up the cost of larger mowers. With a smaller mower, you are guaranteed with just as great as the quality of bigger mowers but at less expense due to its reduced size. Plus, 42-inch ZTRs do not come with expensive upgrades that cost money to replace later on.
They have a reduced cost of ownership
From the initial cost to keeping your mower, 42-inch ZTRs are definitely more affordable. Because they reduced cutting time, trim turf in modest conditions, and make use of much less gas, they have less wear and tear. They have a longer life expectancy since they do not handle extreme mowing conditions that the majority of big ZTRs are constructed for.
I've mentioned in detail the best reasons why 42-inch zero-turn mowers are great but there are more reasons to love these powerful machines.
Small z-turns are very gentle on the turf.
They pose less danger on water banks and soft soil.
They are easier to maneuver.
These machines are very agile, especially around trees and shrubs.
They require less trimming due to faster blade speeds in cutting your grass.
They can easily handle tough dense grass even the very bendable grass that many mowers miss trimming.
These mowers offer superior mulching capabilities since they have deeper decks to compensate for a narrower mowing width.
Sporadic use does not demand frequent servicing thus ensuring a long lifespan.
Limitations of a small zero-turn mower
As great as zero-turn mowers are, small mowers are built only for residential use and light to moderate yard work. They aren't built for daily mowing but rather for periodic use only. Though these machines are faster and highly maneuverable compared to their larger counterparts, they also have pitfalls that you must consider.
They have a smaller body weighing less than 700 pounds making them prone to tipping over.
They're not fit for slopes over 10 degrees.
The smaller body makes a highly bumpy ride due to stronger vibrations (unless it has suspension springs).
These machines have a small towing capacity limiting the extensions you can pull with your mower.
Best 42 inch zero turn mower To Buy For Your Property
Here are my personal picks for the top 42-inch zero-turn mowers. I've chosen the best types for various needs to cater to your type of lawn and your most preferred features in a zero-turn mower.
Ryobi Electric Zero Turn Mower
Best Electric Mower for Eco-friendly Use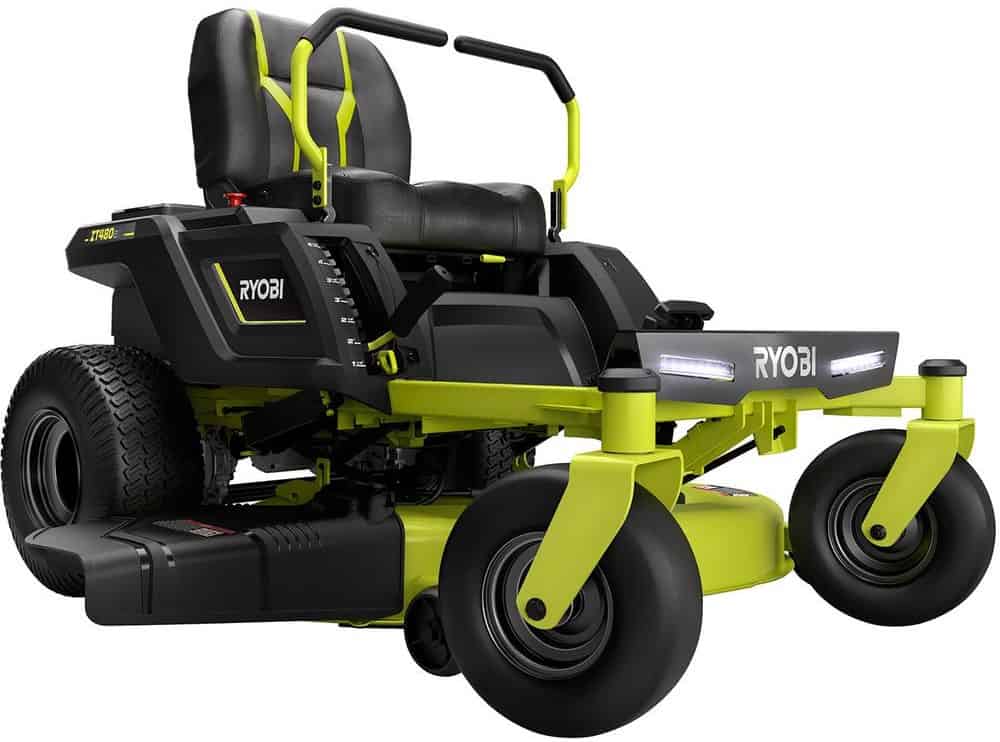 Engine
Powered by a 100Ah Battery engine, this full electric-powered zero turn mower is perfect for those who are looking for zero-emission machines. This engine is a zero maintenance mower that lessens the need for you to service your vehicle regularly.
With every charge of your mower, you can mow and trim your turf for 3 acres sporadically. The engine has 4 brushless motors that provide a smooth vibration-less ride offering full comfort to any rider.
Mowing Capacity
This ZTR is designed for mowing properties of up to 2 acres in a single run. Read more about the "best zero turns for 2 acres property". The double blades are housed in a deep deck providing better airflow thus making this a great mower for mulching.
Design Quality
As one of the best-looking and most durable z-turn mowers, this z-turn gives great service even under tough mowing conditions due to its 12-gauge steel body frame.
Bonus Features
Initially, this machine runs at a 70% charge which is enough to power through 2 acres of land. However, the battery is fully conditioned after 5 charge cycles making it run up to 3 acres. This machine is also a zero maintenance mower since it has a fully electric machine reducing the need for replacing fuel filters, spark plugs and more.
| Pros | Cons |
| --- | --- |
| Zero-emission | Cannot handle slopes |
| Power efficiency due to battery consumption of up to discharge | |
Overall
The Ryobi is the future of zero-turn mowers. This fully-electric mower offers superb mowing capabilities as well as rider comfort without having to emit dangerous gases. This also lessens the need for constant maintenance and periodic fuel recharges thus saving you a lot of money in the long run.
Toro TimeCutter Commercial Zero Turn
Top Pick for Low Cost of Ownership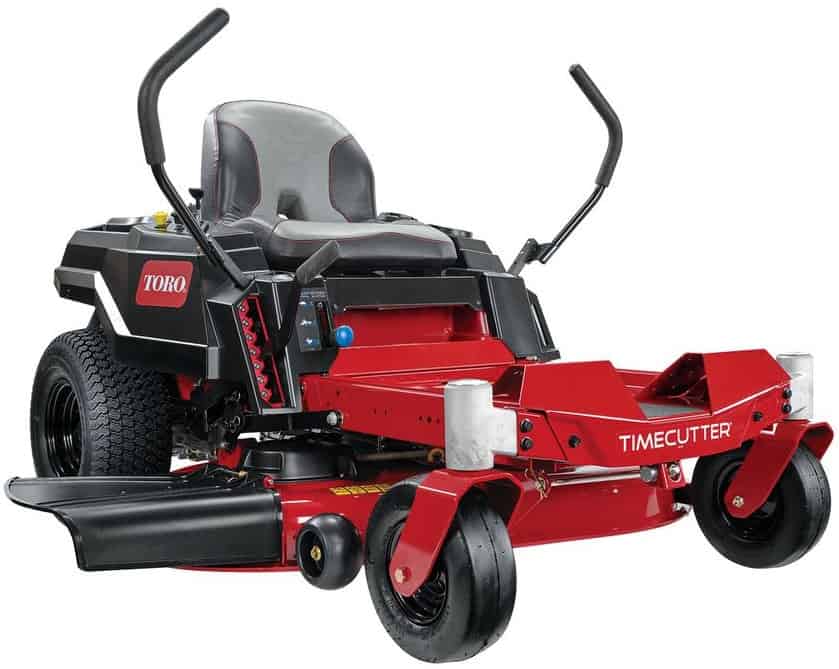 Engine
Toro brand is known for designing zero-turns that can power through your lawn and cut mowing time efficiently. This 42-inch z-turn mower is perfect for those who are looking to get the best out of their investment, designed with a 22.5 horsepower dual-engine giving you a powerful mower as you trailblaze through your lawn.
Mowing Capacity
This machine comes with 2 bagging blades designed for precise cutting. The blades offer superior trimming with less time spent on trimming because even with two blades, the high-speed cutting leaves you with a cleanly cut turf in every turn.
Design Quality
The Toro Time Cutter uses a 13-gauge steel frame and stamped mowing deck. The tough shell of your mower means that you can continuously have a manicured lawn for years to come.
Bonus Features
This machine offers an easy start. This lessens the need for your mower to idle and heat up your engine and start mowing. If you're running out of time to cut your lawn, the Timecutter is really a machine that delivers that promise.
| Pros | Cons |
| --- | --- |
| Highly efficient trimming | Fuel tank capacity of only up to 3 gallons |
| Lightweight offers turf care | |
Overall
This is one of the best commercial z-turns that really fits many owner's wallets, The Toro is one of the most efficient mowers by far making it easy for any rider (even beginners) to maneuver and master.
Cub Cadet RZT-SX
Supreme Steering and Fuel Efficiency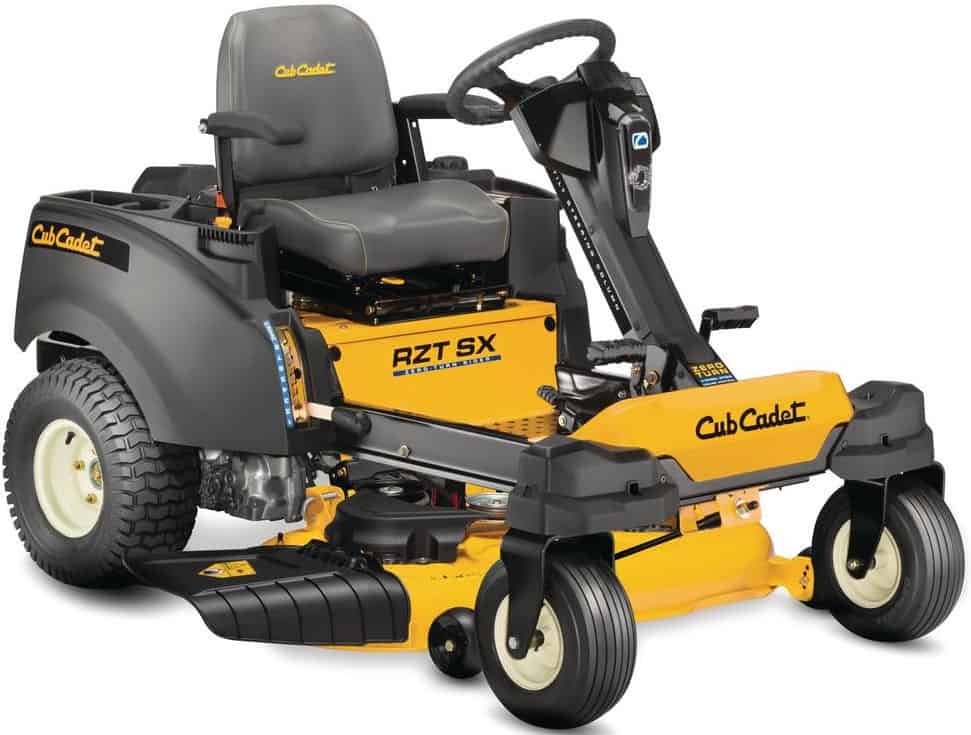 Engine
This 42-inch Cub Cadet Zero Turn Mower is the best when it comes to fuel economy in my list. The fuel-injected engine not just helps improve fuel efficiency but also delivers stronger power. In addition, this z-turn does not use the typical lap bar steering. Instead, it uses a steering wheel making it a crossbreed between a lawn tractor and a zero turn mower improving better movement over your property while still ensuring 360 visibility of your turf.
Mowing Capacity
Created with 2 blades, the stamped deck always delivers a clean-cut trim powering through your turf with little damage to your soil and grass. The machine has over 10 height adjustments with as low as 1 inch in mowing height.
Design Quality
Sporting a high-grade zero turn mower prioritizing fuel economy while still delivering rider comfort, this Cub Cadet has a great leather back seat designed and contoured for your back to reduce discomfort. It also comes with armrests and ergonomic steering for controlled movement.
Bonus Features
Aside from the unique steering, I love this machine's powerful throttle. Even for a small machine, the EFI engine increases your ZTR's torque delivery by 50% compared to other mowers. It also has a corrosion defense system making this mower a low-maintenance machine.
| Pros | Cons |
| --- | --- |
| Amazing control | Steering is not adjustable to the rider's height comfort |
| Stronger power at lower fuel consumption | |
| Great for hills | |
Overall
it is a powerful machine for a small z-turn mower. This 42-inch mower is a revolutionized equipment that offers superior cutting and optimized engine quality for mowing in challenging conditions while also offering superb control.
Simplicity Zero Turn Mower
Best for Rider's Comfort and Utility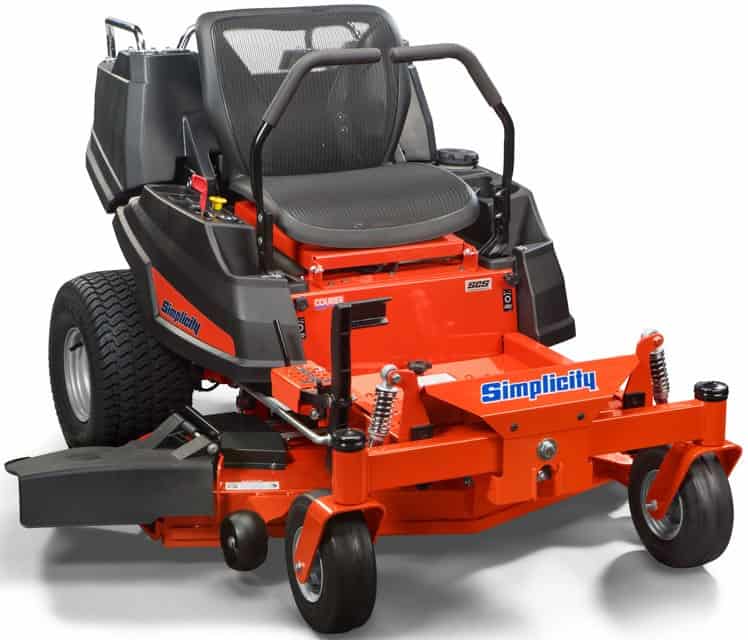 Engine
The Simplicity Courier Mower is a favorite among gardeners. For a 42-inch z-turn, this machine can handle incredibly difficult turf. It is powered by a 23-horsepower engine that acts as a workhorse for tough yard work.
Mowing Capacity
The compact deck design easily helps you get through extremely tight spaces. The Simplicity makes all your yard word simpler, it offers an amazing cleanly trimmed lawn and a highly upgradable machine fit for mulching and bagging.
Bonus Features
What's great about this mower is that it doubles as a utility drive for many landscape artists and gardeners. The extra 50-pound capacity, large cargo bed, and multiple container slots in its fenders make this machine a piece of great equipment for aiding in gardening. Plus, this z-turn comes with suspension springs that significantly reduce 25% of the vibrations caused by the powerful engine thus improving your overall comfort.
| Pros | Cons |
| --- | --- |
| Improved comfort due to the suspension system | Unfit for hills |
| Additional weight capacity for towing and cargo loads | |
Overall
For those who have gardens, this is a great machine to have since it has a sizeable cargo deck and safe container slots to put your gardening and landscaping tools. This mower also offers the least vibration felt by the rider thus improving the rider's comfort and mowing experience.
Troy Bilt Mustang Z42
Best for All-Around Use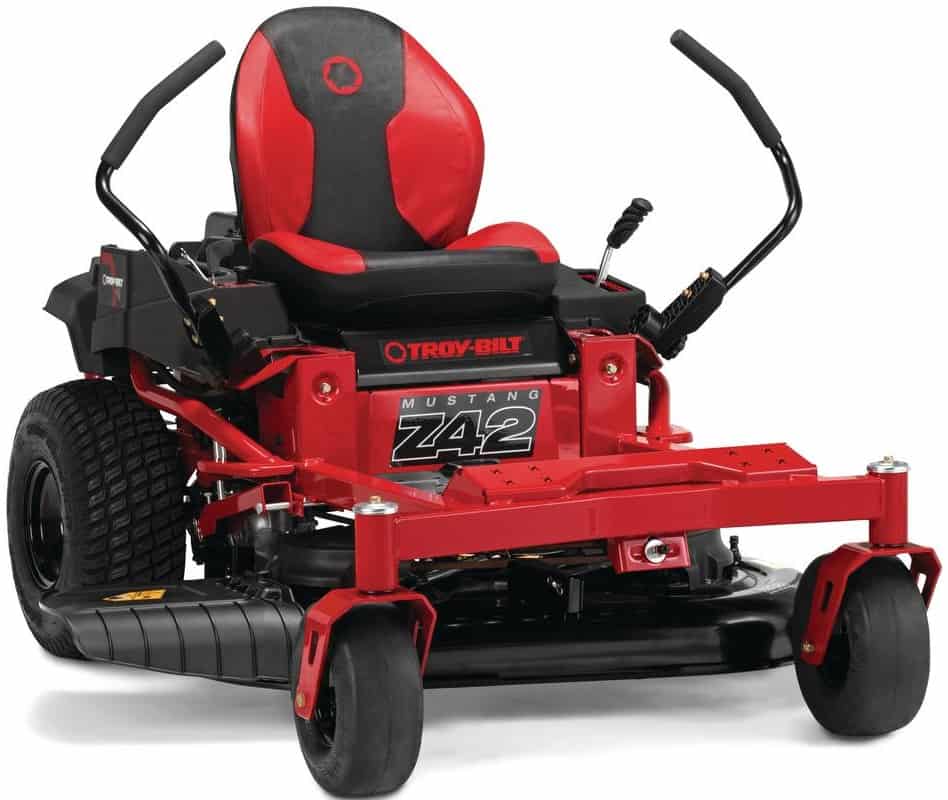 Engine
This Troy Bilt is the most robust machine. With a fully welded frame and deck, this is a highly durable mower that can withstand extreme mowing and weather conditions. It is by far the most compatible for cold season mowing. 
Mowing Capacity
This machine is one of the few small mowers that can handle damp grass, the deep deck allows larger airflow making it easier for you to swipe and cut the grass even when it's wet. Not only that but this machine also comes with a powerful mowing deck that spins its blades 5% faster than other mowers. 
Design Quality
Built with a beautiful tubular frame, the Troy Bilt also has a stunning rider's corner. The high back leather seat provides a soft cushion to reduce discomfort caused by the engine's powerful vibrations. The steering also has an ergonomic handgrip to make sure that you're comfortable while having full control of your machine.
Bonus Features
One of the best features of this machine is its dashboard, with everything in easy reach, you have full control of your mower from start to finish. In addition, your mower also offers an arm's reach to all of its components simplifying maintenance, easier repairs, and quicker replacements.
| Pros | Cons |
| --- | --- |
| All-in-one control system | Front tires dig into the soil in fast turns |
| Easy maintenance | |
| Larger fuel capacity | |
Overall
The Troy Bilt is definitely known for its versatility making it the perfect choice for all types of property owners. This zero-turn mower has great controls providing you with greater mastery over your machine.
The Final Verdict
My personal favorite as the best 42-inch zero turn mower would be the Cub Cadet, with a revolutionized design and powerful engine, this machine can do anything. Though small mowers are typically unfit for hilly properties, this machine can trailblaze through your lawn even with gently sloping hills making it an all-around complete lawn care equipment. See "best zero-turn mowers for hills" to learn more about ZTR and hills.
On the other hand, the Ryobi Electric zero-turn mower is a real masterpiece giving you an amazing machine that runs with power and precision. Though it is the most expensive on our list, it is also the cheapest machine to maintain.