The struggle of selecting a profitable zero-turn mower is real, especially when you have stuff like bad reviews and negative feedback flying about from one user to the other. I have to admit, although pondering on the cons of a brand is highly beneficial, it's not always the right way to start. This is because every landscaper and their respective field will encounter mowing with a particular brand of zero-turn uniquely thus determining the cons they might experience. So, it's important to understand your specific requirements before selecting a z-turn mower; it's the easiest and most legit way to begin your mowing journey
The Toro and John Deere brands are both experienced by the sands of time and thus, are well trusted by residential and commercial landscapers. It is no surprise why a percentage of people would purchase a particular zero-turn mower simply because the brand has been on the market well enough; there's almost nothing to lose. Also, you'd have a free contribution from the lots that have purchased the machine before you and access to spare parts for easy servicing.
The John Deere zero-turns are more powerful and efficient in comparison to the Toro. Although this answer is highly layered, they do perform better than the Toro on most occasions and circumstances.
I will be discussing the differences between the Toro and John Deere zero-turn brands, to pair you with the riding mower that will yield the most benefits for you. Let's get into it!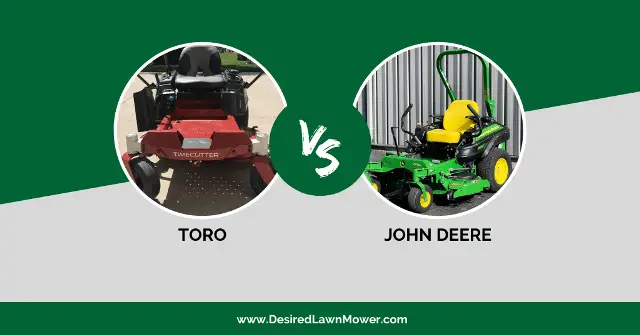 A Zero-Turn Face Off: The Nitty-Gritty Details
The most favorable way of deciphering which brand will suit you best is by understanding their strengths and weaknesses to see how each will apply to you.
Power And Engine Specifics
Power on a zero-turn is highly crucial and direct. The amount of power a ZTR yields determines how effective the machine will be in performing regular and mandatory tasks on the lawn.
Starting with the Toro, the amount of horsepower for this brand of ZTRs ranges from 22 to 26 hp by mostly Kohler or in-house Toro motors. There's also a single Kawasaki engine option with 23hp which is only paired with the 42-inch Timecutter residential model. For further detail, the residential low-grade models start at 22 and go towards 24.5 hp, while the commercial models are all standard 26hp.
It's also possible to swap and pair your desired engine to the model you choose. All being said, the Toro ZTRs are properly powered to face tough turf and challenging situations for the best outcome possible.
On the other hand, the John Deere ZTRs are powered by 20 to 35 horsepower depending on the model. You'll find the capacity to be from 20 to 27 hp for the residential models and up to 35 for the commercial grades. The branded motors used by the company are the Kohler, Kawasaki, and Briggs & Stratton engines for better variation.
If you compare the entry-level models of each brand, you'll see that the Toro is more powerful than the JD. This is only because the JD entails additional model variations as compared to the Toro and targets a larger consumer base. All in all, John Deere makes the most powerful ZTRs relating to Toro.
Cut Quality And Deck Types
Cut quality is equally as critical as the power capacity of a ZTR. It's essential to understand what to expect from your zero-turn when it's time to face the lawn.
The Toro zero-turn decks are all 10-gauge iron forged for all models. Sizes start from 42 inches to 60 inches and are paired suitably with the model you fancy. When you step up your game to the high-grade residential and commercial models, you'd find the extra-reinforced bullnose fabricated decks that deliver a nicer cut quality with less bounce-back vibration when you mow.
Talking about cut quality, I am quite pleased with the effectiveness of the deck. The grass clippings are literally chewed before getting chucked back onto the turf, and the striping is clear and crisp. However, they do have this teensy chute problem where the rubber drops a little lower than it should and affects the dispersion of the clippings in some way. It isn't all that horrible because it can be adjusted, but it is noticeable enough.
For the John Deere, they vary from 7 to 10-gauge decks and range from 42 to 60 inches depending on the model you choose to purchase. JD zero-turns are known for sturdiness and strength, which is featured in the engineering of their decks. The blades are to last a lifetime of use whatever the conditions may be, and are quite famous for the beautifully laid cut they deliver including properly laid chutes for better clipping dispersion.
As decent as the Toro is, the John Deere would suffice in a battle of which zero-turn cuts better; the dispersion is more favorable, they cut nicer, and stripe neater in comparison.
Speed And Maneuverability
The ability of your zero-turn mower to complete a task quickly is quite important, just as important as dribbling through obstacles effectively if your lawn is featured with plants and objects that would need a swift but close trim.
For both brands, the zero-turn mowers are equipped with the hydro gear transmission system that comes with double motors for each rear wheel. The difference is the speed; while the Toro models range from 7 – 9 miles per hour, the John Deere ranges from 7-10mph. Though it's only a 1mph difference, it goes a long, long way for these types of lawn machines.
In terms of maneuverability, the Toro ZTRs are the best brand for obstacle-filled lawns. This doesn't mean the JD doesn't maneuver as well. The difference is almost unnoticeable, so much that you can only recognize the variation when you sit in the contending mowers and test run them separately.
This could be a result of anything from dampeners, to the steering levers, and even the weight distribution of the zero-turn mower. So if you require the ZTR that has better and sharper steering, you can rely on the Toro company to deliver that feature.
Stability And Traction
Stamina is quite vital if your lawn features ditches, hills, and slopes. It's highly linked to your safety and the lifespan of your zero-turn mower. If your ZTR lacks the stability required to trudge certain angles or slopes, the strain will distress the transmission system and motors, thus shortening the value of your mower.
The Toro ZTRs are quite stable mowing machines; a lot of minds have been put together to collectively improve the ride quality and stability of their riding mowers, giving rise to an aggressively built stamina.
The wide beefy tires of this brand further accentuate the ability to tackle steep slopes and slippery terrain effectively. Nonetheless, on the flip side, they do come with a little scalping here and there in the yard. Albeit, you'd be safe and sound mowing hills and valleys on this ZTR.
The John Deere z-turns are equally as impressive as the Toro. Large beefy tires allow great traction and stability as you mow. However, I do find that they do not cope as well as the Toro in tackling sloped terrain. This could result from the stance of the mower; the wider the stance, the better stamina they produce. If your yard is highly featured with slopes and hills, you will do much better on the Toro zero-turn mowers.
Comfort And Rideability
Sore backs and numb legs are common results of sitting in a zero-turn mower that attempts to shake you off your seat. In all jurisdictions, I cannot emphasize enough the importance of purchasing the most comfortable ZTR you can get.
One of the most significant features of Toro z-turn mowers is the MyRide system. It is a feature paired with selected models that allows you and your seat to float like a rocking chair successfully dissipating the wrath of running over bumps in the yard. It is highly effective and beneficial to individuals with tender backs or other challenges.
Asides from this feature, the seats on all models are properly and luxuriously padded to offer premium comfort on the lawn. The suspension is fair for the entry-level models but could do with an extra prepping up. Going up towards the high-grade residential and commercial models, the seats are quite impressively comfortable in all aspects.
The John Deere seating features are also quite reputable, although you'd have to begin at the high-grade residential models upward for a significant level of comfort. I can't say the same about the entry models, because honestly, they are a little disappointing. The spring suspension on them is a little below adequate and you'd be eager to get off and save your waist after an hour or two. I assume it's because they were not built for plenty of mowing hours, but still, that should be for me to decide– what if I simply enjoyed riding around for hours to anger my neighbors?
This endpoint resembles a loophole; Toro MyRide ZTRs are much more comfortable than the John Deers, but going up towards the high-end residentials, it gets quite competitive with the favor leaning towards the JDs.
If you still insist on an entry-level JD, I advise you to install a suspension seat. I've written a well-detailed article about the best suspension seats and all they entail.
Money Talks And Price Tags
For the Toro zero-turns, the prices start from $4,500 to $10,000 from the lowest residential to the commercial level models while John Deere, on the other hand, starts as low as $3,500 to $12,000 from the lowest residential to the highest commercial models. Prices of both brands of zero-turns could vary depending on your dealer, the deck size, the engine capacity you desire, and for the Toro whether or not you choose the MyRide feature.
Warning: beware of cheap John Deere models from large wholesale markets as those are reported to be the low-quality versions. Unless they really suit your criteria, make sure you seek a trustworthy dealer before you make any sale. Most of them know the ins and outs of how sales run and may assist you to make the right choice.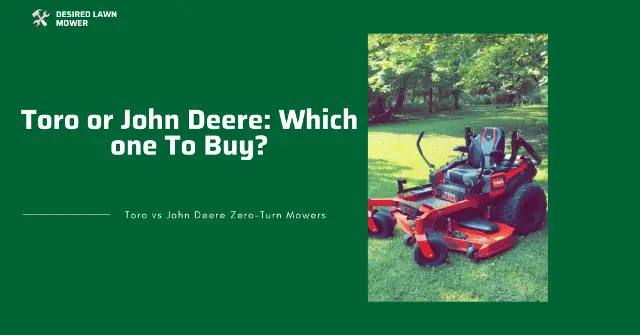 Toro Vs John Deere: Which Zero-Turn Mower Should I Buy?
Once you know what you and your yard require, you can easily match the best brand to your situation. The John Deere ZTRs are much more efficient in comparison to the Toro; they present a nicer cut quality, bigger engine capacity, are faster, and are more ruggedly built to tackle the worst cases. They would suit you best if you are seeking a family heirloom, or if you are a professional landscaper that would need all the power they could get to suffice in their duties.
The Toro zero-turns are easier to maneuver, better at handling slopes, and is much more comfortable, all of which sounds perfect for a resident seeking to carry out a side hustle mowing a few lawns here and there. I know they also have commercial-grade models, but if you're seeking to go commercial, go for John Deeres. They handle professional loads much, much better.
Which Toro Zero-Turn Model Is Highly Recommended?
Without a second thought, I am all in for the Toro Titans. They are a great balance between commercial and residential grade models and are fully equipped for the toughest mowing situations. The Titan models come with the Pro DNA which is an imitation of the professional models all set with commercial-grade air filters, cutting deck and blades, high back seats with armrest, and the MyRide feature (if you please) powered by a 24.5 hp Toro V-twin engine. You can purchase them with either 48, 54, or 60-inch decks for a price range of $7,000 – $8,000 depending on which deck you choose.
Which John Deere Model Is The Highest-Recommended?
A straightforward selection would be the Z735M which is a great harmony between the commercial and residential models. This model features a 25-horsepower engine with a commercial-grade air filter, comfort glide seats with armrests, and a commercial-grade deck of 48, 54, and 60 inches, all set with premium levers for great maneuverability.
Although they come in a little pricey, starting at $8,600, they do have a great reselling price if you look further into the situation. Also, they're very much capable of going full commercial mode effectively. You can easily shuffle your activities without it taking a toll on your machine.
At Long Last, A Conclusion…
Recommending a trademark z-turn entails a lot of details. John Deere ZTR mowers may be a better brand generally speaking, but that doesn't mean they are the best brand for you. There are a lot of details to consider that will help you decide on the best choice.
Given this detailed comparison of both brands, I suggest you highly consider the features of your yard to determine the best zero-turn mower for the long run based on its strengths and weaknesses. Honestly, you'd be lucky to be satisfied if you purchase a mower based on a general ranking system. I wish you good luck!