Many properties with large grasslands are often left growing wild due to the stress, time, money, and effort it takes to tame them. No weed whacker, push mower, or lawn tractor is ever enough to manicure lawns that are at least 5 acres, the only machine capable of giving you a beautifully trimmed lawn is a large zero turn mower with at least a 60-inch mowing deck. But buying one comes with a hefty price tag, thus requiring you to make a meticulous decision. Here's a complete guide I've put up to lessen your burden and narrow down only the best large-range z-turn mower.
Why do you need a 60-inch zero-turn mower?
60-inch mowers are usually commercial-grade machines built for powerhouse mowing and speed built for frequent heavy usage. These large deck mowers are workhorses that are far superior to typical zero-turn mowers since they cater to the needs of massive properties with tough mowing needs. The common reasons why many opt to buy a 60-inch zero-turn mower is mostly because:
You are looking to save time mowing but still get beautiful results
You have dense and tough grass that ordinary push mowers cannot handle
Your grasslands are surrounded by obstacles like trees, shrubs, and more
You want a powerful machine that can easily tame your property with less need for maintenance
You want a zero turn mower that simplifies the need to care for your lawn without hiring constant lawn care services
How are 60-inch z-turns compared to other large range ZTRs?
The common size ranges for zero-turn mowers are divided into 4 categories: 
Commercial Grade Mowers have a mowing width that is at least 54 inches
Professional Mowers have decks that are 50 to 60 inches wide
Commercial Grade Mowers have a mowing width that is at least 54 inches
Although 60-inch zero turns fall between professional-grade to commercial-grade mowers, they are often constructed for heavy residential use. Compared to smaller professional-grade mowers, these machines are equipped with stronger engines to help you blaze through your lawn at full throttle and top speed.
They are built with tougher steel frames and have fabricated mowing decks, unlike many professional-grade mowers that still use stamped decks. 
Faster and Can Handle Steeper Slopes
ZTRs with at least 60-inch decks have an average speed of 7-10 miles per hour. They have a more balanced center of gravity due to their heavier weight making it more stable on 20-degree slopes.
Advantages of Getting a 60-inch Zero Turn Mower
Zero-turn mowers have proven to be worthy investments despite costing you thousands of dollars in the initial cost of purchase. However, there are more advantages to owning large professional-grade mowers.
Typically, zero-turn mowers run between 5-7miles per hour, and 60-inch ones have higher speed limits starting from 7 miles per hour. Most of these z-turns usually have a minimum 22 horsepower engine which then caters to faster mowing speeds both forward and in reverse.
Large deck sizes can accommodate more blades improving cutting efficiency and precision. More blades produce better cutting results in every passing reducing your need to go around back and trim any uncut grass.
Faster blade turning speed
Larger decks come with sturdier spindles that allow your blades to spin faster thus providing pristine cuts in a single mowing pattern. This allows your mower to quickly cut your grass even when running at full speed. Plus, quick spinning blades increase airflow to your deck making it ideal for mulching.
Powerful mowing over tough turf
Not all grass types are the same hence giving your mower different kinds of challenges. Some grass types are very flexible and tend to bend as mowers pass by making them quite tough to cut. Dense grass types pose another problem since they tend to put a toll on your mowing blades.
A powerful mowing deck can handle all these types of challenges with ease. The heavy-duty decks of 60-inch mowers are deep improving airflow thus pulling soft grass for cutting. The quick spinning high-density blades make it easy to trailblaze over tough dense grass and leave no grass tip uncut. 
Increased Towing Capacity
Larger mowers can handle more weight making them perfect transport machines. They have a heavier weight capacity allowing you to tow other equipment across your large property. 
More Options for Upgrades
They can handle more upgrades like a permanent mulching and bagging kit, towing equipment like carts. You can even get seeders, aerators, and even snowplows to your machine. 
Limitations of a 60-inch Zero Turn Mower
Unfortunately, no zero-turn mower is totally perfect, 60-inch mowers may be great machines but they also have notable pitfalls.
Heavier equipment can damage your turf especially if you're running at your top speed in full throttle. This can leave heavy tread marks and may even destroy your turf instead of taking care of it. This requires you to take precautions as you mow your lawn and figure out the limits of what your soil can handle.
Z-turn mowers can turn on a dime making it easy to navigate over your property however with heavier mowers, turning can pose a danger since large mowers are prone to tipping over. This requires you to slow down as you make a turn especially if you're going around a tree or any obstacle.
On average, a z-turn can only go over 10- to 15-degree slopes. Heavy 60-inch ZTRs can tread over 20 degrees in angle. However, even with this upgrade, they are still prone to tipping over.
Features to look for in 60-inch zero-turn mowers
To make the most of your z-turn's expensive price tag, you need to make sure that you are getting the best features that your property needs. Here are some features to look for when buying a 60-inch zero-turn.
12-gauge steel body frame
Quality build is important, especially for a professional or commercial-grade mower; and getting a mower with at least a 12-gauge steel frame body is essential for tough mowing conditions. Steel rating with 12-gauge or lower is sturdier and considerably more lightweight and fit for intense mowing needs.
A 20-horsepower engine should be your minimum requirement for large zero turns. A strong engine drives your machine to power through your property while enduring long hours of vehement mowing.
Fabricated decks have been proven to be stronger and more durable than stamped decks making them ideal for professional-grade mowers.
Never settle for less, since 60-inch ZTRs can handle tougher jobs then they are compatible with other yard-related tasks. You should always be on the lookout for mowers that can easily accommodate upgrade installations.
Large machines have massive engines that produce stronger vibrations making you uncomfortable while you mow. Since you're going to spend hours on your mower at a time, you need a z-turn that has either shock absorbers or a great seat to reduce discomfort.
The 5 Best 60-inch Zero-Turn Mowers For Large Yards
I've narrowed the list down to 5 great large-deck ZTRs and also included a full 60-inch zero-turn mower review to help you understand which mower will suit your needs.
Ariens Apex Zero Turn Mower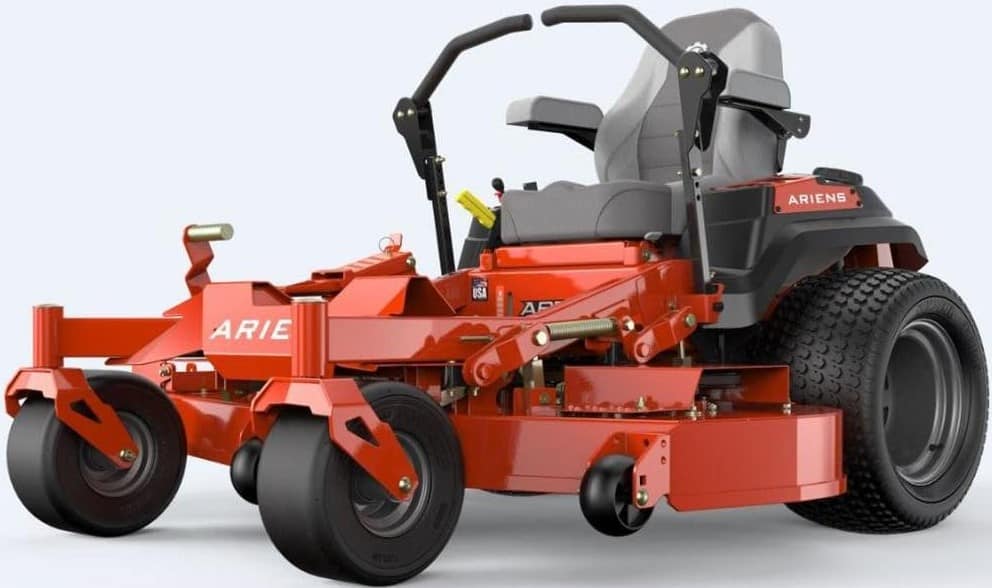 Body and Deck Build
The Ariens Apex 60 boasts a 10-gauge steel body frame fully welded into place creating a string heavy-duty system to tackle all of your mowing needs. The deep 5-inch fabricated mowing deck provides a great shell for 3 long blades to maximize your cutting prowess over your property.
Engine Power
This z-turn mower has a 24-horsepower engine designed to speed through your property at a maximum speed of 8 miles per hour. It also allows you to reverse mow at 4 miles per hour. The strong engine is accompanied by a large 5-gallon tank allowing you to mow your property for up to 8 acres on a full tank.
Additional Features
The Ariens is well-known for its comfortable seat. The soft cushioned seat provides great airflow to the rider to reduce discomfort as your ride. The seat also comes with a shock absorber to provide you with a gentler smoother ride.
| Pros | Cons |
| --- | --- |
| Superb shock absorbers | Many features are separately bought like headlights and towing hitch |
| Easy controls and foot-assisted deck controls | |
Overall
This ZTR stands by its offer to provide comfort and smooth mowing. What's great about this machine is that it prioritizes rider comfort and safety, giving you a great riding experience as you spend hours mowing your large property.
Husqvarna MZ61 Zero Turn Mower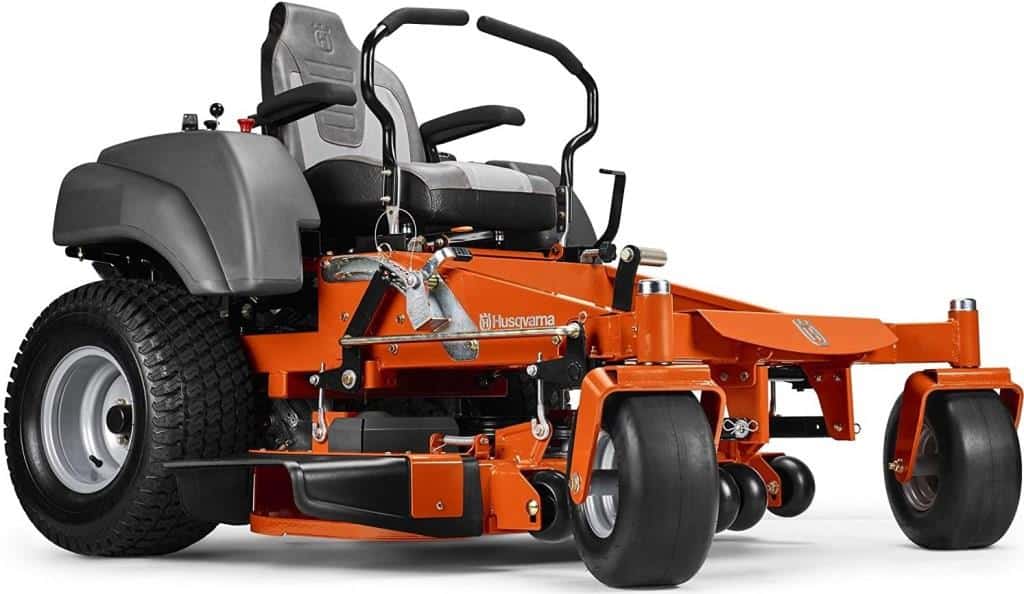 Body and Deck Build
This 61-inch zero-turn mower is built using 11-gauge steel designed for tough mowing and long hours of intense yard work. The fully welded body and fabricated deck housing three blades guarantee a high-grade machine that can easily graze through your lawn despite harsh conditions.
Engine Power
The Husqvarna MZ61 has a 24-horsepower output that delivers a machine that won't fail you as you mow acres of tough grass. The engine is fueled by a 5-gallon tank and a 1-gallon reserve to help you continuously mowing your property without having to top up in between thus saving you more time with an average productivity rate of 4.2 acres per hour.
Additional Features
This large z-turn has a simplified deck control system that gives you full access and control over your entire machine. The dashboard contains an hour meter with a service reminder indicating when you should do your routine maintenance check and when to replace parts of your mower.
The Husqvarna offers a vinyl seat with a high backrest designed to fit the contours of your back. In addition, the ergonomic grips and the partnering armrests make it more comfortable to ride your mower for hours on end.
| Pros | Cons |
| --- | --- |
| Digitized controls for easy mastery | Unfit for slopes over 15 degrees |
| Large productivity rate of 4.2 acres per hour | |
Overall
This 61-inch Husqvarna z-turn provides great quality mowing from when you start until you finish. The strong engine offers stable strength giving you the assurance that your machine will never fail despite long hours of regular use.
John Deere Z535M Zero Turn Mower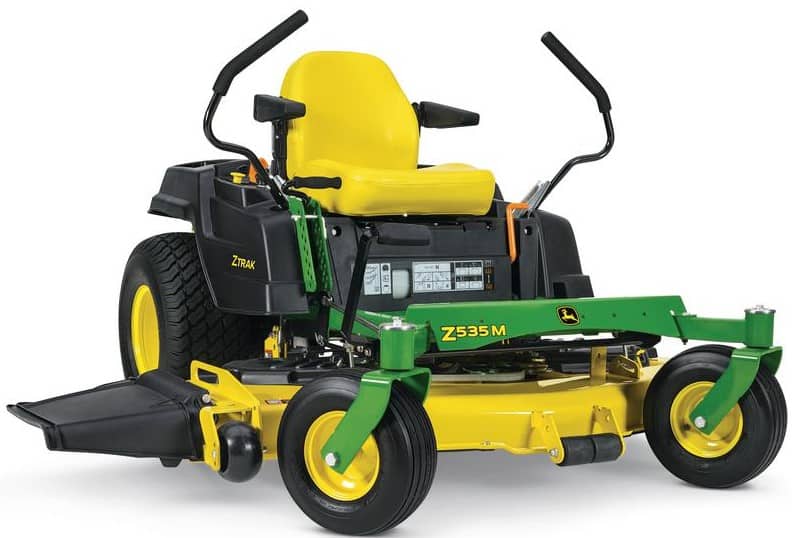 Body and Deck Build
Designed for intense yard work, this 62-inch John Deere z-turn mower is equipped with a robust 11-gauge fully welded body. Guaranteeing you not just a strong body but also a low-maintenance mower that will surely last you for years to come.
This mower is powered by 3 mulching blades to promote easy mowing with minute clippings to manicure and fertilize your soil giving you a beautiful green and luscious yard all throughout your property.
Engine Power
What's great about this mower is its 25-horsepower engine that provides steady work throughout long hours of mowing. It allows you to speed over your grass at up to 8.5 miles per hour. This machine has a 4.5-gallon tank to offer non-stop mowing through 8 acres of land.
Additional Features
This John Deere features low-key maintenance. The zero-maintenance transmission and minimal parts replacements allow you to have a long-lasting mower with hassle-free servicing. 
Another great feature to look forward to is its 18-inch backrest that offers superior comfort throughout the entire mowing process. This mower also has a completely customizable rider's deck allowing you to change the height adjustment of your levers, your seat, and the rest of your steering to fit your preference.
| Pros | Cons |
| --- | --- |
| Low maintenance and easy repairs | Stamped deck |
| Highly versatile for multiple ZTR upgrades | |
Overall
The John Deere has become a household name for residential yard work equipment and this 62-inch z-turn mower doesn't disappoint. You're always warranted with a perfectly trimmed lawn with fewer hours spent on keeping your turf neat and clean.
Cub Cadet Ultima ZTX5 Zero Turn Mower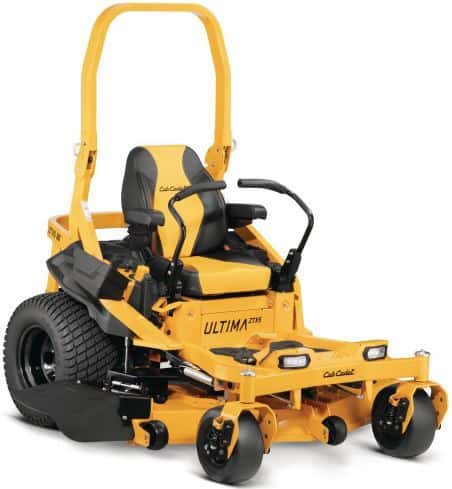 Body and Deck Build
Cub Cadet is sporting another upgrade on its 60-inch deck series. This 5th generation ZTX5 mower is built with a robust 10-gauge steel frame and deck built for extreme mowing under harsh conditions, demanding weather and against vast acres of grass in desperate need of cutting.
Engine Power
This mower is powered by a 24-horsepower engine equipped with 5.5 gallons of fuel to handle tough yard work without stops and delays. It can run over 12 acres mowing and trimming with a full tank thus giving you the certainty that you will have undisturbed mowing from when you start to when you finish.
Additional Features
This 60-inch ZTR has superior wheel suspension reducing 25% of felt vibration and smoothing out the entire mowing experience. Despite tough rugged terrain, you will barely feel the ride and instead continue powering over your turf. What's even better is that this machine has a rollover protection system (ROPS) to prevent your mower from tipping over. 
It also offers a complete zero maintenance engine ensuring less frequent machine maintenance and servicing. Plus, it has built-in headlights to aid you in low-light conditions and a towing hitch to hook up various accessories and equipment.
| Pros | Cons |
| --- | --- |
| Great for slopes | ROPS has a high height clearance and easily gets caught in branches and pergolas |
| Rust and corrosion-free body | |
Overall
This mower is one of my personal favorites. It offers a more robust take on mowing and can even handle sloping grasslands. What makes this z-turn stand out is its complete rider support system prioritizing your safety but still providing a terrific job in keeping your lawn neatly maintained.
Toro Titan Zero Turn Mower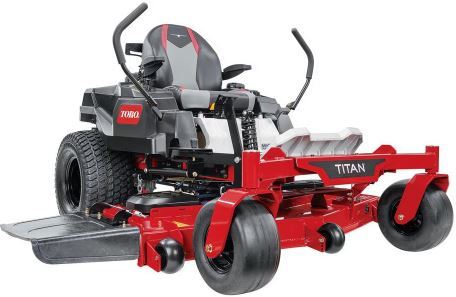 Body and Deck Build
Toro really has brought us a powerful machine that suits demanding mowing conditions. This 60-inch Titan boasts an iron-forged body using a 10-gauge steel body frame fit for very harsh mowing conditions. From extremely cold weather to humid ground, the Toro is not just a powerful machine but also a versatile ZTR that can handle all sorts of challenges.
This zero-turn is equipped with an air cleaner, as a bonus feature, preventing even the finest of dust from entering your engine and other parts of your mower. 
Engine Power
Its 5-gallon tank caters to a 24-horsepower engine that provides a seamless ride over your large turf. The engine helps you mow and trim up to 12 acres continuously running at up to 8.5 miles per hour with your mower set at full throttle.
Additional Features
The Toro Titan Features a MyRide system that provides superior rider support. The entire seat and foot deck of the mower has shock-absorbing suspension springs to practically prevent the rider from feeling all vibrations from the engine and from the rugged terrain of your property.
In addition, it also has a built-in hitch reducing the need to manually add one for towing purposes. What I personally like about this mower is its translucent fuel tank making it easier for quick and clean fuel refills.
| Pros | Cons |
| --- | --- |
| Full deck shock absorbers | Easily tips over and thus require gentler turns |
| Great fuel economy | |
Overall
The Toro Titan is a great mower that really offers superb cutting quality while ensuring the rider's safety and comfort. This machine also offers a smooth ride perfect for those who have extremely rugged terrain.
The Final Verdict
My personal recommendation would be the Toro Titan for those who have rugged terrains and incredibly tough turf to tame. However, if you have gently sloping hills then I would highly recommend the Cub Cadet Ultima. 
Both these machines are incredibly robust that can withstand high demanding turf care and yard work. They also function well as transport machines that help you tow different accessories to simplify your overall yard work throughout your vast property.